How to Clear App Cookies on iPhone, iPad or iPod touch
Have you ever wondered about why your iPhone is not working properly? Or are you frustrated by getting malicious contents due to the browsing history? You know that there are lots of cookies have been generated while you're surfing the Internet or finding something on the web. And these histories will be recorded by iPhone and give you a reminder in the next time. But you may don't know that cookies also should be responsible for your misfortunes like above. Thus, it is necessary for you to clear all kinds of cookies on your iPhone to speed up your device.
Clearing cookies from your iPhone has many advantages as below:
- Reclaiming space for your iPhone to boost its performance: lots of browsing means that greater amounts of data will be stored in your iDevice. This recorded files always decrease the performance of the iPhone, iPad or iPod touch.
- Clearing cookies improve your privacy since no one can track your browsing history after you delete the data.
- ...
To clean app cookies on iPhone, you need to ask help to a professional iPhone Cookies Cleaner: MobiKin iOS Data Cleaner (Windows/Mac). It is a risk-free yet safe 3rd-party program, that allows users to wipe all kinds of cookies, caches, temp files, junk files, etc. from all generations of iPhone, iPad or iPod touch within few clicks. Since the program is a 100% safe tool, so you can never worry about the personal privacy info will be leaked out due to the tool. And it can help you greatly protect your personal info from leaking out. Cool, right? Now, just click the below icon to get a free trial!
Tutorial on Clearing iPhone App Cookies on Windows or Mac OS X
Step 1. Download the latest version of the MobiKin Cleaner for iOS and install it in your windows or Mac Computer. Then link your personal iPhone to the computer with USB cable. After that, you can choose "Quick Scan" option in the program and be sure the cookies option you wish to clear have been opened. Now, you can click "Scan" button to begin to scan for files.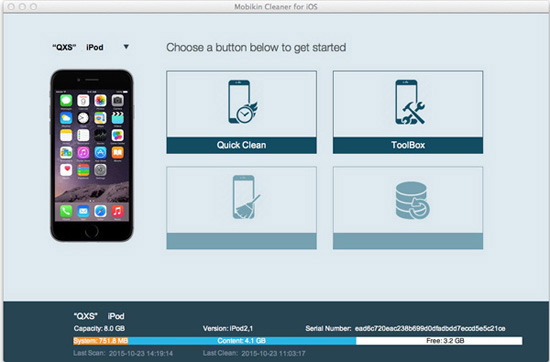 Step 2. You can check the scanning process in the program in details, and if you wish to stop it, you can click "Stop" button to end the scanning. If you don't want to end it, you can wait for a few seconds, and then preview the scanning results and tick the cookies you wish to clear.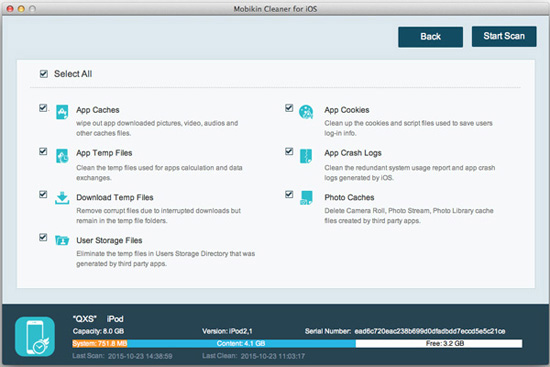 Step 3. If you're sure all needed cookies have been selected, you can hit "Clean" button to start the whole process. When the program remind you that the clearing is finished, you can eject your device and experience your iPhone as you like!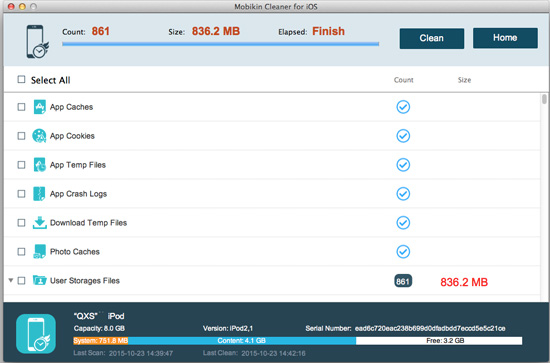 How to Clear Safari Cookies on iPhone Directly?
1) Click on the settings icon in your iPhone so that you can activate the settings application.
2) Scroll down until you land on the safari item in the list that is displayed by the settings application. Tap to display the specific settings on your top right.
3) From the list displayed, scroll down and rest on the "clear Cookies and Data" item. Click on this item. An alert will appear which asks you whether you want to clear the data and cookies. The alert also has the "cancel" option.
4) Tap on the "clear cookies and data" button and all your cookies will be deleted from your iOS device. As simple as that!
Related Articles
How to Clean Temp Files on iPhone Easily
How to Clear Caches on iPhone 14/13/12/11