How to Clean iTunes Radio History on PC/Mac
iTunes Radio is a streaming music service, available through Apple's iTunes, that allows you get access to scores of radio channels in a wide variety of genres, from obscure dark melodic psytrance to conservative news talk radio. It's similar to services like Pandora, but with a wider range of music and other audio content available for you to listen to. With it, you can also create your own, customized stations; or you can press "Play More Like This" when you like a song, which will cause the program to play more songs with similar features; or you can also select "never play" to stop a song you don't like from ever playing again. The point of these features is for Apple to keep track of what you listen to. This is also partly to encourage you to purchase songs you've heard and liked.
Why Do You Need to Clear iTunes Radio History?
However, when you use iTunes Radio extensively, you may have found that it's easy to get cluttered. We know that the function of your iTunes Radio history is to keep a log of the songs you've liked, so that you can easily purchase them. However, it can get so cluttered up with hundreds of songs that it's hard to find what you're looking for. Your iTunes radio history could also be either embarrassing, or not reflective of your real musical interests. If you're embarrassed that you spent hours listening to old Britney Spears songs, or if you don't want the Raffi station you put on for your toddler nephew to throw off Apple's idea of what you do and don't like, you may want to clean iTunes radio history. But the problem here is how to reach it?
Tool You'll Need:
Deleting unwanted custom stations, you only need to tap the "edit" button to the left of "My Stations". Or yo can hit "History" tab to clear the entire history of songs that you've listened to. But today, we could like to show you another simple way to delete iTunes radio history - MobiKin iOS Data Cleaner. With it, you can easily delete the entire or partial iTunes radio history with one simple click, and other data like caches, temp files, etc. that is generated by the app can also be wiped permanently.
Steps on Clearing or Deleting iTunes Radio History for Windows/Mac
1) To get started, you need to link your iPhone to computer and launch the program after its installation. Then you'll see an interface like below. To delete iTunes radio history, you only need to choose "Quick Scan" mode and be sure the option of "iTunes radio history" have been selected.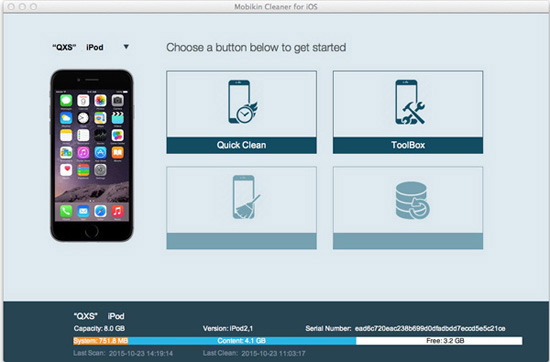 2) Hit "Start Scan" button to begin the scanning process, and you only need to wait until the scanning is finished. After that, you can check the specific folders in the right panel and preview the detailed history in the program as you like.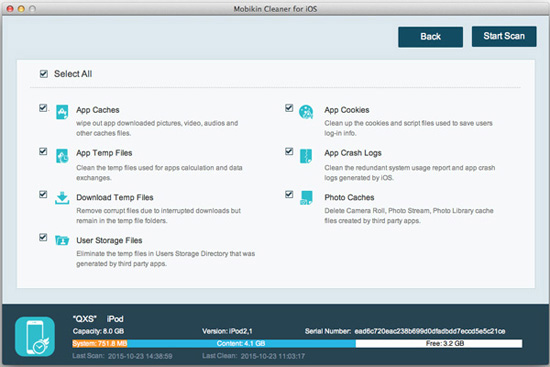 3) Tick the iTunes radio history you wish to delete one by one, and when all data have been selected, you can choose "Clear" button to begin the deletion at once.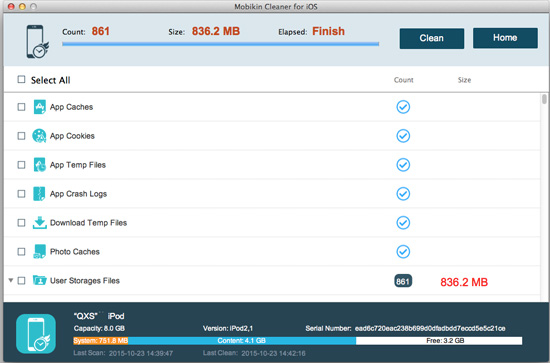 Related Articles:
How to Clear Caches on iPhone 14/13/12/11/XS/XR
How to Delete Temp Files on iPhone 14/13/12/11