Top 9 Proven Tips on How to Optimize iOS Performance
It is no secret that your iPod touch, iPhone or even iPad will eventually become slow after using it for some time due to various reasons. This significant reduction in performance is likely to affect how you use your device if you do not act in time to solve it. You have probably realized that this unfortunate incident often occurs when you decide to install a newly launched iOS upgrade version, especially on an iDevice with a much lower processor. However, this does not have to be the case as this comprehensive article is going to educate you on the top 9 proven tips on how to optimize iOS performance for free.
Tips on Optimizing iOS Performance from Various Aspects
1. Restart your iDevice on a regular basis
It is essential that you try this simple tip before even deciding to follow any other technique provided in this article. You will be surprised at how much this simple yet effective technique can significantly boost your iDevice's performance. Restarting your iOS device, especially after installing a new application helps your iPod touch, iPad or iPhone to clean up any available surplus internal memory space.
Restarting your Apple handheld device is also guaranteed to fix multiple common issues brought about by corrupted apps, hence; providing your handheld gadget with the much-needed performance boost.
2. Create enough internal storage space
You are likely to experience constant app crashes among other performance issues if your iOS device has low internal storage memory. It is advisable to always keep at least between 500MB to 1GB of internal storage space if you wish to keep your gadget running in an optimum state. You can easily create the additional space by deleting unnecessary music, image, and video files that you no longer use.
Uninstalling rarely used apps, especially those that are consuming even more internal storage space can also be beneficial. To identify which apps are consuming a lot of storage memory, simply go to your iOS device's settings select the "General" feature and then proceed to tap on "Usage." You can also just delete the app's data to free up even more storage space. Here, we could like to strongly recommend a reliable cleaning software for iOS - MobiKin Cleaner for iOS (Windows/Mac). With it, you can directly clear all junk files, background processes, searching history, etc. from iPhone, iPad or iPod touch completely.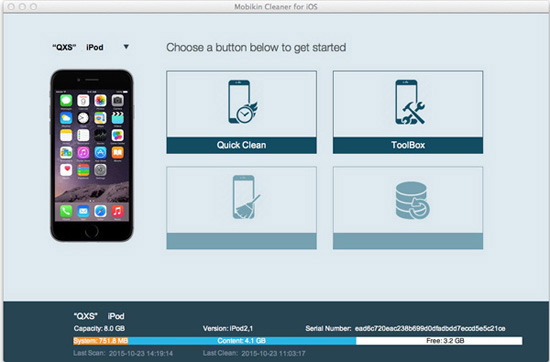 Can't Miss:
How to Clear Junk Files on iPhone 6S/6/5S/5
How to Delete Google History on iPad
3. Reset all your iDevice settings
This optimization technique is guaranteed to provide your iPhone, iPod Touch or iPad with the much-needed speed boost. Unlike doing a "Factory Reset", restoring your iOS device's settings will not erase any of your data. Doing this reset will only return all your device's general settings to the state they were when you first bought it. Kindly note that you will be required to repair your Bluetooth devices, create a new passcode and rejoin your previous WI-FI networks among other activities after doing this.
To do it, you can simply go to the settings of your iDevice, select the "General" option, tap on "Reset" option once prompted and then activate the "Reset All Settings" feature.
4. Disable the Spotlight Search feature
"Spotlight Search" is a highly beneficial Apple service that is commonly found on all iOS 8+ devices. Despite its amazing features, this service is considered to be a leading internet, storage, and RAM memory hog. This is mainly because the service requires constant access to various internet data sources to provide the relevant search results. It is important that you turn off this feature, or even disable specific data sources that you don't consider useful if you wish to increase your gadget's battery life and performance.
To disable this service, simply select the "General" feature found in your gadget's main settings, tap on "Spotlight Search" and disable the service once prompted.
5. Turn off automatic updates
There are numerous benefits that can be realized when you keep your applications continuously up to date. However, it is recommended that you disable this automatic updates feature and instead opt to manually update all your favorite apps. Leaving your applications to automatically update themselves is known to not only affect the battery life but also slow the performance of your handheld iDevice. Disable this unnecessary feature by selecting the "iTunes & App Store" option found in your device's main settings and then turning off the "Automatic Download" feature.
6. Switch off extra features that affect your device's graphics
Blur, transparency and parallax are some main features that hinder the performance of your iPod, iPad or iPhone's graphic processor. These additional features were first introduced to the Apple handheld devices with the newly launched iOS versions. This move was entirely aimed at improving the aesthetics of iOS devices. It is recommended that you disable these performance inhibiting features, especially if you are using an iOS device with a much lower graphic processor.
By doing so, you will have made your iDevice to appear less attractive but you will have in the real sense increased your iPhone, iPad or iPod touch's performance in the long run.
7. Disable unnecessary background apps
The "Background App Refresh" feature, when activated allows all the open applications to update themselves constantly. This feature, although considered to be important by some Apple handheld device users, is also known to not only drain battery life but also slow down the overall performance of such gadgets hence should be deactivated. Although highly recommended to turn off the entire "Background App Refresh" function altogether you can still choose to disable some specific apps while leaving other essential ones to automatically update at will.
To disable the "Background App Refresh" function simply go to your iOS device's settings, click on the "general" option and then select "Turn off Background App Refresh" when prompted.
8. Update or Downgrade your handheld device's operating system
It is possible that you may experience slow performance when you install the latest iOS operating system on your gadget as another person realizes a significant boost in performance while using the same program. If you have never updated your iPad, iPod Touch or iPhone's operating system feel free to do so as this may solve most of your performance issues. You can check if you are using the latest iOS by going to the "General" option found in your gadget's main settings window and selecting the "Software Update" feature.
However, if you started experiencing the performance issues after upgrading to the new OS just revert back to the old one that you were using.
9. Erase your iDevice
All the tips on how to optimize iOS performance provided above are guaranteed to help you eventually accelerate your iPod, iPad or iPhone's performance. If this is not the case, you will be required to format your iDevice and start afresh. This process is going to erase all your personal and private data. Hence, you should ensure that you backup all your essential information first. To format your iDevice go to the main settings window, select the "General" option, then tap on "Reset." Once prompted simply click on "Erase All Content and Settings," confirm and then wait. Or you can use a professional erasing tool to permanently erase everything from your iPhone, iPad or iPod as you like.
Write in the End
You can always use the effective tips on how to optimize iOS performance provided above to keep your iPhone, iPad or iPod Touch working efficiently. All the tips provided are easy-to-follow hence can be used by anyone even if they don't have any troubleshooting technological background.
Related Articles:
How to Erase iPhone Data without Restoring
How to Erase Privacy Info from iPhone
How to Securely and Permanently Erase Everything from Android