[Definitive How-to Tutorial] How to Speed Up iOS 16 on iPhone/iPad/iPod Touch
Summary: From this article, you will learn some useful tips to speed up iOS 16 on iPhone, iPad or iPod touch, which will make your iOS system as well as the iDevice run faster and smoother.
Although it rarely happens, some users do find that iOS 16 would slow down the speed of the device operation. In this case, you must want to speed up iOS 16 on your iPhone, iPad or iPod touch, right? But how to achieve this goal? It is easy! We have collected and tested some useful tips and solutions for this problem and we will list them in this tutorial. Just read on to get them.
Use Powerful Tool to Speed Up iOS 16 Thoroughly
The possible reasons for the slow iOS 16 would be the cumbrous system settings and huge files. Therefore, to speed up the operating system, you can try to erase all the system settings and files on your iDevice. For most users, this erasing process would be troublesome and time-consuming. But if you have the MobiKin Eraser for iOS, you can complete it with simple clicks.
What is MobiKin Eraser for iOS?
MobiKin Eraser for iOS is a software that can help users to permanently remove all files on iOS device, including existing and deleted files, system settings, private data and other files. After the erasure, the data on your device will be completely wiped and cannot be recovered anymore. This will make your iPhone/iPad/iPod like a brand new one.
Notice: All the files erased by this tool will be unrecoverable, so please back up your wanted files before you start the erasing process.
Now you can download and install the program on your computer by clicking the icon below and then go with the steps to speed up iOS 16.
Step 1. Launch the installed software on your computer and you will get an interface as below. Then you should install the latest iTunes on your computer if required and use a USB cable to build a connection.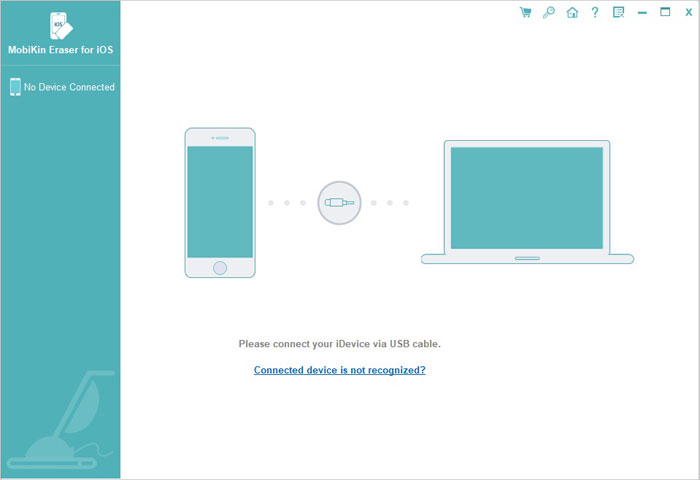 Step 2. After that, the program may ask you to trust the computer. Just tap on "Trust" on your device to make the connected device be recognized.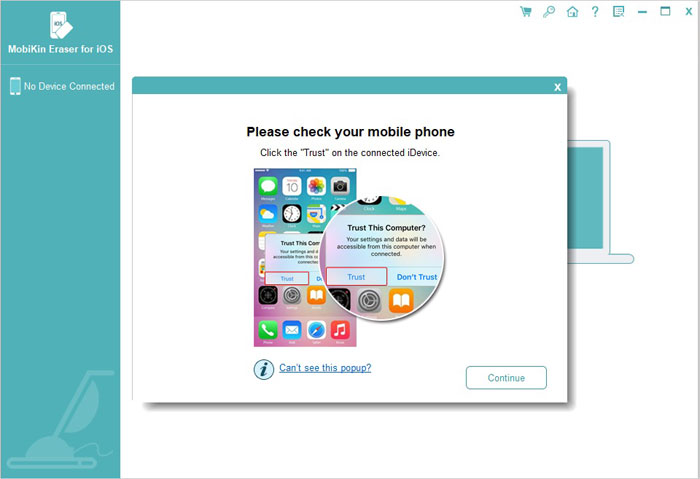 Step 3. When the tool detects your iDevice successfully, you will get the following interface. To go on, you should tap on "Erase" and then close "iTunes" and "Find My iPhone" if prompted.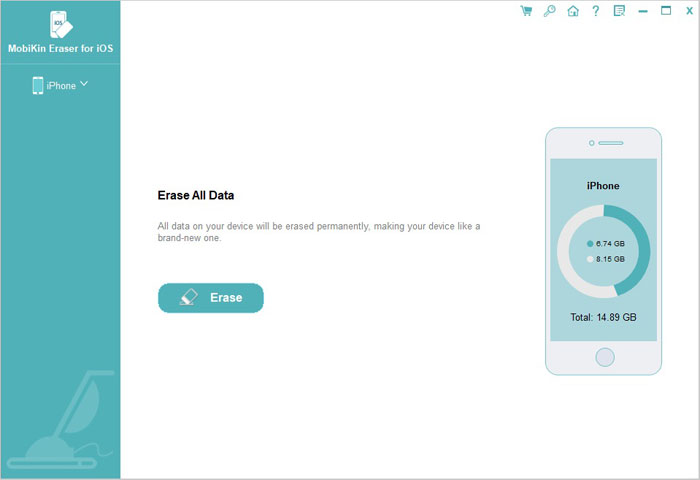 Step 4. Then you can tap on "Medium" on the interface to choose a security level and tap on "OK" to confirm your option.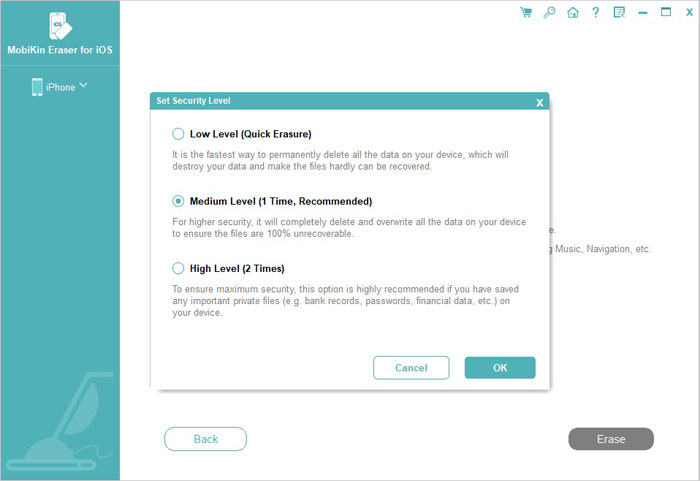 Step 5. Now you would be on the "Erase All Data" interface. Here you need to type in "delete" in the input box and tap on "Erase".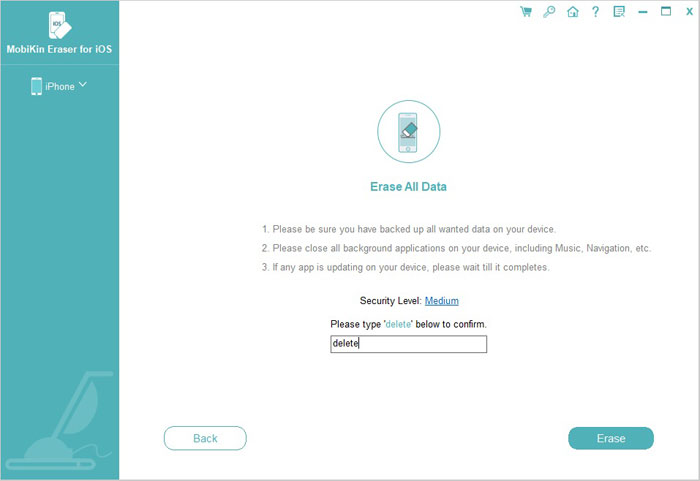 After that, the program will start to erase the data on your iDevice. Here, if you choose the low security level before, the program will restart your device after the erasure. But if you select the medium security level, it will go on to overwrite your phone data. If you elect the high security level, it will overwrite the data two times.
You may also want to know:
How to Speed Up iPhone 14/13/12/11?
Top 3 iPhone Data Eraser - Erase Everything on iOS Device
Useful Tips to Let iOS 16 Run Faster
There are some tips allow you to speed up iOS 16 on iDevice as well. Here's how:
1. Reboot or Hard Reboot iDevice
Supposed that your device becomes clumsy after upgrading to iOS 16, you can first try to reboot the iPhone/iPad/iPod. If it does not work, then you can try a hard reboot. The methods are as below:
- For iPhone 6S or earlier iPhone, you can press and hold the "Home" and "Power" buttons at the same time until the Apple logo appears.
- For iPhone 7 or iPhone 7 Plus, please press the "Power" and "Volume Down" keys simultaneously. And release them while the Apple logo appears.
- For iPhone X/8/8 Plus and newer device, you need to quickly press and release the "Volume Up" button and then quickly hold down and release the "Volume Down" button. Next, press and hold the "Power" button till you see the Apple logo.
2. Update Apps to Latest Version
When the iDevice is updated to iOS 16, some applications in old version might not run properly on the new system. So to ensure the smooth running of the Apps and operating system, you need to update them to the newest version.
3. Disable the Unnecessary Functions
Provided that you are still using an old iPhone or iPad like iPhone 6S/6/5S, you can select to give up some functions, such as:
- Background App Refresh: Go to "Settings > General > Background App Refresh" to turn it off.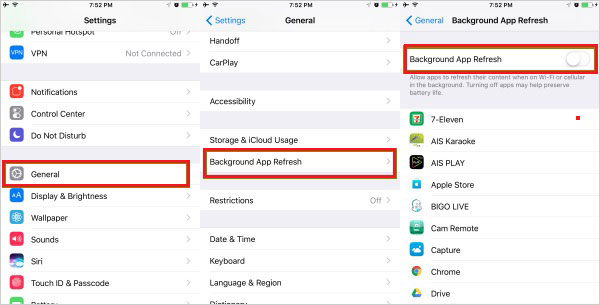 - Location Services: Navigate to "Settings > Privacy > Location Services" to disable the service.
- Automatic Downloads: Visit "Settings > iTunes & App Store > turn off Updates".
- Siri Lookup & Suggestions: Click on "Settings > Siri & Search > Suggestions in Search and Suggestions in Look Up" to turn them off.
- ...
4. Reduce Motion & Transparency
Reducing motion and transparency on iDevice can help to speed up the performance of the system as well, so you can make an attempt here:
- Reduce Motion: Open "Settings > General > Accessibility > Reduce motion" to turn on the function.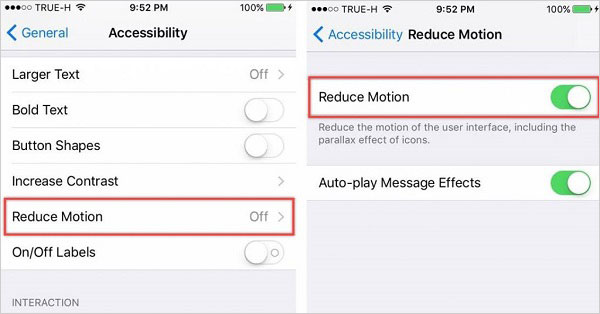 - Reduce Transparency: Tap on "Settings > General > Accessibility > Increase contrast > enable Reduce transparency".
5. Use Simple Wallpapers
The wallpapers that you use would affect the running of iOS 16 also. Hence, it is advisable for you to use a simple and small picture as your wallpaper. To change the wallpaper, you can go to "Settings" and find the "Wallpaper" option. Then you can elect some simple images and put them on the Home screen.
6. Throw Away Useless Apps
Everyone knows that applications take up a lot of space of the system and device. Hence, if you wish to speed up the iOS and iOS device, you'd better give up some applications that you rarely use. Just simply find out the App on Home screen and long press its icon until an "X" appears. Then tap on the "X" icon to delete the application.
7. Free Up the Space
An optimal performance of iPhone or iPad requires sufficient free storage. In general, the device should have at least 10% free storage available. To confirm that, you can go to "Settings > General > Storage". If the free storage space is less than 10%, then you need to delete some less important or useless files on the device to free up the space.
8. Reset System Settings
One of the powerful methods to speed up the iOS performance is to reset system settings. This will remove all settings on your device and you need to configure the settings on your device again. If you have interested in it, you can have a try: click "Settings" and then choose "General" in the section. Then tap on "Reset > Reset All Settings".
9. Backup & Restore iOS
Another way you can try is to backup your device to iTunes or iCloud and then restore iOS. Here is the tutorial:
- Back up your iOS files to iTunes or iCloud.
- Connect your iDevice to computer and launch iTunes. On the primary interface of iTunes, you can tap on your device and choose "Summary". Then you can go on to choose the option "Restore Backup...".
10. Downgrade iOS 16
If iOS 12 still runs slowly after using the methods above, maybe your device is not compatible with the new system. Then in this case, you can attempt to downgrade iOS 16. But this must be your last option since it is risky.
The Bottom Line
These are all the tips and solutions for how to speed up iOS 16. If you have any different opinion about this topic, you can leave a comment below or contact us.
Related Articles:
Full iOS Update Guide: How to Easily Update iPhone/iPad to iOS 16
Detailed How-to Tutorial: Transfer to New iPhone XS/XS Max/XR from Old Android/iPhone/PC
[3 Ways] How to Do Group FaceTime in iOS 16
Top 5 iPhone Cleaner Software You Can't Miss
Best iOS Optimizer - How to Optimize Storage on iPhone/iPad/iPod