Top 3 iPhone Data Eraser - Erase Everything on iOS Devices
Something write at the beginning: Selecting a proper yet reliable iPhone Data Eraser software is not a simple task for lots of users, so in order to saving your time on comparison, we have picked up the top 3 iPhone eraser software on the basis of hundreds of customers' feedbacks. You can select one of them to wipe everything on iPhone, iPad or iPod touch as you like.
When you're planning to resell your old phone, donate or trade it, you may used to make the device back to its default state and think that it is a safe way to protect your personal info from leaking out. However, things are not going as you imagine. Too much facts have proved that the deleted information in the above method can be recovered, and your personal info still in danger. Fortunately, the good news is the fact that there are lots of iPhone Data Eraser software that can completely yet permanently delete your iPhone data without opportunity to restore.
In this page, we'll introduce top 3 data eraser software for iPhone or iPad, you can compare them and select one as your personal option.
#1 - Best iPhone Data Eraser You Can't Miss
The recommended iPhone Data Eraser here can be treated as the best data eraser program for iOS users. It erases all data from iPhone or iPad in the safest way, leaving no possibility of recovering your data. What's more, it also wipes specific data like text messages, call logs, contacts, bookmarks, etc. on iPhone or iPad selectively without harming other existing data.
Here is the detailed features of iPhone Data Eraser for your reference:
- 1-click to erase data on iPhone, or iPad permanently, and make your device runs like a brand new.
- Clear private data and speed up space, so that your personal information will get the best protection.
- Leave no opportunity to restore.
- Clean junk files with 1 simple click, and speed up your old device.
Sounds great, right? Now, follow the below instructions and see how to perform the best iPhone Data Eraser software step by step.
Note: Before erasing iPhone data, you may also need iTunes alternative software to help you backup iOS data.
Step 1. Download, install and launch the program on your Windows or Mac computer, then connect the iPhone you wish to erase to the computer with an USB cable.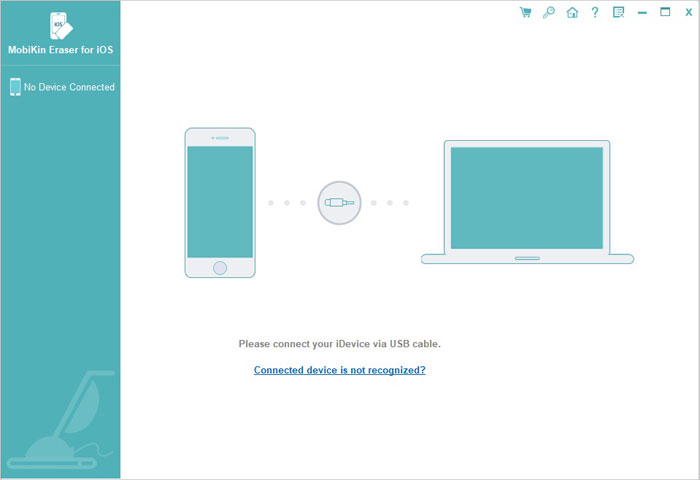 Step 2. When the program have detected your iPhone, you need to choose an erasing mode according to your own needs.
- Erase All Data: Erase all content on your iPhone or iPad with zero opportunity to restore.
- Erase Private Data: Scan and delete all your privacy info like contacts, calendars, reminders, photos, etc. on iPhone or iPad selectively.
- Space Saver: Release the storage space on iPhone or iPad by compressing photos or exporting to computer.
- iOS Optimizer: Clean junk files and speed up your iPhone or iPad.
Step 3. Click "Erase All Data", and the program will conduct a deeply scanning. Here, you can preview the scanning results in the form of categories.
Step 4. Choose all contents and click "Erase Now" button to permanently delete all things on your iPhone or iPad.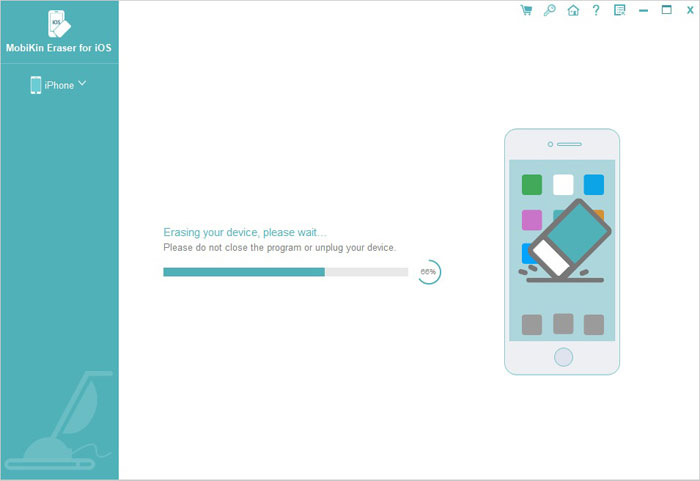 #2 - iMyfone Data Eraser for iOS
iMyfone Data Eraser for iOS is one of the popular iOS Data Eraser program which can works on both Windows and Mac computer. It allows users to permanently erase your iOS 11, iOS 10 or iOS 9 device without restrictions. What's more, this program provide 3 different security levels to make sure your private and personal data is completely removed.
There are 5 different erasing functions allows users to delete specific data on the basis of their own needs. The whole erasing process can be done within 3 simple steps: connect - scan - erase, and there is no opportunity to restore.
- Provide 3 different levels to secure your personal information.
- Clean up junk files and speed up your iOS device with 1 simple click.
- Permanently overwrite the deleted files, and leave no opportunity to restore.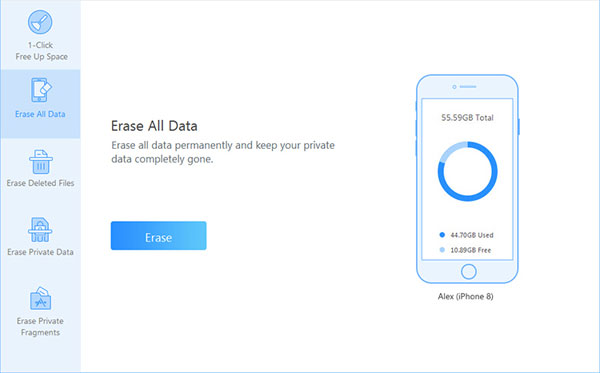 #3 - iMobie Phone Eraser
Unlike the above two data eraser for iOS, iMobie Phone Eraser have paid more attention to the technology of cleaning. It provides users with 1-click all data erasing option, and various cleaning options for iPhone and iPad users. With it, you can permanently delete all contents on iOS device and make it become brand new, or you can use the cleaning options to find every file that may be eating up your phone storage and delete them.
Features:
- Delete your personal data on various iDevices with a simple click.
- Erase EVERYTHING on your iPhone or iPad and leave zero possibility to restore.
- Provide a secure way to protect your personal information.
- However, you cannot choose specific file for deletion.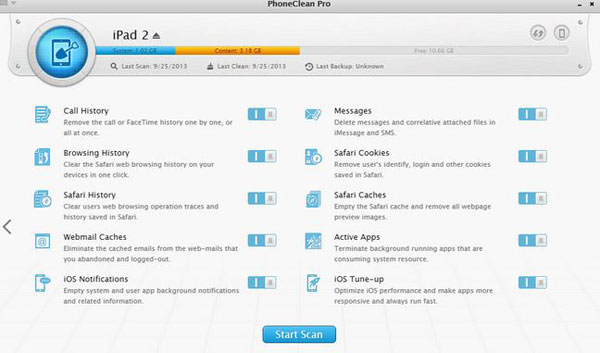 Write in the End
There are top 3 iPhone Data Eraser software for Windows and Mac users, you may have found the difference between them, right? Even though every program has its different advantages, but all of them can help users to erase data on iPhone or iPad and protect personal info. And no matter what is your final option after reading this page, I think the top 3 data eraser program can help you reach your goal.
Related Articles:
How to Speed up iPhone X/8/7 Step by Step