A Complete Tutorial about How to Downgrade iOS 12
In most cases, a new iOS version would fix some bugs of the old version and bring some new features, so the majority of people are willing to make an iOS update. However, sometimes the update may fail or someone does not like the new iOS version and they want to downgrade from iOS 12 to previous version. Then how to downgrade iOS 12? This tutorial can tell you.
Things You Should Know about iOS 12 Downgrade
It is known to all that the risk of iOS downgrade is much higher than iOS update. Thus, to ensure the safety of your iDevice as well as the files, you ought to know something important before starting the downgrade.
1. Be Patient While Downgrading
The iOS downgrade is a little bit complex and time-consuming, so please be patient while performing the downgrade. You should not interrupt the downgrading process or your phone data or system settings might be damaged.
2. The Usable iOS Versions are Limited
To accomplish the downgrade, you should first go to ipsw.me to download the wanted iOS version. But on this website, the still signed IPSW file is only on iOS 11.1, iOS 11.1.1, iOS 11.1.2 and iOS 11.2. That means you can only downgrade your iPhone/iPad from iOS 12 to iOS 11.1/11.1.1/11.1.2/11.2. Other earlier iOS versions are not signed now.
3. Cannot Restore the Backup after the Downgrade
After you uninstall iOS 12, you will be unable to restore your device with the backup that you created before the downgrade. If you want to get back the files, you should turn to some tools like iOS Data Recovery.
4. The Downgrade is Risky
Normally, the downgrade should be harmless but it also has the potential to brick your iOS device. Hence, in order to prevent the files on your device from losing, backing up the data beforehand is suggested.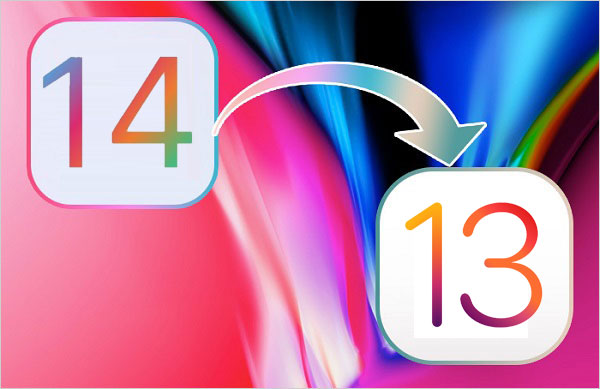 Preparations for the iOS Downgrade
Before you uninstall iOS 12 from your device and install iOS 11.1/11.1.1/11.1.2/11.2 on iPhone/iPad, there are two things you need to do. They are:
1. Back Up the Data on Your iOS Device
No one knows what will happen during the downgrading process. Thus, you are suggested to make a backup before performing the downgrade. Here, you can use the free third-party software called MobiKin Assistant for iOS to simply backup your files. This program allows you to sync the iPhone/iPad/iPod files to computer with several clicks. In addition, it enables you to repeatedly backup the files to iTunes with one click. You can click the icon below to try and use the software for free.
Let's see how to transfer iPhone files to PC for backup!
- Launch the program and then use a USB cable to connect your iPhone to computer.
- Go with the onscreen prompts to make your iPhone be recognized.
- After the recognition, you can view your phone files on the program. Just tick the files you want to backup and hit "Export" to save them onto your computer.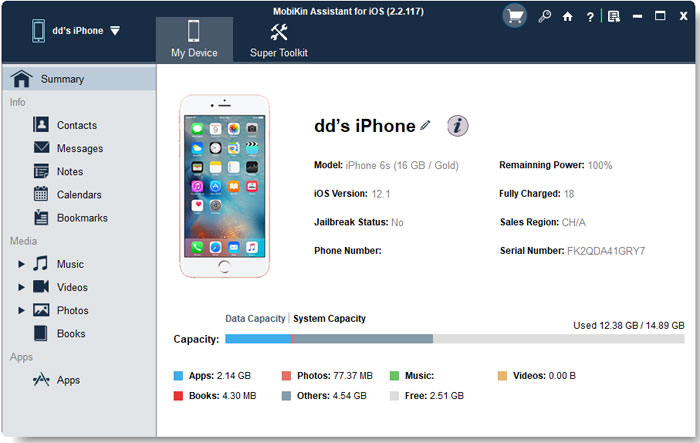 2. Disable "Find My iPhone"
You need to turn off the "Find My iPhone" service on your iDevice. To complete that, you can:
- Head to "Settings" and tap on your name at the top of the list.
- Then choose "iCloud" followed by "Find My iPhone".
- Here, if you find that the service is enabled, you need to slide the button to turn it off. If it is disabled, just ignore it.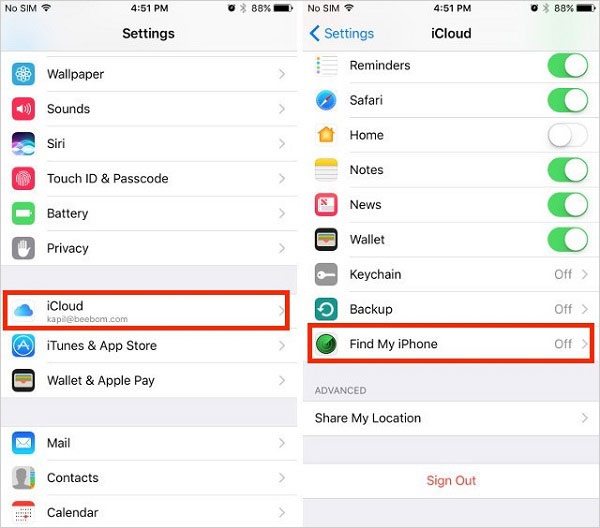 3. Make Space for the Download
The iOS downgrade means you need to uninstall iOS 12 and then install other iOS version on your device. And both uninstallation and installation require certain storage space of the device. Therefore, you need to check the available storage space on your device. If the space is very small, you should optimize your iDevice space in advance.
How to Downgrade from iOS 12 to Previous Version?
Here are two methods to accomplish the downgrade: downgrade the operating system with backup or without backup. Certainly, it would be better and safer to roll back your iPhone/iPad to iOS 11 through a backup. So for those who have made a backup before upgrading to iOS 12, they are strongly recommended to downgrade iOS 12 with backup. If you do not back up the previous iOS version, don't worry, you can try to perform the downgrade without backup as well. Let's see how to do that:
1. Downgrade iOS 12 with Backup
Step 1. Go to ipsw.me to download the previous iOS firmware for your device and save it onto your computer.
Step 2. Turn off the "Find My iPhone" service on your iDevice and use a USB cable to link your iPhone/iPad to computer.
Step 3. Launch iTunes on computer and put your device into DFU mode by pressing the "Power" and "Home" buttons simultaneously > releasing the "Power" button after the Apple logo appears > releasing the "Home" button when you see the "Connect to iTunes" prompt.
Step 4. After that, iTunes will prompt that it has detected an iPhone/iPad/iPod in recovery mode and ask you whether to restore your device. Just tap on "OK" to allow the restore.
Step 5. Tap on your device in iTunes and then choose "Summary". Next, you need to choose the "Restore iPhone" option. For Windows, you can hold down "Shift" and click on "Restore iPhone (or iPad/iPod)..."; for Mac, you can press "Option" and click on "Restore iPhone (or iPad/iPod)...".
Step 6. Find out the iOS ipsw file that you have downloaded and choose it and tap on "Open". Then a window will pop up to tell you that you are going to downgrade to previous iOS software and the process will erase all data on your device. You can hit "Update and Restore" to continue.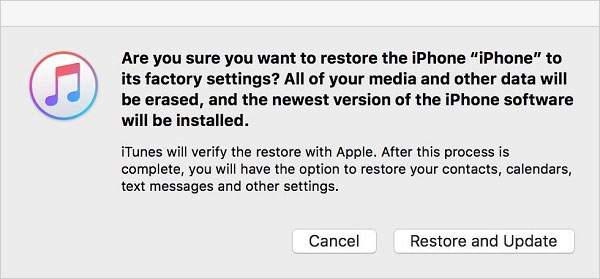 2. Downgrade to Previous iOS Version without Backup
Step 1. Download the ipsw file on your computer.
Step 2. Connect your iDevice to iTunes and go on to choose your device.
Step 3. Then you should go to "Summary" section and press "Check for Updates" while holding down "Option" (on Mac) or "Shift" (on PC).

Step 4. Next, navigate to the ipsw file that you have downloaded before and start to install the iOS file.
Wrapping Up
That's how to downgrade iOS 12. If you decide to perform a downgrade, please make full preparations beforehand and be careful during the process. This can help to better protect your device and ensure the smooth going of the process.
Related Articles:
Detailed How-to Tutorial: Transfer to New iPhone XS/XI/X Plus/9 from Old Android/iPhone/PC
[3 Ways] How to Do Group FaceTime in iOS 12?
[Fixed] iPhone Can't Make or Receive Calls after iOS Update? 7 Tips to Solve It!
iPhone Frozen During iOS Update, How to Fix It?