How to Downgrade from iOS 14 to iOS 13 [Full Guide]
Are you satisfied with newly released iOS 14? With it, you may find Siri won't block iPhone's screen when it works; it's easy to watch videos via a small window, etc. Meanwhile, there are also some criticisms: categories of App resource library cannot be edited; phone space is greatly occupied; mobile' endurance is not what it used to be....These got many people thinking about downgrading the current OS. Well, how to downgrade from iOS 14 to the previous version can be a problem for some iDevice users.
OK, this definitive guide aims at telling you how to do that in 3 ways. And you'll learn some practical tips from this page.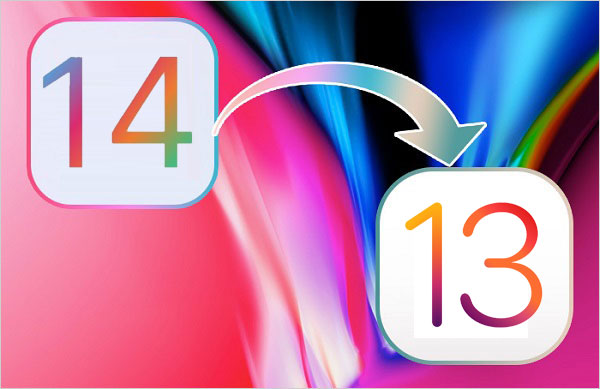 Things You Should Know before You Downgrade from iOS 14
It is known to all that the risk of iOS downgrade is much higher than that of OS update. Therefore, to ensure the safety of your iDevice as well as its files, you ought to know something important before starting the downgrade.
- Be Patient While Downgrading
The iOS downgrade is a little bit complex and time-consuming, so please be patient while performing the downgrade. Any interruption during the procedure might damage the OS or your phone's data.
- The Usable iOS Versions Are Limited
To accomplish the downgrade, you should first go to ipsw.me to download your wanted iOS version. You can tap Choose a product > Choose a platform > Choose a version on the website to preview the versions and choose a suitable one to download.
- Cannot Restore the Backup after the Downgrade
After you uninstall iOS 14, you'll be unable to restore your device with the backup that you created before the downgrade. If you want to get back the files, you should turn to some tools like iOS Data Recovery.
- The Downgrade is Risky
Normally, the downgrade should be harmless, but your phone data could be at risk. Thus, in order to prevent the files on your device from losing, backing up them beforehand is suggested.
Notice: It should be noted that Apple Watch cannot be downgraded, for watchOS 7 isn't compatible with iOS 13.
Check if You Need:
Part 2: Full Preparations for the iOS Downgrade
Before you uninstall iOS 14 from your iPhone/iPad, and get the previous OS installed on the device, there are 3 things you need to do. They are:
1. Back Up the Data on Your iOS Device
No one knows what will happen during the downgrading process. Hence, you are suggested to make a backup before performing the downgrade. Here, you can use the smart third-party software called MobiKin Assistant for iOS (Win and Mac)to take a secure backup for your data. This program enables you to sync the iPhone/iPad/iPod files to computer with simple clicks. Besides, it gives you the freedom to repeatedly back up the files to iTunes like a cork.
What's more important, it can make a overall management for your iDevice's data. You can click the icon below to give it a shot with its trial version.
Let's see how to transfer iPhone files to computer for backup:
- Launch the program after the download and installation. Then use a USB cable to connect your iPhone/iPad to computer.
- Go with the on-screen hints to make your iDevice be recognized.
- After the recognition, you can view your phone files on the program. Next, simply tick the data you want to back up, and hit Export to save them onto your computer.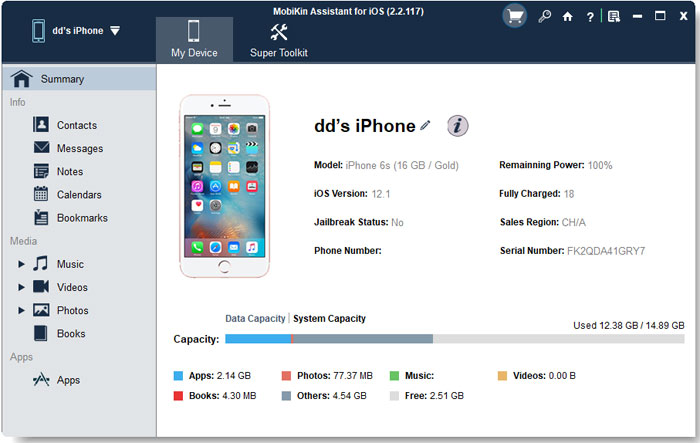 You can do the backup in a one-click way. (go to "Super Toolkit" > "iTunes Backup & Restore" > to choose "Backup" and opt for your device. Then tap "Back Up" to sync your iDevice data to computer.)
2. Disable Find My iPhone feature
If you downgrade from iOS 14 to iOS 13 with the recovery mode, you don't have to turn off the Find My iPhone feature. Yet assume you want to downgrade via iTunes directly, it is recommended to toggle it off. To complete that, you can:
Head to Settings and tap on your name at the top of the list.
Choose iCloud, followed by Find My iPhone.
Here, if you find the service is enabled, you should slide the button to turn it off. Otherwise, just let it be.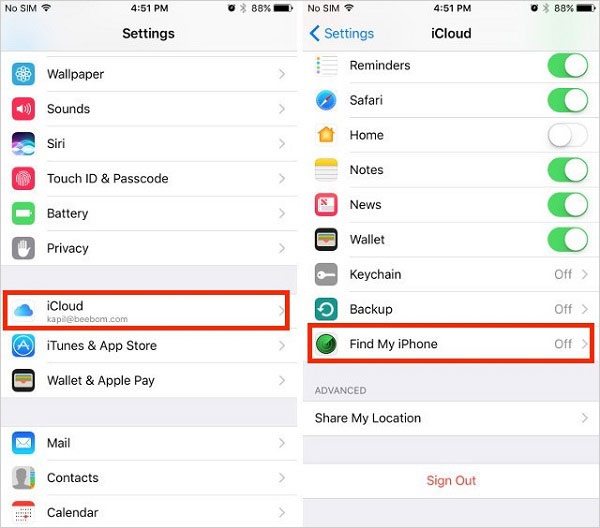 3. Make Space for the Download
The iOS downgrade means you should uninstall iOS 14, and then install another one on your device. Both uninstallation and installation require certain storage space of the device. Therefore, you need to check the available storage space on your device. If the going gets tough, you should optimize your iDevice space in advance.
Part 3: How to Downgrade from iOS 14 to Previous Version?
Here are 3 solutions to fulfill this task: downgrade from iOS 14 with backup or without backup. Certainly, it would be better and safer to roll back your iPhone/iPad to iOS 13 through a backup. So for those who have made a backup before upgrading to iOS 14, it is recommended to downgrade the OS with backup. If not, don't worry, you can try to do the downgrade without backup as well.
Let's see how to do that:
Way 1. How to Downgrade to Previous Version with Recovery Mode (with Backup)
Step 1. Go to ipsw.me to download the previous iOS firmware file for your iPhone/iPad, and save it onto your computer.
Step 2. Run the latest iTunes on computer. Have your iPhone/iPad attached to PC/Mac. Then put your iDevice into recovery mode.
For iPad Pro with Face ID: Press and quickly release Volume Up key. Then press and quickly release the Volume Down button. Afterwards, press and hold Top key until it starts to reboot. Continue holding the Top button until the phone gets into Recovery Mode.
Step 3. After entering into this mode, iTunes will prompt you to Cancel this action or Restore and Update this iDevice. Just tap the latter to move on.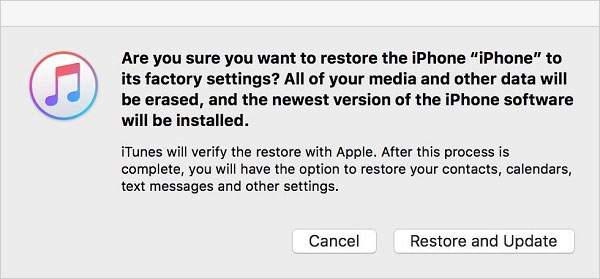 Step 4. Your iDevice will soon be wiped out, and the downloaded iOS 13 will then be installed. After the processes are over, the Hello screen will appear, and the initial setup will take place on this device.
Step 5. Now it's time to set up your iPhone/iPad, you can restore the previous backup you've just made before the downgrade.
See Also:
Way 2. How to Downgrade from iOS 14 from iTunes directly (without Backup)
Step 1. Make sure you've disabled Find My iPhone feature. Then download the iOS firmware (the same step as the previous section).
Step 2. Connect your iPhone/iPad to computer with a USB cable. Start the latest iTunes on the computer. Here, select iDevice from the upper left of the iTunes' interface (for Windows computer).
For Mac computer with macOS Catalina, your device can be found in Finder. Just start the Finder window, and choose your iDevice from the incoming list.
Step 3. Click Summary tab from the left menu, and press Check for Updates while holding down Option/Alt (on Mac) or Shift (on Windows PC).

Step 4. Choose the ipsw file that you've downloaded before, and tap Update as prompted to install the old iOS file.
Way 3. How to Downgrade From iOS 14 to iOS 13 by Removing Profile (without Backup)
Start the Settings app on iPhone or iPad. Then click General to go for Profiles & Device Management.
Choose the iOS Software Profile. And select the Remove Profile before you restart your iDevice.
Finally, wait for the next update of iOS 13.
Attention: It's easy to downgrade from iOS 14 to the previous one with this method. But you may have to keep your iOS 14 until the new version of iOS 13 comes out. Yet no one knows when the new one will be released.
Words in the End
That's how to downgrade from iOS 14/iPadOS 14 to iOS 13. Now, if you decide to perform a downgrade and want to do it well, please remember to make full preparations beforehand, and pay attention to the tips above during the procedure. This can help to better protect your iDevice, and ensure the smooth going of the task.
Related Articles:
Full iOS Update Guide - How to Easily Update iPhone/iPad to the Latest OS
Detailed How-to Tutorial: Transfer to iPhone from Old Android/iPhone/PC
[3 Ways] How to Do Group FaceTime in iOS 12/13?
[Fixed] iPhone Can't Make or Receive Calls after iOS Update? 7 Tips to Solve It!
iPhone Frozen During iOS Update, How to Fix It?