How to Downgrade from iOS 16 (Beta) to iOS 15.7? Here's All You Need to Know
The release of the latest version of iOS can always stir up a number of wonderful ripples among iPhone users. When many folks rush to enjoy the new system, some unpleasantness may strike them. Not surprisingly, a range of iOS 16 bugs are being criticized by early adopters. For instance, apps refuse to update, iPhone battery drains faster, duplicate iOS photos aren't displaying, etc.
Therefore, if you feel the same way about the issues above, how to downgrade from iOS 16 may actually come to your mind. OK, we will discuss this topic in detail now.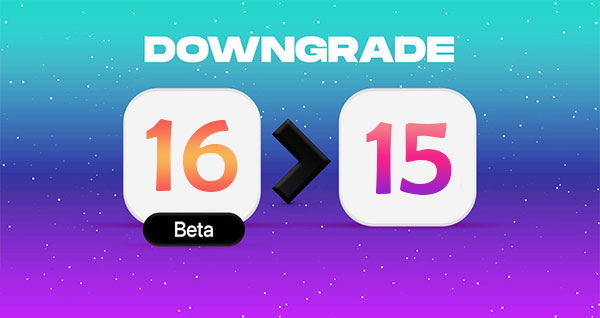 Step 1: Safely Back Up Your iPhone before Downgrading from iOS 16
No one knows what will happen during the iOS downgrade. Do you want to downgrade iOS without losing data? Well, it is advisable to run a backup of your iPhone before that. Here, you're recommended to pick iTunes, the official Apple assistant to make securely. Here is the tutorial:
Go to your iPhone's "Settings" and tap "iCloud".
Locate and turn off "Find My iPhone".

Enter your Apple ID and passcode when prompted.
Use a USB cable to connect this iPhone to a computer.
Click "Trust" if required and enter your passcode.
Open iTunes on the computer and tap the "device" icon when it recognizes your phone.
Head to "Summary" from the left sidebar of iTunes.
Navigate to the Backup area and mark "This Computer".
Click on "Back Up Now". (iTunes keeps crashing?)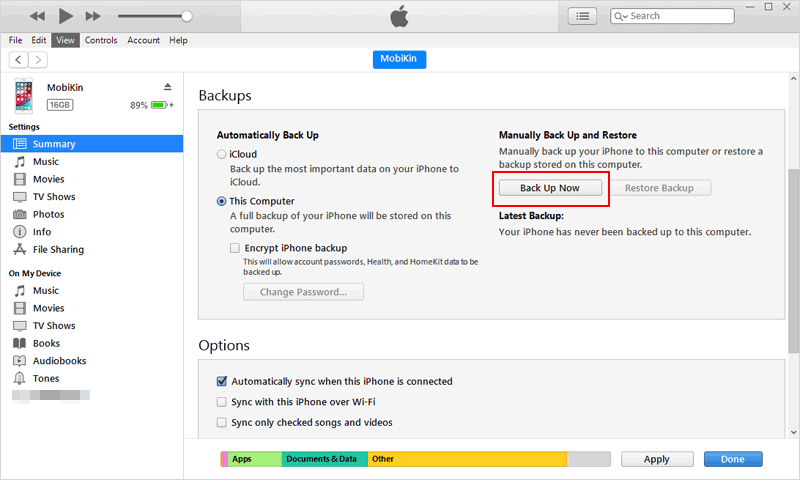 After the backup completes, you may wonder how to restore your iPhone to iOS 15 quickly. To help you get there without trouble, we shall let you know the three tested approaches below.
Downgrading is only possible as long as iOS 15.7 firmware is being digitally signed by Apple. And the same applies whenever a newer version of iOS comes out.
You Might Also Like:
Step 2: 3 Proven Ways to Downgrade from iOS 16 to iOS 15.7
Way 1: How to Go Back to iOS 15.7 with iTunes/Finder
After making sure that the backup is all right, you can take advantage of iTunes to downgrade iOS without losing data. This is because you'll have a copy of your iPhone even if the worst happens. Plus, you'd better not use your iPhone while the downgrade is going on.
How to downgrade from iOS 16 (Beta) to iOS 15.7 via iTunes or Finder?
Download the iOS 15.7.1 or iOS 15.7 firmware file for your iPhone from ipsw.me.
Ensure there's still a green checkmark in the "Apple Signing Status" column.
Make sure you've disabled "Find My iPhone" (We just mentioned it in the last section).
Connect your iPhone to your computer via USB.
Run the latest version of iTunes and tap on the "iPhone" icon. (If you upgraded your computer to macOS Catalina or above, start the process in Finder.)
Press the "Restore iPhone" button with a special click. (On a Mac, hold "ALT" when clicking; on a PC, hold "Shift" instead.)
Locate and click the iOS 15.7.1 or iOS 15.7 firmware you just downloaded.
Click "Restore" as prompted to begin the iOS downgrade.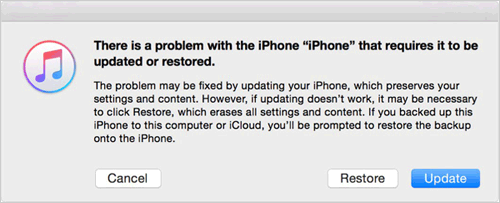 Way 2: How to Downgrade iOS 16 to iOS 15.7 with a Professional Tool
Do you need to reaccess iOS 15.7 on your iPhone by discarding the current iOS 16 via a dedicated program? Well, since many Apple fans are tired of the annoying iTunes, we would like to recommend an almost flawless tool - iOS System Recovery to make the downgrading a lot easier. Well, as its name implies, it is an expert specially used to fix various system problems.
Main features of iOS System Recovery:
Hassle-free to downgrade from iOS 16 (Beta) to the supported version without iTunes.
Simple clicks to upgrade iOS to the latest version.
Troubleshoot 50+ iDevice/iTunes/screen/iOS mode issues, including iPhone stuck on the loading screen, Touch ID not working, iPhone stuck on Apple logo, and more.
Two repair modes help you fix various system problems.
Run smoothly for overall iOS devices, covering iPhone 14/14 Plus/14 Pro (Max), iPhone 13/13 Pro (Max)/13 mini/12/12 Pro (Max)/12 mini, iPhone 11/11 Pro/11 Pro Max, iPhone X/XR/Xs/Xs Max, iPhone 8/8 Plus, iPhone 7/7 Plus, iPhone 6/6S/6 Plus, iPod touch, iPad, etc.
It won't disclose your privacy.
How to go back to iOS 15 from 16 with iOS System Recovery?
Step 1. Download iOS System Recovery on a computer. Open it after the installation and select "iOS System Recovery". Next, attach your iPhone to the computer via USB and tap "Trust" on your iPhone to get your device recognized.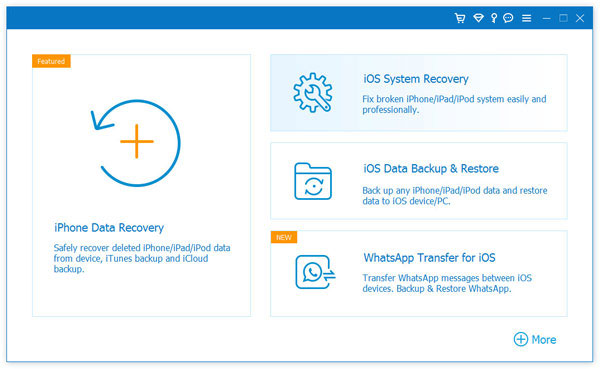 Step 2. Click the "Start" button on the screen to continue.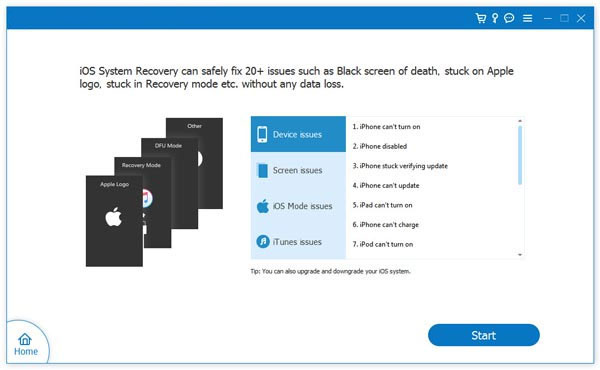 Step 3. Pick the "Standard Mode", check the basic information of your iPhone, and click "Optimize".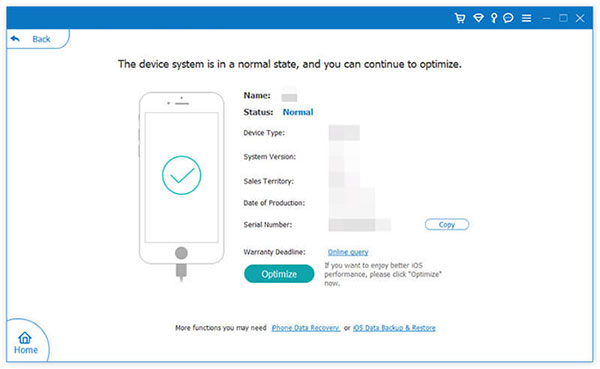 Step 4. This tool will match your device info, and you can modify it if it is wrong. Next, you'll see the iOS versions your iDevice is compatible with. Lastly, choose the correct one and tap "Next" to download the firmware before downgrading iOS 16. That's it.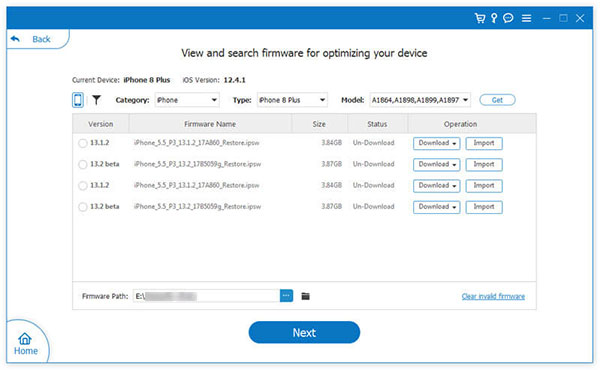 Way 3: How to Downgrade to iOS 15.7 from iOS 16 Using Recovery Mode
Although this method requires iTunes to work as well, it is different from what was previously detailed in that you need to complete all this in iPhone Recovery Mode. Since iOS 16 only supports iPhone 8 and above devices, you don't need to filter the appropriate steps from many choices to get your device into this mode.
How to revert back to iOS 15 from iOS 16 (Beta) via Recovery Mode?
Start the most recent version of iTunes on your PC or Mac.
Get the previous version of iOS from the Apple website.
Link your iPhone to the computer and put it into Recovery Mode: On your iPhone 8 or above, press and release the "Volume Up" button; press and quickly release "Volume Down"; press the "Side" button until the "Recovery Mode" screen appears.

Once your device is in this mode, iTunes asks you to either "Restore" or "Update" your iOS device. Just select the former.
When the downgrading is done, the "Hello" screen should appear.
Finally, exit the Recovery Mode and set up your iPhone as you want.
Know More:
Step 3: Restore the Backup after You Go Back to iOS 15
After reverting back to iOS 15, you're advised to restore your iPhone from iTunes. Typically, the backup of iOS 16 isn't compatible with the device running iOS 15. Thus, you have to handle the iTunes backup location properly. Here's the full guide:
Find the backup file on your computer.
On a PC, hold the "Win" and "R" keys; type in %appdata% or %userprofile% in the command box; click "OK" and choose "MobileSync". Open the "info.plist" file in Notepad.
On a Mac, open the "info.plist" file in Textedit instead.
Search the file for a reference to "Product" followed by "16.0".
Locate it with the "Command-F" or "Control-F" feature.
Change the 16.0 to 15.0 before saving the file.
Run iTunes or Finder and access the iPhone.
When your device is recognized, select "Summary" > "Restore Backup".

Choose the backup files you have modified and tap "Restore".
Extra: Things You Should Know before Downgrading from iOS 16
1. Will I lose iPhone data after downgrading to iOS 15.7
You are likely to lose the iOS data after the iOS downgrade. As you know, there's no official way to make it totally secure. So, making a backup of your iPhone would potentially secure your iOS files.
2. Is it possible to uninstall iOS 16 (Beta)
Simply put, you cannot make it directly. Yet when you downgrade iOS 16 to its previous version, the new system will be completely replaced, and it will no longer play a role in your iPhone.
3. Is it risky to downgrade iOS to its previous version
There's a certain possibility that something will go wrong after downgrading. So you might as well do it unless it's absolutely necessary.
4. Prerequisites to downgrading iOS 16
A PC or Mac with iTunes/Finder.
Sufficient memory space on your iPhone. (iPhone storage full?)
A USB Lightning cable.
A network connection.
A full backup of the iPhone to iTunes or iCloud.
iOS 15.x IPSW firmware.
Your iPhone is at 50% charged.
Enough patience.
Final Thoughts
That's all for today! In case something goes wrong or the downgrade fails unexpectedly, it's better to make full preparations before taking further actions, let's say, running multiple backups of your iPhone. Also, as mentioned earlier, users can only downgrade iOS when Apple keeps signing the old version of it. And please note that Apple often stops signing previous versions around two weeks after a new release is fully available.
Related Articles:
iPhone Battery Draining Fast After iOS Update? 8 Tips to Fix It
Which is the Best iOS System Recovery Software? Top 7 Tools Offered
Where Is Trash on iPhone? How to Clear or Recover Items from iPhone Recycle Bin?
Why Does My iPhone Keep Restarting? Reasons and 13 Great Solutions for You
4 Ways to Restore Lost Data on iPhone after iOS 16/15/14/13/12/11 Update