Everything You Should Know about iOS 12
If you are an iDevice devotee, you must notice that Apple has released several iOS 12 Beta versions in recent months. These test versions are actually preparing for the coming official version of iOS 12. So here, in order to let iDevice users better know the new iOS version, we would like to tell you something about the coming iOS 12.
When Can I Get the iOS 12?
Apple has released the first iOS 12 Beta version in June 5, 2018 and keeps updating the beta version in the following months. However, these beta versions are available for developers presently. And according to the news, a final release will be available in September for everyone else.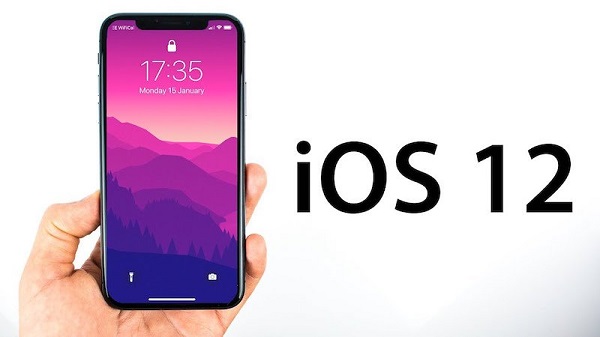 New Features of iOS 12
We all know that every update to the iOS version will bring some new features or fix some bugs and iOS 12 is no exception this time. This new operating system will provide users with new as well as better experience.
1. Faster & Smoother Performance
After updating to iOS 12, the performance of your iOS device will be improved. For example, the speed of launching application will be 2X faster; the keyboard will appear faster and the typing will be more responsive; Swiping to Camera from the lock screen will be faster; etc. In a word, your device will run more smoothly and quickly, which will greatly save your time.
2. Screen Time
Screen Time is a new iOS feature that can effectively prevent users from indulging network. Why do we say so? That's because this new function enables users to understand and make choices about use time of using Apps and websites. Except for that, you can also set the amount of time you can spend each day on specific applications and websites or set a specific time to block application and notifications.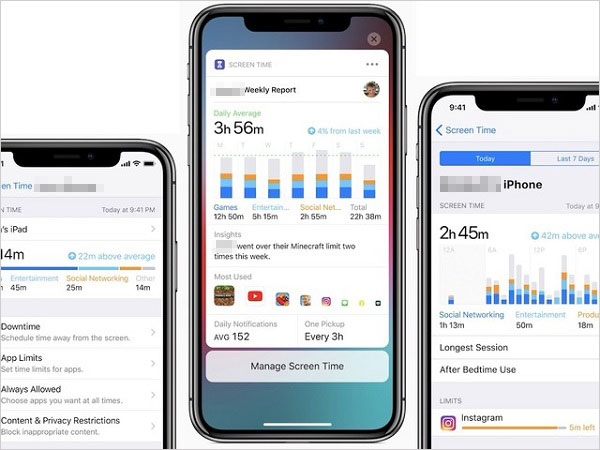 3. Notifications
Message threads and notification topics will be grouped together, which enables users to glance the information quickly. When you receive an alert, the system will notify you and enables you to control the notification settings from the lock screen. You can choose to send notifications from a specific application to Notification Center or turn them off altogether. Besides, Siri would make intelligent suggestions about your alerts based on how you interact with them.
4. Do Not Disturb Mode
No one would like to receive any notification or information during the break time or meeting time, right? Then in this case, you can turn on "Do Not Disturb" mode for a certain time or till you leave the location or till the end of the event. After that, all calls and alerts that arrive at this time will be silent and you won't be disturbed by them.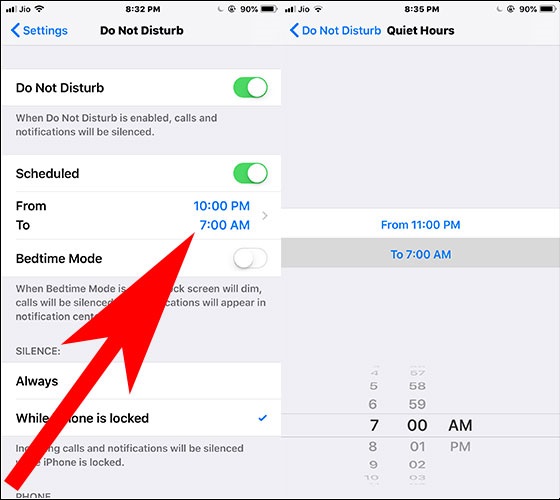 5. Group FaceTime
Another new feature of iOS 12 is that it allows users to make FaceTime calls with up to 32 participants simultaneously. What's more important, you are able to join or add people to group FaceTime at any time rather than wait and join the group chat at the same time.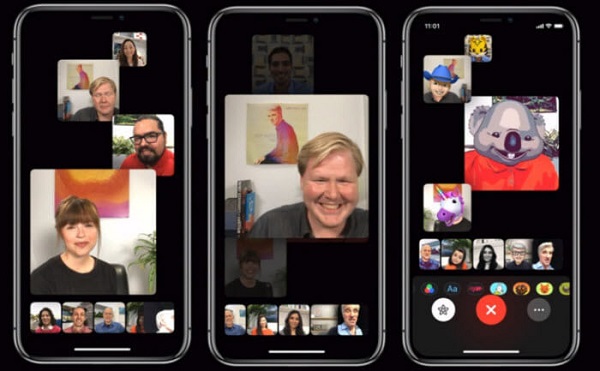 6. Augmented Reality
With the help of ARKit 2, Apple has succefully developed a new AR application called "Measure" in iOS 12. This application enables users to measure real-world objects just by pointing your camera at them. Then you can send the AR objects with Messages and Mails and view them in real world.

7. Animoji & Memoji
Apple adds four new animoji for its users, including T.rex, ghost, koala and tiger. Apart from that, Apple also comes up with memoji. This feature allows users to create their own replicas - you can make as many alter egos as you want in Messages and FaceTime and then send it to friends. With this feature, your conversation will become more interesting.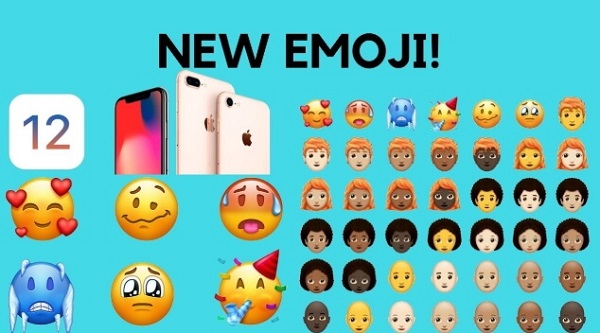 8. Photo Search

iOS 12 equips a new feature called Search suggestions. It will make the photo search much easier and quicker. Before you type in the keywords, you will see some suggestions for recent events, people and places. If you cannot find the wanted results from the suggestions, you can enter one or two keywords to get a smarter result and refind them by typing more keywords. With this feature, you can find the exact photo or rediscover a great one you forgot about more easily.
Other features:
- Photo sharing;
- Camera effects;
- New Apple books;
- Redesigned stocks App;
- Security code autofill;
- More battery information;
- ...
Compatible Devices of iOS 12
| | |
| --- | --- |
| iPhone | iPhone XS, iPhone XS Max, iPhons XR, iPhone X, iPhone 8, iPhone 8 Plus, iPhone 7, iPhone 7 Plus, iPhone 6S, iPhone 6S Plus, iPhone 6, iPhone 6 Plus, iPhone SE, iPhone 5S |
| iPad | 12.9-inch iPad Pro 2nd generation, 12.9-inch iPad Pro 1st generation, 10.5-inch iPad Pro, 9.7-inch iPad Pro, iPad 6th generation, iPad 5th generation, iPad Air 2, iPad Air, iPad mini 4, iPad mini 3, iPad mini 2 |
| iPod | iPod touch 6th generation |
Should I Upgrade to iOS 12?
Every time a new iOS version releases, most users wonder whether they should upgrade the system to the most recent version. To make this decision, you need to know and weight the advantages and disadvantages of the new iOS version. And from above you can see that iOS 12 equips many new and helpful features. But nothing is perfect in the world and iOS 12 is not an exception. iOS 12 also has some shortcomings or bugs. For instance, group FaceTime does not work for everyone; iPhone may freeze up randomly; some applications may not be optimized and so on. So in this case, you need to make a decision based on your actual situation.
How to Update/Downgrade to/from iOS 12?
1. How to Upgrade to iOS 12 Beta?
By far, Apple has released the iOS 12 Beta version only and the official iOS 12 will come in September. So if you want to upgrade your iOS 11 to iOS 12 right now, you need to have an Apple developer account, which would cost you $99 per year. And except for that, you should make sure that:
- Your device is compatible with iOS 12;
- There is enough storage space on your system;
- You have backed up your iPhone data already. That's because the update may brick your iPhone and you may lose your data. If you have not made a backup for your iPhone, you can turn to MobiKin Assistant for iOS which can help you complete the backup with ease.
If your device meets all the requirements above, you can start to upgrade the operating system now.
1) If you have an Apple developer account
- Go to the Apple developer website on your iDevice and login with your account.
- Tap on "Download New Beta" tab and download the iOS 12 Beta version on your device.
- Tap on "Install" when the beta profile appears and then verify yourself by entering the passcode of your device and agree to the terms and condition.
- After that, the download will begin. When it is completed, you need to click on "Restart" to reboot your device.
- Next, you should go to beta.apple.com to enroll your device in advance.
- Now you can go to "Settings" > "General" > "Software Update" to "Download and Install" the iOS 12 Beta profile.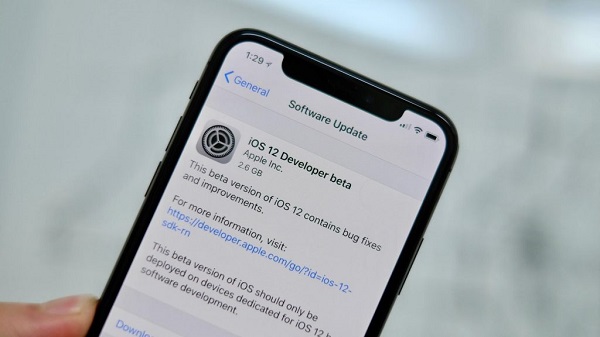 2) If you do not have an Apple developer account
- Go to https://ipsw.me/otas/12.0 to download the right IPSW file for iOS on your computer.
- Next, you need to connect your iOS device to the system and launch the latest iTunes on it.
- Now just select your device and enter its "Summary" page.
- Hold down the "Shift" key (on Windows) or "Option" key (on Mac) and tap on the "Update" button.
- Then a browser window will be opened. Just go to the location where you save the IPSW file and load.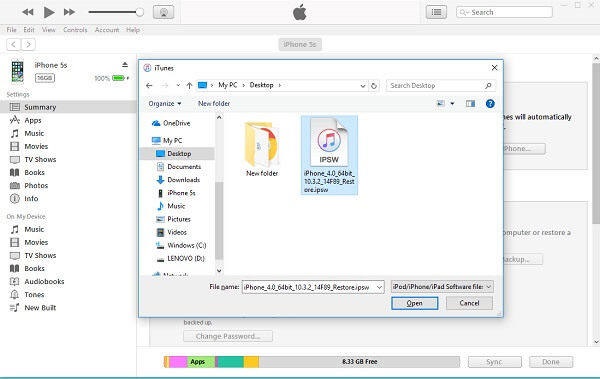 - After that, the update process will start and you need to wait till it ends. And then you should activate it by registering your Apple ID to Apple's beta website.
Notice: To upgrade to the newest iOS 12, you can refer to the full iOS update guide.
2. How to Downgrade from iOS 12 Beta?
Do not like the iOS 12 Beta version and wish to downgrade the iOS version after update? Just go with the following steps to complete it:
Tips: For those who want to downgrade from iOS 12, you can refer to the complete tutorial about iOS 12 downgrade.
- Launch the latest iTunes on your computer and connect your device to the system and put it in the recovery mode.
- Once your device enters the recovery mode, iTunes will detect a problem and ask you to fix it by updating your iPhone or restoring the backup. Just click on "Update" and go with the on-screen prompts to upgrade your device to iOS 11.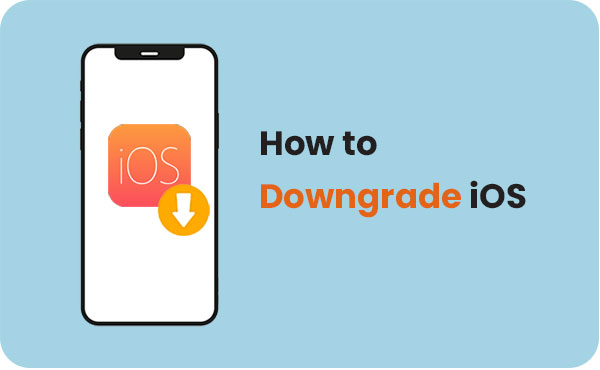 Write in the End
After reading the article, you might have a general understanding of iOS 12. Do you like the new features of the new version? Do you want to get this system? Just share your opinions with us.
Related Articles:
Apple ID is Disabled? Here is Solution to Fix It!
8 Ways to Fix iPhone Battery Draining Fast After Upgrading to iOS 11
Complete Guild on How to Fix iPhone Live Photos Not Working
[Solved] iPhone Keeps Restarting, How to Fix It?