How to Transfer Contacts from iPhone to SIM Card Easily & Quickly?
Hi folks! Are you familiar with one or more of the following scenarios?
Plan to purchase a new mobile phone.
Intend to change network provider.
Need to transfer some contacts from your work phone to the private mobile.
Want to reset your iPhone back to the factory default setting.
See if the iPhone can back up contacts to the SIM card in a direct manner.
...
If so, you are wondering how to copy contacts from iPhone to SIM, right? Well, as we all know, Android phones have built-in options, through which you can transfer Android contacts to SIM. Eh, can an iPhone do this? OK, this passage will work it out. Moreover, we will emphatically provide you with 4 common ways to help save contacts to a SIM card from an iPhone.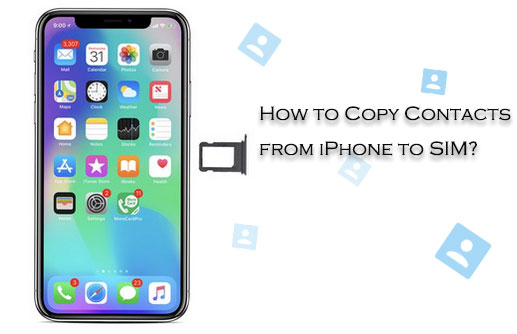 Part 1: Is It Possible to Copy Contacts from iPhone to SIM Directly?
The answer is NO, actually because it doesn't conform to Apple's philosophy of how users should interact with the data on iDevices. Apple doesn't want its users to store any files on removable storage devices that are easily lost or damaged (it is also one of the reasons that Apple devices don't support SD cards).
Yet, we have to say that you can do this indirectly with the help of iCloud. And we are to introduce some other workarounds below besides this method.
Related Pages:
Part 2: How to Transfer Contacts from iPhone to SIM Card Using Email
Primarily, contacts on an iPhone can be sent to another email address for receiving by the built-in Mail app. Then users can log in to the mailbox and download the content on any Android phone. Finally, just transfer them to the SIM card via the "Import/Export" feature of the Android device.
How to save contacts to SIM on iPhone using Email:
Step 1. Run the "Contacts" app on your iPhone. Select the contact you need to move to SIM card from the devices. Next, choose "Share Contact" to get it out via email.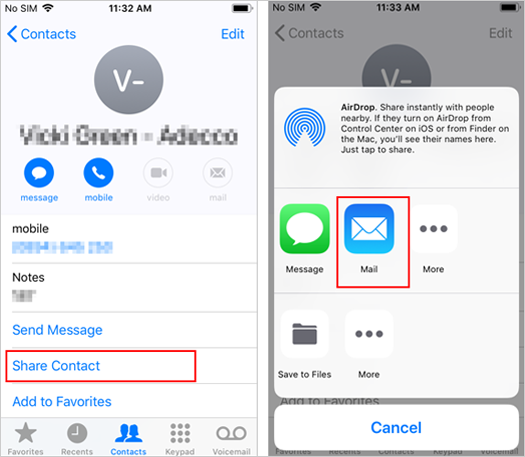 Step 2. Download the shared contact from the destination email account on any Android device. The downloaded content is saved in vCard format.
Step 3. Launch "Contacts" from the Android phone to touch your desired contact. Then tap on More > Import/Export > Import from USB storage.
Step 4. Check if the stuff has been imported to this Android phone. If so, just choose the contact, head to More > Import/Export again, and then opt for "Export to SIM card".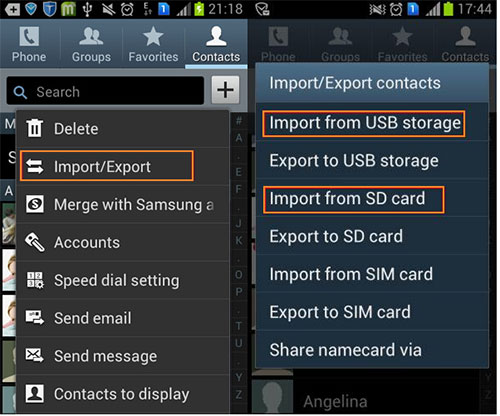 Part 3: How to Copy Contacts from iPhone to SIM via Transfer for Mobile
While the first means is pretty easy, it is not efficient, for only one contact can be moved through email at a time. By contrast, MobiKin Transfer for Mobile (Win and Mac) has a comparative advantage. It can transfer all contacts from an iPhone to an Android phone in one go, and then you're allowed to move the stuff to the SIM selectively.
Key features of MobiKin Transfer for Mobile:
Transfer data between different devices, regardless of what operating system they're running on (Android & iOS).
The supported file types: contacts, text messages, call logs, music, videos, pictures, documents, and apps.
One-tap to copy all your desired items with no data loss.
Easy to connect, user-friendly interface, and foolproof operations.
Run smoothly on 6000+ iOS and Android devices, including iPhone 12, iPhone 11/11 Pro/11 Pro Max, iPhone X/XR/XS/XS Max, iPhone 8/8 Plus, iPhone 7/7 Plus, iPhone 6/6S/6 Plus, iPod, iPad, Samsung, Huawei, Sony, HTC, LG, Google, Motorola, OPPO, Vivo, etc.
It can ensure that users' privacy is not known by anyone else.
Download it to carry out the simple yet effective tasks now?
Before you save contacts to SIM card from iPhone, some easy preparations should be made: an iPhone, an Android phone, two USB cables, and an installed MobiKin on your PC/Mac.
Here's how to export contacts from iPhone to SIM with Transfer for Mobile:
Step 1. Run the software after the installation and pick up two applicable USB cables to connect both the iPhone and the Android device to the same computer.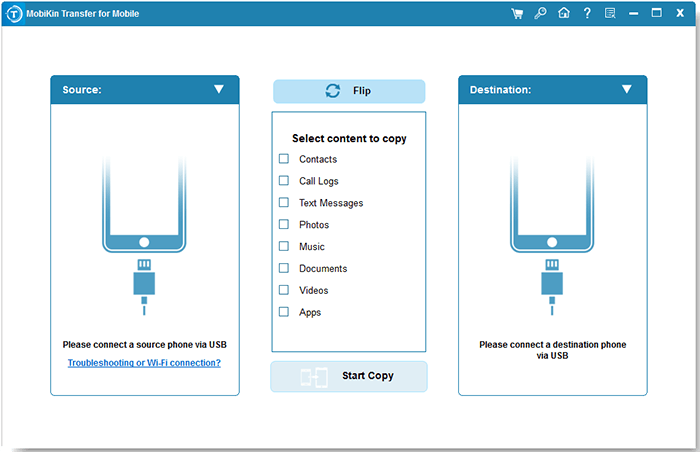 Step 2. Do as the hints indicate on the screen to get the devices recognized. Once accomplished, you'll see the interface as below. Now check if the iPhone is the source device. If not, tap on "Flip" to put it in its place.
Step 3. Tick on "Contacts" from the middle of the window and click "Start Copy" to move contacts from iPhone to Android.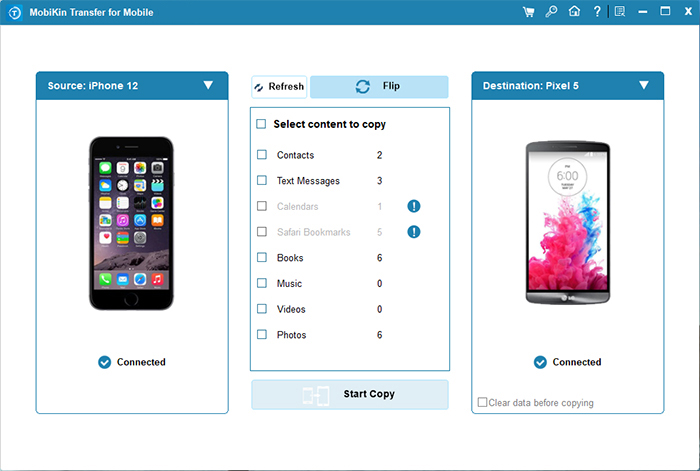 Step 4. Follow Step 4 of the previous part to import contacts to SIM card from your Android device.
You May Want to Know:
Part 4: How to Export Multiple/All Contacts from iPhone to SIM via iCloud (Complicated)
This solution is the most complicated of all. You need to sync all the contacts from your iPhone to iCloud, visit the cloud storage, download some or all of the items to your computer, transfer them to an Android device, and finally get them to a SIM card.
To move contacts from iPhone to SIM via iCloud:
Step 1. Start the "Settings" app on your iPhone and go to "iCloud" to turn on the "Contacts" button. All the iPhone contacts will be automatically synced to the iCloud server via WiFi soon.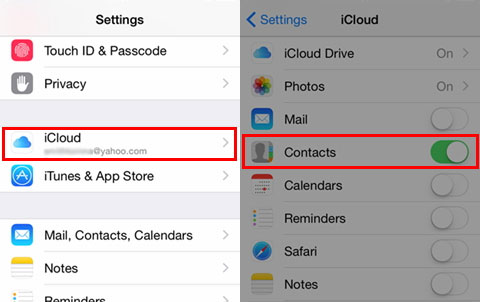 Step 2. Visit icloud.com on your computer. Log in to the cloud with your ID and passcode before clicking on "Contacts".
Step 3. Hold the "Ctrl" key and choose the contacts you intend to move to the SIM card. Then press the "Settings" button at the left bottom of the page to go for "Export vCard". The selected contacts will be put on this computer.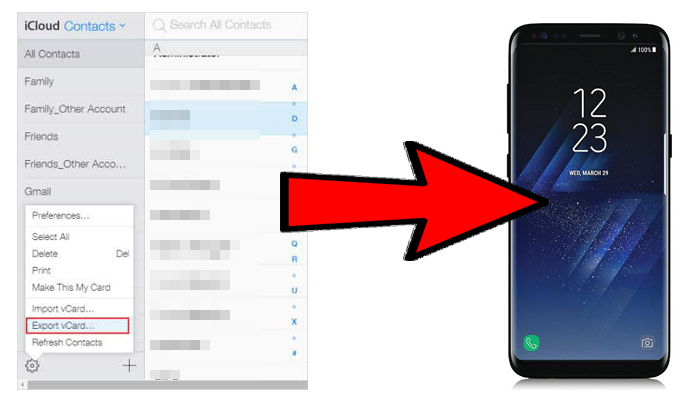 Step 4. Have any Android device plugged into this computer via a USB cable. Subsequently, you ought to transfer contacts from computer to Android.
Step 5. Follow the last step mentioned in Part 2 to export contacts from the Android phone to SIM.
Part 5: How Do I Copy Contacts from iPhone to SIM by Jailbreaking
The term "Jailbreak" may not be new to many Apple fans. This behavior can assist them to break through various restrictions from Apple. That is, it will give its users more access to the iDevices. For example, iOS users can easily optimize the system and manage iDevices with some 3rd-party programs without trouble.
Despite the benefits of jailbreaking, you'd better know the following drawback before the jailbreak:
Installing plug-ins after jailbreaking can cause system instability and problems like white Apples.
Jailbreaking your iDevice will invalidate its warranty.
It may cause some software to be limited in function.
The system update of an iOS device will be blocked automatically.
Jailbreaking may cause the iDevice to consume more power.
...
There are some Jailbreak Apps for iOS Devices that can successfully implement the task. Among them, SIManager can help you do the jailbreak and transfer your contacts from iPhone to SIM afterward. If you are ready for the experience, you can download it from Cydia first.
How to export contacts from iPhone to SIM by jailbreaking?
Install SIManager on your iPhone after the download and then quit Cydia.
Run the app and press setup at the upper-left corner of the screen.
Turn on "Fast Read" and select the "SIM name format" as you wish.
Now, press "Done" and go back to its Home screen.
Tap "Read from SIM" > hit the "Settings" tab > choose "Copy iPhone to SIM".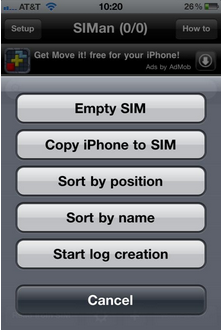 Wrapping Up
You might be disappointed with your iPhone being unable to move its contacts to the SIM card directly. But have you got real benefits from any of the above techniques? OK, to import contacts to SIM card from iPhone efficiently, the wisest way is to pick MobiKin Transfer for Mobile.
Of course, you can also copy contacts from iPhone to SIM via Email, iCloud or jailbreaking. However, these approaches are likely to be inefficient, difficult to use, or make your iPhone vulnerable.
Related Articles:
4 Methods to Tell You How to Activate iPhone without SIM Easily
How to Recover Deleted Contacts from SIM Card in Android & iPhone
How Can I Back up Contacts from SIM Card on Computer?
[3 Steps] How to Retrieve Text Messages from SIM Card?
Transfer Contacts from iPad to iPhone (4 Solutions)