[3 Steps] How to Retrieve Text Messages from SIM Card?
Q: I want recommendations for recovery of deleted text messages from a SIM card. Can anyone help to recover my deleted messages from SIM card without any problem? Do I need to download any recovery software to get back my deleted text messages? Thanks for any suggestion!
There are multiple reasons why people may wish to recover deleted text messages from SIM card on their phones. For example, you may mindlessly delete important SMS messages without even realizing why they may benefit you in the future; or you're just looking to recover some forgotten information, or you need it for a more detrimental issue such as evidence in court... Too many different situations for people needing to restore lost SMS messages, and some of them that were once stored on their SIM cards, then how?
We know that when it comes to SIM card SMS recovery methods, there are many different options available on the Internet. But it is also obviously that selecting a proper software as your assistant is not a simple task. So in this article, we would like to introduce the best SIM card recovery software to you to complete SIM recovery. You can click the suitable part to get more details according to your needs.
Part 1. How Exactly SMS Are Deleted from A SIM Card?
Before we start to perform SIM recovery, we will explain how SMS is deleted in a SIM card, and for what reason, these deleted SMS messages can still be recovered.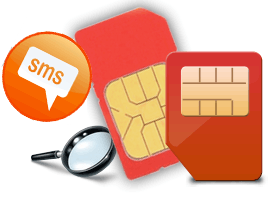 Inside the SIM card memory, there is a file dedicated to storing text messages and other mobile data. This file contains a number of special cells, each of which can be used to store text messages. In general, a SIM card can only store about 20 - 25 short messages. A short message contains the date, time, sender name, and text of the short message.
When a message is stored in a cell, the cell is marked as "in use". When the text message is deleted, the status of the cell will change to "empty". When you receive a new text message, your phone system checks for empty slots and then stores the short messages in those empty slots.
But in fact, the deleted SMS is still stored on the SIM card, you can restore the deleted SMS on the SIM card by changing the "Status" field to "In use". However, some phones will change the unit status after deleting the SMS message, and the newly received short message will overwrite them, and the deleted message will not be recovered. Therefore, it is best to use the SIM Card Recovery tool recommended below to recover deleted text messages during the first time that the short message is deleted.
Part 2. Recover Deleted Messages from SIM Card with SIM Card Recovery
It is not useful to think too much about why and how the files are deleted, even though it may spook you for a couple of days. When the "Disaster" have been happened, the more important thing for you is to find how to retrieve data from SIM card. Here is also a guide on how to Recover Deleted Contacts from iPhone or Android SIM Card. You should know that lost or deleted text messages can be retrieved with a simple SIM card recovery software for any reasons like a simple deletion, a factory reset or others.
As you know, iPhone uses SIM card to store the user's phone number and billing info. SMS and contacts are saved in iPhone internal memory, instead of an iPhone SIM card. Therefore, here we only talk about how to retrieve text messages from SIM card on Android.
To reach the goal, you need a tool called MobiKin Doctor for Android as your assistant. This software allows you to pick and choose which items you want to restore by just a simple download and a few mouse-clicks. It can't get any easier than that!
Key Features:
Recover deleted contacts, SMS, photos, videos, call logs, etc. from Android.
Recover deleted text messages Android without SIM card.
Preview deleted data before recovery.
Recover data without any data loss.
Support overall Android devices, including the latest Samsung Galaxy S10/9/8, Note 9/8/7, Huawei P Smart/P30/P20/P10/P9, Mate X/30/20/10/9, etc.
Fully compatible with iOS 12 and Android 9.0.
How to Recover Text Messages from SIM Card on Android Phone?
Step 1: When the program opens, you don't need to click any button on the device, it will automatically detect the Android phone that you've connected to the computer. And if your phone have been rooted and enabled USB debugging, then the program will conduct a deeply scanning on your Android's internal memory and show you all deleted and existed messages in the program.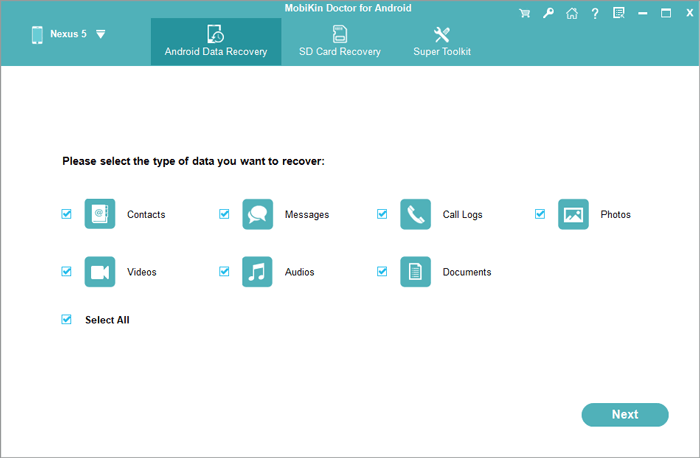 Step 2: Here, you will be able to pick and choose which files you want to recover, which in this case will be text messages, so that you can access your files that you once thought were lost!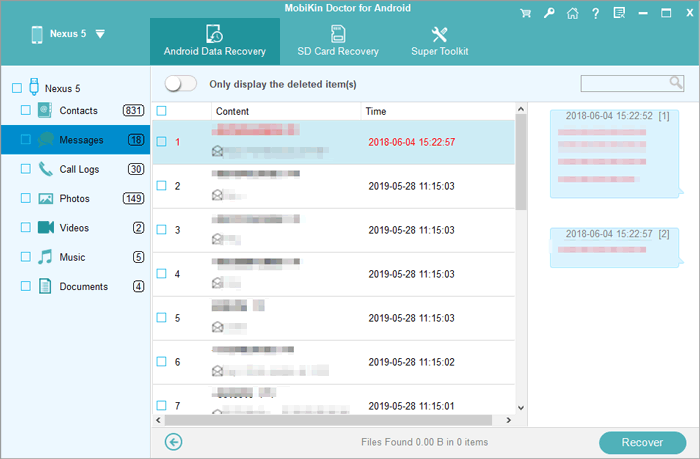 Step 3: Preview the scanned out text messages and find the ones that you want to get back. Finally, press on the "Recover" button and choose a location to save the recovered text messages.
Additional: How to Retrieve Data from SIM Card on iPhone?
A great way to relocate lost data files through your iPhone Xs/Xs Max/XR/X/8/8 Plus/7/6, is by getting a powerful SIM card recovery for iPhone - MobiKin Doctor for iOS. By launching the program on your computer, and connecting your iPhone to the PC, you are able to get back any message you need within few click.
Key Features:
Recover deleted contacts, SMS, photos, videos, call logs, etc. from iPhone.
Preview deleted data before recovery.
Recover data without any data loss.
Support overall iOS devices, including iPhone Xs/Xs Max/XR/X/8/8 Plus/7/6, iPad Pro/Air/4/mini/3, iPod touch, etc.
Work on Android 2.1 to Android 9.0.
Steps to Do SIM Card Data Recovery on iPhone:
Once you have installed the software, locate the program on your desktop and open it. And when the main screen has appeared, plug in your iPhone via your USB cable. Next, you need to select the "Recover from iOS Device" option on the screen and tap on "Start Scan" button.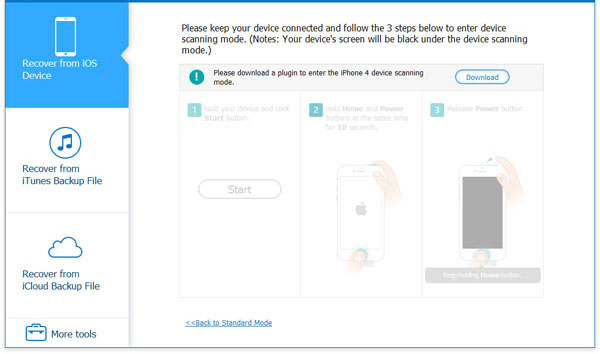 Then, the program is going to scan your device for any data files that may have been lost, but it is also going to show the current files stored on your iPhone's SIM card. There are check-boxes located to the left of the previews of each file, so that you can select and deselect the files you want to restore. This process may take a few minutes or more to complete, but once you are satisfied with your selection of the data that you wish to restored, you can click the "Recover" button at the bottom of the screen, and then the selected files will start to be restored.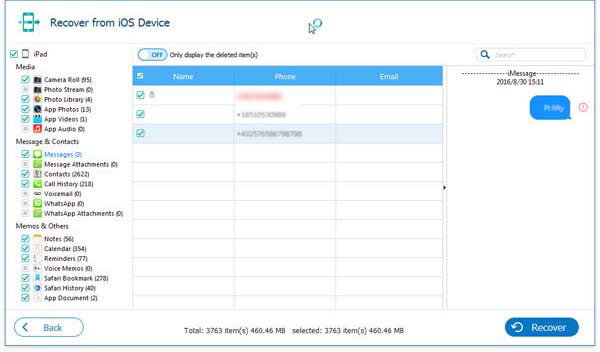 MobiKin also offers a different variant of this method, in which you can retrieve lost data files through backed up devices on your iTunes account as well. The process is generally the same, but instead of accessing the files through your device directly, you would locate the device you have synced on your iTunes account, and select the one you want to retrieve lost text messages from.
Check If You Need:
Bonus: How to Read A SIM Card without SIM Card Reader?
Well, even though we cannot read content on SIM card directly without a SIM card reader, we can export data from SIM card to computer and then read SIM card data on computer freely. So here, we would like to tell you how to get information off a SIM card. All what you need is: MobiKin Assistant for Android, which is an all-in-one Android data manager to transfer and manage Android data on PC or Mac computer.
Main Features:
Backup & restore Android data with just one click.
Backup contacts, text messages, call logs, apps, photos, music, movie, books, etc. from Android phones and tablets to computer.
You are allowed to edit and manage Android data on computer directly.
Supports all Android devices and Android OS.
100% read-only, safe and easy to use.
Steps: How to Get Text Messages off A SIM Card?
In the following content, we provide you with a guide on how to transfer text messages from SIM card to computer so that you can read a SIM card without SIM card reader.
1. Download and install Assistant for Android.
2. Launch the program and connect your Android phone to the computer with a USB cable.
3. Choose "SMS" tab from the left side menu.
4. Preview and select the text messages you need.
5. Click the "Export" button from the top menu and choose an output format you want to save to from the drop down list.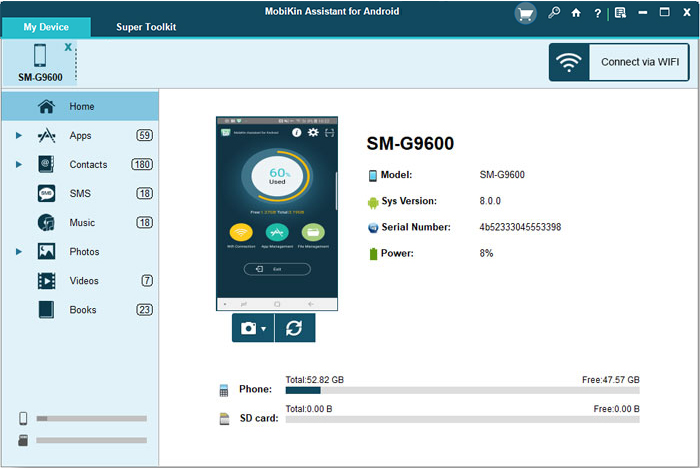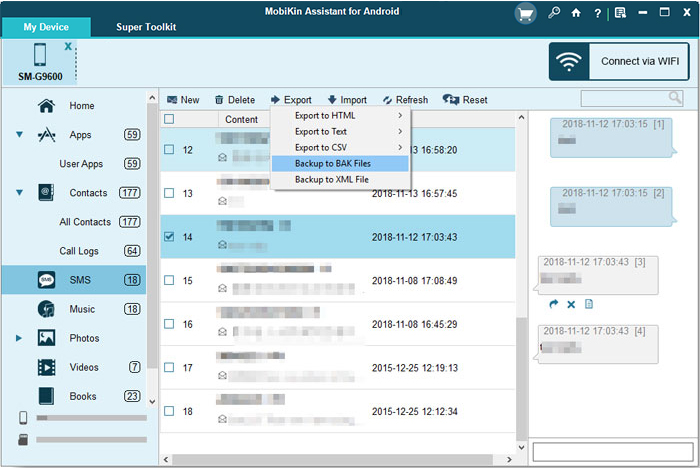 Words in the End:
This article tells you why the deleted SMS messages on the SIM card can be recovered, and how to recover deleted text messages from SIM card with the best SIM Card recovery software - MobiKin Doctor for Android. Finally, we also let you know how to get data from SIM card and transfer to the computer so as to know how to read a SIM card without SIM card reader. We hope that after reading this article, your confusion can be lifted. If you have other questions to know or need us to provide other help, please let us know in the message area below.
Related Articles
Is MobiKin Doctor for Android Safe? Things You Can't Miss
How to Recover Samsung Data from A Broken Screen?
How to Retrieve Deleted Text Messages on Android without A Computer Freely?
How to Recover Deleted Text Messages from Sony Xperia
How to Recover Deleted Contacts from LG Phone