How to Recover Deleted Contacts from SIM Card in Android & iPhone [New]
On mobile phone, we often add contacts, and we seldom care whether they are stored in SIM card or the phone. When we delete SIM contacts mistakenly, or take out the inserted SIM card and insert it to a new phone improperly, those contacts that were added due to the needs of the business will disappear. This can be frustrating and confusing. So, you probably want to know how to retrieve contacts from SIM card.
This seems to be a notable problem, but it is not difficult to deal with. Whether you are an Android or an iPhone user, the solutions provided in this article can give you a big hand.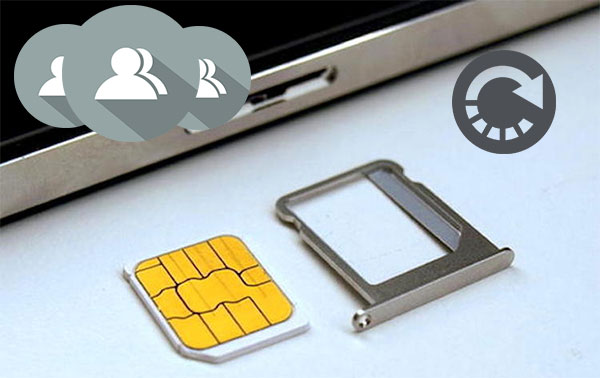 Part 1: FAQs for Contacts on SIM Card
The location of contacts in mobiles is often ignored by us, and we might be unable to distinguish which contacts are on phones and which are in SIM card? Therefore, many people will think of these two cases when they find the contacts are absent. After figuring out the home of the contacts, we may also ask like this: if the contacts stored in the SIM card are lost and have not been backed up, can they be recovered? Well, let's see 3 FAQs as follows.
Q1: Are contacts stored on SIM card in Android?
Contacts are usually saved on both your phone and the SIM card. Generally, when you create a new contact, you will be prompted to save it in your mobile or SIM card. Next time you do this, you can pay attention to it.
Q2: How to access SIM card contacts on Android?
There are several ways to access and view the contacts in SIM. This post presents a simple method, taking an Android phone for example. Click Settings to find the System Application, tap this to enter the Contacts, then select Import/Export contacts, and select Import from SIM. Now, an SIM contact list will turn up.
Q3: Can I recover deleted contacts from SIM card?
Users who ask this question might believe that there is no backup for contacts, and can they be restored from SIM card? The answer is yes on condition that you don't do any operation on your phone (in case the data are rewritten) and quickly find a recovery software. Although many common tools fail to do it, some pro utilities can. OK, Let's see what they are.
Part 2: How to Recover Deleted Contacts from Android SIM Card
Due to the differences between Android and iOS systems, the programs supporting different OSes are disparate, and thus the directions to recover SIM contacts vary too. So we will discuss how to recover SIM contacts from Android handsets and iDevices. First of all, let's get how to retrieve contacts from Android SIM card.
Note: Advise you to move your contacts to SIM card, which can not only save Android storage space, but also facilitate the replacement of a new mobile. This is available on most Android phones: unlock the phone and click Contacts > Contact Settings > Import/Export contacts > Import from Android storage > OK. After that, it's advisable to backup your contacts on Android phone, ensuring the security of the important phone numbers.
2.1 How to Retrieve Contacts from SIM Card in Android via MobiKin Doctor for Android
Having said so much about the contacts of SIM card, we now illustrate how to use the best way to recover Android SIM card contacts. Let's go straight to the point. The first recommended software is MobiKin Doctor for Android. The outstanding feature of this software is there is no need to back up before data recovery. Let's know about it before we get its operational process.
Some illustrious properties of MobiKin Doctor for Android:
- Recover Android files without data backup beforehand.
- Offers "Quick Scan" and "Deep Scan" options on Android Data Recovery mode to improve success rate of recovery.
- Retrieve contacts, call logs, text messages, photos, and documents from Android SIM card or internal storage.
- Restore photos, music, videos, and documents from SD card without root.
- Preview your needed Android files before data recovery.
- Run smoothly on nearly all Android phones, such as Samsung, Huawei, LG , Motorola, HTC, Sony, OnePlus, Google, Vivo, OPPO, ZTE, and so on.
- Mac version is also available: MobiKin Doctor for Android (Mac).
Click the button below to experience Android SIM contact recovery on your Windows or Mac as you like! Read the following guide to see how to recover deleted contacts from SIM card in Android with MobiKin Doctor for Android:
Step 1. Firstly, please root your Android mobile so that the tool can get access to your phone and scan full SIM card contacts. Then, install and open the program on your computer. Next, connect your Android to computer via a USB cable.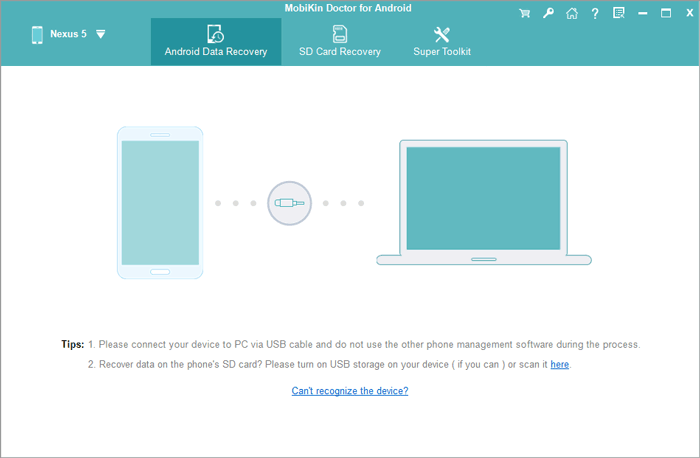 Step 2. Get the phone recognized by the tool, following the on-screen prompts. Next, you will see the main interface. Please tick the "Contacts" tab and tap "Next" to begin to scan your phone.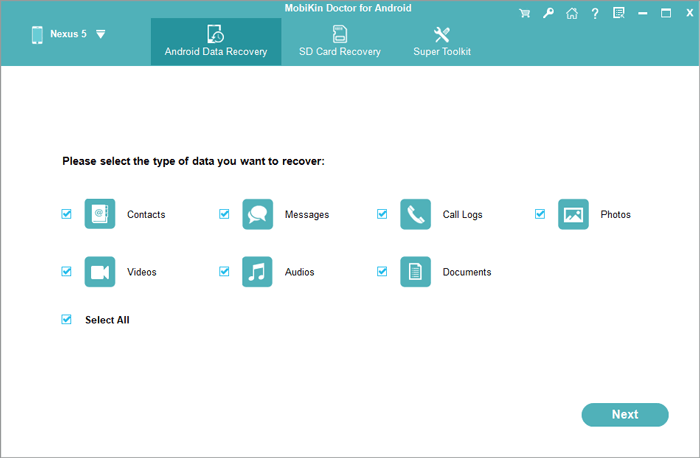 Step 3. After that, you can preview all the deleted contacts on the right window. Choose the contacts you need and tap the "Recover" button to retrieve contacts from Android SIM card.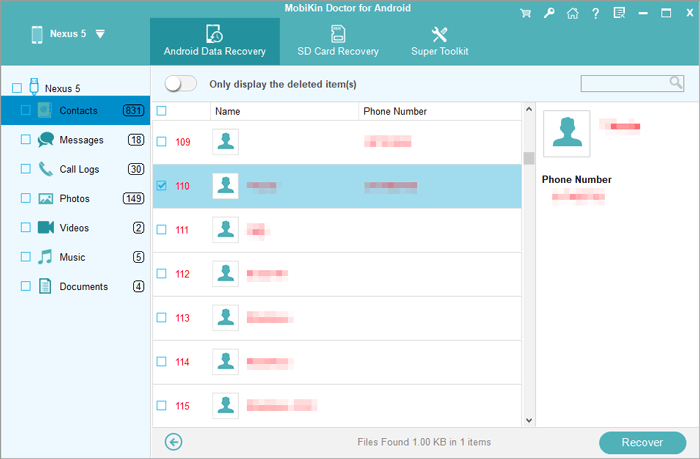 See Also:
2.2 How to Restore Deleted Contacts from SIM Card in Android with ES File Explorer
ES File Explorer is a utility file manager that can perform operations, such as data selection, moving, creating, deleting, renaming, searching, sharing, extracting, and recovering. The last function can be used to retrieve SIM contacts. In addition, it can open, back up or uninstall any application directly.
But its disadvantages are obvious: lack of new updates, having difficulties in previewing file formats, no longer allowing file compression and decompression, etc.
Now, follow the steps to get how to retrieve phone number from SIM card in Android with ES File Explorer:
Step 1. Download, install and run ES File Explorer on your Android phone to go to its home screen. Then, root your mobile (if you have not done it yet) to provide permissions for this program.
Step 2. Click "Search" image at the bottom of the window, and fill in the blank with contact path: "/data/data/android.providers.contacts/databases" or "contacts/databases" and tap "Magnifier" icon to go on.
Step 3. After the quick scan, your file containing SIM contacts will be found out. (for some technical reasons, its recovery odds of success is limited)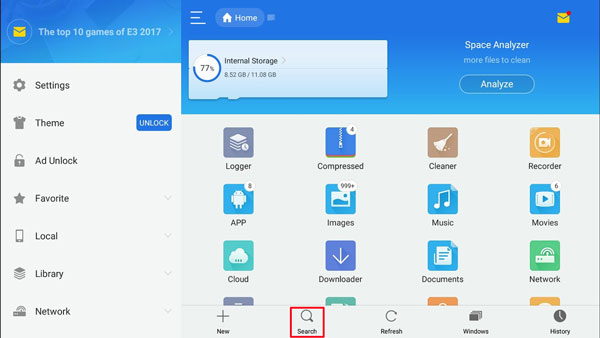 2.3 How Can I Recover Deleted Contacts from SIM Card in My Android with Gmail Account
Gmail may be very familiar to you. There are many ways to recover files with it. Today, I'd like to show you how to apply the file export function on its web version. Of course, before that, you need to back up SIM card contacts to Gmail account. The imported contacts are CSV format. By the way, a few days ago, I saw a question as "how to recover contacts from dead SIM card " in some Android phone Forum. It so happened that Gmail account can help do this.
Let's see how to retrieve phone numbers from lost SIM card with Gmail account:
Step 1. Visit Gmail website from your computer browser and sign in with your Gmail ID to check whether you have backed up your contacts on it before. If so, go to "Step 2".
Step 2. Tap on "Gmail" to choose "Contacts" from the pull-down list. Then click "More" > "Export". Now, you will be asked in what format do you want to export the contacts. Just select "CSV Format" to download and save them.
Step 3. After that, attach your Android to computer ,and move your saved CSV file to Android phone. Then start "Contacts" app to import contacts to your mobile. Next, restart your phone to check your imported contacts.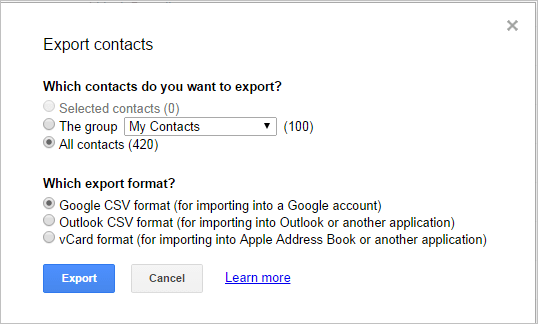 You May Also Like: How to Sync Contacts from Gmail to Android Cell Phone
Part 3: How to Recover Deleted Contacts from iPhone SIM Card
After dwelling on how to retrieve contacts from Android SIM card, many iDevice users are likely to think, how to recover contacts without drawing out SIM card from iPhone and then inserting it into Android device? Alright, Let's talk about the detailed usage of the two tools: iOS SIM Contact Recovery and Easy Backup (for iOS).
Before we go any further, do you want to know how to import iPhone contacts into your SIM card to reduce the hassle of changing iPhones? Here it is: unlock your iPhone, click Settings > Contacts > Import SIM card contacts > Confirm. If this way is useless, you can also try: Settings > iCloud > Close Contacts (select "Stay on my iPhone" while closing) > Reopen Contacts > Merge.
3.1 How to Recover Deleted Phone Numbers from SIM Card in iPhone with iOS SIM Contact Recovery
No matter what causes the file loss on SIM card or iPhone storage, iOS SIM Contact Recovery can be used to recover contacts without backup. And the recovery success rate is relatively high. It is able to recover lost data from iPhone/iPad/iPod, iTunes and iCloud, including contact, call log, iMessage, photo, note, WhatsApp, KIK, Viber, Facebook, etc.
Besides, it does well in working on almost all iDevices like iPhone 11/11 Pro/XS Max/X/8 Plus/8/7 plus/7/6 plus/6s/6, etc. And runs on Windows 10/8/7/Vista/XP or Mac OS X 10.7 or higher.
Tutorials on how to retrieve phone number from SIM card in iPhone with iOS SIM Contact Recovery tool:
Step 1. Download, install and open the tool. Connect your iPhone to computer via USB cable. Then, unlock your iPhone first and then click "Trust" on your iPhone. (users with iPhone 4/3GS, iPad 1 or iPod touch 4 should download a plug-in and enter the scanning mode following the interface).
Step 2. Choose "Recover from iPhone device" > "Recover" from iOS Device, and tap Start Scan button to start scanning deleted data, including SIM card.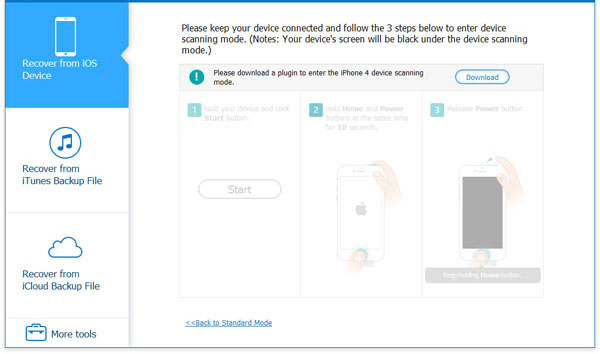 Step 3. After the scan, all the files in your iPhone will be displayed on the screen. Drag the flow bar on the right side of the screen to find and choose "Contacts". Then double-click your needed contacts for previewing.
Step 4. Tap "Recover" button to save your iPhone SIM contacts (vCard/.vcf file) to your computer. Next, move your saved files from computer to iPhone.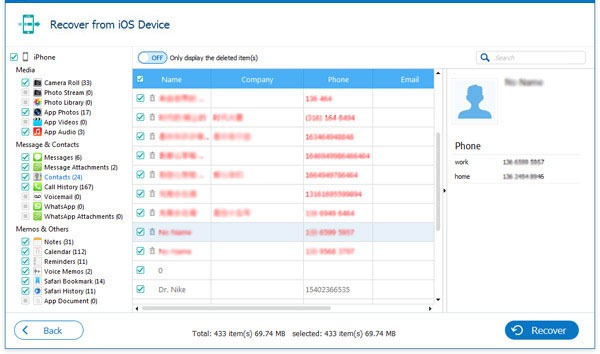 Tips: Don't know how to transfer contacts from computer to iPhone? Click here >>
3.2 How Can I Retrieve Deleted Contacts from My SIM Card in iPhone with iPhone Recovery App
Easy Backup (for most iDevices) allows you to back up the entire iPhone contact list with one click. This method is to upload your contacts to a secure cloud, or send the .vcf file of your contacts to your email. And of course, it can also transfer and restore the contact between friends and family. Furthermore, it is fully compatible with iPhone, iPad, and iPod touch, but is quite strict in the OS (iOS 12.0 or later). In addition, it also contributes an Android version.
Courses on how to recover deleted contacts from SIM card in iPhone with Easy Backup:
Step 1. Download Easy Backup from Apple Store to your iPhone. Then tap "Trust" to give permissions for the tool access. Next, touch "Back Up" to get the iPhone and iPhone SIM contacts or other data to the tool cloud.
Step 2. From "My Backups", preview the backup files you want to retrieve from and choose contacts from file list. Then press "Restore Contacts" to retrieve your contacts from the backups to iPhone.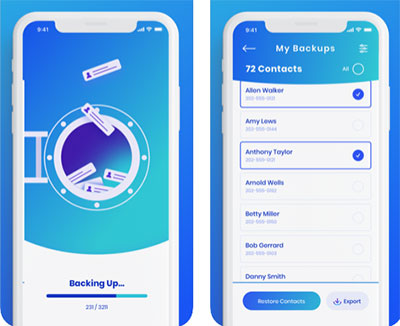 The Bottom Line
This passage is meant to analyze the latest and most pragmatic solutions about how to retrieve contacts from Android or iPhone SIM card. Whether you have an Android or an iPhone user, you don't need to remove your SIM card, and just select a program or service to retrieve SIM card contacts directly.
Among these methods, MobiKin Doctor for Android is customized for Android and iOS SIM Contact Recovery is specially designed for iOS. Neither of them needs to back up SIM card contacts before SIM restoration. So, choose one to start your amazing SIM contact recovery trip!
Related Articles:
How Can I Back up Contacts from SIM Card on Computer?
Permanently Erase SIM Card from Android Phone
How to Solve SIM Card Not Inserted on Android Problem?
How to Transfer Contacts from Android to Android
How to Transfer Contacts from LG to Android Phone
Top 5 Ways on How to Transfer Contacts from iPhone to Android