[Answered] How to Fix iPhone Cannot Connect to iTunes?
The interaction between iPhone users and iPhone depends on iTunes to a great extent cause it is the official media player since the first iPhone was released. Usually, people use it to manage and play music and videos. However, many users fail to connect iPhone to iTunes and are unable to enjoy music and videos. It is really a nightmare for them. Therefore, methods to figure out the trouble were born.
The failing link between iPhone and iTunes includes two conditions: iTunes cannot detect the iPhone and iPhone is capable of being explored by iTunes but is incapable of connecting to it. So what can we do in these two situations? Let's take a look!

Part 1. iTunes Cannot Detect iPhone
Part 2. iPhone is Able to be Detected But Fails to be Recognized by iTunes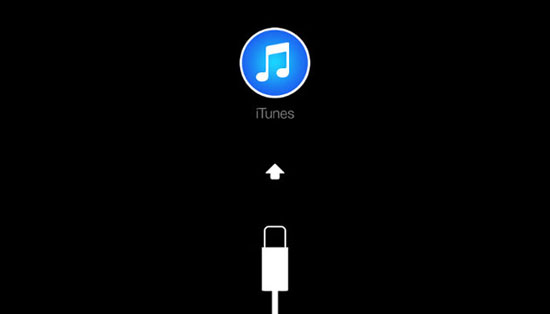 Part 1. iTunes Cannot Detect iPhone
The first step to connect iPhone to iTunes is to make it be detected by iTunes. But it is very common that iPhone cannot be explored by iTunes. In this case, there are several factors cause the problem so you need to find out the reason and choose the right to work it out. The methods I display below are corresponding to different causes.
Method 1. Check the status of the Internet
It is likely that the Internet you use is feeble or even unusable so that you'd better check the status of the Internet.
If you are using a Wifi network, please make sure that you are in the range and its signal strength is good. But if you are in an environment without Wifi, ensure that you have turn on the cellular data. You can go to Settings> Cellular to inspect. And of course, switching network is available as well. That means you can turn off the wlan on your phone and open the cellular when you are using a wireless network. The reverse is also true.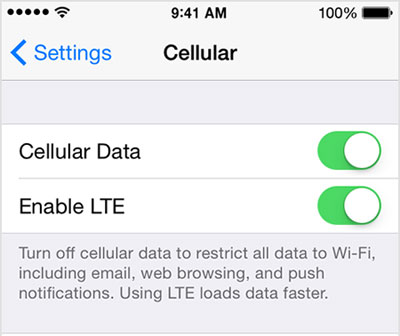 Method 2. Make use of new USB port
To connection between iPhone and iTunes relies on USB cable. Therefore, the quality of USB port and USB cable is huge.
First, check for the coupled condition to guarantee that the USB cable has link your device to the computer well. If it still shows that the USB cannot be explored, you can tend to use a new USB port because it may be damaged but you do not know.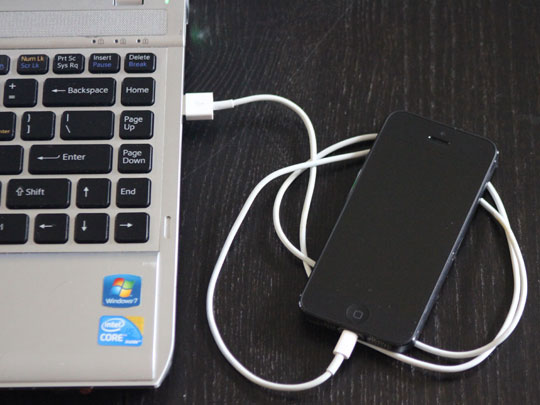 Method 3. Trust the computer when prompted
When you first connect your iPhone to computer, a pop up message "Trust this Computer" will appear. However, somebody may ignore it or elect "Don't Trust", which leads to the unsuccessful detection. As a consequence, you can reconnect your iPhone and "Trust" the computer again. This could solve many iTunes related problems.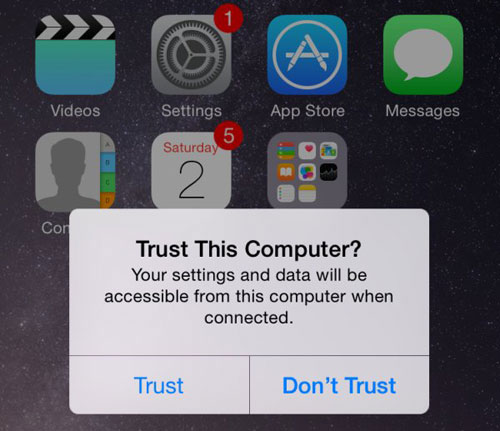 Method 4. Check Date, Time and City
The setting of Date, Time and City has a great influence on the operation of iPhone. As a result, looking over the date and time settings on your iPhone to make sure that they are correct is indispensable. Here, what you need to check includes date, time and city. Because it is possible that you select the false city as your location. Even if it is in the same time zone with your actual city, it will affect the detection. To inspect this, you can tap on Settings> General> Date & Time.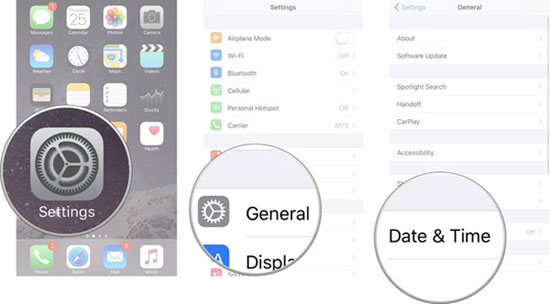 Method 5. Update iOS version
Using iTunes requires that you must download the most recent iOS version on your device. The way to examine the iOS version can be tap "Settings" and then select "General". Under this folder, choose "Software Update" to check for updates. If the version is not the recent one, it will remind you to update.
Learn more: How to Download and Install iOS 10.3 on iPhone/iPad?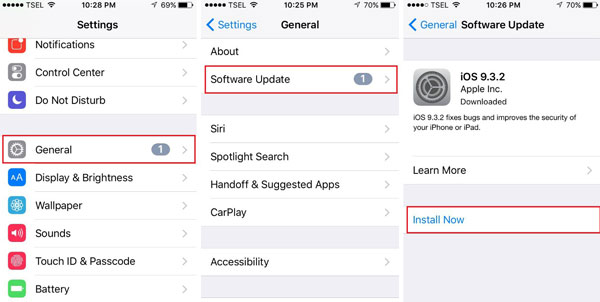 Method 6. Reboot or hard reset iPhone
Sometimes the device may be too tired to react to your directive because it has run for a long time. Under the circumstances, you can reboot your iPhone first to slove the problem. Nevertheless, you also can hard-reset the device to settle the software conflicts. To hard-reset, you can press the Home and Power button till the screen goes blank. Next press the power button until the Apple logo appears on your screen.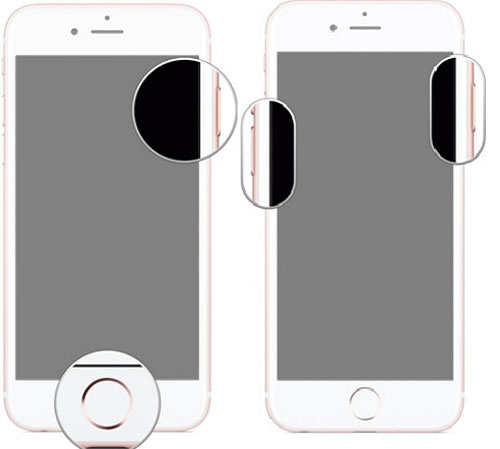 Method 7. Select the right iTunes version.
iTunes has two versions: 32 bit and 64 bit version. So you have to download the right version according to your Windows version. Otherwise, it is impossible to install and run the iTunes on your desktop computer. Hence, before downloading the iTunes to your computer, you ought to confirm the version of your computer system is 32 or 64 bits so that you can elect the right iTunes version. But how to check it? It is very plain. Right click "Computer" on the screen and tap on "Property" option. Then you can see the System Type is listed in the middle.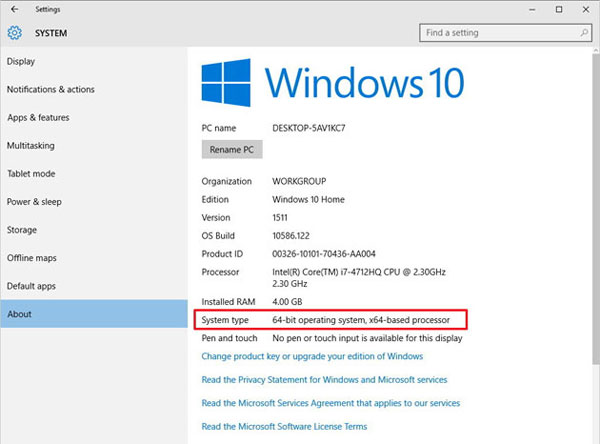 Method 8. Reinstall iTunes
This method is related to iTunes version as well. Sometimes you may find that your iPhone has no any problem with other computers but cannot be detected by your own computer. In this case, you can check the version of iTunes first for the reason that this kind of connection always requires you to install the latest iTunes on your computer. If your iTunes have been updated to the latest version but it still can not work, then another option is to reinstall it. Just uninstall the original iTunes and then download a new one and reinstall it.
Method 9. Update USB driver
If iTunes is unable to detect your phone, you need to have a look at the status of the USB driver. Firstly, open Device Manager in Windows and scroll down to search a checklist of Universal Serial Bus Controller. Under this area, you will see Apple Mobile Device USB Driver and then click a plus sign to see it. If an "X", "?" or "!" appears, it means that there are some problems with the USB driver on your computer. So you need to take action.
1) Press Windows key + X.
2) Click on "Device Manager".
3) On the "Device Manager" screen, scroll down until you see a listing for your Apple Device. This folder will be listed under the "Portable Device" or "Universal Serial Bus Controllers". Then expand the listing heading of "Portable Device" or "Universal Serial Bus Controllers" to find the "Apple Device".
3) Right click the listed "Apple Device" and tap on "Update Driver Software" and then restart your computer and connect your iPhone to your computer once again.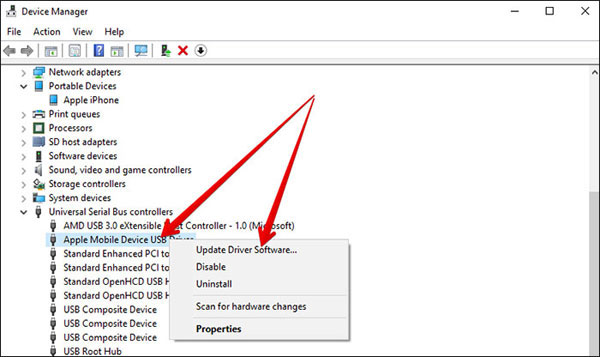 Part 2. iPhone Is Able to Be Detected But Fails to Link to iTunes
Some users may say that his or her iPhone can be explored but fails to be recognized. In this case, it is verisimilar that you have set restrictions on your device but you forget it. To solve this problem, you can open "Settings" and then choose "General" option. Next tap on "Restrictions" and choose "Disable Restrictions".
See also: iTunes not Recognizing iPhone, What will You Do?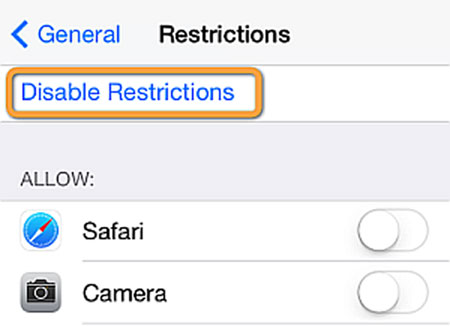 Wish you can connect your iPhone to iTunes successfully via these means.
Related Articles:
How to Transfer Music from iPhone to Windows 10?
How to Fix iPhone Not Showing Up in iTunes?
Everything You Should Know about iTunes WiFi Sync
iPhone Won't Connect to WiFi, How to Fix It? [Solved]
How to Transfer Samsung/Android Data Wirelessly
How to Remove iCloud Account from iPhone/iPad without Password? [Fixed]