Everything You Need to Know about iCloud Backup
iCloud is a built-in service that provided by Apple that is available for every iOS user to keep their iOS data to avoid losing. And it comes with 5GB of storage for free. So you can use it to access and backup messages, contacts, reminders, documents etc. and sync them between iPhone, iPad, iPod and computers (both Windows and Mac).
Of course, iCloud is not the only way to backup, but it could be the easiest way to save all your important data without taking up any space on your iPhone, iPad or iPod. So iCloud backup become more and more important for iOS users, and it is also necessary for all of us to know some basic knowledge about iCloud backup.
What is iCloud Backup and What Does iCloud Backup?
As the above mentioned, iCloud backup is an online service, which is released by Apple, and worked well as the official backup method as well as iTunes. It can stores all your data and settings on iDevices, so you can directly restore contents from iCloud backup after upgrading, replacing or reinstalling your iDevice.
However, this service doesn't backup iTunes music, TV shows and movies, and this has resulted in some troubles for iOS users. What's more, the storage of iCloud is limited. It comes with 5GB free storage space, and if the backup files are more than 5GB, you can upgrade your iCloud storage plan to 20GB, 200GB, 500GB or 1TB capacity.
Extended Reading: How to Cancel iCloud Storage Plan by Yourself
Now, let's have a brief look on what does iCloud backup:
- Purchased music, TV shows, apps and books
- Photos and video in the Camera Roll
- Device settings
- App data
- Home screen and app organization
- Messages (iMessage, MMS, and SMS)
- Ringtones
- ...
How to Backup Data with iCloud on Different Devices?
#1 - How to Enable iCloud Backup on iPhone/iPad
Step 1. Ensure your iDevice is connected with WiFi, then you can directly go to "Settings > iCloud > Backup or Storage & Backup".
Step 2. Slide and open "iCloud Backup" option, then taps on "Back Up Now" option.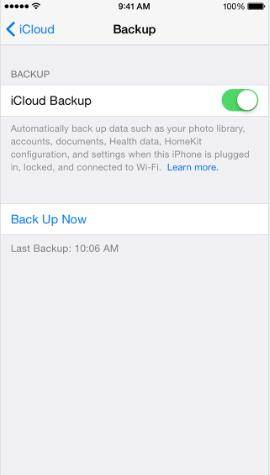 If you want to check the backup file, you can go to "Settings > iCloud > Storage > Manage Storage", then you can click on your device and see the backup file that you just created. And the iCloud will be automatically backup your iOS data on a daily basis. If you don't want the automatic backup, you can turn off the "iCloud Backup" option on your iDevice.
See Also: iPhone Cannot Backup to iCloud, How to Fix It?
#2 - How to Enable iCloud Backup on Mac
Step 1. Upgrade your Mac to the latest version of OS X by clicking "Apple menu > Software Update".
Step 2. Click "Apple menu > System Preferences > iCloud" to open the iCoud window on Mac. Then enter your Apple ID and password to login to it.
Step 3. Select the files or services you want to backup.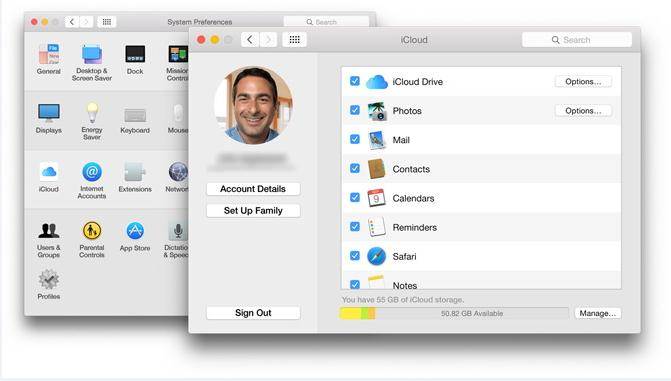 #3 - How to Enable iCloud Backup on Windows/PC
Step 1. Run iCloud and sign in with Apple ID. (Windows 7/8 or later version is required on your PC)
Step 2. Select the service you would like to backup.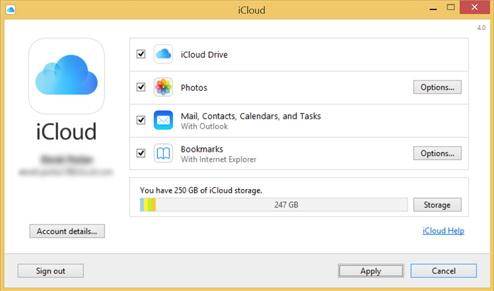 iCloud Backup vs 3rd-party Program Backup
Obviously, iCloud backup is not the only way to store crucial data on your iPhone, iPad or Mac. Actually, compare to iCloud or iTunes, a large amount of iOS users are tending to backup iOS data with a standalone 3rd-party program or app like MobiKin Assistant for iOS. These kinds of tools will help iOS users to backup their data on desktop computer well. Here, we have made a simple comparison between iCloud backup and computer backup for your reference.
iCloud Backup
Pros
- Built-in service to backup not only data, but also settings on iDevice, so that you can restore them to your new iPhone, iPad without doing more settings.
- 5GB storage space for free, which is enough for most iOS users.
- Backup the iDevice automatically on a daily basis, which can greatly reduce the losing of crucial data.
Cons
- Require a good WiFi network, that means you can backed up data without a network connection.
- Only backup music, TV shows or movies that is purchased from iTunes.
- Only has 5GB storage space for free, so you have to pay for a larger capacity if you have the need.
3rd-party Program Backup
Pros
- Supports various types of files, including music, photos, TV shows, contacts, messages, notes, bookmarks, calendars, apps, etc., includes both purchased or non-purchased items from iTunes.
- Also provide users with editing function, that means you can directly edit iOS data on PC or Mac as you like.
- No storage space limited, you can enjoy all storage space on your computer.
- No requirement of WiFi or network connection.
Cons
- Not free, you need to pay for it to enjoy the full functions.
- Need to install on your desktop computer, cannot be used everywhere you like.
Related Articles:
Best iPhone Backup Software You Can't Miss
How to Fix A Stuck iCloud Backup Restore
Free iPhone File Explorer/Manager to Browse iOS Data on PC/Mac
3 Simple Methods to Transfer MP3 to iPhone 14/13/12/11/XS Max/8
Transfer to New iPhone from Old iPhone/Android/PC [Definitive]