How to Transfer MP3 to iPhone with or without iTunes?
There's lots of great things to be said about the iTunes program and the iPhone itself, but many users do find it tricky to get their music onto the iPhone device - especially if they don't use iTunes or if they share the program with others. Thus, if you're looking to update your music library on your phone, you should take a look at the techniques below and see which works best for you. Find out how to transfer MP3 to iPhone with or without iTunes.
Transfer MP3 from Computer to iPhone with iTunes
For iOS users, you must have installed iTunes on your desktop computer, right? So here please be sure your iTunes have updated to the latest one, and then connect your iPhone to the computer and make it be recognized by the iTunes. Then you'll see the iTunes as below: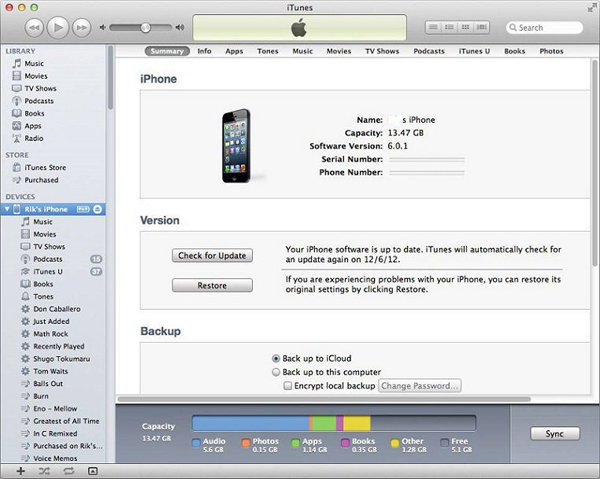 Then, you can follow the below steps to copy MP3 files from PC to iPhone easily:
- Be sure the MP3 files have been added into the iTunes library, then you can click on your device.
- Select "Music" in the menu tab and choose whether to move your whole library or choose songs individually.
- Sync music from the iTunes library to iPhone and after that, you can reject your iPhone and enjoy the synced MP3 files easily.
This is a fast and simple way to move MP3 files, but it depends on a few factors. Syncing your iPhone can cause the deletion of other files which are not held in iTunes, or it can cause you to lose music from previous iTunes versions. You won't be able to share music with others in your household this way, either. Apple has built-in a lot of protections to prevent illegal downloads, and this means that file sharing is much trickier than on other devices. Thus, if you're decided to use the method to transfer MP3 files, you'd better to backup the iPhone music files to computer to avoid mistakenly deletion.
Transferring MP3 Files to iPhone without iTunes
If you don't want to reach the goal by using the iTunes, don't worry, here still lots of ways to enjoy music and audio files from your PC library when you're out. One of the leading choices for file sharing is to download one of the many apps available in the App Store which is designed to help with this task. You can then connect your iPhone to your PC, open the app, allow PC and iPhone communication when prompted and follow the onscreen instructions. Most of these programs have an "Add Media From Library" button or similar, and this will show you your PC's files. Simple drag and drop, or highlight, and your music will be added to your device.
What's more, you can also consider using cloud storage to move files and then access them later on your iPhone. Programs such as Dropbox and Google Drive have plenty of room for your music and are easily accessible in your phone browser or via a direct app. You can open or download the files to your phone from here, or simply open and play them in the program itself.
Actually, no matter what kinds of methods you're choosing at last, we hope this page will useful for you and you can enjoy your freely music journey as you like. And in order to help you better manage files on your iPhone, here we could like to strongly recommend MobiKin Assistant for iOS (Windows/Mac) for your choice.
Related Articles
How to Transfer Music from iTunes to External Hard Drive
Tips to Transfer or Copy Contacts from iPhone to Computer
How to Transfer Music or Songs from iPod to iPhone