My iPhone Won't Backup to iCloud, How to Fix It?
iCloud is one of the common options that are provided by Apple Inc. to backup iPhone, iPad and iPod. Therefore, a large proportion of users choose it to store files like photos, music, videos, etc. But many users have met the problem that iPhone won't backup to iCloud and cannot figure it out. What is the reason of this issue and how to fix it? You will find the answer in this article.
Part 1. Why iPhone Won't Backup to iCloud?
Part 2. Methods to Backup iPhone to iCloud
Part 3. An Alternative Way to Backup iPhone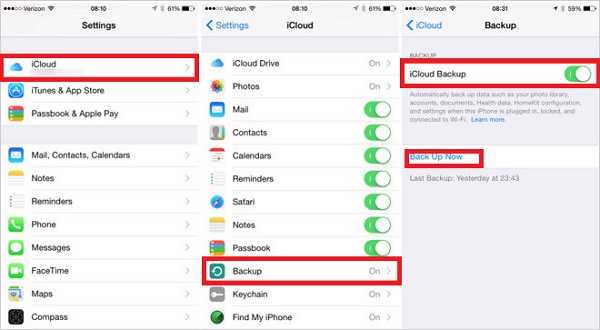 Part 1. Why iPhone Won't Backup to iCloud?
If you have ever met the situation that iPhone won't backup to iCloud, you must want to know the reason of this error. Actually, the factors that cause this issue are various but some of them are very common. So it is helpful for you to know these several causes that often occur for the reason that you can solve the problem per them. These causes are:
1. A bad network connection would cause the backup failure. It is impossible to backup the data from iPhone to iCloud when the internet you connected is weak.
2. Turning off iCloud backup accidently. Sometimes you may turn off the iCloud backup for some reason but you forget it. This might be the reason.
3. The free storage is insufficient. When the files you have downloaded eat up the space of iCloud, you are not able to backup anything to iCloud.
4. The system may log out of the Apple or iCloud ID. If you do not log in your Apple account or iCloud ID, the backup won't happen.
5. Malfunction may occur after an iOS version update. It is probable that the new iOS version you updated is not stable and this would result in the iPhone won't backup to iCloud issue.
Part 2. Methods to Backup iPhone to iCloud
As we have mentioned above, there are various reasons of the error that iPhone won't backup to iCloud. Correspondingly, different kinds of method are figured out to settle these problems. These solutions are easy to understand and operate. Hence, it is recommended that you can try to work out the problem at first by following the steps below while facing this kind of issue.
1. Turn on iCloud Backup
For backing up files on iPhone to iCloud, the first thing you must do is to enable the iCloud Backup feature on your phone. To check the status of this function, you can go to Settings and find out the iCloud option and tap in. Then you will see the Storage & Backup, click on it and you can see whether the iCloud Backup feature is turned on or not. If it is off, just tap on button to enable it. And here, if you find that the feature is on, you also can select to turn it off and wait for seconds then turn it back on.
2. Connect iPhone to a good network
A stable network is essential for iPhone backup. Therefore, you need to go to Settings> Wi-fi to turn on the wireless network. If you find that the signal of Wi-fi you connect is not strong and steady enough or you fail to connect iPhone to Wi-fi, you could choose to turn it off and then turn it back on. After this operation, the wireless network may be more stable but if you find that the Wi-fi cannot work well, you could try to reset the network.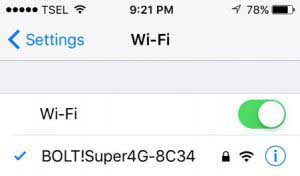 To reset the network, you should navigate to Settings> General> Reset. This option might cancel all the connected wireless network so you are suggested to remember the name and passcode of the available network before the resetting.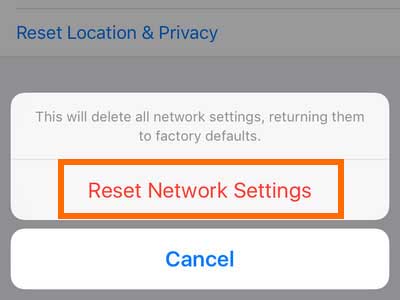 See also:
How to Fix iPhone Won't Connect to Internet?
3. Free up iCloud space
The storage space of iCloud is limited so it would not be able to backup files when it is full. If you have no idea about the iCloud storage, you can open up Settings on the screen. Then click on iCloud and choose Storage under this folder. Now you can check how much free space is left on the iCloud. If the available storage space is very small or even no any free space, you ought to delete or transfer some files from iCloud to get more usable space.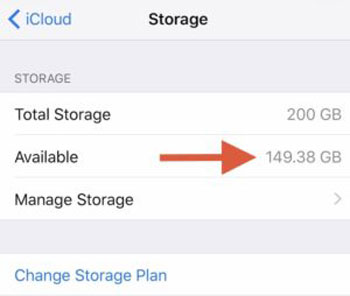 Learn more:
Tips to Free Up Mobile Phone Space
4. Reset iCloud account
Another possibility that your iPhone fails to backup to iCloud is that your iCloud account occurs some errors. In this case, you are advised to reset your iCloud ID. You could go to Settings and choose iCloud and then scroll to the bottom to find out the "Sign out" button. Just tap on it and confirm your choice by clicking on "Sign out" as required. And do not forget to log in the iCloud account once again after this operation.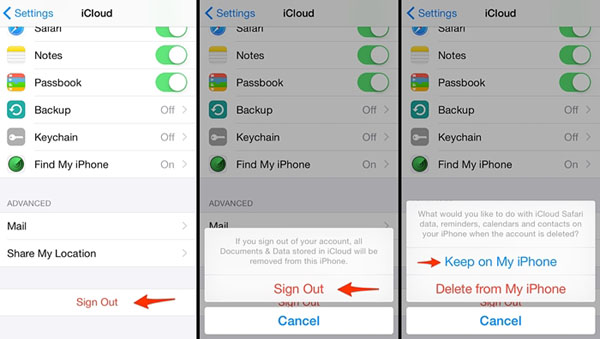 5. Reset all settings
If you have tried all the mentioned methods but still backup copy iPhone data to iCloud unsuccessfully, you ought to reset all settings on iPhone. To accomplish the process, you could cruise to the Settings app, tap General and scroll down to choose Reset. Tap on Reset All Settings and confirm the action. After resetting, you can try to back up your iPhone to iCloud again.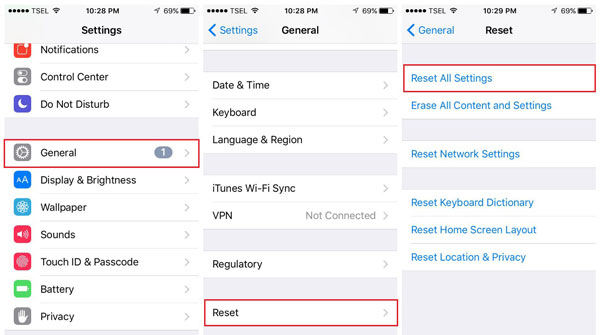 6. Reboot your iPhone
The final way to fix iPhone won't backup to iCloud is to restart iPhone. This means would solve many problems although it is simple. For switching off your phone, you can press and hold the Power button to turn it off. Then wait for several seconds and press and hold the Power button again to switch the phone on. After powering on the phone, remember to check the status of network and other settings on the phone. Then you can continue to backup iPhone to iCloud if everything is alright.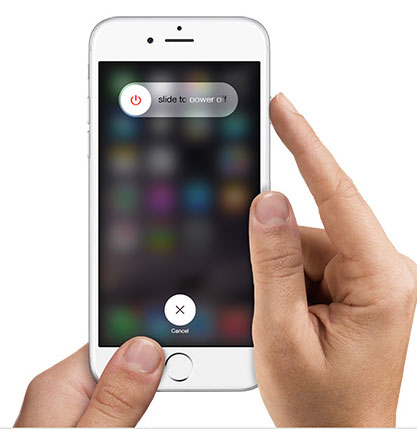 Part 3. An Alternative Way to Backup iPhone
Except iCloud and iTunes, is there any other method to back up iPhone data? The answer is "Yes". You can employ a third-party program- MobiKin Assistant for iOS to help you manage the files. The types of file that this tool can copy are up to 14, including Video, Photo, Song, eBook, Contacts, etc. And it is not only able to backup data on iPhone, but also capable of managing files. All these operations could be accomplished within several simple clicks. It could be your good helper.
The steps to transfer iPhone files are as below:
Step 1. Connect your iPhone to computer via USB cable.
Step 2. Launch the program and it will detect your iPhone automatically. And then a pop-up window will appear on the iPhone screen which asks you to trust the computer, just click on "Trust" so that the program can recognize the device. Here if there is any problem with iPhone trust process, you can click here to solve the issue.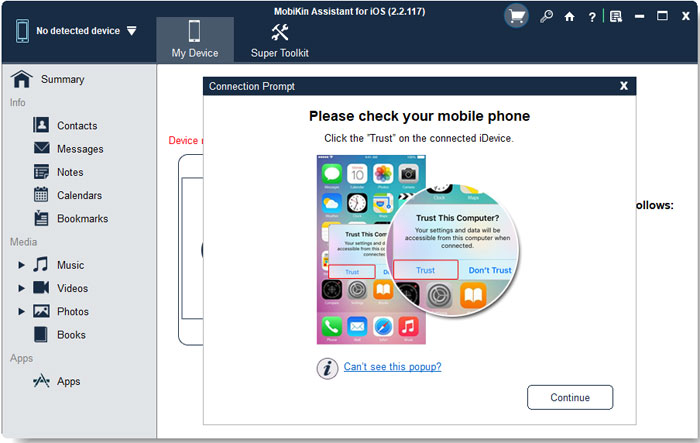 Step 3. After connecting to the computer, there will be many categories in the left panel and you can choose the folder that you want to copy to load all files.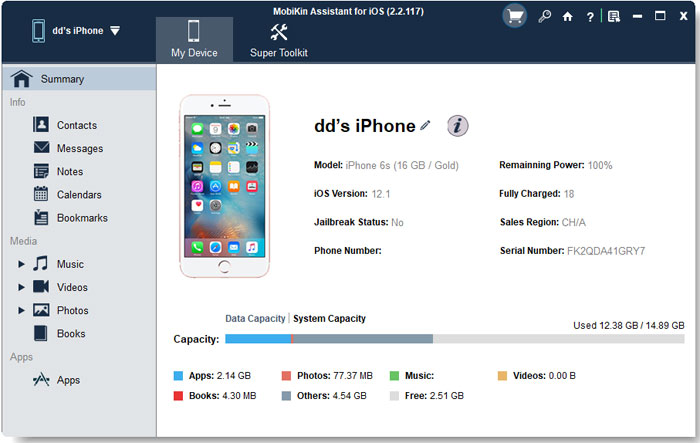 Step 4. Tick the files you wanted and click on "Export" to deliver and store them.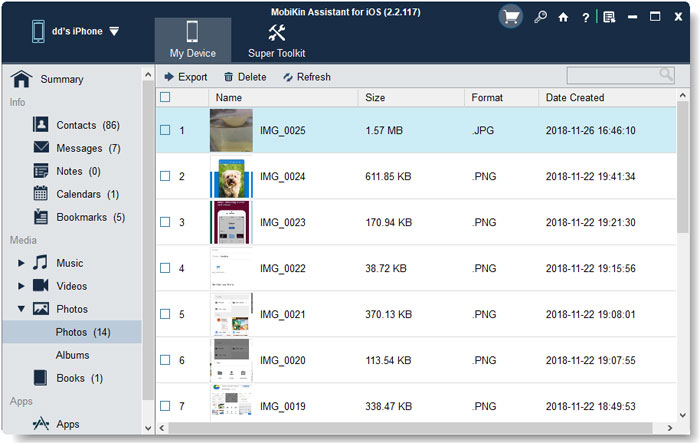 Relative Articles:
How to Export Contacts from iCloud to Outlook?