Free iPhone File Explorer/Manager to Browse iOS Data on PC/Mac
Managing, backing, and transferring files from your iPhone to your computer is a must because you never know what could happen to your device in the near future. Contrary to what many individuals still believe, iPhone file explorers for Windows and Mac are not made equal. Their differences are what make some of them better than others to a certain extent.
It has been noted that there are only a few iPhone file explorers that are worth the time of day, including MobiKin Assistant for iOS, iTools, iFunBox, iExplorer, DiskAid, and iMazing. These iPhone file explorers' respective structures are solid and thus simplify their main functions significantly, hence why their popularity has not diminished. Positive reviews keeps pouring in for these iPhone file explorers, which is not surprising if you have test them and thus greatly benefit from them in one or more aspects.
Now, we will introduce these 6 famous file explorers for iPhone one by one.
Top 1 iPhone File Explorer: MobiKin Assistant for iOS
MobiKin Assistant for iOS is being regarded as the most powerful assistant software in the world for the iPhone, as well as for iPod and iPad users. It is software that has become one of the top file-explorer favorites on the market. It permits users to manage, backup, and transfer contents from iPhone to computer with one click. Thousands upon thousands of people are taking advantage of it on a daily basis.
Why Assistant for iOS is the Best File Explorer for iPhone?
It permits the copying of a significant number of files between iPhone and PC easily and at an extremely rapid pace.
You can view and manage 14 types of files from your iDevices (iPhone/iPad/iPod) on your PC & Mac, including Video, Photo, Music, eBook, Contacts, Text Messages, Notes, Safari Bookmarks, Voice Memo, Podcast, Ringtone, Playlist, etc.
It conducts every action effectively, which is an element that is difficult to acquire from other iPhone file explorers.
Backup and restore data between your iDevices directly and import iTunes backups from PC to your device, or delete any unwanted iTunes backups from your PC.
Fully compatible with iPhone 11, 11 Pro, 11 Pro Max, iPhone Xs, Xs Max, XR, X, 9 (Plus), 8 (Plus), 7/7S (Plus), 6S/6 and so on.
With just one-click you can conduct a file transfer, making it a great option if you want to access important iPhone files on computer and do not have a lot of time to do so. Now, let's see how to use the best iPhone file explorer on windows 10/Mac - Assistant for iOS to browse your iPhone data on computer.
How to use this iOS file explorer?
Connect your iPhone to the computer via a USB cable and launch Assistant for iOS. The program will recognize your iPhone automatically and the main interface of the program should be shown as below.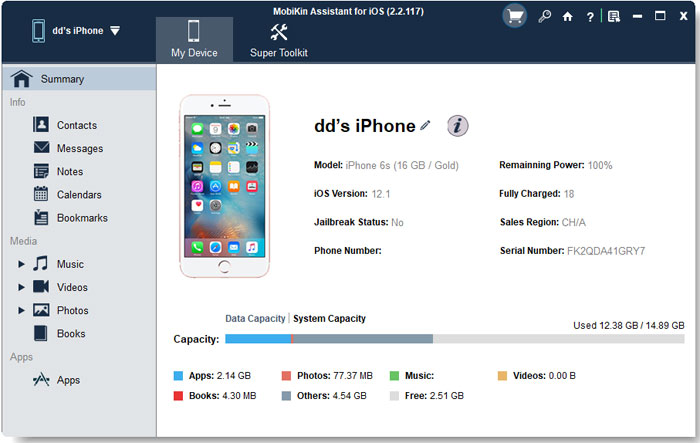 On the main screen of the program, all file types on an iPhone will be displayed on the left side bar that can be accessed by Assistant for iOS on your iPhone, including "Contacts", "Messages", "Notes", "Calendars", "Bookmarks", "Music", "Videos", "Photos", "Books" and "Apps". Just click on the file categories and browse the files on your computer.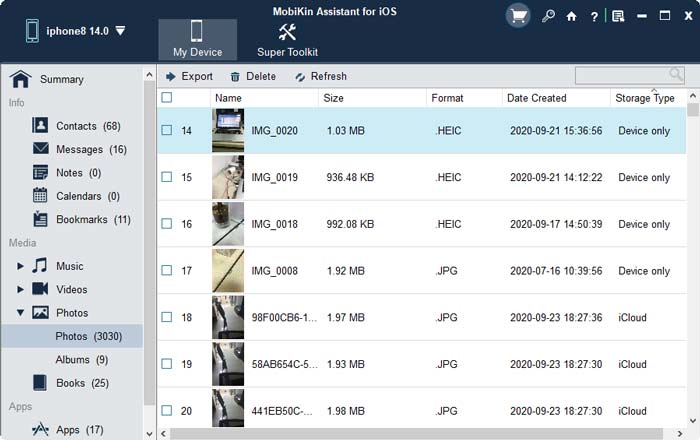 More features:
This is also an iPhone file manager for Windows and Mac users. If you need, you can transfer data from your iPhone to computer with one click. For example, under the "Contacts" section, you can select the contacts you need and click "Export" button to transfer them to computer for backup or further use. You can also import contacts from computer, create new contacts and edit contact information here.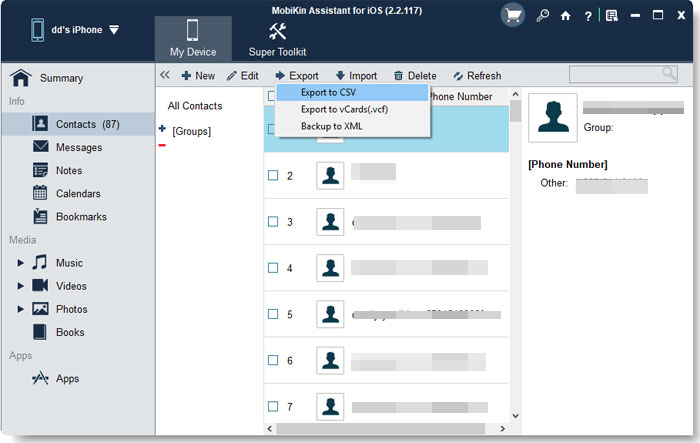 You can also manage iPhone apps on computer. All apps on your iPhone can be scanned out and you can tick the apps that you don't need any more. Then, click "Uninstall" button to remove them from your iPhone.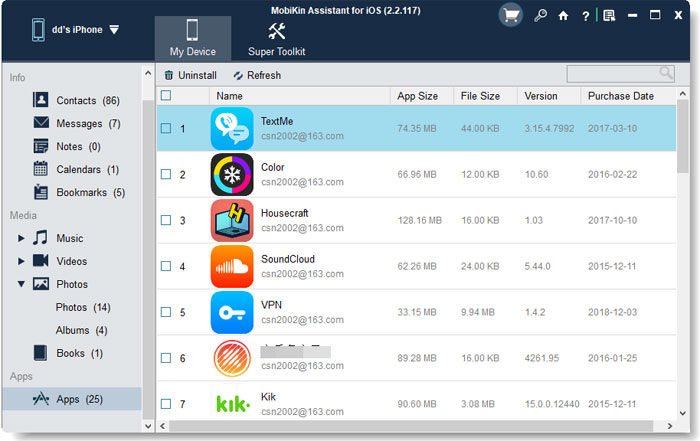 What's more, you can use this iOS Explorer for Windows and Mac to manage, backup and restore iTunes backup on computer. Just enter the "iTunes Backup & Restore" option and then you are allowed to backup your iPhone data to iTunes and restore iTunes backup to your iPhone.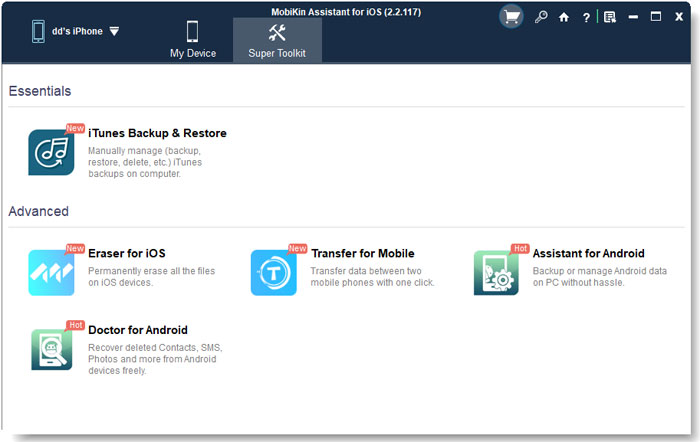 Pros:
Another noteworthy pro that MobiKin Assistant for iOS has is that you can rest assured that you will not come across an error while utilizing it. The reason behind this is due to its creators going the extra mile to ensure that every element that structures it is superb in nature. Furthermore, it is quite easy to navigate. Best of all is that you can try it as you please free of charge.
Cons:
There is a free trial available so that you can familiarize yourself with MobiKin Assistant for iOS. Regarding cons, there is nothing that can be pointed to that would reflect a possible downfall. It is a system that functions as envision because it was structured adequately, so you will acquire expected results every time you use it.
Can't Miss:
Top 2 iPhone File Explorer: iTools
There are only a few iOS file explorer that echo that they have a lot to offer to users. One of these is no other than iTools. With this system, you can manage your iPhone on either certain versions of Windows or Mac. It permits you to manage and explore your photos, videos, ringtones, music, media, and other files present in your iPhone. You can uninstall, install, and backup your apps, or browse app-related file information with just a few clicks. Even though it was introduced a while back, iTools keeps acquiring the attention of iPhone users.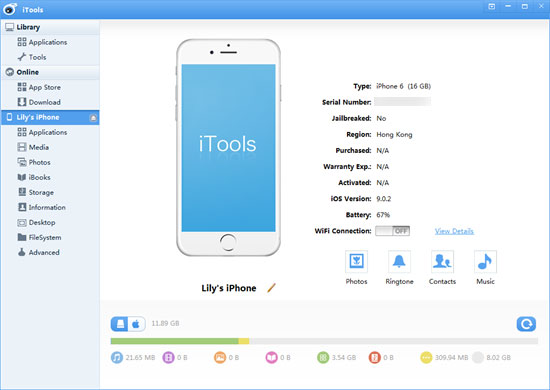 Pros:
One of the top pros of iTools is that you have accessibility to your iTunes' backup files and the App Store. There are no plugins or ads in it, which is another pro that has help make iTools' popularity to skyrocket in great measure.
Cons:
Regarding cons, no installation is required, so there might be errors that might come to pass every now and then. Another con is that there are times when videos and photos do not transfer, especially if they take a lot of space. So it is safe to express that iTools is a solution that should be utilized to manage or backup small files when you are not in a hurry and thus can try another option if an error comes to pass.
Top 3 iPhone File Explorer: iFunBox
There are some solutions that are able to find a loyal following after their introduction to the market, iFunBox is one of these solutions. It keeps luring in more users on a daily basis. Everything indicates that this will continue to come to pass due to the advertisement strategy its creators have opted for. You can browse and manage contents of your iPhone, without any issues. You can conduct transfers of different types of files, including music, videos, and apps. Just as its name reflects, it is a solution that makes tasks fun, as they are done in a simple and fast manner.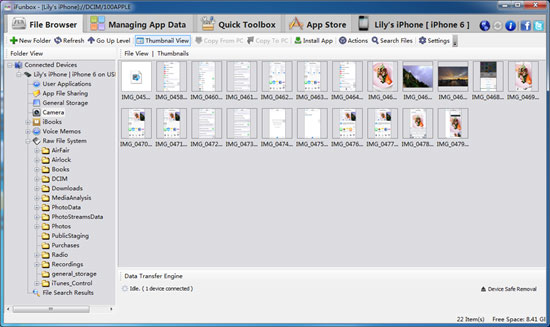 Pros:
With iFunBox, you can acquire extra apps that you will not be able to find in the App Store. You can move, drop, and drag files, without issues. It is an easy-to-use platform that makes the managing, backing, and transferring of files a total piece of cake when used as directed.
Cons:
Unfortunately, iFunBox is not 100-percent safe because there are times when sponsored links and ad popups will try to get across when you choose to download it for either Windows or Mac. This means that there is a possibility that your computer might acquire a virus. If you opt to try the iFunBox but note that sponsored links and ad popups come in the way of doing so, it is best to pass on it until this is no longer occurring. It is best to play it safe.
Guess you like:
Top 4 iPhone File Explorer: iExplorer
This option has been regarded as a great iPhone file manager that can help transfer, manage, and backup files, messages, photos, music, notes, voicemails, calendar events, address books contacts, and etc. It has an innovative structure that does not fail with any transfer it performs. There are more than a handful of iPhone file explorers on the market that have placed devices in jeopardy due to the numerous errors that they committed while trying to aid users with their respective transfers and backups. With iExplorer, you will never have to worry about this. It conducts every task error free.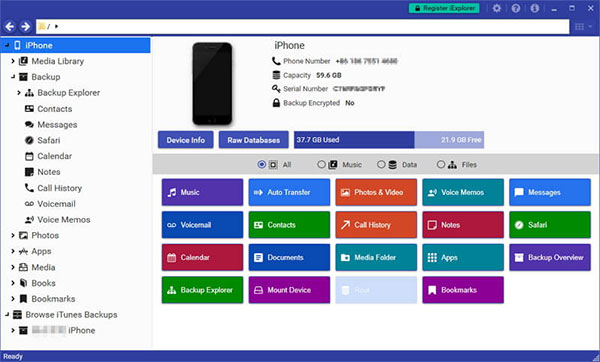 Pros:
It is a reliable solution that delivers as you would expect. Not only is it reliable, but it is one of the easiest and quickest to install solutions. It truly lives up to the hype that surrounds it.
Cons:
When it comes to its cons, it is promoted to be 70-times faster than the competition, but this far from the truth. It does not work any faster than other favorites. Also, it is not the most innovative solution. There are other solutions, such as the MobiKin Assistant for iOS, which have a more innovative platform.
Top 5 iPhone File Explorer: DiskAid
DiskAid does not only have an innovative name, but it also has an innovative platform that has been able to stand tall among the competition. Thousands of people are utilizing every day. You can transfer, manage, and backup a variety of files from your iPhone to your computer with DiskAid. It is quick to download on either Windows or Mac. You will never have to worry about questionable popups when downloading it. Just as the other solutions present in this list, there is no computer knowledge required to benefit from it.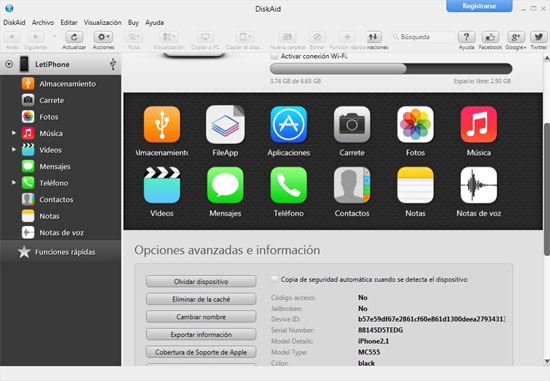 Pros:
It is a free solution to download, as well as 100-percent safe. It functions with every Windows version.
Cons:
Even though you can transfer files from iPhone to your computer, this not necessarily mean that you can transfer just about any file. There are apparent restrictions, hence why people who have downloaded this option only utilize it for certain files and opt for other solutions to aid them with other files.
Top 6 iPhone File Explorer: iMazing
This is an amazing iPhone file explorer application that has not stopped being the talk of the town. There is no need for you to connect to iCloud or iTunes to benefit from iMazing, which is a huge plus that simplifies different aspects of its main function. There are a variety of files that it can aid you with in the aspects of managing, backing, and transferring. It is a very easy to utilize programs. It is important to note that it recently underwent an update, so it has more to offer than in the past.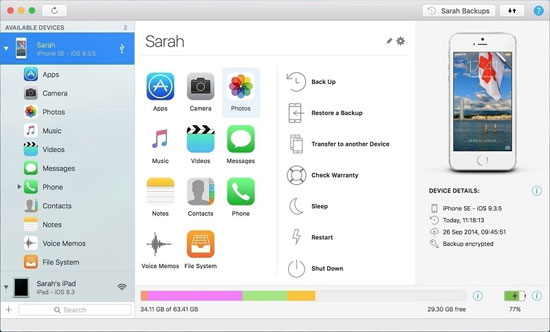 Pros:
This solution has a very easy to utilize interface with several categories, including messages, contacts, videos, and music. You will be able to acquire complete access to your device's files and directory due to its "file system" feature.
Cons:
Unfortunately, there is a con that has caused many to not try this system: There are some users who have had issues when transferring some files. It seems that there are times when the quality of a file might diminish to a certain extent with iMazing. This is the reason why it keeps undergoing constant updates, as its creators are trying to get it right. It might take a while before they fully do, hence why if you opt to take iMazing into account, you should also opt for another system just in case things do not go as envision with it.
Conclusion: Meet Your iPhone File Explorer Needs and Wants
Even though the aforementioned iPhone file explorers were created to meet the needs and wants of as many users as possible, that has not always been the case for a lot of them. MobiKin Assistant for iOS, in particular, is often the top pick among them due to not failing to impress in any aspect. Above all, these iPhone file explorers remain the favorites due to being better than the rest in more than a handful of areas. If possible, try several of them so that you can select the best option for your current iOS explorer needs and wants.
Relative Articles:
Top 3 Ways to Transfer Music from iPhone to Computer for Free in 2019
How to Transfer Large Videos from iPhone to PC
6 Ways to Transfer Photos from Computer to iPhone Effectively
Easy Ways to Transfer Files from Lenovo to iPhone
How to View iPhone Text Messages on Computer/Mac?