FaceTime Fails to Connect, How to Fix It?
What is FaceTime?
FaceTime is a proprietary videotelephony product which allows users make video chats and audio calls. With this feature, you only need to connect your iPhone to Wi-fi or cellular data then you can enjoy free video or audio calls. To be honest, it is a convenient tool to get in touch with our friends and families. So it is predictable that more and more people like to use it.
However, according to the feedback from its users, this application often fails to connect which makes the customers disappointed. Thus, many people eager to get the methods to fix this connection issue so that they can have a better video or audio chat. This is why this article comes- it will tell you the reasons as well as the solutions of the FaceTime connection issue.
Why FaceTime Connection Failure Happens?
Actually, the reasons of FaceTime connection failure are various. The followings are the main causes of this issue which may help you to settle the problem more easily.
* It is not available in the country or region you live cause FaceTime is not available on devices purchased in Saudi Arabia, Pakistan and United Arab Emirates.
* Expired certificates.
* The device is connecting to a poor internet connection.
* You may have a wrong data and time setting on your iPhone.
* The device might not match the Apple ID that you sign in initially.
* The FaceTime feature is disabled on your device.
* You have not activated the FaceTime yet.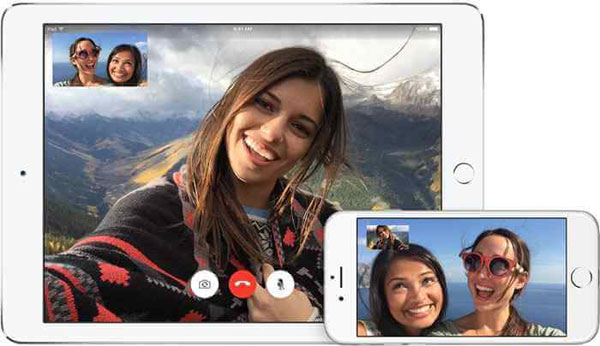 How to Fix FaceTime Fails to Connect Issue?
To fix FaceTime fails to connect issue, you only need to check the settings on your iPhone and the system version you are using. Below are the details for your reference. You can go with them to check the settings on your phone one by one.
Solution 1. Check the Device Compatibility
As we have mentioned before, FaceTime is not available in every country so you need make sure that you are located in an area that the app is accessible. Besides, this service is only provided on iPhone 4 or later, the fourth generation of iPod touch or later, iPad 2 or later and Mac OS X 10.6.6 or later. If you are using the older version, it would not be possible to connect the FaceTime.
Solution 2. Enable FaceTime
Only when you turn the feature on can you use it smoothly. So, you are advised to check the status of FaceTime on your device. You can navigate to Settings and click on FaceTime to check it. If it is turned off, you can tap on the button next to it to enable it.
Solution 3. Turn off Airplane Mode
Once you turn on the Airplane mode, you will not be able to connect to any internet, including wireless network and cellular data, let alone use the FaceTime to have a chat. Therefore, you can go to Settings> Airplane mode to disable it. If you do not turn on this mode before, you can tap on it to enable it at first and then turn it back on to refresh your Wi-fi or cellular data network.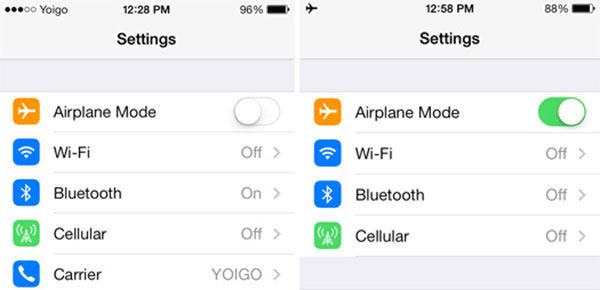 Solution 4. Inspect the Internet Network
Be sure that you have established a good connection between your device and internet. In this case, you can swipe up the screen to enter the control center to check the signal of Wi-fi or cellular data. Or you can turn them off and then turn them back on to refresh the internet. If it still cannot work, you can try to reset network settings.
To reset network settings, you can visit Settings> General> Reset> Reset Network Settings to remove all the saved Wi-fi name and password. After that, you can type in the name and passcode of a stable Wi-fi to reconnect the internet.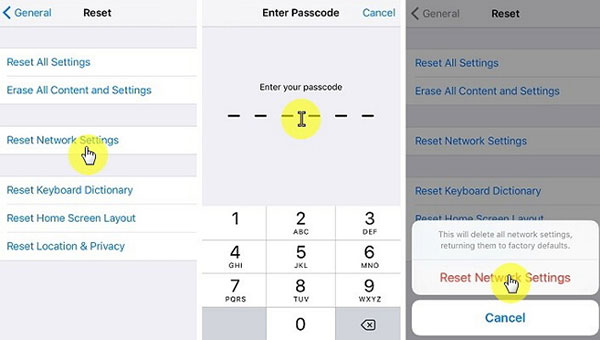 Read also:
How to Fix iPhone Won't Connect to Internet?
Solution 5. Re-activate FaceTime
Another possibility of FaceTime connection failure might be the wrong FaceTime account. That means the Apple ID you using might be different from the initial one. So, you can try to reactivate your FaceTime to solve the problem. For reactivating the FaceTime, you need to sign out the account first and then log in again by typing in the Apple ID and password on the interface.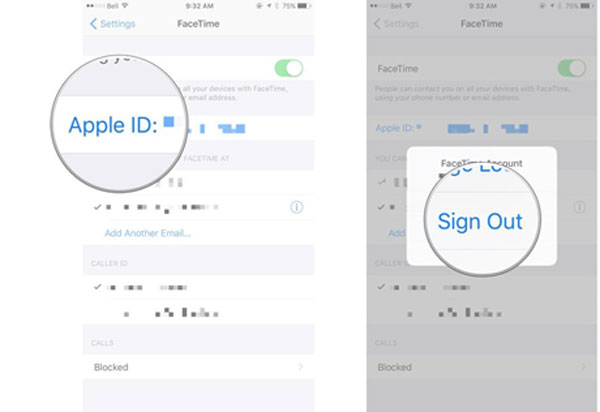 Solution 6. Update iOS and OS X Version
Upgrading your iOS and OS X version would help you solve the problem. This means could settle many kinds of iDevices issues, including FaceTime fails to connect, iPhone getting hot, iPhone won't connect to Wi-fi and so on. Therefore, you can try to download and install the latest version of iOS and OS X to fix the issue.
Solution 7. Reset All Settings
Another omnipotent method to fix iDevices problems is to reset all settings on iPhone/iPad/iPod. By using this method, you would not lose any data or documents on your device but the settings and system would be erased. However, before using it to reconnect FaceTime, you are still suggested to make a bakeup for your iPhone or other devices.
To begin the resetting, you can visit Settings> General> Reset> Reset All Settings.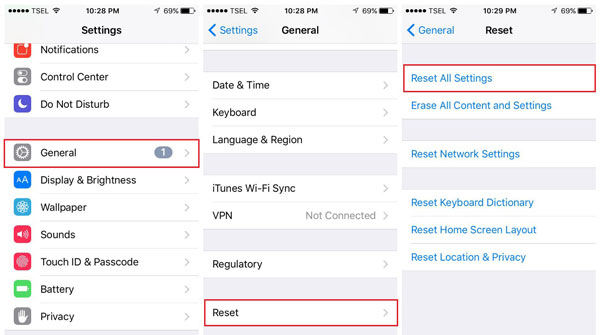 Solution 8. Turn to Apple
If you have tried all the methods above but still fail to connect the FaceTime, you need to ask Apple Support Service for help.
Related Articles:
iMessage Not Working on iOS 11, How to Fix It?
How to Fix iPhone No Sound Issue?
3 Simple Ways to Transfer from SD Card to iPhone
3 Ways to Manage Music on iPhone Easily
5 Ways to Transfer Music to iPhone from Computer without iTunes
How to Retrieve Deleted Music from iPhone 14/13/12/12 Pro/11/XS/XR/X?