How to Remove iPhone Backup Password?
We all know that the iTunes is a pretty good tool to make backup for free. You can back up all the data on your iPhone, iPod touch or iPad in it. And you can restore any iOS files like contacts, messages, videos, photos, music and more. To protect your personal information and the backup data in iTunes, you may set the backup password. So when your iPhone is encrypted with a password, every time you access to iTunes, you have to tap the password. Although it is a secure way, but sometimes you'll feel tired of entering the password before you restore from iTunes backup and think of it troublesome. So you want to delete the iPhone backup password as a consequence to save more time. In this guidance, we will introduce the solution to remove the iPhone backup password under the circumstance that you remember the password. After that, we'll also tell you a great third party program to help you restore the data on your iPhone to your computer effectively. Check the details in the following chapter.
Guide to Remove iPhone Backup Password
Every time you enter your iTunes backup files, you need to tap the password like this.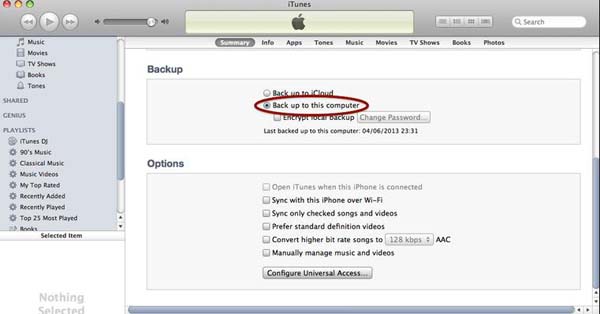 Step 1. Remove the iPhone Backup Password If You Remember the Password
Since you can set password for iPhone backup in iTunes, you can also remove iPhone backup password in iTunes. Follow the steps as follows to remove or delete the iPhone backup password.
First, Delete any Mail Exchange accounts on the iPhone. Then delete old encrypted backups from iTunes. Third, restart your iPhone and link your iPhone to your computer and launch iTunes on the computer. At last, find "Devices" on the left column of the iTunes on the main interface. Locate your iPhone which will appear as the name you gave it. Then uncheck the box next to Encrypt local backup.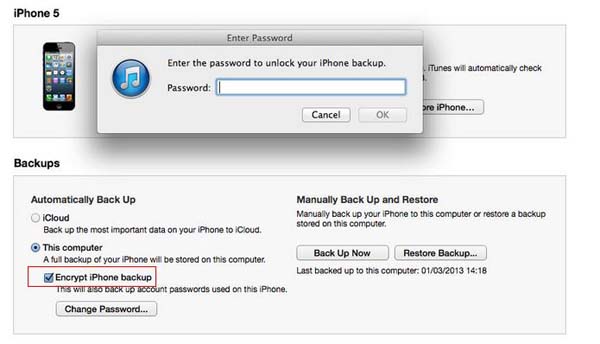 Bonus: How to Retrieve the Lost Data on iPhone
If you in need of recover the lost or deleted iPhone data, you can turn to the professional program called MobiKin iPhone Backup Extractor (Windows/Mac). It enables you to restore all the removed data on iPhone such as contacts, messages, videos, photos, reminders, voice memos, bookmarks and notes and so forth. It has two modes for you to directly recover them from the iOS device as well as extract them from iTunes backup file to the computer.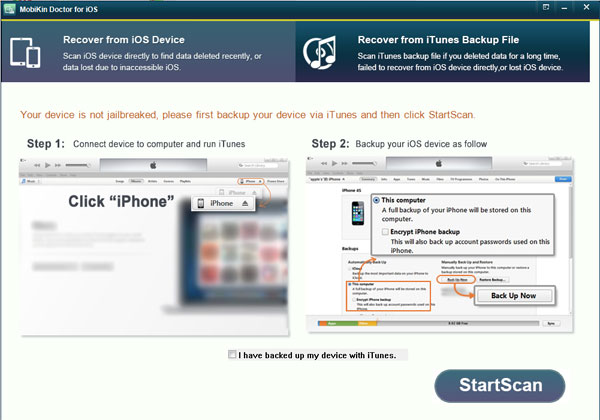 Both Windows version and Mac version are available, and you may turn to the right one that matches your computer.
Related Articles
Tips to Recover Voice Memos from iPhone 6 Plus/6
How to Retrieve Deleted Text Messages from iPhone
Guidance to Recover Deleted Contacts from iPhone 6