[SOLVED] iPad Won't Update to iPadOS 15/14? Here're 8 Real Fixes
Q: Hi, I have no option to update my iPad 2 from version iOS 9.3.5 to new version iOS 15. When I trying to do on software update in settings, there is written iOS 9.3.5 Your software is up to date. I have iPhone and there I have iOS 15.3.1. So what's going on? Why won't my iPad update? It is working so slow and kicking me off from open apps. HELP!
For a better experience, whenever Apple rolls out new iOS and iPadOS versions, users can't wait to update their devices to the latest iOS version. However, as reported by the users above, many iOS users have encountered the problem that the iPad won't update, especially when users try to update their device to iPadOS 15/14/13, and they don't know what the problem is.
Don't worry, this article will focus on how to fix iPad won't download update issue for you. Before talking about the fix, let's examine the possible causes of this problem.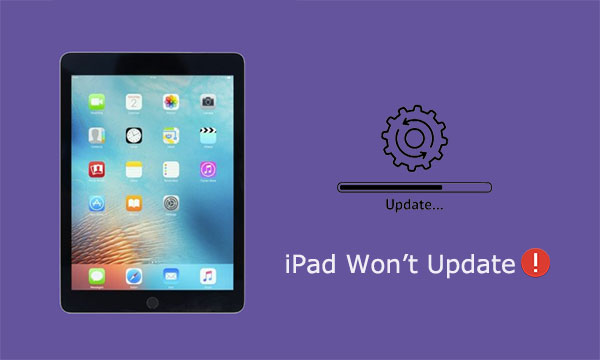 Part 1: Why Won't My iPad Update?
Why I can't update my apps on iPad? Normally, updating an iPad is as easy as updating an iPhone. But, because of many big and small problems, we can't update iPadOS smoothly. The most common reasons are as follows:
iOS incompatibility
If your iPad won't download update, the most obvious reason is iOS incompatibility. The iPad models that currently support iPadOS 15 are listed below:
iPad mini 4 and later
iPad Air 2 and later
iPad 5th generation and later
All iPad Pro models
Not enough free space
Lack of storage space on your iPad can also keep you stuck with this update issue. The process of updating iOS requires enough space to execute. So you can go to "Settings" on your device > tap "General" > scroll down and select "iPad storage", to check that your device has enough free space to store the update file (usually 5-7 GB). If the available storage space on your iPad is low, then you need to clean up your iPad first.
Low battery
It is always recommended that you make sure your device has at least 50% battery charge before starting an update. The update cannot be performed due to insufficient power.
Poor internet connection
An unstable cellular or Wi-Fi connection can also be the reason why your iPad won't update software. You can restart your Wi-Fi router to try again.
Part 2: What to Do if iPad Won't Update iOS
Way 1: Check the iOS Compatibility
If your iPad isn't compatible with the new iOS, then of course it won't update. Therefore, before upgrading, you can go to Apple's update compatibility page to check whether the newly released iOS or iPadOS update supports your iPad.
Way 2: Ensure enough space on Your iPad
You can check the remaining space on your iPad by going to "Settings" > "General" > "iPad Storage". If you run out of space, then you will inevitably face the issue that iPad will not update apps. So, if your iPad is running out of space, you can back up your iPad data to a computer or the cloud first, and then delete content and uninstall apps on your iPad to make room for iOS updates.
Way 3: Make sure your device is fully charged
Sufficient battery power is a prerequisite for a successful iOS update. To make sure your iPad has plenty of power left, simply plug the device into an official charger, charge it to 100%, and then your can go back and download the update again.
Way 4: Keep a stable Wi-Fi connection
In addition to enough space and battery power, updating iOS requires a stable and good internet connection. A poor internet connection can prevent the iPad from updating iPadOS smoothly. Please check the Wi-Fi your iPad is connected to to make sure it is reliable and stable enough. You can also restart your Wi-Fi router, reconnect your device to Wi-Fi and try updating it again.
Can't Miss:
Way 5: Wait for a While
When iOS is updated, almost all users update their devices at the same time. Such a huge amount of traffic can cause Apple servers to be down or busy. In this case, if you are not in a hurry to update your iPadOS, then you can wait for a while to update your iPad.
Way 6: Fix iPad Won't Update with iOS System Repair Tool
If you are sure that there are no problems in the above aspects, but the iPad won't install update problem still exists, then we can also use the iOS System Recovery tool to help you complete the update process. This tool does double duty, not only can it automatically update the iOS or iPadOS firmware on your device to the latest version, but it can also drill down inside the device to find potential bugs and glitches and fix them.
If you've ever encountered iPad not updating iOS, iPad won't sync with iTunes, iPad freezes, and any other iPad system issues, you can use this tool to fix it. It works for a whole range of iOS devices, containing iPad Pro, iPad Air, iPad 4, iPad mini, the new iPad, iPad 2, iPhones, iPods, and so on.
Now, download and install the iOS System Recovery on your computer. Then, follow the steps below to finish iPad update with a few mouse clicks.
How to fix iPad mini/4/Air/Pro won't update issue via iOS System Recovery?
Step 1. Launch iOS System Recovery and connect your iPad to the computer via a USB cord. Click "iOS System Recovery" from the primary interface to proceed.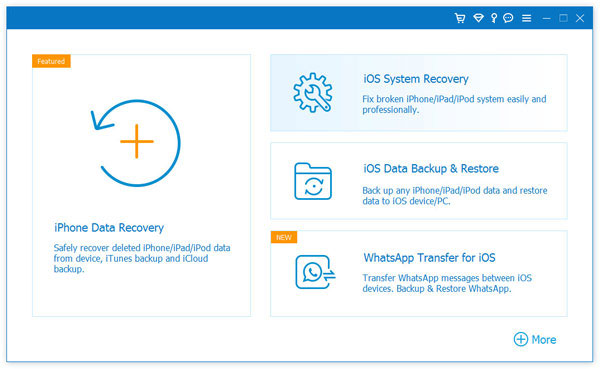 Step 2. A new window will list the main features of this software. After you understand it, you can click the "Start" button.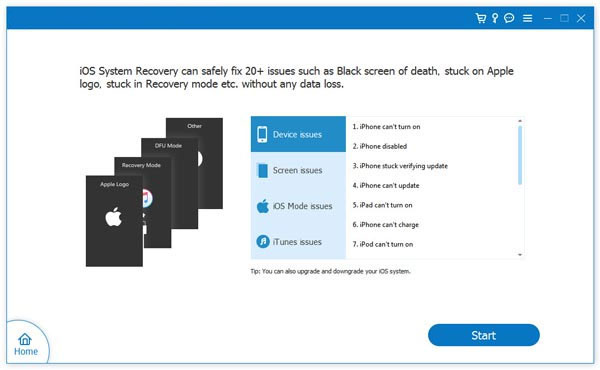 Step 3. Next, you need to click on the "Fix" button. In the next window, you will see two repair types. To keep the data on your iPad safe, you'd better choose "Standard Mode" and click the "Confirm" button.
Step 4. In the next window, all OS versions available on your device will be displayed here. You just need to select the version you want to update, specify your preferred firmware path, and click "Next" to go to the next step.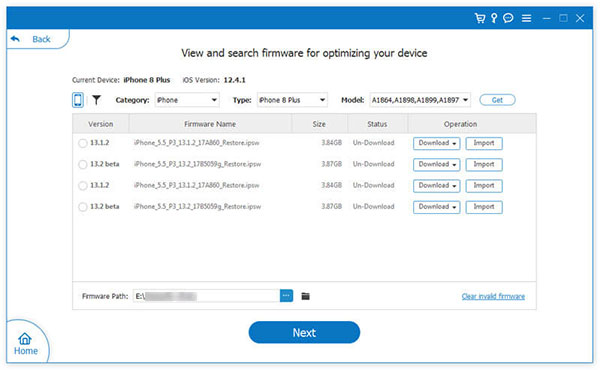 Step 5. Once the firmware download is complete, you can simply click the "Fix" button. There will be a progress bar on the screen to inform you of the progress of the task. When it's all done, your device will automatically restart and run the latest iPadOS software.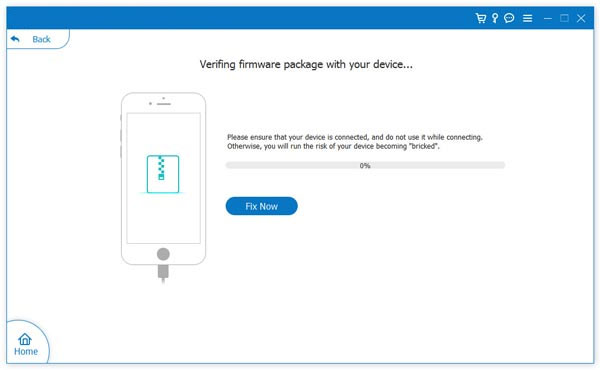 Check if You Need:
Way 7: Update Your iPad with iTunes/Finder
If you don't want to use third-party software, you can also use iTunes or Finder to install the latest version of iOS on your iPad. First, you need to make sure that iTunes or Finder on your computer is running the latest operating system, then you can follow the steps below.
Connect the iPad to the computer using the original data cable.
For iTunes: In the upper left corner of the iTunes interface, select your device, and then click "Summary";

For Finder: Select your device in the sidebar of the Finder interface, then click "General" at the top of the window.
Select "Check for Updates".
Select "Download" and "Update" to install the iOS update.
Way 8: Reset All Settings on your device
The last resort is to reset all settings on the iPad. This method can sometimes fix the iPad won't update iOS, but since doing so will erase all content and settings on the device, you'd better back up your iPad first. After resetting the device, you can restore the data from the backup. Just go ahead to "Settings" > "General" > " Erase All Content and Settings" > "Erase Now" to factory reset your iPad.
Go ahead to "Settings" > "General" > "Erase All Content and Settings".

Tap "Erase Now" (or choose "Backup Then Erase" if you haven't backed up your iPad).
Enter the lock passcode to confirm.
The Bottom Line
In conclusion, you can try all the solutions mentioned above to fix this iPad apps not updating issue. Among them, iOS System Recovery can not only help you update your iPad to the latest iPadOS 15 without losing any data, but also fix any other iPad system issues. Please let us know how you feel about using this software in the comments section below.
However, if your iPad cannot be updated due to incompatibility, there is unfortunately no solution. You have to keep using the current iOS version on your iPad unless you change to a new devices.
Related Articles:
iPad White Screen of Death? 3 Ways Show You How to Fix It!
What if AirDrop Not Working on iPhone? Here're Full Tips and Tricks
[SOLVED] iPad Stuck on Apple Logo? Fix It Right Here!
How to Delete Google History on iPad Pro, Air, mini, 4
How to Transfer Files from iPad Pro, Air, 4, mini to PC with or without iTunes?
Tips & Tricks to Remove Swipe Screen to Unlock Android Phone