Tips & Tricks to Remove Swipe Screen to Unlock Android Phone
Summary: Here are 3 ways to remove swipe screen to unlock Android phone. After getting them, you can access to your phone much easier and quicker even when you forget your screen lock.
To better protect the information on mobile phone, most users like to set a screen lock like pattern lock or Touch ID on their devices. Certainly, this would prevent others from viewing your phone but it would become a stumbling block sometimes- when you want to enter your phone immediately or forget the password that you set. Thus, some users may want to remove swipe screen to unlock Android phone in this case. And here is a full guide about that for you to refer to.
Disable Swipe Screen to Unlock the Phone When You Can Access It
To bypass the swipe screen on Android phone, the most direct way is to disable this feature when you are able to access to device. Disabling screen lock in this case would be much easier.
Step 1. First of all, click on the gear icon, namely the Settings icon on the main screen. After that, you will get a drop-down menu with many options.
Step 2. In the Settings section, you need to select Security option.
Step 3. Then it will prompt the tab as Screen security and provides you three options: Screen lock, Lock screen and Owner Information.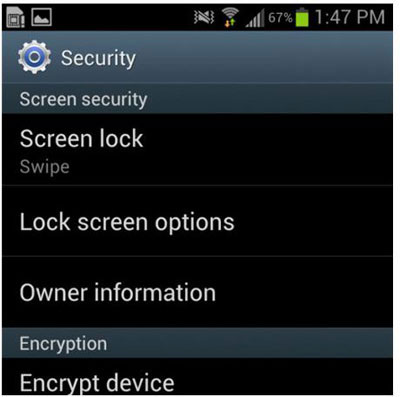 Step 4. Next, choose Screen lock from the listed options and then enter your PIN code to ensure that you are the original owner of the device.
Step 5. Now tap on the PIN code once again and the drop-down menu will be listed with more options. Just click None to disable the swipe screen.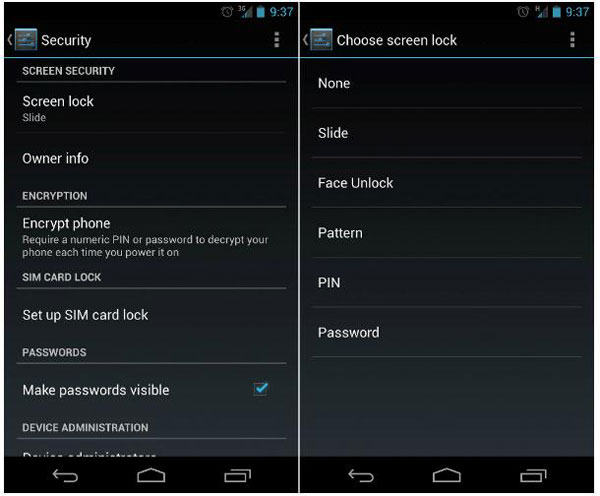 Done! From now on, you can enter your phone without any security method.
Can't miss:
Samsung Fingerprint Scanner Not Working, How to Fix It?
Learn How to Reset Locked Android without Password
Turn off Swipe Screen to Unlock When the Pattern Is Enabled
For protecting the device, most users tend to set a pattern lock on their Android phone. Then how can you switch off the swipe screen under this circumstance? Let's take a look together.
Step 1. Enter the Settings application on your device.
Step 2. Next, select Security option from the drop-down menu.
Step 3. Also, you need to choose Scree lock here and then click on NONE to disable it.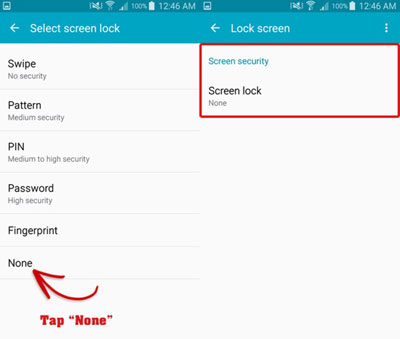 Step 4. After that, the device will ask you to enter the pattern that you set before. Just enter it and the swipe screen lock will disappear.
Step 5. Now you can restart your phone and you can access to the device without entering pattern lock.
Remove Swipe Screen to Unlock the Locked Android Phone
Another situation is that users have set up a screen lock on their device but forget them. And it is undoubtedly the mobile phone will be locked if you cannot recall the passcode. To solve this problem, you can select to factory reset your mobile phone to wipe the data and settings on it. Then you can access the device without typing in any passcode.
Step 1. Power off your phone and then boot your phone into Recovery mode.
Step 2. After entering the Recovery mode, you will see several options displayed on the screen. Just use the Volume key to select wipe data/factory reset and press Power button to confirm that.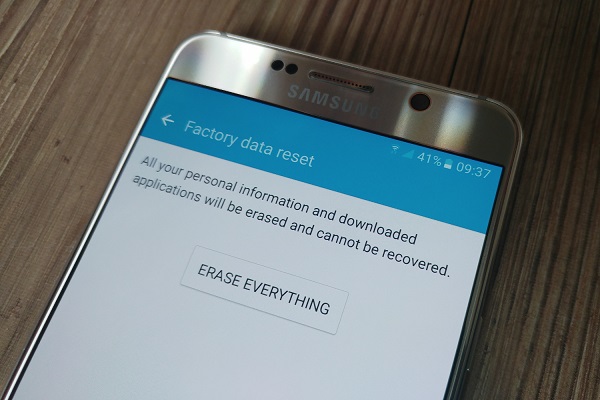 Just wait till the wiping process ends and then the device will restart automatically. After that, the settings on your phone will return to its original settings, including the screen lock. However, the data on it will be erased as well. If you want to get them back, you can click here to download and install the MobiKin Doctor for Android to help you retrieve the data.
Related Articles:
What If Forget Android Lock Screen Pattern?