One Click to Transfer Data from Nokia to Nokia
As is known to all, Symbian was a closed-source mobile operating system and computing platform designed for smart phones. Although there will be no more Symbian smart phones on the market, a lot of people still use their old Symbian phones such as Nokia. There is no doubt that Nokia has its own glory once and produced lots of popular and practical models for users. But now Windows Phone has taken Symbian's place in Nokia, so does users. People would try some new Windows Phone such as Nokia Lumia series. And when they switch to Windows Phone, the data in the old Nokia need to be exported to the new Nokia. What is the fastest way to accomplish this? Read on and you'll find the answer.
Recommended Tool to Transfer Data between Nokia and Nokia:
To transfer data from Nokia to Nokia, it's better for you to use the Mobile Phone Data Transfer software. No matter your Nokia runs Symbian OS or Windows Phone OS, it can let you transfer data from Nokia to Nokia smoothly. In addition to Windows Phone and Symbian, the third-party tool supports other operating systems such as iOS, Android and BlackBerry. With it, you can move data like contacts, photos, music, videos between any two devices as you like.
Now the program has two free trial versions, you can choose either the Windows version or Mac version to have a try first. Download it by clicking one of the blue icon and follow the specific instructions below.
Compatible Nokia devices:
- Symbian OS: Nokia 808, Nokia 5800, Nokia X7, Nokia E7, Nokia N85, Nokia N79, Nokia E63, Nokia 5230, Nokia 5802, etc.
- Windows Phone OS: Nokia Lumia 1020, Nokia Lumia 920, Nokia Lumia 900, Nokia Lumia 822, Nokia Lumia 810, Nokia Lumia 521, etc.
How to Copy Data between Nokia and Nokia Devices?
Download the phone to phone transfer program and install it on your computer and take the steps as follows.
Step 1. Run the Software and Connect Nokia Phones to the Computer
Launch the phone transfer software and link the Nokia cell phones to the computer via USB cables.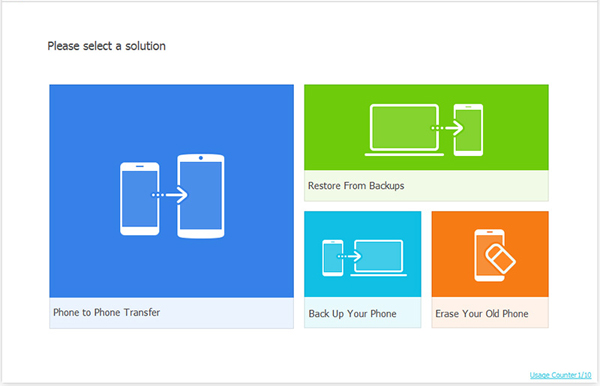 Step 2. Choose the Phone to Phone Transfer Mode
Select the Phone to Phone Transfer mode and preview the data in the middle of interface after the detection. The Nokia devices will be put in the source and destination areas respectively. Click Flip to reverse their order if needed.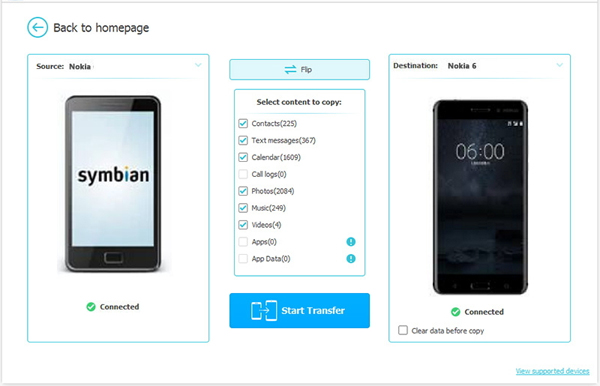 Step 3. Transfer Data from Nokia to Nokia
The data that can be transferred are on the interface, you can choose any file you want to transfer from one Nokia phone to the other. For example, you can tick Contacts and click Start Copy to transfer contacts from Nokia to Nokia. The same goes with the rest data.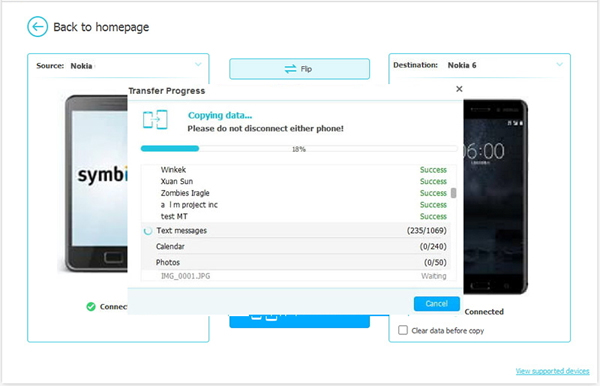 Related Articles:
How to Transfer Data from BlackBerry to Android
How to Transfer Files from Nokia to Nexus 5 Easily