[2023 Updated!] How to Turn Off Screen Time Without Passcode?
Screen Time feature is an outstanding functionality that aims to enhance our digital lives. It enables us to monitor app usage, thus making it a great way to track unhealthy habits like excessive social media use or gaming.
With Screen Time, you can control the time the screen of your iPhone can remain active. Also, you can set limits that will hinder you from using particular features on your device. The main catch here is to set limits on screen usage, thus enforcing great digital habits. However, it is common for Apple users to forget their screen time passcodes.
This article is mainly about how to turn off Screen Time without passcode. So, if you forget the password for your screen time, this post is for you. Keep reading to learn these simple ways.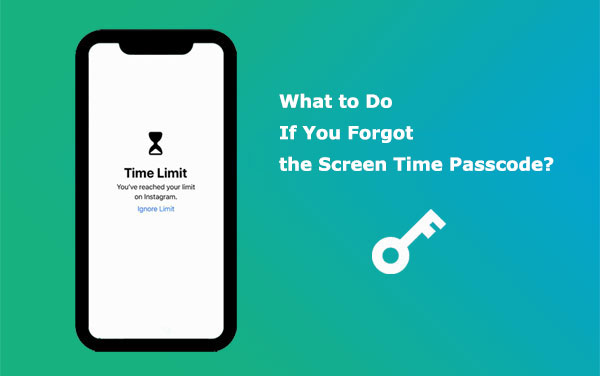 Part 1. What Happens When You Forget Screen Time Passcode?
Apple Screen Time is a very important feature. But, if you forget Screen Time passcode or wish to change it, you must generate a Screen Time password. Besides, when handing the phone to anyone, it is important to have Screen Time activated. On any iOS device, Screen Time helps increase productivity while reducing bad behaviors. But, using this feature requires you to set up a new password. And, if you do not use Screen Time password often, you will likely forget it.
While Screen Time was introduced on iOS 15, removing the passcode wasn't easy if you could not remember it. Previously, the only 'official' way to bypass the Screen Time passcode was by resetting it through iTunes or setting it as a completely new device. However, now you can update or delete the forgotten Screen Time password efficiently.
Removing screen time shouldn't be a complicated process. Below are the main ways to get rid of this feature on your iOS device:
Read Also:
Part 2. How to Turn Off Screen Time Without Passcode with a Professional Tool
The most time-saving and straightforward way to remove screen time passcodes is using iOS Unlock. You will not lose your data while using this tool, making it a top-notch tool. iOS Unlock can help remove restrictions from iOS devices and allow users to access their devices efficiently.
It doesn't matter why your Screen Time password was locked; you just have to get iOS Unlock to do the job without limitations. This proficient tool lets users securely unlock Screen Time without a passcode.
Key Features of iOS Unlock:
Remove screen time without passwords, no data loss is encountered.
Removes most screen locks on iOS devices, such as passwords, Touch ID, Face ID, and more.
Removes Apple ID & iCloud Activation locks without passcode.
Easy and quick to use, the success rate is very high.
Compatible with all new and old iOS versions and macOS.
Unlocks all iOS devices easily, containing iPhone 14/13/12/12 Pro (Max)/12 mini, iPhone 11/11 Pro/11 Pro Max, iPhone X/XR/Xs/Xs Max, iPhone 8/8 Plus, iPhone 7/7 Plus, iPhone 6/6S/6 Plus, iPods, iPads, etc.
Let's see how to figure out screen time password via iOS Unlock:
Step 1. Download and install iOS Unlock
Install iOS Unlock on your computer and run the app. Tap on Toolbox and tap Screen Unlock module from displayed list, then tap on iOS.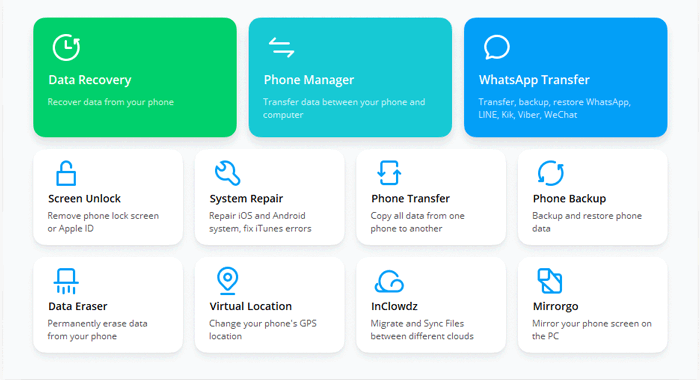 Step 2. Select "Unlock Screen Time Passcode"
Tap the Unlock Screen Time Passcode option from the options to continue with the unlocking process.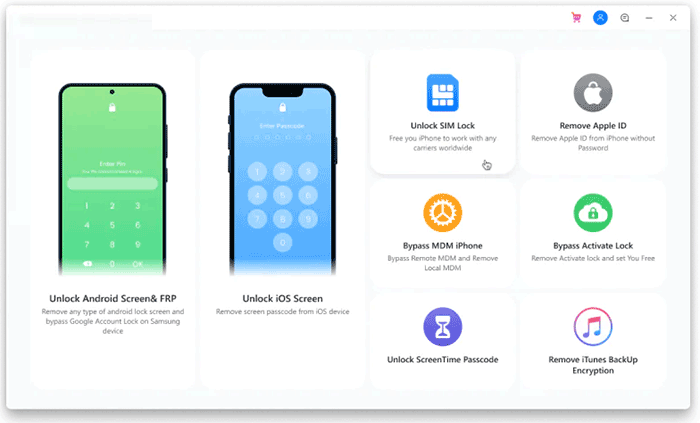 Step 3. Remove Screen Time Passcode
Next, plug in the iPhone to PC with USB. Click on Trust tab to trust the PC. Next, tap on the Unlock Now tab.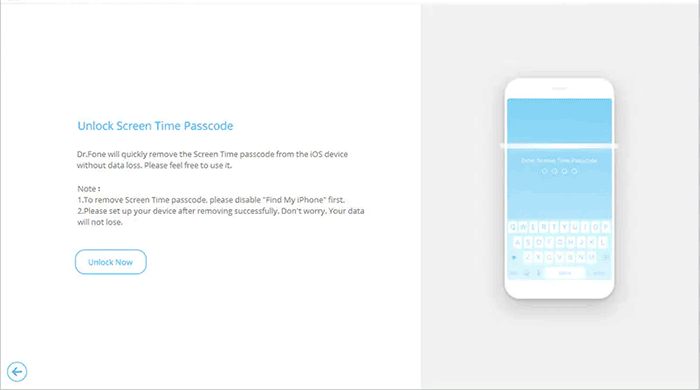 Step 4. Turn off "Find My iPhone"
Head to iPhone Settings and Apple ID. Choose Find My iPhone, then turn off Screen Time feature. Now tap OK on your PC.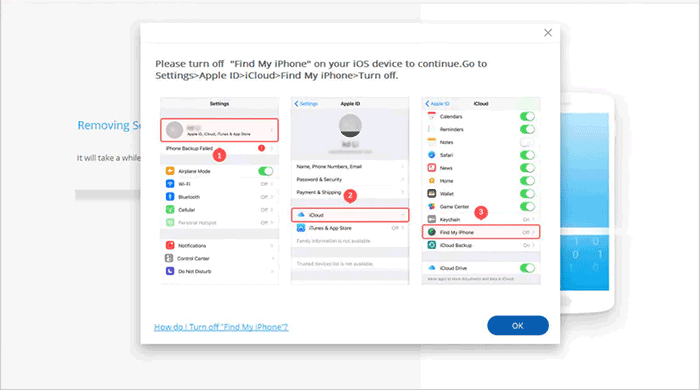 Step 5. Unlock finished
When the unlocking process is finished, click Done. Now, you can use your iOS device without a problem.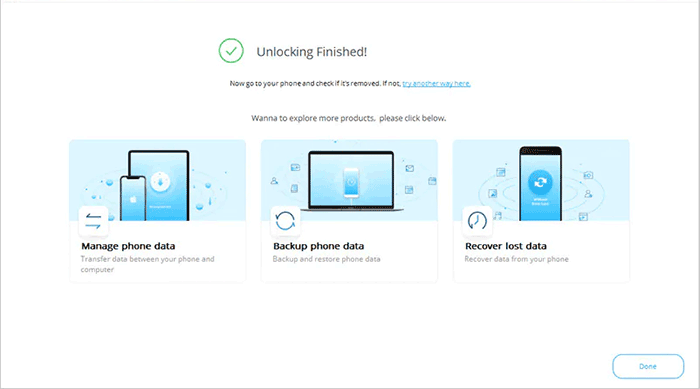 Extended Reading:
Part 3: How to Turn off Screen Time Without Password by Signing Out of an iCloud Account
Since Screen Time is an in-built feature, it's directly linked with the iCloud account. Signing out of your iCloud account may disable it automatically. This is known to be one easier way to disable Screen Time on iPhones without passcode. But you must remember Apple ID credentials to get past the feature successfully. Below are steps to take your Screen Time off via iCloud:
Head to iCloud settings on the iOS device, then scroll down to "Sign out" option and click on it.

You will be asked for your Apple ID information before logging out. Key in the credentials, then tap on "Sign Out".
After logging out of iCloud, head to Settings and choose screen time. Tap on "Turn off screen time" to remove the feature from your phone. You will not be asked for a passcode to turn the screen time off.
Part 4. How to Get Rid of Screen Time Without Password by Erasing All Data
If you can't remember the Apple ID passcode used while setting up your Screen Time password but know your phone's Apple ID and its password, you can effortlessly remove Screen Time. This can be done through the Erase All Content & Settings option. However, your files will be erased. If you are okay with it, follow these steps to get rid of the screen time:
Open the phone, head to "Settings", "General" and "Reset".
Select "Erase All Content & Settings" option, then click on "Erase Now".

Click on the "Erase iPhone" option again, then key in Apple ID & passcode. Click on the "Erase" button to proceed. When done, your screen time will be deactivated, and your iOS will be reset as new. Set it up again using the on-screen instructions.
Part 5. How to Take Off Screen Time Without Password by Resetting Password
While setting up an iOS device password, you must enter the Apple sign-in credentials to reset its passcode. Thus, if you didn't skip this step, you can reset your Screen Time passcode through Apple sign in credentials. Below are steps to unlock Screen Time without the password by resetting it:
Navigate to iPhone Settings and tap on "Screen Time". Proceed to the lower part of the window and tap on "Change Screen Time Passcode".

Enter Screen Time passcode when asked. If you do not know, tap on "Forgot Passcode".
Key in the Apple login credentials you used while setting up the Screen Time passcode. Follow the instructions on the screen to reset the password again.
Part 6. How to Remove Screen Time Without Passcode via iTunes
iTunes can also be a great option to remove a Screen Time feature if you forgot Apple sign in details for the Screen Time passcode. But all your files on your phone will be wiped away. After disabling Find My iPhone, follow these steps to get rid of Screen Time without a password:
Plug in your iOS device to the computer with USB. Run the iTunes app on the computer and hit on your iPhone icon.
Next, click "Summary" at the upper right menu on iTunes interface. From there, tap on "Restore Backup".
Click on the "Restore" tab, then press "Restore" and wait for the process to complete.
Part 7. How to Take Screen Time off Without Passcode for Specific Apps
There are some applications you use often, and it is absurd to put screen time limits on them. Thus, users may want to eliminate screen time on those applications. It is a very simple process. Here is how:
Run "Settings" and choose the option for "Screen Time".
When you reach the screen time panel, tap the "Always Allowed" icon from Screen Time menu.
This will take you to apps. Choose the applications you wish to remove screen time restrictions.
All screen time limitations will be erased from the selected apps.
The Verdict
Forgetting your screen time password and being unable to turn it off can be frustrating. Luckily, there are various options to successfully disable Screen Time without passcode. However, the most recommended way is using iOS Unlock. It is safe and easy to use.
Related Articles:
How to Remove iCloud Activation Lock without Password in 2023?
[2023] How to Remove Apple ID from iPad without Password Easily?
5 Feasible Ways to Bypass iPad Passcode without Restoring
[Guide] How to Reset iPhone 14/13/12/11/11 Pro/XS Max/8 Plus without iTunes?
iPhone Red Screen of Death? 3 Solutions to Fix It!