How to Bypass iCloud Activation Lock? 6 Ways You Can't Miss [2023]
iCloud Activation Lock turns on automatically when "Find My" is enabled, and it's a security feature designed to keep your personal information from being compromised. If your iPhone gets lost, stolen, or sold, the lock prevents others from using it without your permission.
While this is great for security purposes, it can be a nuisance if your Apple ID is disabled. Find yourself in this situation? You may need to bypass iCloud Activation Lock to take full control of your device. Well, keep reading to find the five smart strategies to get past Activation Lock on your iPhone or iPad.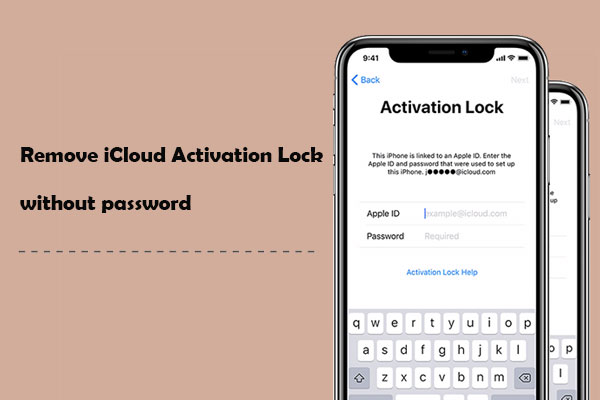 Way 1: Bypass iCloud Activation Lock via iOS Unlock
Want to bypass the iCloud activation lock with an advanced tool? Consider using iOS Unlock. This software can quickly and safely bypass iCloud lock, screen lock, Apple ID/iCloud account, MDM, and more. It is the best option for those unfamiliar with the various accounts and info on their Apple devices. Simply connect your iPhone or iPad to a computer, and with a few clicks, you'll gain full control of your iPhone at short notice.
Brief Overview of iOS Unlock:
Bypass iCloud Activation Lock without limitations.
Remove Apple ID from iPhone/iPad even when "Find My" is enabled.
Apply to such screen locks as a 4-digit passcode, 6-digit passcode, Touch ID, Face ID, and Screen Times passcode.
Remove the MDM profile from iPhone/iPad with zero data loss.
Get rid of the SIM lock and iCloud backup password.
Get on well with overall iOS devices, containing iPhone 14/14 Plus/14 Pro (Max), iPhone 13/13 Pro (Max)/13 mini/12/12 Pro (Max)/12 mini, iPhone 11/11 Pro/11 Pro Max, iPhone X/XR/Xs/Xs Max, iPhone 8/8 Plus, iPhone 7/7 Plus, iPhone 6/6S/6 Plus, iPad mini/Air/Pro/4/3/2, iPod touch, etc.
It never tracks your privacy.
How to bypass iCloud Activation Lock on iPhone/iPad with iOS Unlock?
Step 1. Run iOS Unlock after you download and install it on a computer. Next, pick "Screen Unlock" among the modules on the window.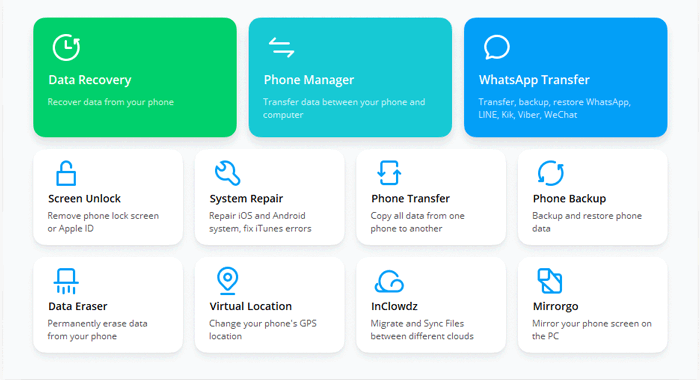 Step 2. From the next screen, click on "Unlock Apple ID".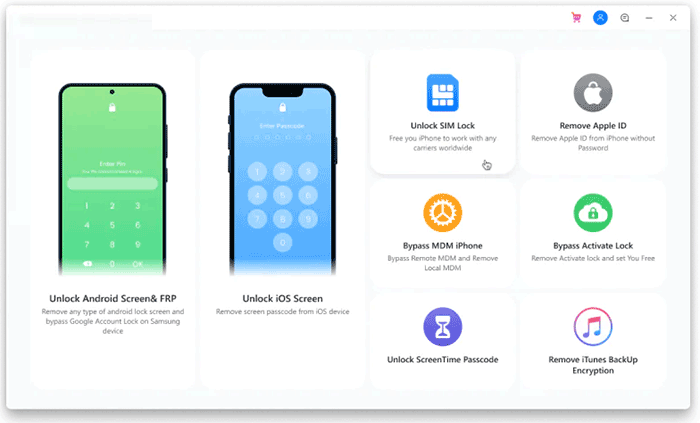 Step 3. Go for "Remove Active Lock".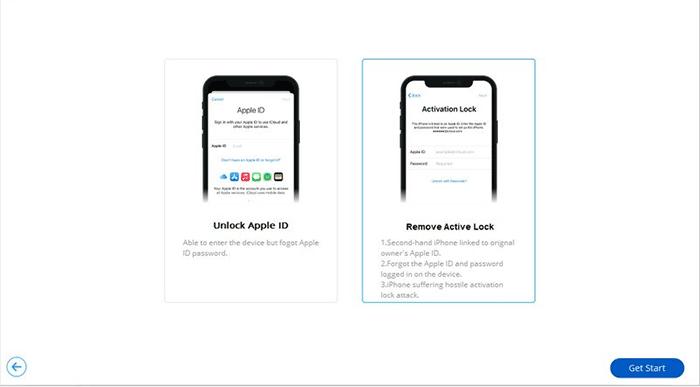 Step 4. Follow the "JailBreak Guide" to jailbreak your iPhone or iPad.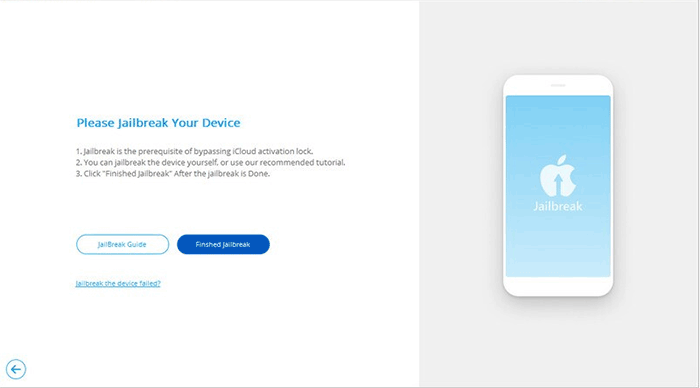 Step 5. Once completed, a message will pop up, from which you can agree with the terms and conditions before tapping "Next".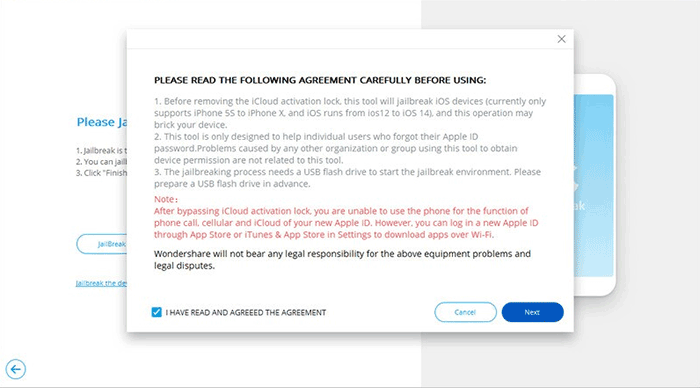 Step 6. Confirm your iDevice info and click "Start Unlock" to commence.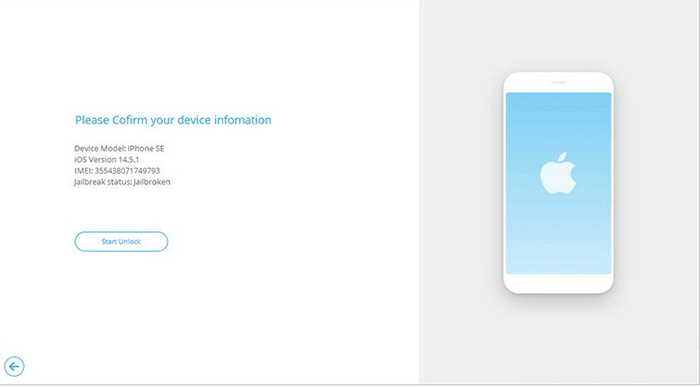 Step 7. Wait for the iCloud Activation Lock removal to complete.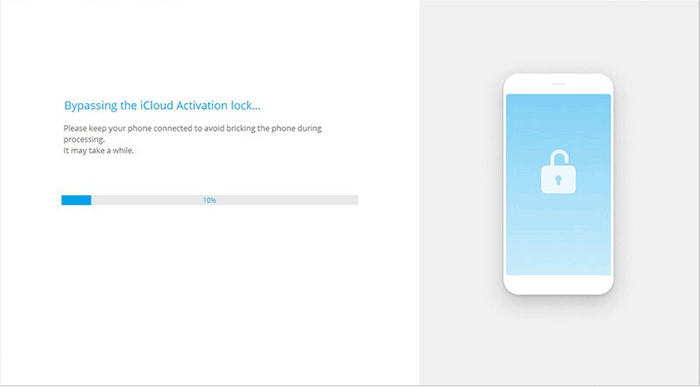 Check If You Need:
Way 2: Bypass Activation Lock via iCloud Find My Feature
If you have the necessary details from the person who sold you the second-hand iPhone/iPad, using iCloud to remove the Activation Lock is the quickest solution. Yet, if your iDevice doesn't have an active Internet connection or you have turned off Find My iPhone, you cannot unlock it without a passcode. Lastly, the locked iPhone needs an Apple ID credential logged in.
How to bypass Activation Lock with the Find My feature?
Go to iCloud.com and sign in with the locked device's Apple ID username and password.
Once you're signed in, click on "Find iPhone" and select "All Devices" as you open iCloud – Find My iPhone.
Choose the name and model that you need to bypass to "Erase iPhone" or "Erase iPad" > "Remove from Account".

Once these steps are completed, the iPhone/iPad will be deleted from the Apple ID, and the Activation Lock should be bypassed.
Way 3: Bypass Activation Lock on iPhone Permanently
Assuming you have a second-hand iPhone on eBay or elsewhere and need to use it, it's better to bypass iCloud lock permanently. After picking the most effective method to remove the lock, you can get access to most of the functions of your iOS device.
Quick steps to perform iPhone/iPad Activation Lock bypass permanently:
Click "Menu" > "Applications" > "Crash" to reboot your iPhone to the home screen, where you can reach the Apple logo.
Pick language and country before tapping "Home" and choose "Wi-Fi Settings".
Tap "i" nearby the Wi-Fi network, scroll down, and press "Menu" under "HTTP PROXY".

List thirty distinct emoji signs to "Server" and input 15-30 random characters over "Port".
Keep sliding "Unlock" and tap the "Language" options until your iPhone's Home screen appears.
See More:
Way 4: Get Past Activation Lock on iPhone/iPad via DNS
If you're seeking a free iPhone Activation Lock bypass, Try changing the DNS of your device. Please note that you should have a SIM card installed on the iPhone. And your device should run iOS 8 to iOS 10. Then let's see how to bypass iCloud Activation Lock with DNS:
Reboot your iPhone 14/13/12/11/X/8 and pick your "Country and Language".
Head over to "Wi-Fi Settings" and tap "i" next to the Wi-Fi network you used to link.
Hit "DNS" and clear out the number.
Input the new DNS number as per your actual location: (USA/North America: 104.154.51.7; Europe: 104.155.28.90; Asia: 104.155.220.58; Other areas: 78.109.17.60)
Go back to your iPhone "Settings" and connect to your Wi-Fi network.
Click "Activation help", and a message should pop up, indicating the connection to the server is successful.

Tap the "Menu" option to perform an iCloud DNS bypass. And finally, you can use your iOS device as usual.
While this avenue works often, it is still a temporary solution. After your iDevice is activated with the new DNS, only the major feature on your device act normally.
Way 5: Bypass Activation Lock on iPhone via iCloud Activation Bypass Tool
The "iCloud activation bypass tool" is one of the few functional programs that can bypass iCloud Activation for iPhones and iPads. It exploits an Apple security vulnerability to remove the Activation Lock without an Apple ID or password, but its use may violate Apple's terms of service and be illegal in some countries.
How to bypass Activation Lock on iPhone/iPad via iCloud Activation Bypass Tool?
Download and install the tool on your computer.
Run the app and connect your iOS device to your desktop through a USB cable.
The program will scan your iDevice and retrieve its IMEI number.
Click the "Bypass Activation Lock" option and wait patiently for the procedure to complete.
The tool will utilize your device's IMEI code to link to the Apple servers and remove all linked iCloud accounts associated with your device.
After that, unplug your iPhone and reboot it.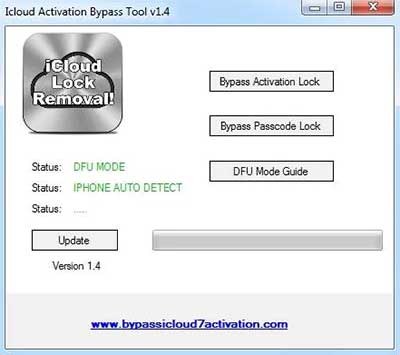 Way 6: Bypass iCloud Activation Lock by Contacting Apple Support
To remove the Activation Lock from a device without access to the previous owner, provide Apple with proof of purchase or inheritance. This includes a receipt with the iPhone's or iPad's serial number and your name or a death certificate with proof of relationship. Contact Apple via email or phone after gathering the necessary documents. Plus, collect any information proving ownership but note that Apple might not assist with bypassing the Activation Lock.
Additional Tips: How to Avoid Activation Lock When Getting a Used iPhone
Sign out of iCloud: When you sign out of iCloud without a password, the Activation Lock is removed, and the new owner can set up the device without issues.
Check Activation Lock status: You can do this by going to the iCloud website and entering the device's serial number or IMEI.
Reset the device: This will remove personal data and make it easier for you to set up your iPhone as a new user.
Verify seller: If possible, try to purchase from an authorized Apple reseller or a well-known retailer.
Get a receipt: This will help you if you need to contact Apple for support in the future.
Ending Words
Well, we just took you through how to bypass the iCloud activation lock in no-nonsense ways. Before going any further, please note that unlocking this feature without the owner's consent is illegal and could lead to consequences. Therefore, you can exhaust all options if it is for a legitimate purpose.
Finally, one more note here - Bypassing iCloud Activation doesn't mean you are able to use your iPhone with nothing wrong. When running apps like Newsstand, FaceTime, etc., you might have to go through activation lock all over again.
Related Articles:
[Ultimate Guide 2023] 6 Ways to Find Apple ID Password in Seconds
What If You Forgot Your iPhone/iTunes Backup Password? A Complete Guide Here
How to Bypass FRP Google Account Lock? [General & Detailed Guide]
[Solved!] How to Transfer Photos from iPhone to iPhone without iCloud?
iPhone File Manager: 10 Best File Managers for iPhone You'd Better Know
An Essential Guide to Recover Deleted Data from iPhone with/without Backup