[Solved] What to Do If You Forgot Screen Time Passcode on iPhone/iPad/Mac?
If you have the new iOS 13, 14 and 15 versions installed on your device, then you can enjoy Apple's "Screen Time" feature. This feature can help people regulate and monitor his daily screen time. The Screen Time feature on iOS devices tracks app usage and the app closes automatically when the set time is up, which is great for preventing kids from spending too much time on games or social media apps .
However, what to do if you forgot your Screen Time password? If you forget your Screen Time passcode, you won't be able to access locked apps and services on your iPhone, iPad, or iPod touch. The good news is that there are multiple ways to reset your Screen Time passcode. In today's guide, we'll tell you how to unlock Screen Time on iPhone, iPad, iPod and Mac. Also, we will show you how to reset or recover Screen Time passcode easily.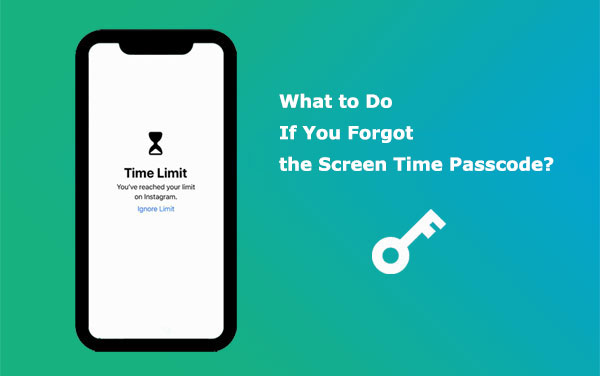 Part 1: What Is My Screen Time Passcode
The Screen Time feature was introduced by Apple to protect content and privacy restrictions on your iOS device. This feature can display the usage percentage of each app individually to give users a better understanding of their screen activity. It can even act as a parental control role on iOS devices. Not only does it report for you the time you or your kids spend on your iPhone, iPad or iPod touch, but you can also set time limits for the apps you use on your device.
The Screen Time passcode is a 4-digit number and is different from the passcode you use to lock and unlock your iPhone and iPad. This thing comes in handy for those determined to control screen exposure. Especially for parents who want to control their children's use of electronic products, the screen time passcode is a very powerful helper. When an application has been used for the allotted time, a window pops up on the screen asking the user to enter a password to continue using it. If the password is not known, the application cannot be run.
Children often know the passcode to their parent's device, but not the Screen Time passcode. This is very beneficial in limiting the excessive use of the device by the child. However, if you forget the Screen Time passcode you set earlier, how to recover it can be quite a headache. Don't worry though, as we have several solutions to help you remove or reset your forgotten Screen Time passcode.
Read Also:
Part 2: How to Remove Screen Time Passcode If You Forgot It
If you forgot iPad/iPhone screen time passcode, you can use iOS Unlock - a third-party tool to remove the passcode easily and quickly. This software has been proven by its excellent performance that it can complete the unlocking job with a high success rate, allowing you to remove Screen Time passcode in newer iOS 15/14/13 versions and restrictions passcode in older iOS devices. This software allows you to bypass every type of password even if your phone is disabled or damaged.
Here are some features of iOS Unlock:
Remove Screen Time passcode from any iOS and macOS device without data loss.
Support to delete lock screen/Screen Time passcode, fingerprint, face ID.
Support to delete Apple ID without password.
Super easy steps; no technical knowledge required.
Compatible with all new and old iOS versions and macOS.
Compatible with overall iOS devices, containing iPhone 14/13/12/12 Pro (Max)/12 mini, iPhone 11/11 Pro/11 Pro Max, iPhone X/XR/Xs/Xs Max, iPhone 8/8 Plus, iPhone 7/7 Plus, iPhone 6/6S/6 Plus, iPods, iPads, etc.
Now, let's see how to remove iPhone forgot Screen Time passcode using iOS Unlock. You can choose to install the Windows or Mac version of iOS Unlock according to your computer's system. This software does not delete any data on your device while unlocking the Screen Time passcode. So you can use it with confidence.
Step 1. Download and install iOS Unlock
Install and run the iOS Unlock software on your computer. Then select "Screen Unlock" among the modules.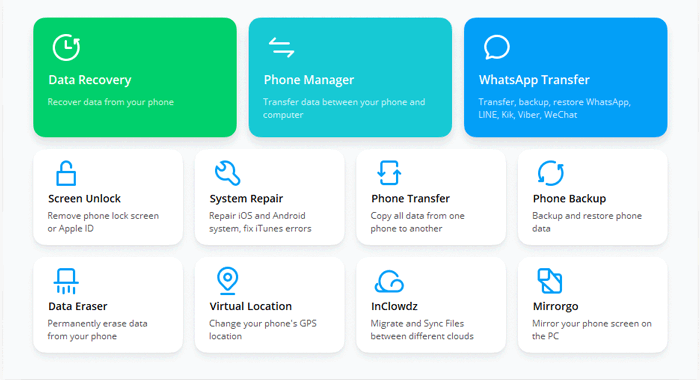 Step 2. Select "Unlock Screen Time Passcode"
Four options with different unlocking types will be displayed on the program interface. Connect your device to the computer and choose "Unlock Screen Time Passcode".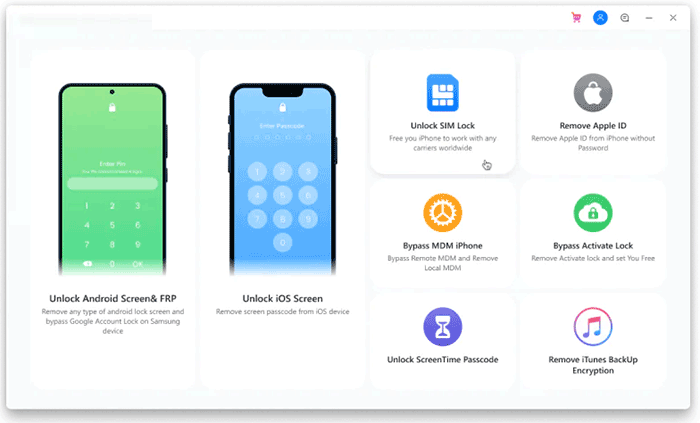 Step 3. Remove Screen Time Passcode
When your phone is detected by the computer, tap on "Unlock Now" from the program interface and the software will start to unlock your device without any loss of data.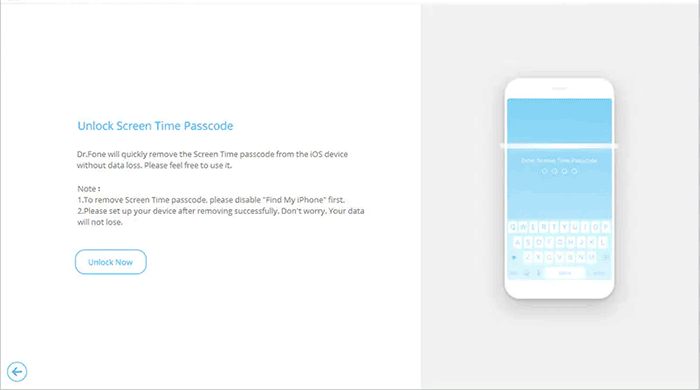 Step 4. Turn off "Find My iPhone"
To remove the Screen Time passcode, you should make sure the "Find My iPhone" feature is turned off on your device. If it is not turned off, you can turn it off by following the guide below.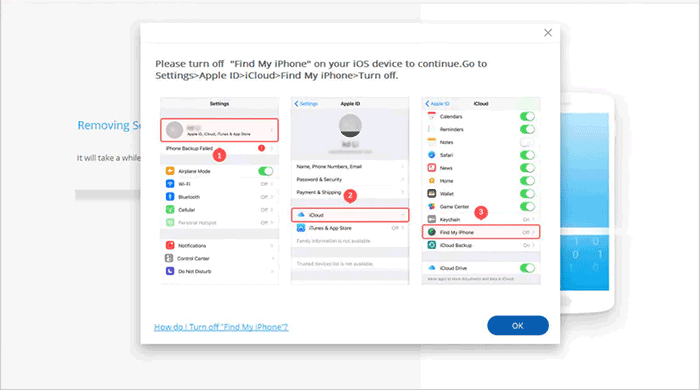 Step 5. Unlock finished
Just wait a few seconds and your Screen Time passcode can be successfully removed from your device. Now, you can disconnect your iPhone from your computer and check if the Screen Time passcode on your iPhone has been removed.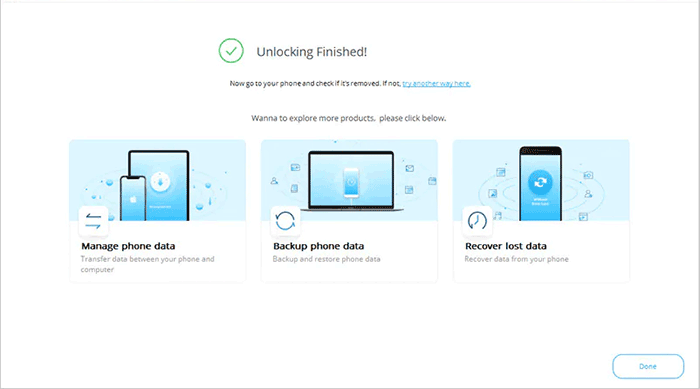 Extended Reading:
Part 3: How to Reset Screen Time Passcode on iPhone/iPad
As mentioned earlier, we know how to remove the Screen Time passcode, which is a great convenience for users who have forgotten their passcode. Then, how to change Screen Time passcode if you forgot it? Below we'll go on to show you the most effective ways to change or reset the Screen Time passcode on Apple devices without any professional help. Before you start, you need to update your iOS operating system to 13.4 or above.
Way 1. Reset Screen Time Passcode with Apple ID (For iOS 13.4 and later)
Open the "Settings" app on your device, go to "Screen Time", tap it to enter another window.

Select "Change Screen Time Passcode" at the bottom of the new window, and in the options that pop up, choose whether you want to change the Screen Time passcode or turn it off. Here, select "Change Screen Time Passcode" to proceed.

You will be asked to enter the old password. Now that you have forgotten it, you can click on the "Forgot Password" option.
Enter your Apple ID credentials, then enter your new Screen Time password. Enter the new password again to verify.
Way 2. Reset Screen Time passcode by using iTunes restore (data loss)
Can't remember screen time passcode? How to recover/retrieve Screen Time passcode? Another way to reset Screen Time is to restore your iOS device from iTunes. However, doing so will erase all data on your device. If you don't mind this, just follow the steps below.
Launch iTunes on your computer and connect your iPhone or iPad to the computer using a USB cable.
After the computer detects the device, your device icon will appear in the iTunes interface.
Click on your iPhone or iPad icon and select "Restore iPhone (iPad)..." in the right part of the new interface.

Click "Restore" to confirm the action and follow the on-screen steps to complete the recovery process.
One thing to note here, if you have backed up your iPhone data in advance, the previous Screen Time passcode must also be saved in the backup. In this case, you need to delete the entire backup first to remove the password.
Part 4. How to Reset Screen Time Passcode on Mac
"I forgot my Screen Time passcode on Mac, is there any way to fix it?" Actually, besides being able to reset Screen Time passcode on iPhone and iPad, we can also reset Screen Time passcode on Mac. The two processes are completely different. Here are the steps to reset the Screen Time passcode on a Mac machine. First, you need to update your Mac OS to Catalina 10.5.4 or above.
Turn on your Mac machine, click the Apple menu in the upper-left corner of the screen, and select "System Preferences" from the drop-down list.
Select the "Screen Time" option in the new window that pops up.

Click the Options icon at the bottom left of the Screen Time window and select the "Change Password" option.

You will now be asked to enter your current Screen Time passcode. But since you forgot, now you can simply click on the "Forgot your password?" option below.
Enter your Apple ID and password, then enter your new Screen Time password twice to verify.
Part 5. FAQs of Forgetting Screen Time Passcode
Q1. How to turn off Screen Time feature on iPhone if you forget your passcode?
If you don't remember the Screen Time passcode and want to turn this feature off. Then you can select the "Forgot Password" option to get it back. For details, refer to way 1 of part 3. Besides, you can also use iOS Unlock in Part 2 to delete Screen Time passcode directly, without passcode.
Q2. How to avoid forgetting the Screen Time passcode?
Forgotten password is a very common problem. If you don't want to forget your Screen Time passcode in the future, here are a few tips that might help you.
Set an easy-to-remember password

You can set a passcode that you can easily remember and make sure you can easily remember it whenever you change or reset your Screen Time passcode or whatever.

Use iCloud Keychain

If you really can't remember your password, you can also use iCloud Keychain. This is a service from Apple to create, store and sync your passwords. It will help you remember things and avoid troubles caused by memory.
Q3. How many times can we enter the Screen Time passcode incorrectly?
If you enter the wrong password multiple times, the wait time for you to access the Screen Time feature will vary from a few minutes to a few hours. For example, if you enter the wrong password six times, then you need to wait a minute. If you continue to enter the wrong password for the seventh time or more, then you need to wait five minutes or even hours.
Q4. How do I reset the Screen Time passcode for my child's device?
If you're using Family Sharing to control your child's account, simply resetting the Screen Time passcode on his device won't fix the problem. You'll need to go to Screen Time, select your name under "Family," and tap "Change Screen Time Passcode" to reset your passcode. Note that you need to be authenticated to reset your password.
The Verdict
Devices such as cell phones, laptops, and computers emit small amounts of non-ionizing radiation. Excessive use of these electronic devices can affect human health. Therefore, minimizing screen time use is very important for our physical and mental health, and a screen time passcode helps a lot in that.
But forgetting the Screen Time passcode can cause a lot of inconvenience. By reading the above, we now know how to turn off, change, reset, and delete the Screen Time passcode. Among them, iOS Unlock is able to quickly remove the Screen Time passcode without losing any data or settings. If you still have any questions, you can leave us a message in the comments section.
Related Articles:
How to Remove iCloud Activation Lock without Password in 2023?
[2022] How to Remove Apple ID from iPad without Password Easily?
5 Feasible Ways to Bypass iPad Passcode without Restoring
[Guide] How to Reset iPhone 14/13/12/11/11 Pro/XS Max/8 Plus without iTunes?
iPhone Red Screen of Death? 3 Solutions to Fix It!