Full Guide on How to Flash the TWRP Recovery [Updated]
Maybe you do not know what TWRP recovery is and how to use it although you are a senior Android mobile phone user. However, in order to root, backup or recover the data on your Android phone, you'd better know something about this software which may help you a lot. Therefore, this article is written to introduce TWRP recovery roundly for you so that you can complete the process of root, backup or recovering more simply and effortlessly.
Part 1. What is TWRP Recovery?
Part 2. Preparations for Flashing a TWRP Recovery
Part 3. How to Flash the TWRP Recovery?
Part 1. What is TWRP Recovery?
When you want to use a software, the first thing you should do is to understand what it is. Then what is TWRP recovery? Its full name is Team Win Recovery Project, which is an embedded software for Android-based devices. This project supports touch screen functionality which would simplify the operation. In addition, the tool allows you to install third-party firmware and back up the current system. Except installing and backup functions, wiping and restoring features are also supported. Thus, we can say that you will be able to manage your phone more easily and effectively after knowing how to flash the TWRP recovery.
Learn more:
How to Flash a Rom to Android Device?
How to Check Whether Your Android Device is Rooted or Not?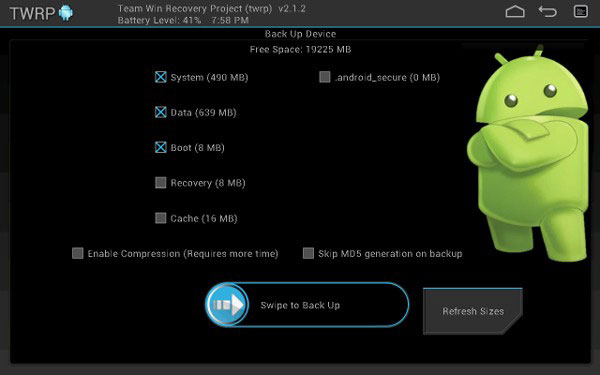 Part 2. Preparations for Flashing a TWRP Recovery
Before flashing the TWRP recovery, you need to make some preparations or you may lose some vital data or receive an unsuccessful result. So let's begin preparing for the project now.
1. Unlock the Bootloader of Android device
Only when you have unlocked the bootloader of the device, flashing the TWRP recovery is available. But most bootloaders are locked or encrypted so you need to master the way to unlock them:
- Download and install Android SDK;
- Turn off your device and boot in bootloader mode by pressing the "Power" and "Volume Down" button;
- Use USB cable to connect your device to computer and wait till all drivers are installed;
- Go to Command prompt/ Terminal interface on your computer and type "fastboot oem unlock" command;
- After that, your phone will ask you to regard unlocking bootloader. Just read through the instructions carefully and confirm it by holding "Volume Up" and "Power" button.
2. Download a compatible version of TWRP
You ought to ensure that the version of TWRP is applicable to your Android phone or it would not work. To get the suitable TWRP, you can go to the TWRP website and choose the wanted one.
3. Install Android Debug Bridge (ADB)
If you have unlocked the bootloader before, you might get them already. If not, you'd better to download one. You can get the zip file of ADB from Android SDK download page and install it by following the Google instructions.
4. Backup important data
Although flashing the TWRP will not wipe up the data, but backup is always important when you do something with the system. To achieve this goal, you can turn to MobiKin Assistant for Android, a professional software for Android mobile phone users to transfer, backup and manage their data effectively. With it, you can backup various types of files like contacts, messages, videos, music, photos, etc. on your phone with one simple click. If you want to know how to do it, you can click here to learn the detailed operation.
Part 3. How to Flash the TWRP Recovery?
After finishing the preparations, now let's begin flashing the TWRP recovery. The followings are the specific steps for your reference, just go with them.
Step 1. Enable USB debugging
Different Android versions have different ways to enable USB debugging but they are similar. Generally, to enable the USB debugging on your phone, you can go to Settings> Developer Options> USB Debugging and then tap the USB Debugging to turn it on.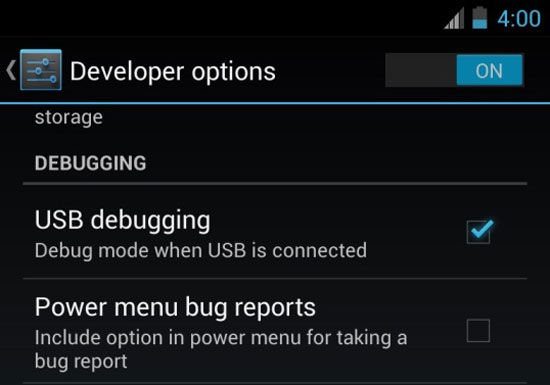 Step 2. Download TWRP for your Android device
For choosing a suitable TWRP version, you are suggested to head to TWRP official website and then find the Devices page to search your device version. Then go to Download Links section on that page to download the TWRP image. Next you need to copy this image to the folder which you have installed the ADB and rename it as "twrp.img".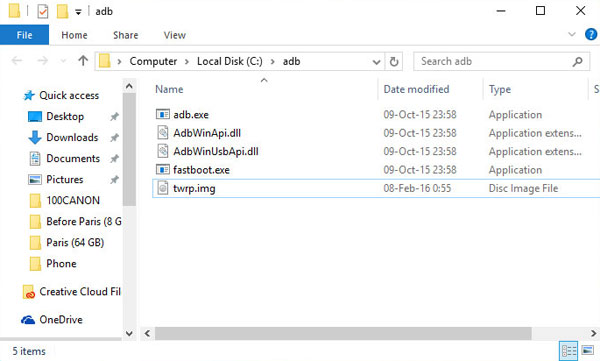 Step 3. Boot into Android Bootloader
Normally, you are able to boot into Bootloader by turning off the device and the next step is to hold the "Power" and "Volume Down" button for about 10 seconds then release it. If this method does not work, you can ask Google for help.
Step 4. Flash TWRP to your Android device
To flash TWRP, you can:
- Connect your phone to the computer via USB cable in bootloader mode and the device will tell you that the device is connected;
- Open the "twrp.img" folder on the computer. Press "Shift" and "Right Click" at the same time on an empty area and then choose "Open a Command Prompt Here";
- Run the "Fastboot Device" command and it will return a serial of number, which means it can recognize your Android phone. If you cannot see the numbers, just go back to the first two steps to check whether you have wrongly operated;
- Once the device is recognized by fastboot, flashing the TWRP and run the command "Fastboot flash recovery twrp.img";
- Now you can see a success message in Command Prompt window.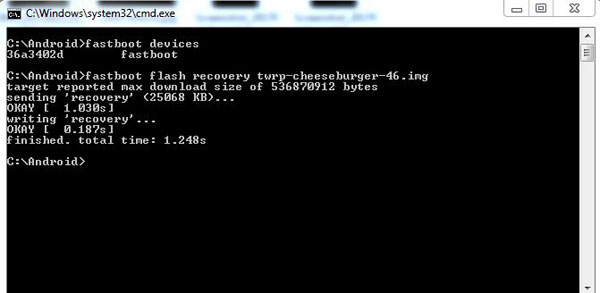 Step 5. Boot into TWRP recovery
- Unplug your phone from PC and then select the "Recovery" option by using the volume down button;
- Type the password or PIN which you have used to unlock the bootloader as required;
- If you want to stay this project on your device until you reboot it, you can choose "Read Only" mode;
- After entering the main interface, you can use it to create "Nandroid" backups, restore previous backups or update custom ROMs.

Related Articles:
How to Root Android 7.0 Nougat?
How to Remove Root from Android?
Top One Click Root Tools and Comparison
Hot Tips to Restore Android Phone from Backup [Informative Tutorial]
How to Recover Deleted WhatsApp Contacts on Android with/without Backup?