How to Recover Deleted WhatsApp Contacts on Android with/without Backup?
WhatsApp/WhatsApp Business is the premier social media network connecting people all over the world. Every day, countless contacts are added to this app through Android phones. Of course, there is also a data loss caused by accidental deletion or other reasons. If things are going badly, you may need to work out how to recover deleted WhatsApp contacts on Android without effort.
OK, we will cover the five most reliable ways to restore lost WhatsApp phone numbers in no time.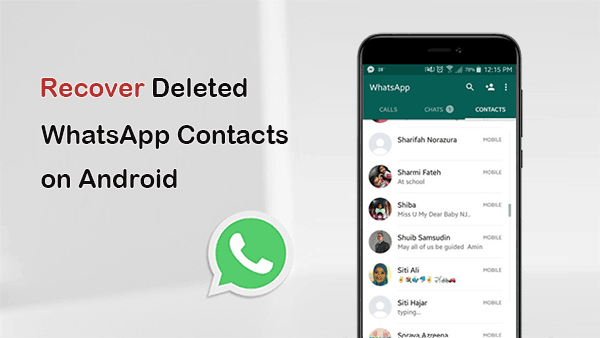 Way 1: Recover Deleted Phone Numbers from WhatsApp on Android via Phonebook
Android contacts are recognized from your device's phonebook. When WhatsApp contacts are missing from the chosen contact list, follow the steps to learn how to retrieve deleted contacts on WhatsApp via Phonebook:
Ensure the contacts are working with WhatsApp Messenger, and the phone book stores the phone number.
Check if your WhatsApp can access your phonebook.

Set up your Android phone from "not visible" to "visible" to force an update of the contacts on Android.
Then go to WhatsApp > the contact list > tap "Update".
See More:
Way 2: Retrieve Deleted Contacts on WhatsApp from Android via Google Drive
Check the following requirements before restoring contacts on Android WhatsApp:
You have an active Google account linked with your device.
Your phone has a stable Wi-Fi connection.
A Google backup was made from your WhatsApp's "Settings" > "Chat" > "Chat Backup".
How to recover deleted WhatsApp numbers with Google Drive?
Uninstall WhatsApp and reinstall it on Android.
Go ahead with the on-screen installation.
Input your phone number with which the backup was made previously.
You can then restore WhatsApp from the backup files on Google Drive.
Click the "RESTORE" option, and you'll retrieve the files from particular WhatsApp deleted contacts.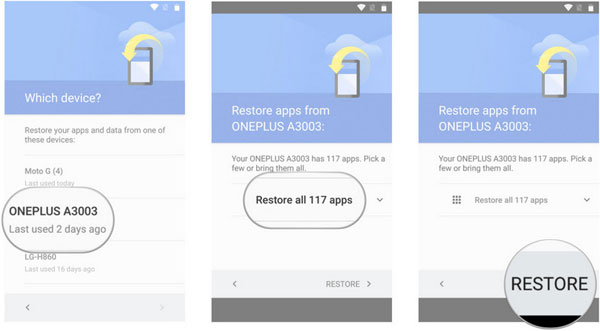 Way 3: Retrieve Contacts on Android WhatsApp from Gmail Address Book
It's easy to restore the address book to the previous mode as long as you enable the Google Contacts synchronization. Here's the step to check if the sync is made by going to your Android phone's "Settings" > "Account" > "Google" > "Gmail address" > enable "Contacts". (How to sync contacts from Gmail to Android?)
How to recover a deleted contact on WhatsApp from Gmail Address Book?
On your Android phone, go to its "Settings" > "Account" > "Google" > "Google Address".
Ensure you've enabled the "Contacts" option.
Link to the service of Google Contacts, where you're enabled to manage all contacts on the Gmail address book.
Input the Gmail account with the necessary login details.
Next, proceed to "More" > "Cancel Changes".
Finally, check the data you want to return to the address book.
This will restore all deleted WhatsApp contacts.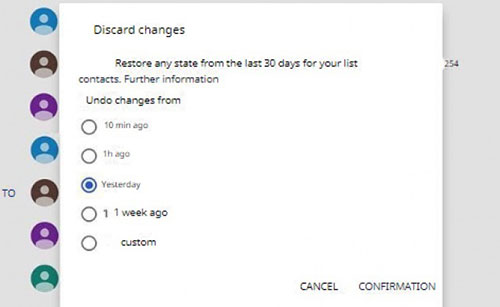 Click to Learn:
Way 4: Recover Unsaved Number on WhatsApp from Android via WhatsApp Settings
You may wish to message an unsaved number on WhatsApp or locate the number on WhatsApp. Well, if you have blocked the number and intend to figure out how to find the unsaved number on the app, just follow the instructions:
How to restore unsaved contacts on WhatsApp from Android WhatsApp Settings?
Run WhatsApp on your Android device and go to its "Settings" menu.
Press the "Account" button and the "Privacy" option.

Tap the "Blocked Contacts".
Locate the unsaved numbers and unblock them.
Way 5: Recover Deleted WhatsApp Contacts on Android without Backup
Well, is there any program to help restore deleted contacts from WhatsApp without any backup? OK, Android Data Recovery gives you the capability to recover WhatsApp in no time. If you just intend to get back other lost file types like contacts or media, you can do this in passing. Besides, it has strong compatibility no matter for mobile phones or computers.
Core features of Android Data Recovery:
Recover deleted WhatsApp contacts on Android without backup.
Restore files from Android internal memory, SD card, and SIM card, covering WhatsApp contacts, WhatsApp attachments, contacts, photos, videos, messages, messages attachments, call logs, etc.
Make it easy for you to view and select specific items before recovery.
Play functions on almost all mainstream Android phones/tablets, including Samsung, Huawei, Sony, Motorola, Xiaomi, LG, Google, OPPO, Vivo, OnePlus, etc.
It won't interfere with your privacy.
How to recover deleted WhatsApp contacts on Android via Android Data Recovery?
Step 1. Select the "Android Data Recovery" tab
Open the program on a computer after the installation. Connect your Android phone to the PC via USB, and the smart product will recognize your phone automatically. Next, please go to the "Android Data Recovery" section.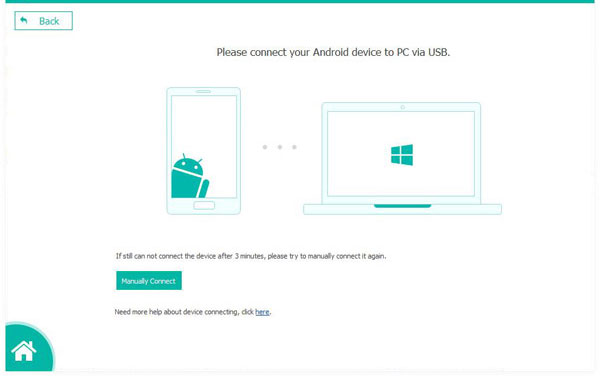 Step 2. Check the "WhatsApp"/"WhatsApp Attachments" box
You may need to turn on USB Debugging on Android as prompted. Then, mark the "WhatsApp"/"WhatsApp Attachments" box and tap "Next" to make the scanning begin.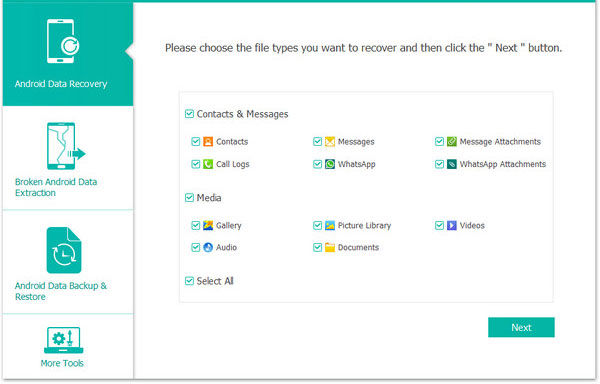 Step 3. Recover deleted WhatsApp contacts on Android
You will get all your old WhatsApp messages on the screen. Subsequently, please preview and select the specific ones at will. Finally, tap on "Recover" to restore deleted WhatsApp contacts on Android.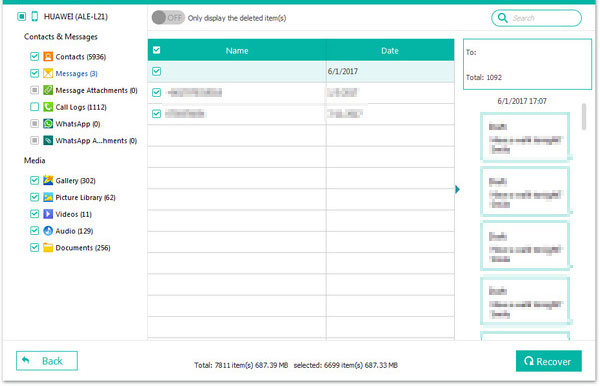 FAQs about WhatsApp Contacts Recovery
Q1: How to Recover Deleted WhatsApp Contacts on iPhone?
When you sync the address book with iCloud by default, you'll have the ability to restore deleted/lost WhatsApp contacts from the cloud storage backup. (How to recover deleted WhatsApp messages on iPhone?)
Q2: How Can I Recover WhatsApp Contacts from a Lost Phone?
Have you ever run a backup of WhatsApp contacts before you lose the phone? If so, pick up your other phone and type in the same phone number on it. Then make sure your phone is linked to your Google account with the backup saved. When the backup is detected, please go for "Recover".
Q3: Does WhatsApp Automatically Add Contacts from My Phonebook?
Yes! It can add WhatsApp users to the WhatsApp contact list automatically after checking the devices' phonebooks.
Q4: How to Find Blocked Contacts on WhatsApp?
Choose "Account" > "Privacy" from your phone's screen. Then select "Blocked Contacts" at the bottom. Then you can access the list of numbers you've blocked in the WhatsApp application.
Q5: Can I back up WhatsApp contacts to prevent data loss again?
Yes, you can use MobiKin Recovery for WhatsApp, a data recovery and backup software designed to help users back up WhatsApp messages, attachments, contacts, and other data from Android devices to computer. With this software, users can preview the recoverable data before the actual recovery process to ensure that they retrieve only the necessary data. The software supports various Android devices and versions, making it a versatile solution for WhatsApp data recovery and backup.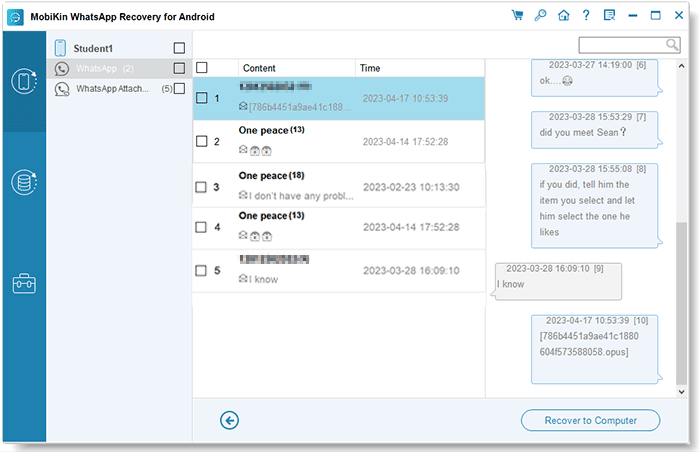 Words in the End
That's all for how to recover deleted WhatsApp numbers in Android differently. Apparently, Android Data Recovery is the most favored of the methods above. That is because it can not only complete file recovery without backup but also recover the content related to the app and even other data. Finally, if you have any problems with recovery, please feel free to drop a line below.
Related Articles:
2 Ways to Recover Deleted Whatsapp Messages on Android/iPhone without Backup
[3 Ways] How to Transfer All WhatsApp Chats from Android to Android?
Made It! Recover Contacts from Broken Screen Android Phone
How to Transfer WhatsApp Data from iPhone to iPhone? [Updated in 2023]
How to Recover Deleted Files from SD Card on Android Phone?
[Fixed] Where Are WhatsApp Messages Stored on Android/iPhone/PC?