How to Root LG Devices with Easy Steps? Solved
Though it is not that complicated to root an Android-running device, there are all sorts of information out there that make it seem more complicated than it really is. That and you might also be afraid to embark in this activity as tempering with a device is what you're advised against over and over again. But while you should be as knowledgeable as you possibly can and make an informed decision, you must not be afraid of the rooting procedure if done right. With the help of different apps, this procedure can be easily done. So in this page, we could like to show you different methods to root LG devices in all kinds of Android OS.
See Also: How to Root Samsung Devices
Things You Should Know before Rooting Your LG Devices
Rooting your LG phone or tablet considerably improves your experience of using the device by reaching its full potential. Basically, rooting means ensuring the access system files, commands and locations that are locked away from the user. Simply put, it opens up your intricate workings of your device to give you more control. That greater control comes in handy if you want to install apps that have privileges that are unattainable otherwise, to avoid limitations imposed by your carrier or mandatory apps that use a lot of RAM.
Of course, with more control comes greater risks, so you should keep that in mind when deciding to proceed with rooting. Although the risk of destroying your phone while rooting is very small, be sure you understand everything there is to know in order to minimize associated risks.
What's more, no matter what option you choose to root your device, you must backup your data first. Then, you can follow the below tutorials to root your LG devices as you like. Generally speaking, the rooting procedure is divided into 3 different parts:
Part 1. How to root LG devices on Android 5.0, 5.1 Lollipop or below version?
Part 2. How to root LG devices on Android 6.0 Marshmallow?
Part 3. How to root LG devices on Android 7.0 Nougat?
Part 4. Which kinds of LG devices are supported?
How to Root LG Devices on Android Lollipop or Below Version?
For the LG devices that are running on a system of Android 5.1 or below, you can root it with a simple 3rd-party application. Here, you can try to find a proper one according to your own needs on the Internet, or directly take the below KingoRoot as your option. KingoRoot is a one-click root tool, that allows users to root LG devices and phones from other brands with 1 simple click.
- Download KingoRoot (PC Version)
Here, we'll take the APK version as a detailed example.
Step 1. Download and launch the KingoRoot Apk file on your LG phone. You should be noticed something as follows:
1) If your chrome has warned you about KingoRoot apk, please select "OK" to continue.
2) When installing the apk file, you may meet some issues, just follow the instructions to set your LG.
- Install Blocked: Settings > Security > Unknown Sources > Check the box and allow;
- Harmful App: Settings > Security > Verify apps > Uncheck it.
The KingoRoot app have been tested by us is 100% clean and safe, so just install it on your device without hassle.
Step 2. Click the "One Click Root" button to begin the whole process. Here, you should to ensure that you have a stable Internet connection, because the rooting scripts are stored in Kingo's server. And you need these scripts to guarantee the success of rooting. Otherwise, the rooting procedure will be failed.
Step 3. You'll get the results of rooting. Please be noted that if it show you a result of failure, we highly recommend you to try it for a couple of times. Because the script can only be downloaded one at a time, but running different scripts may get different results. So just more times by yourself.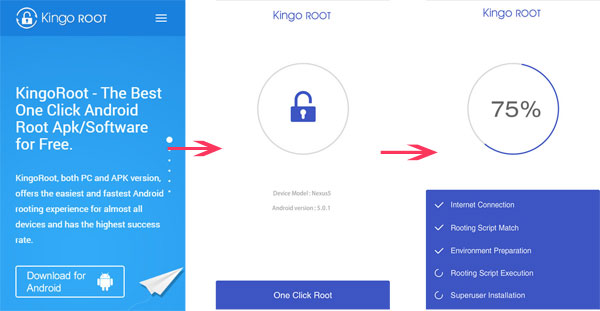 How to Root LG Devices on Android 6.0 Marshmallow?
After hundreds of test, we still can't find an effective tool to help us root the LG devices on Android Marshmallow. So some people found that the app like KingoRoot, Root Genius, etc. become useless after upgrading their LG phone to the new Android 6.0 Marshmallow. However, it doesn't mean there is no way to root your LG device, but the procedure will be a little bit complex for you. You can go to here to learn the detailed steps of rooting LG G3 on Android 6.0 Marshmallow.
When using this method, you need to download the following files:
- Download the latest version of Kingroot
- Download TWRP files from Marshmallow: Root G3 D855 MM.zip
- Download the SuperSU v2.65 file.
After the above preparations, there are still something should be done before the rooting process:
1. Mark sure your device is charged up to 60%, so that your device will never shutdowns due to out of power during the rooting process.
2. Take a backup of the whole contents of your device before the process.
Now, let's start the process on your desktop computer. Please ensure your LG phone or tablet is connected to it.
Step 1. Extract the file Root G3 D855 MM.zip and copy Kingroot, AutoRec , and Hacer Permisivo apk to your Android device.
Step 2. Install and launch Kingroot on your device. After it is done, do the same for the AutoRec apk. After that, you can install the TWRP recovery on the device. This will cause your Smartphone to reboot automatically and start in recovery mode.
Step 3. Hold the volume up and down buttons, navigate and locate the Hacer Permisivo extract and install it.
Step 4. Now, let's return to TWRP, tap reboot and choose "System" in the main menu. The System will reboot, and your device will be successfully rooted.
How to Root LG Devices that Running on Android 7.0 Nougat?
Android 7.0 Nougat is released for some time, and in order to get full control of their LG devices, or get more privilege on it, LG users are looking for the best way to root their LG devices on Android 7.0 Nougat. Fortunately, you can use the same solution in the part 1 to solve your problem - KingoRoot. The facts have proved that KingoRoot can help their users to root Android Nougat system well.
Click here to learn how to root Android devices (not only LG devices) with Android 7.0 Nougat
Let's Check the Supported LG Devices
Supported HTC Devices
Note: The methods recommended in the above can be suitable for almost all LG models, and the Kingo Root app also can be used with other Android brands, like Samsung, Motorola, HTC, etc. If you cannot root your LG phone by using the above solutions, please connect our support team via email: support#mobikin.com (replace # with @)
LG
E450B, P350, ALCATEL one touch 990, Ally, C550, E400, E720, GT540, GW620, In Touch Max ( Etna), L 04C, Optimus 2X, Optimus Black, Optimus Chic, Optimus GT540, Optimus L3, Optimus Me, Optimus One, Optimus T, Optimus V, Optiums 2X, P350, P500, P503, P509, P970, P990, Revolution 4G, VM670, Vortex, VS740, VS910 4G, ZP500, etc.
Related Articles:
How to Root Android Devices Completely
How to Root Android 6.0 Marshmallow in Details
LG Bridge Cannot Connect? Here're Causes, Solutions & the Alternative
LG Music Transfer:Transfer Music between LG and Computer