Best 7 Ways to Share/Transfer Contacts from Android to Android
Switching smartphones or managing both personal and work phones has become increasingly common. It's a scenario many of us have encountered, often making it necessary to transfer our contacts from one Android device to another. OK, this page is here to guide you through how to transfer contacts from Android to Android, offering five commendable methods to provide you with a stress-free experience. And finally, your essential contact information is readily available on your new device.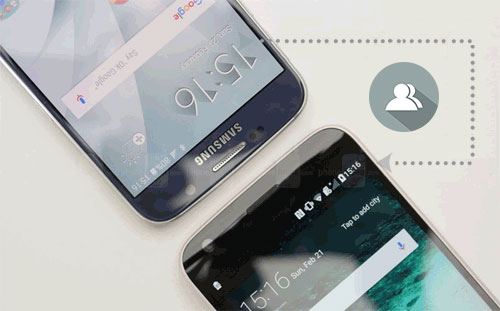 Way 1: How to Transfer Contacts from Android to Android with Specialized Tool
Need to transfer Android contacts to a new phone via USB without the hassle of uploads and downloads? MobiKin Transfer for Mobile (Win and Mac) is the perfect solution. This top-notch utility offers a simple interface for quick and secure data transfers between mobile phones, regardless of their operating systems.
What assistance can this tool provide you with?
Seamlessly transfer a bulk of contacts from Android to Android.
Facilitate the movement of files between Android devices, as well as between Android and iPhone, and iPhone to iPhone.
Easily copy various file types among devices, such as contacts, music, videos, photos, SMS, call logs, documents, apps, and more.
Perform operations on almost all mainstream and non-mainstream Android and iOS devices.
Guarantee optimal results while prioritizing your data privacy.
How do I transfer contacts from Android to Android via MobiKin Transfer for Mobile?
Step 1. Run the software and link devices to your computer
Run the phone transfer tool on your computer following the installation process. Connect both your phones to the computer using two USB cables. Don't forget to activate USB debugging on Android before proceeding.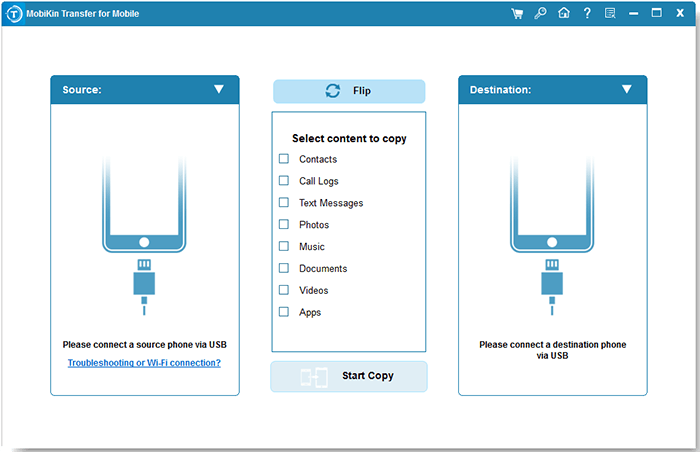 Step 2. Check the positions of both devices
Once the phones are successfully connected, the software will automatically identify both devices. Designate the old phone as the source and the new one as the destination. If you accidentally placed them in the wrong order, you can click "Flip" to correct it.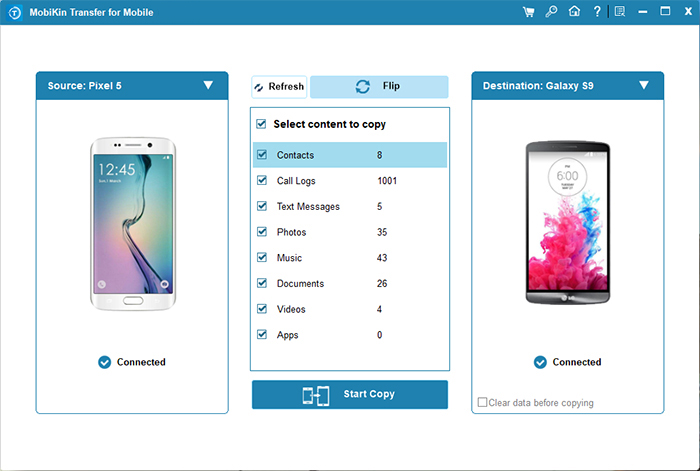 Step 3. Transfer contacts from Android to Android
In the middle of the program interface, you'll find a list of all transferable file types. Simply select the data types you want to transfer and click the "Start Copy" button to initiate the transfer instantly.
Click to Explore:
Way 2: How to Move Contacts from Android to Android via Google Account
To start with, make sure both your source and destination Android devices are connected to the Internet via Wi-Fi or mobile data. And it's advisable to keep your Google account login info secure and not share it with unauthorized individuals.
How to transfer contacts from Android to Android via Wi-Fi using a Google account?
Add a Google account on Android devices by going to "Settings" > "Accounts" > "Add account" > "Google".
Proceed to sign in with your Google account in order to add it.
Next, sync your contacts with this Google account.
Navigate to "Settings" > "Accounts" > "Google" and activate the "Sync Contacts" option.

On your destination device, add the same Google account.
Head to "Settings" > "Accounts" > "Google".
From the Google Backups list, select "Contacts" > "Sync Now".
Way 3: How to Copy Contacts from Android to Android with SHAREit
SHAREit offers a user-friendly interface and high-speed data transfer capabilities, making it a convenient choice for those looking to copy contacts from one Android device to another without the need for cables or additional software. Next, follow the steps to let Android transfer contacts to new phone via SHAREit:
Download and install SHAREit on both devices from the Google Play Store.
On the sender, open the Contacts app and go to its menu > "Import"/"Export".
Tap "Share contacts", then select the contacts you want to transfer and tap "Share contacts".
Choose SHAREit, and on the receiver, open the app.

Ensure both devices are on the same Wi-Fi network, and scan the source device in SHAREit to start the transfer.
To make a successful migration, ensure both devices are linked to the same Wi-Fi network. Within the app on the destination device, search for the source one and accept the connection request. After the transfer, check the Contacts app on the recipient to ensure the contacts have been copied. Then, you can try the SHAREit alternative if the transfer outcome does not meet your expectations.
Way 4: How to Transfer Contacts to New Android Phone by Nearby Share
Available on Android 6.0 and newer devices, Nearby Share, introduced by Google, is an Android feature that offers a quicker and more efficient way to share Android contacts.
How to share contacts from Android to Android by Nearby Share?
Navigate to "Settings" > "Google" > "Devices and Sharing" > "Nearby Share" and activate Nearby Share.
Launch the Contacts app on your source phone and access contact settings by tapping the three-dot icon.
Choose "Import/Export" > "Share contacts".
Select the contacts you wish to transfer or use the "Select all" option.
Tap "Share" and opt for Nearby Share.

Locate and select your target Android device when it appears.
On the destination device, accept the file share request to complete the transfer.
Extended Reading:
Way 5: How to Transfer Contacts from One Phone to Another Android Using via SIM Card
If your removable SIM card fits both devices, you can transfer contacts by copying them to the SIM card, inserting them into the other device, and moving the contacts.
How to send contacts from Android to Android using a SIM card?
Take your previous phone and access the Contacts app.
Locate the "Settings" menu, typically found at the top right of the primary Contacts screen.
Opt for "Import/Export" (or simply "Export" on some phones).
Select "Export to SIM card" to transfer contacts to SIM card.
Now, you can move your contacts to your new phone by using your old SIM card.
For those switching to a new Android phone, insert the old SIM card and open the Contacts app.
Then navigate to "Settings" > "Import/Export" > "Import from SIM card".

Once the transfer is finished, you can replace the old SIM card with the new one.
Note: Please carefully remove the SIM card from the source phone. Be sure to turn off the device before doing so to avoid any potential data loss or damage to the SIM card.
Way 6: How to Share Contacts from Android to Android with VCF File
If you're willing to get hands-on, you can export your contacts on your current Android phone to a VCF file and import them on your new one. The steps may differ based on your Android version, Contacts app, and phone model.
How do you transfer contacts from one Android phone to another via a VCF file?
Open the "Contacts" app on your sending device, tap the three dots (menu) at the top, and select "Manage Contacts".
Next, choose "Import/Export contacts" and opt for "Export" to export contacts to VCF from Android.

Once all contacts are exported, locate the "Contacts.vcf" file and send it as an attachment to your Gmail account.
On the receiving device, log in to Gmail and download the VCF attachment.
In the Contacts app, access the menu, go to "Manage Contacts", and select "Import/Export Contacts".
Choose "Import VCF file" and select the VCF file from your email.
Tap "OK" to start transferring the contacts to the new phone.
Way 7: How to Download Contacts from Android to Android over Bluetooth
Using Bluetooth is possibly the easiest way to transfer contacts between Android devices. Start by turning on Bluetooth on both devices through the notification panel, and proceed to pair the devices. Then, ensure they stay within Bluetooth range throughout the transfer process.
Here are the steps for importing contacts to Android by Bluetooth:
Open the Contacts app, press and hold a contact until it's selected.
You can choose multiple contacts one by one or use the "SELECTED" button to "Select all".
After that, tap the three vertical dots menu in the top-right corner and choose "Share".
Select "Bluetooth" as the sharing method.

Pick the name of the other device to establish a connection for sharing the contacts.
Accept the file transfer request on the receiving device.
Final Words
So, what's the best app for transferring contacts from Android to Android? Notably, MobiKin Transfer for Mobile could be your best bet because of its outstanding ability to copy all contacts quickly in one click.
Plus, you can get a detailed understanding of the usability of other methods by looking at this summary:
Both Google Account and SHAREit require some form of user authentication and account management. And you have to ensure your phones are working with a good Wi-Fi network.
If you have a SIM Card that accommodates both your Android phones, you can try to export contacts with it before importing them afterward.
The availability of Nearby Share varies based on the device's manufacturer and Android version.
VCF files may not suit all users, especially those who require automatic and seamless contact sync.
Bluetooth is not proficient and efficient in copying large numbers of Android contacts.
Related Articles:
6 Proven Ways to Transfer Contacts from Android to iPhone 15/14/13/12/11/X/8
3 Ways to Transfer Ringtones from Android to Android [Step-by-Step Guide]
[3 Ways] How to Transfer All WhatsApp Chats from Android to Android?
3 Ways to Transfer Notes from Android to Android [Complete Guide]
Where Are Contacts Stored on Android Phones & How to Export Them?
[4 Solutions] How to Sync Calendars Between Two Android Phones?