Best Android Contact Editor: How to Edit Android Contacts on PC
"I'm a businessman, and I have the phone numbers of hundreds of customers in my Samsung Galaxy S6, as well as some of my friends, relatives, and family. The contact list is a complete mess, and I now want to make a special note of all the contacts of my clients and colleagues so they can be easily found. So, how can I quickly edit contact information without having to type it all on my phone? Can anyone provide me an efficient way to edit android phone contacts on PC? Thanks in advance!"
Even though smartphone displays are getting bigger these days, working on those screens for long periods of time can still tire you out, especially when you're dealing with hundreds of contacts on your phone. Therefore, more and more people are looking for a way to edit Android contacts on PC. In the modern digital age, many applications have been developed to help you live more conveniently.
Here, we introduce some contacts editor for Android to help you add, delete and edit a large number of phone numbers on your Android smartphone in an easier and more efficient way.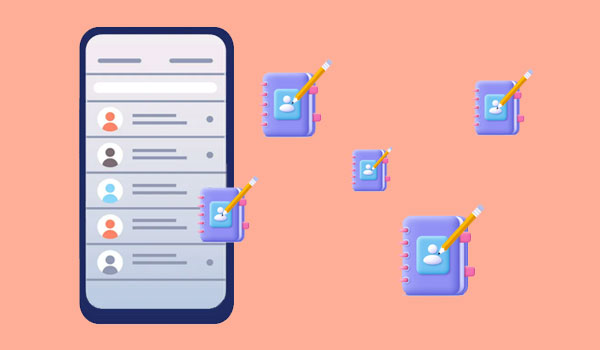 Topic: Edit Android Contacts on PC with the Best Contacts Manager
The key is to find a reliable and professional Android contact editor as your assistant. In this case, MobiKin Assistant for Android (with its Mac version) can meet your needs. It is a safe, virus-free, ad-free Android data manager that provides users with an elegant and user-friendly interface that allows you to view, add, modify or delete contacts in bulk or selectively on your PC or Mac people. In addition to that, the software also allows you to edit and manage other data, and even backup and restore Android data with one click.
Assistant for Android - One Stop Solution to Edit Android contacts on PC
Support transfer, edit, back up, restore, manage and view Android data on computer.
Support management of multiple data types, including contacts, apps, photos, music, videos, text messages, e-books, and more.
Add and edit, export and import contacts and text messages, delete duplicate contacts.
Use your computer to receive and reply to text messages.
Batch install, uninstall, import or backup applications.
Fully compatible with more than 3000 Android devices from Samsung, LG, HTC, Huawei, Xiaomi, Motorola, Sony, etc.
Let's see how to add, edit, delete, export & import contacts with MobiKin Assistant for Android?
Step 1. Link your Android phone to PC and make it be recognized
Launch the installed Assistant for Android and use a USB cable to connect your Android phone to the PC. Here, you'll be required to enable USB debugging on your device and install USB driver on the PC. Once it is successfully detected, your phone will be displayed in the main window of the program.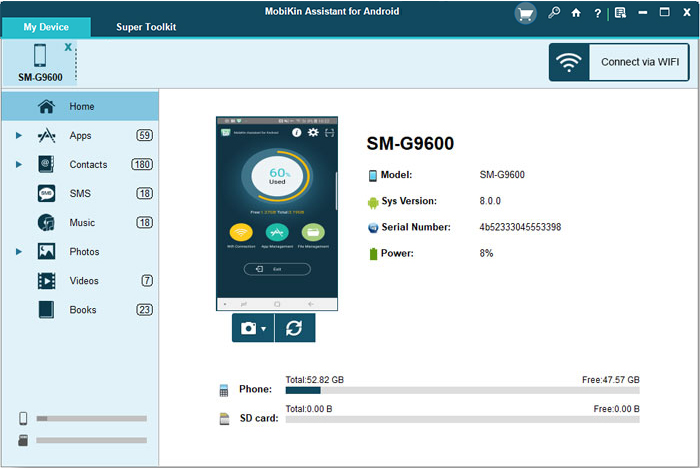 Step 2. Add, edit, delete, export & import Android contacts from PC
From the left side panel of the window, choose the "Contacts" folder and press the "All contacts" button. Your contacts in the phone will be listed one by one on the right. Now, you can edit the contacts by clicking the buttons on the program:
New: Add a new contact into your phone, including name, phone number, email address, home address, etc.;
Edit: Edit existing contact information as you like.
Deleted: Remove duplicated or unnecessary contacts from your device;
Export: Back up Android phone contacts to PC.
Import: Transfer contacts from PC to Android phone.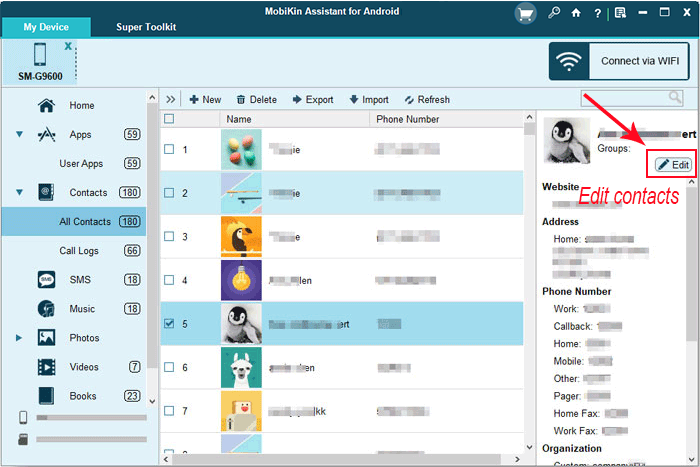 As you can see, MobiKin Assistant for Android is an excellent and versatile Android contact editor for Windows and Mac, to help you edit and manage Android phone contacts on your computer. Never disconnect your device from your computer until you're done to avoid damaging the data on your phone or computer. You can also refer to the video tutorial below.
Can't Miss:
Extra: Top 5 Android Contact Editor Apps
1. Contacts+
Rating: 4.2
Contact + is a very popular contact (phone book) and dialer application. It is a one-piece management tool that can help you manage contacts, dialer, SMS, and call logs. Let you easily contact your friends. In addition, it provides call display capabilities to help you identify harassment phones, block spam messages, fast dial, birthday reminder, merge repetition contacts, and so on. You can also choose private and custom topics according to your preferences.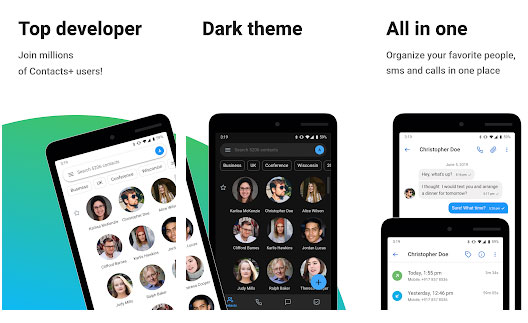 Download Contacts+ from Google Play >>
2. SIM Contacts Manager
Rating: 4.3
SIM Contacts Manager is an application that allows you to easily manage your SIM contacts. It allows you to import contacts from the device to the SIM card and vice versa. You can also export contacts from SIM card or device directly to Excel worksheet or VCF, or import Excel worksheet or VCF into SIM memory or device memory. Additionally, you can add, delete contacts, change contact information, and more from your device or from your SIM card. Calls and text messages are also supported.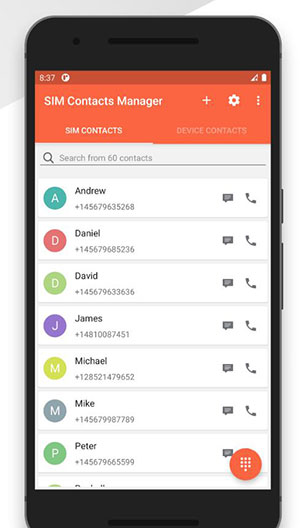 Download SIM Contacts Manager from Google Play >>
3. Contacts, Phone Dialer & Caller ID: drupe
Rating: 4.2
A smart contact, phone, SMS management tool. The automatic call recording function it provides can record incoming or outgoing calls. And has a caller ID function, you can track and block harassing calls. Efficient contacts organizer, disable copying in Google Contacts. For missed calls, it can help you to reply by phone, text message, whatsapp or other means. The one-click record summary function contains all your recent calls, text messages, intercom voice messages, WhatsApp, Facebook Messenger and other message records.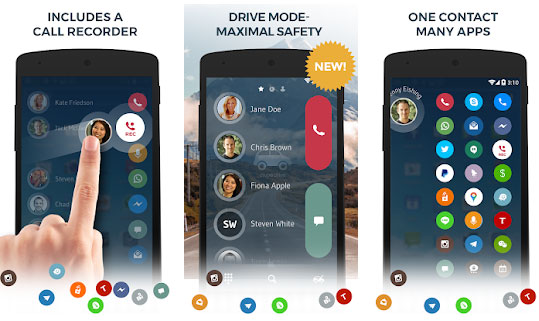 Download Contacts, Phone Dialer & Caller ID: drupe from Google Play >>
4. Contact Optimizer
Rating: 4.6
Contact Optimizer is highly praised by users for its powerful features and beautifully clean interface. Advanced deduplication is the product's most popular feature, which merges your contacts from your phone's memory into Google, then quickly filters out duplicates. Not only can you remove duplicates, but also find similar contacts. It allows you to massively move contacts between different accounts. It can also distinguish between correct and incorrect contacts, helping you find incorrect contacts that you cannot dial. With it, you can edit, delete, select or deselect all contacts at any time. Make Android contact management efficient and fun.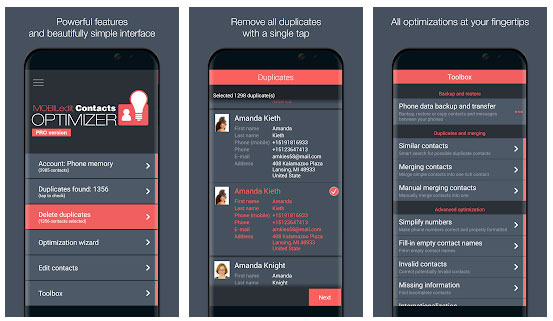 Download Contact Optimizer from Google Play >>
5. Simple Contacts
Rating: 4.5
Simple Contacts is also a lightweight contact management app with millions of fans. It not only saves contacts on your device, but also syncs them with Google or other accounts. You can easily change contact names, emails, phone numbers, addresses, organizations, groups and many other custom fields. You can display your favorite contacts or groups in a separate list. You can rename groups and send emails or text messages to groups in bulk, saving you a lot of time. It supports exporting and importing vCard format as .vcf file, which is convenient for you to migrate or backup your data, and it can also merge duplicate contacts. This application does not contain any advertising and usage rights.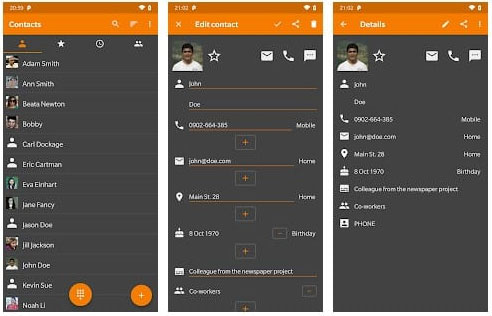 Download Simple Contacts from Google Play >>
Conclusion
Above we mentioned how do I edit my phone contacts on my computer by using MobiKin Assistant for Android, which can add, edit, backup, restore and delete contacts and other Android phone data from your computer. If you want to easily manage Android contacts and files on your computer, Assistant for Android is your best choice. Plus, we've listed five Android contacts editor apps that allow you to manage your contacts right from your phone.
Have more ideas for contact management? Just leave your comment below!
Related Articles:
Tips to Transfer Text Messages from Android to Computer
How to Transfer or Copy Contacts from HTC to Computer
How to Edit Samsung Contacts on PC or Mac with Samsung Contacts Editor
How to Import Contacts from Outlook to Android Phone? [Make Tech Easier]
Samsung Contacts Backup - How to Backup Contacts on Samsung? (4 Ways)