WhatsApp Transfer: How to Move WhatsApp Media to SD Card?
For the people who like to contact with others via WhatsApp, there must be many pictures and videos on their mobile phones. And it is no doubt that these files would take up a lot of space of the device, which would cause some inconvenience or phone issues sometimes. So to better use the WhatsApp and make room for the new files, users can choose to move WhatsApp media to SD card.
Traditional Way to Move WhatsApp Media to SD Card
You can select a traditional way to move WhatsApp media files to SD card- simply transfer the files from one device to another. Normally, users would choose computer as the medium. Namely copying the media files on the phone and pasting it to the computer. And then you need to move them from computer to SD card. But to complete the transferring process, you need a SD card reader.
Step 1. First of all, you need to use a USB cable to connect your phone to computer and let the PC detect the connected device.
Step 2. After the detection, you can double click on the icon of My Computer and find out your phone device in this section. Then just tap on your device.
Step 3. Next, go to the internal memory folder and look for the WhatsApp file.
Step 4. Now you can simply copy the folder on your internal memory and then paste it on computer. Then, you can delete the original WhatsApp data from the internal memory to free up the device.
Step 5. Finally, you need to insert the SD card into a card reader and plug it to your computer. And once again, just copy and paste the files to the SD card easily.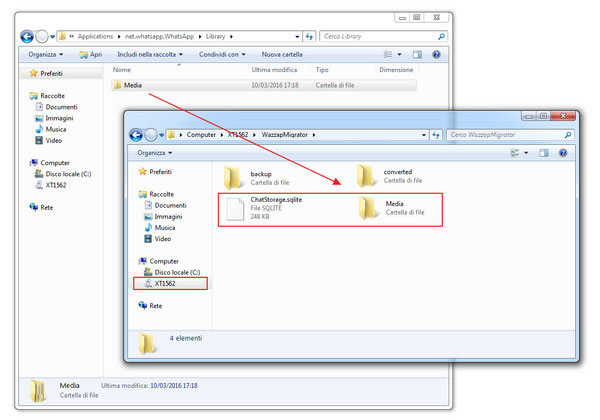 That's it! You can see that the whole moving process is completed by copying and pasting. It is easy to learn so you can have a try.
You can also read:
How to Move WhatsApp Data to SD Card?
How to Update WhatsApp on Android?
Use ES File Explorer to Transfer WhatsApp Media to SD Card
But the first means is not always welcome since it is available only when you have a computer and card reader. Then is it possible to perform the transferring process on the device directly? Of course Yes! You can use a tool like ES File Explorer to help you move the media files from WhatsApp to SD card. This would be move convenient and time-saving.
Step 1. Download the software ES File Explorer from Google Play and install it on your phone by following the instructions.
Step 2. Launch the application and open the internal storage files.
Step 3. Then all the files that are stored in the internal storage will be listed. Just choose WhatsApp from the list and open it.
Step 4. Find out the Media file from the WhatsApp folder and cut it.
Step 5. At last, just create a new folder on your SD card named WhatsApp. Then open the new folder and paste the media files to it.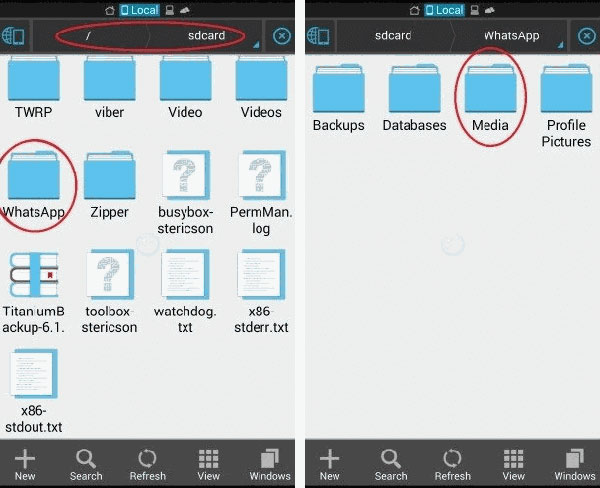 Done! Your WhatsApp data is saved in SD card now and you can use them freely.
Related Articles:
Let's Learn How to Manage WhatsApp Account on Android!
Full Guide to Fix WhatsApp Issues Android Phone
Any Tips to Fix the No SIM Card Error on Android? 16 Fabulous Ways for You
Ultimate Guide on How to Transfer Contacts from Android to Android in 2023
Best Android Contact Editor: How to Edit Android Contacts on PC
[SOLVED] How to Recover Contacts from Android Phone After Factory Reset?