[SOLVED] How to Recover Contacts from Android Phone After Factory Reset?
"I performed a factory reset on my Samsung Galaxy S9, and then the tragedy happened. I found that all the contacts were gone. What's worse, I didn't make any backups to my Gmail account. How do I restore my contacts on Android with factory settings restored, without any backup? Pleeeeeeeeeeeeese help!!!"
- User from Android Central Asking for Help
If you restore your Android device to factory settings, then you will find that the contacts stored on the device, as well as other files and settings, are gone, just like the guy above. This is something you never imagined. Now you are annoyed by the loss of important contacts, because it brings great inconvenience to your life and work. Therefore, you are eager to know how to recover contacts from Android phone after factory reset.
I'm glad you are here. This guide will provide different ways to tell you how to recover contacts after factory reset on Android devices in different situations with and without backup.
Part 1. Some Doubts about the Android Factory Reset
What is factory reset?
Android factory reset means to restore your device to the factory state, all your customizations, modified settings, added applications and all other content will be restored to the state of you first purchase and open the device. Normally, people will only restore the device to factory settings when the phone is running slowly or has been updated with impaired functions. The instruction to restore Android device to factory settings is very simple.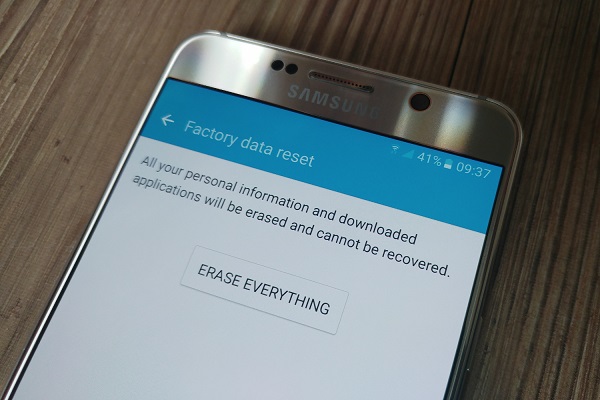 Will restoring factory settings delete everything?
After restoring to the factory settings, you will find that all the content and settings on the device are gone. It seems that all the content has been cleared, but it is not. Restoring Android device to the factory settings does not permanently delete the data in the device. The contacts and other files that you can't see is not deleted, but only marked as useless. However, they will be overwritten by any new data. Therefore, if you want to restore these data, you must stop using the device immediately to avoid generating any new data to overwrite the old data.
Can I restore deleted data after factory reset on Android?
The answer is yes, there is a chance to recover lost data from Android device after factory reset. If you have ever made a backup of your Android phone, you can easily restore deleted data from the backup. But if you have no backup, you must resort to powerful recovery software. Without the help of the software, you cannot recover those lost contacts or other data from the factory reset Android phone.
People are reading:
Part 2. Recover Contacts from Android Phone After Factory Reset from Gmail Backup
If you have synced the contacts on your Android phone to your Gmail account, then you can easily restore Android contacts from Gmail backup without rooting your Android device. But one thing to note is that you can only restore past 30 days contacts by following this method.
How to Sync Android Contacts to Gmail:
On your Android phone, navigate to "Settings" > "Account & sync " > "Google".
Log in to your Google account.
Tap on "Sync Contacts" option to sync all your contacts to Gmail account.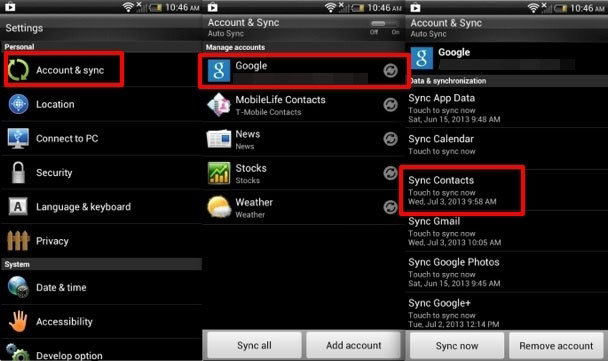 How to Restore Android Contacts from Gmail Backup
Visit Gmail in browser and login to your Google account.
Choose Gmail and click on "Contacts" from the drop-down menu.
Click on "More" and choose "Restore contacts..." from the drop-down menu.

Then you will get the following popup in which you can select a time to restore to from available option.

Finally, you can click "Restore" button to restore the contacts from Gmail backup.
Part 3. Restore Contacts on Android After Factory Reset from Google Backup
In addition to Gmail accounts, Google accounts can also be used to backup and restore your Android data. This solution can help you to restore contacts from a factory reset Android phone without a computer or rooting your Android device. Now let us know how to back up the contacts stored in the device or SIM card to a Google account, and then easily restore these contacts on the new phone.
How to Backup Android to Google Account (Includes Contacts Backup):
On your Android device, go to "Settings" > "System" > "Backup".
Turn on the option of "Back up to Google Drive".
Once your Android data is uploaded to Google account completely, you can then follow the below steps to restore contacts from Google account to Android after factory reset.
How to Restore Android Contacts from Google Backup:
On your Android phone, go to "Settings" > "Google".
Tap on "Restore Contacts" to restore Android contacts from Google backup.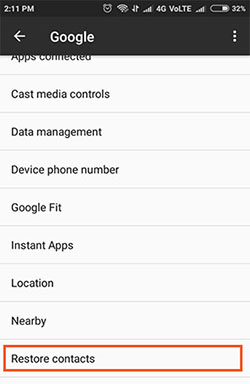 People are reading:
Part 4. Recover Contacts After Factory Reset on Android Phone Using Android Recovery
[Without Backup]
Both of the above solutions require a backup. If you do not make any backup of your Android device, then you need to use a professional recovery tool to recover Android data. When choosing a tool, take extra care to free recovery tools that may be infected with viruses. Once the incorrect tool is used, it will not pay off. You may not only be unable to retrieve your contacts, but may damage your Android phone.
Android Data Recovery is an Android data recovery software that you can rely on safely. It will scan your phone to find all recoverable data, and allows you to preview these contacts, messages, photos, etc. before recovery. Then, you can restore them with one click.
It comes with wide range of file types such as contacts, text messages, call logs, photos, videos and more and recover them easily.
It comes with preview feature that enables you to view the files before recovery.
Recover Android data after factory reset without any backup.
works well for almost all Android phones, like Samsung Galaxy S20/S10/S9/S8/S7/S6, Samsung Galaxy Note Edge/Note, HTC, LG, Moto X, Moto E, Moto G, Xperia, huawei, Xiaomi and more.
Easy to use and 100% clean and safe.
Free download the Android Data Recovery to your computer and follow the guide in the below to recover contacts on Android after factory reset.
Step 1. Run the Android Data Recovery and connect your Android phone to computer via a USB cable. Then you will be asked to enable USB debugging on your device. Just go with the prompts on the screen to turn it on so that the software can detect your phone.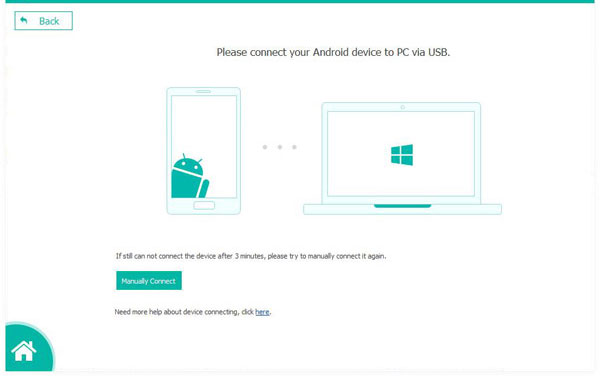 Step 2. Once the connection is enabled, you will get a window that allows you to select the file types you want to recover. Here, you should choose the "Contacts" tab and hit Next to let the program scan your device to find all the missing contacts.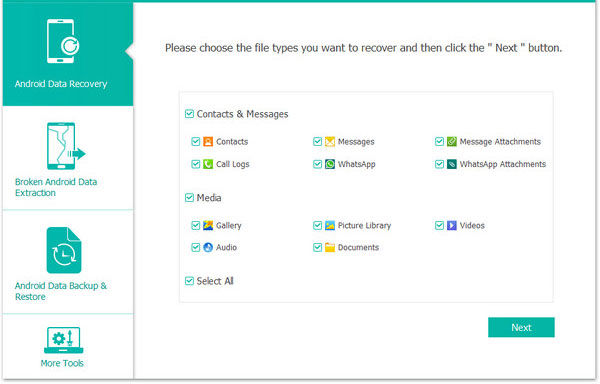 Step 3. Once the scan is finished, you can preview and mark the contacts you wish to recover. Then, tap on Recover button to start the recovery process.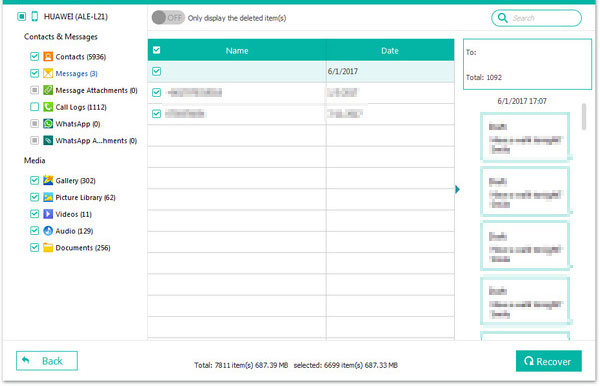 As you can see, with Android Data Recovery, it only takes three steps to help you recover contacts on your Android device after factory reset. Why not try it now?
Write in the End
Contacts are very important to all of us, it is our bridge to the outside world. The best way to protect contacts on Android phones is backing up Android contacts beforehand. If you have backed up your contacts to a Gmail or Google account, then you can restore your contacts from these backup files easily. If unfortunately you didn't make a backup, don't be discouraged. With the help of software like Android Data Recovery, you can restore contacts directly on your phone even if you don't have contacts backup.
Now it's your turn, start your contact recovery journey now. You can leave a quick comment in the comment section to let us know which method you are going to try and what the result is.
Related Articles:
[2023] LG Phone Won't Turn on? 5 Possible Solutions Here
Android SMS Recovery: How to Recover Deleted Text Messages from Android Easily?
How to Transfer, Copy Text Messages from Samsung Galaxy to PC/Mac
[SOLVED] How to Recover Deleted Photos/Pictures from Android?
Android Contacts Recovery- 2 Ways to Restore Deleted Contacts from Android