The Software Font is too Small on 4K or HD Screen, How to Solve It?
When you run our software on the computer with 4K or HD screen, such as MobiKin Assistant for Android, Doctor for Android, Assistant for iOS, Transfer for Mobile, Eraser for iOS, etc., you might find that the software font becomes too small and the whole interface gets unnormal. Then how to solve the problem that the software font is too small on 4K or HD screen? It is easy! You just need to change the high DPI settings by setting the compatibility of the software operation. The detailed steps are as below.
Easy Way to Fix the Software Font Becomes too Small on 4K or HD Screen?
Step 1. Right click the icon of the program on your desktop computer and choose "Properties" from the menu.
Step 2. In the "Properties Window", you need to find out and tap on the option "Compatibility".
Step 3. Click on the "Change settings for all users" option and another window will pop up.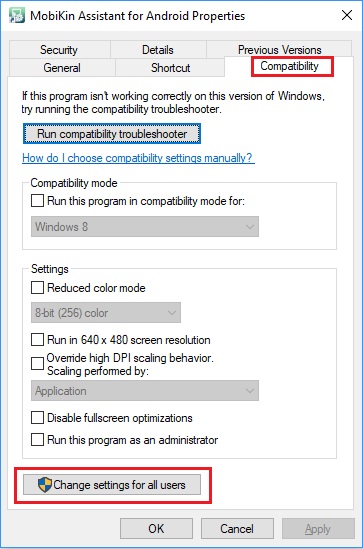 Step 4. In this window, you should check "Override high DPI scaling behavior. Scaling performed by:" and choose "System" by tapping the down arrow.
Step 5. At last, you can tap on "OK" to confirm your option and then restart the program.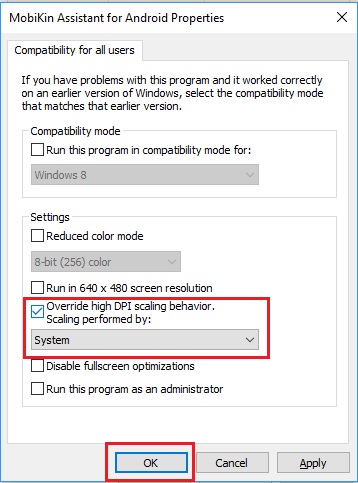 Ask Our Support Team for Help
The method above does not work? Just tell us the details via the email: support@mobikin.com and we will try our best to help you solve the problem. And if you have other problems while using our products, please go to the Product FAQ page to find the solutions.