How to Install APK on Android Devices
Android operating system has extensively been used in many mobile phones around the world and it lives up to the expectation of their users. Speaking of Android operating system, there are many factors we can talk about. For example, one of the best features of the Android operating system is the availability of installing third party applications. If you have an Android smart phone, you may be familiar with APK files.
What is APK file?
APK is short for Android package, and Android application package is the package file format used to distribute and install application software and middleware onto Android operating system. To make an APK file, a program for Android is first compiled, and then all of its parts are packaged into one file. If you want to install an application on your Android phone, you can search for a certain app and download it from the Android Market.
But sometimes you can't reach some apps. At this moment, you can install an APK file handily and copy them to your Android devices. In this tutorial, we will tell you some ways to install APK files on your Android cell phone and tablets. You can follow the instructions in the following paragraphs of this tutorial.
See Also:
How to Export Apps from Android to Computer for Backup?
How to Fix Android App Not Installed Error?
Solutions to Install APK Files on Android
We will show you some methods to install APK files on your Android devices.
Solution 1. Use MobiKin Android Assistant
MobiKin Assistant for Android is a powerful third-party tool to transfer the APK files in the local disk to the Android phone and then have the files installed perfectly. Besides, you can transfer other data like contacts, text messages, music, photos and videos, etc. from any Android device to PC. Should you be interested, you can click the blue icons to download the software on you computer.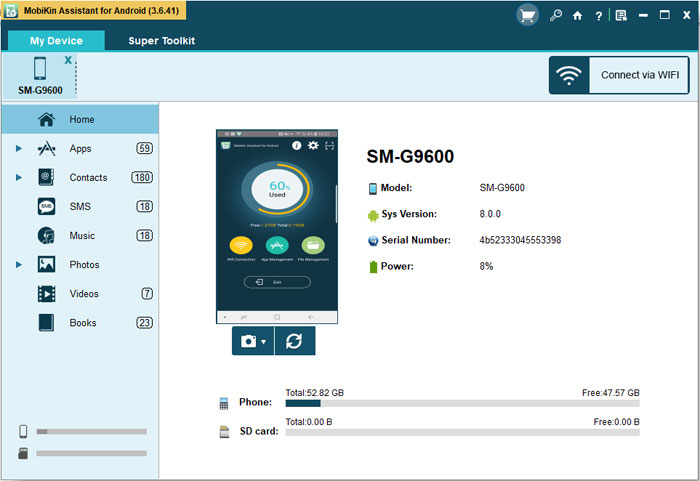 Solution 2. Enable Unknown Sources to Install An APK File
The most common way is to download APK files on the computer and then copy them to an Android device. To install APK files on Android devices, you have to enable unknown sources in the settings first. Follow the steps below.
First, download an APK file to your desktop computer. Next, enter Menu -> Settings -> Applications. Then check the "Unknown Sources" so you can install applications without entering the Android Market. Link your Android phone to the computer and drag the APK files you downloaded to the phone. At last, open a file manager and find the files to install them.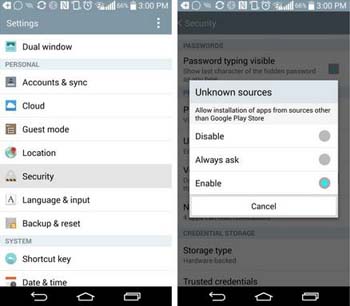 Solution 3. Install APK Files on SD Card
After you have installed the file manager above, you can launch the ASTRO file manager and connect your Android device to the computer via USB cable. Then you can copy the APK files you downloaded from the Android Market to the SD card and they will be displayed on the file manager. Click it to install the files on your Android cell phone.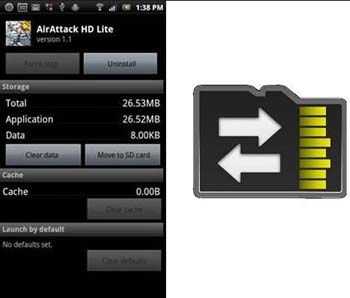 Solution 4. Installing APK Using Dropbox
Dropbox is a free and versatile app offering you the service to bring your photos, documents, and videos anywhere and share them easily. You can download the APK files to your Dropbox folder on your computer. Let it finish syncing. Open the Dropbox in your Android phone and go to the folder where you keep the APK files, click on it. Dropbox will then download and install the APK files.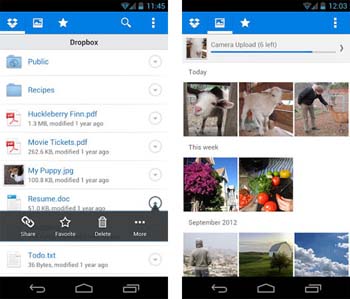 Solution 5. Install Android APK Using the Online APK Installer
The online APK Installer is a free application aims to make the installation of an APK file much easier. You can download and install it from Google Play. With this tool, it would be pretty quick and easy for you to install the APK files on the micro SD card used in the Android device. Enter the APK Installer and click to install the APK files on your Android phone.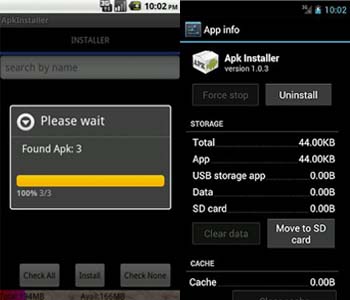 Extra Information: How to Uninstall Apps on Android Device?
Well, too many applications installed on your phone will take up too much storage space, and also slow down while you run other programs. Therefore, you may need to remove useless apps from your phone from time to time. MobiKin Assistant for Android also provides the ability to uninstall apps from Android phone. No need to remove apps one by one manually any more, this program will help you delete more than one app from your Android phone with one click.
Steps to remove apps from Android with Assistant for Android: Connect your Android phone to computer, launch the Assistant for Android, go to "Apps", choose the apps you want to delete and click "Uninstall". Is it very simple to make it? No any other tools or professional skills needed. Just a click, you can uninstall several apps on Android. Click to download it below.
Except for uninstalling applications, the tool enables you to install and fresh Apps on the computer as well