Where Is My Music Library on Android? Here's All You Want to Know
Smartphones have become the central hub for our entertainment, and music libraries are an integral part of this digital experience. However, it's not uncommon for users to ask, "Where is my music library on Android?" The mystery of locating the music library can arise due to various situations, leaving users eager to find a solution.
Well, this article aims to shed light on how to find the music library on Android. Just read on, and chances are we'll also help you address other queries and concerns related to this topic.
Part 1: Why Music Disappeared from Android?
Errors while managing audio files.
Software updates or changes to music apps or the Android operating system.
There are problems during the syncing process between the device and a computer.
Some third-party apps might interfere with music files.
Malicious software can cause data loss.
Hardware issues.
Next, we shall walk you through "Where is my music library on my phone" and dwell on something important about this issue.
Related Recommendations:
Part 2: Where Is My Music Library on Android?
Once you've transferred songs to your Android device, the next step is to find the location where the songs are stored so you can start listening to them. The exact location of the Music Library app is a common question that arises for many users, as it enables efficient organization of songs. You can figure out "where is music stored on Android" by specifying the Android music folder location as follows:
Open the File Manager, File Explorer, or My Files app by browsing through your apps in the search bar.
Tap "Internal storage" and select the "Music" option.

If you don't see the "Music Library", click the down arrow and choose "All" to view all folders, including the Music Library folder.
Once inside the Library folder, you'll find all the songs on your phone if you didn't accidentally delete music from Android.
Alternatively, you can access your Music Library by navigating to the Play Music screen. Here, you'll find different songs classified under Artists, Songs, Folders, or Playlists.
Part 3: Where Is My Downloaded Music on Android?
Where is Android music folder for downloaded audio files after I saved music on my phone? To be precise, on Android devices, all music downloads are directed to the "downloads" folder, which can be accessed through the system's file manager. Rather than searching for the music folder, you can easily locate your audio downloaded files in the "downloads" or "Download" folder within "Internal storage".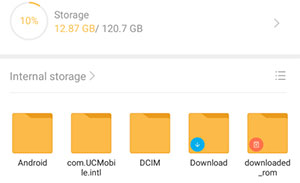 Other Posts You Might Enjoy:
Part 4: Why Is Downloaded Music Not Showing Up on Android?
It's a piece of cake to work out "Where do I find my music files on Android". However, after you find the location of the download songs, they may not work on certain players or even disappear from the folder. Here's why:
The music might have been downloaded to a different folder or storage location than expected.
Android media scanners may not have scanned the downloaded music yet.
The downloaded music is in an unsupported file format.
The downloaded files are corrupted.
Problems with the music player app or any third-party app used to download music.
Issues during the syncing process between the device and a computer.
Insufficient storage space on your Android device.
Any type of ROM or Android crash.
Part 5: How to Move Downloaded Songs to the Music Library on Android?
Do you need to migrate downloaded music to the music library? Indeed, this makes for better management of music files, such as adding songs to a playlist on Android, deleting duplicate audio files, or managing the download list. Here's a detailed guide for how to move downloaded music to the music library on Android:
Navigate to the "Downloads" folder on your Android device and open it.

Long-press on the specific song you wish to move.
Tap the "Select All" button in the upper right corner to choose multiple songs if desired.
Click on the "Move" option situated in the bottom left corner of the screen.
Use the back arrow button to return to the top section of the "Music" folder.
Finally, click the "Move here" button in the bottom right corner of the screen to complete the task.
When downloading playlists or albums, they often come in a .zip file extension, which is a compressed folder. Before moving the contents, you need to extract them from the .zip folder.
Part 6: Still Can't Find Music Files on Android? Recover Them without Backup
Determining "Where is my music stored on my Android phone", I'm still unable to locate the exact audio files on Android. Given that, give MobiKin Doctor for Android (Win and Mac) a try. This smart product makes it easy to rescue lost Android files, including music, with or even without a backup. And its ease of use and recovery success rate also makes it an influential mobile assistant in data recovery.
What makes MobiKin Doctor for Android remarkable?
Recover deleted music on Android from your phone's internal storage or SD card. (How to recover deleted music from an Android SD card?)
Bulk or selectively retrieve Android files without backup.
Support recovering such files as music, audio, contacts, text messages, call history, photos, videos, documents, etc.
Offer various Android items for easy preview and selection before data recovery.
Easy to connect, quick scan, and high success rate.
Work well with almost all Android phones/tablets, including Samsung, HTC, LG, Sony, Google, OPPO, Motorola, Huawei, Xiaomi, etc.
It values your privacy.
Important: It's advisable to stop using your mobile phone temporarily when you notice the loss of Android music, then download and use this program to improve the recovery success rate.
Learn how to find/recover lost music from Android with MobiKin Doctor for Android:
Step 1. Have Android recognized by the software
Before using the software, download, install, and open it on your computer. Connect your Android device to the computer using a USB cable. Next, follow the on-screen guide to allow the program to recognize your device.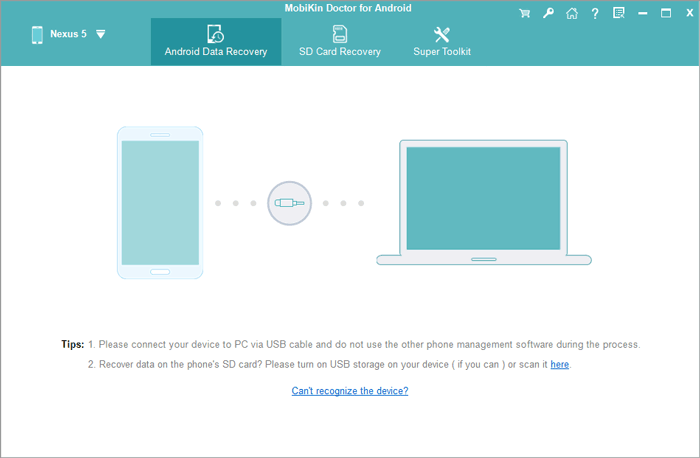 Step 2. Scan for all songs on Android
Once your device is identified, select "Audios" from the screen and click "Next" to initiate a scan of your phone. If your desired music is not found after scanning, it might be stored in Samsung's internal memory. In that case, follow the on-screen instructions to root your Android device for a deep scan.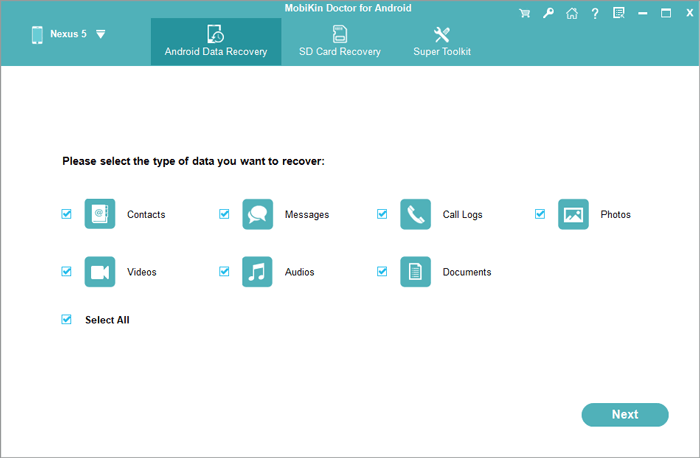 Step 3. Recover disappeared music from Android
After a thorough scan, the utility will display all your Android music on its interface. You can now preview and choose the specific songs you need. Finally, click the "Recover" button to save the selected songs onto your computer.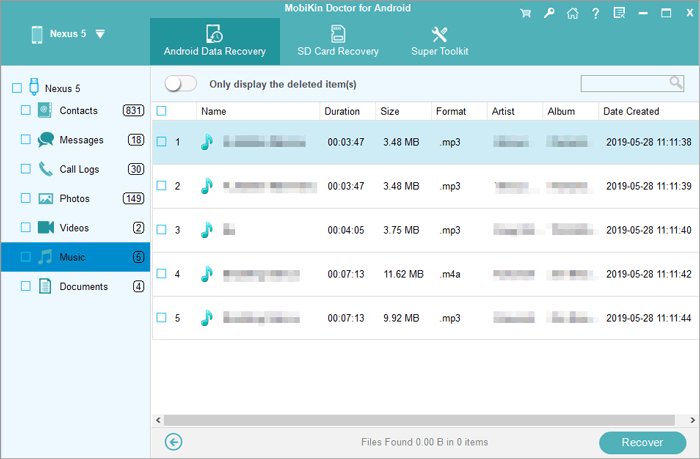 FAQs on Android Music Library/Folder:
Q1: How to access the iTunes music library on Android?
While no iTunes app is available for Android, you can still access your iTunes library on your Android phone or any other device using the Apple Music app. (How to transfer iTunes music to Android?) Just log in to your Apple Account, and like Google Play Music, you can effortlessly stream your complete iTunes library.
Q2: Where are music files stored on Android phones' Google Music Library?
It's easy to access your Google Play Music library on Android under "Settings" or by tapping "Download library". Specifically, you can find music on the go in /mnt/sdcard/Android/data/com.google.android.music/cache.
Q3: How to create a new music folder on Android?
Open your "My Files" app on your Android phone.
Tap the storage area that you want to create the folder.
Press the 3 dots to open the menu and tap "Create Folder".
Give your folder a new name.
Round Off
As we conclude this passage, we think highly of MobiKin Doctor for Android, a reliable and efficient data recovery tool. It helps you recover any disappeared music from your Android device in various data loss scenarios. Overall, this product is especially helpful when you have determined the exact location to store your songs but can't find the music file within. Finally, please share this page on social media if it lives up to your expectations.
Related Articles:
Where is Recycle Bin on Android? How to Find Deleted Android Files?
Where Are Texts Stored on Android? SMS Location, Backup, Recovery, etc.
2023 List of Best Music Managers for Android Phones
Android Music Backup: Different Ways to Back Up Android Songs
4 Creative Ways to Remove Duplicate Songs/Music from Android Phones
[Top 5 Methods] How to Transfer Music from Android to iPhone 13 In Minutes?