How to Backup and Restore Viber Messages on Android in 2023
Instead of making calls or texting messages in the traditional way, Android users tend to use some chatting software for free communications nowadays and Viber is one of their choices. And generally, these Viber users are strongly suggested to backup their Viber messages on Android so that they can restore them from backups while accidentally losing them. Then how to backup and restore Viber messages on Android easily and freely? Here are two options for your reference:
Backup & Restore Viber Messages via Email
The most common and effective way to backup and restore Viber chat history is to make use of email: you can email your wanted Viber messages to make a backup and then restore them from the backup when you lose them. But to successfully complete the backup and restoring process, you need to set up an available email account in advance.
Now let's see how to backup and restore Viber messages via email together!
1. Email your Viber chat history to make a backup
Step 1. Enter the Viber App
Launch the Viber application on your Android phone and then login to your account. After entering the account, you should tap the three-bar icon to display more options. Now you need to find out the option Settings from the list and select Calls and messages.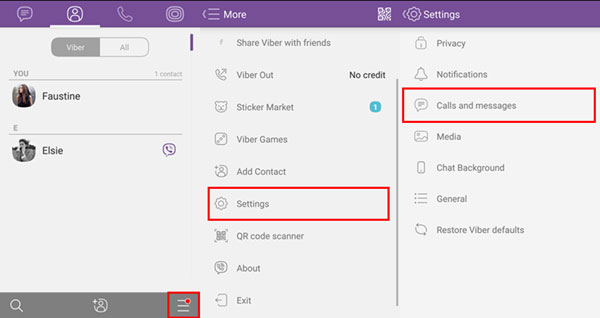 Step 2. Choose email provider
On this page, you need to tap on the option Email message history and then a list of applications will pop up and you can elect one of them to send the messages. Here you can click Email option and then select Microsoft Exchange or Other email applications as you like.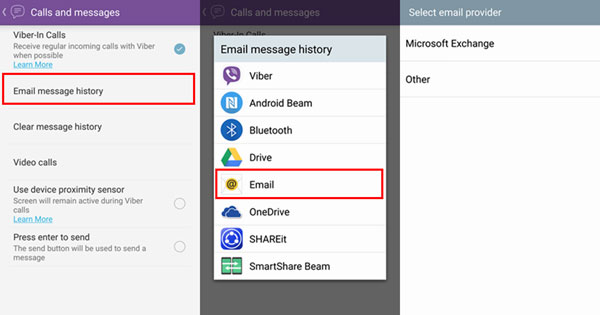 Step 3. Email Viber messages
Now you ought to type in your email address and password to enter the account and then click on Next to continue. Here your phone should be online so that it can connect to the server. When your account is set up and ready to use, you can tap on Done to finish the setup. On the next screen, you need to enter the email address again to receive your backup. Next, you can hit the arrow icon at the top right corner and then your Viber messages will be sent to the email address.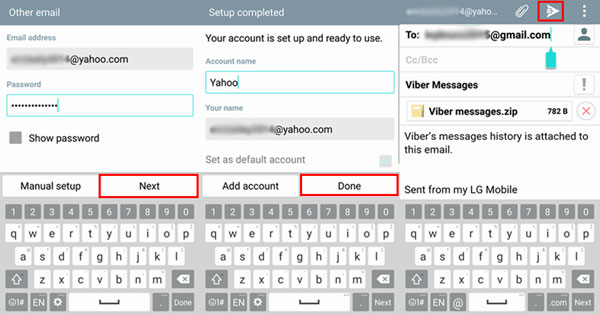 You can also read:
Guide on How to Block or Unblock People on Android Viber
Backup & Restore LINE Chat Messages on Android
2. Restore Viber messages from the backups
Step 1. Download the saved messages from email
At first, you can sign into the email account that you have used to backup the messages. Then you should find the letter from your Android phone and there should be an attachment named "Viber messages.zip" in the letter. Now just click the Download icon to download the backed up messages.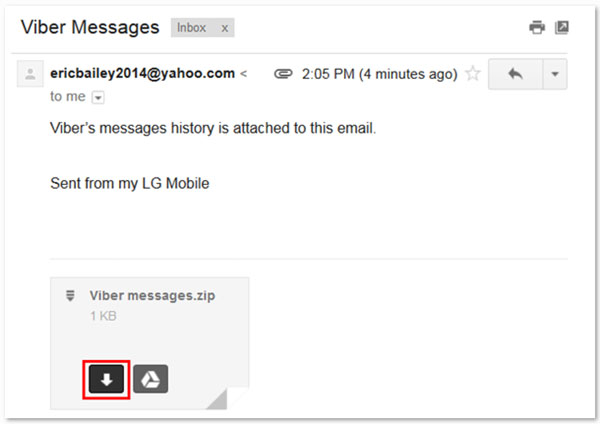 Step 2. Recover Viber chat history on Android
Open the CSV file which is named according to the contact's name. Then you can view your chat history on Viber. These messages are orderly listed according to the sent and received time and both sender and receiver are shown.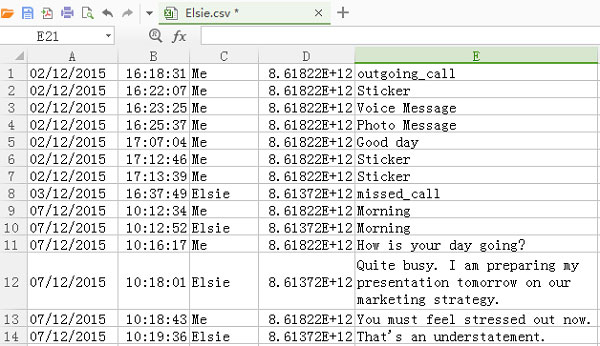 Notice: You should know that not all the Viber messages can be backed up and restored in this way. These messages include:
* Messages from hidden chats;
* Outgoing photos and videos;
* Any unsent message;
* Group likes and settings;
* Conversation settings.
Backup/Restore Android Viber Chat History Locally
Apart from email, you can backup and restore the Viber messages locally as well- Viber equips an in-built feature which allows users to backup and restore messages. However, this helpful feature requires you to register a usable Google account. So if you don't have a Google account now, you need to set up one beforehand. After that, you can backup and restore your Viber messages without any hassle.
Attention: Before backing up and restoring your Viber chat history, you need to make sure that your Viber account has connected to your Google Drive. It is very easy- tap on Connect drive and choose the Google account that you want to save the messages.
1. Backup Viber messages to Google account
Step 1. Find out the Backup setting
Certainly, the first thing you need to do is to login to your Viber account. On the main interface, you will see a logo with three lines beside Viber on the top side. You can tap in it to get more options and then scroll down the page to look for the Settings. Then in the Settings section, you can click on Viber Backup.
Step 2. Start to backup the messages
After that, you will go to the Backup page directly. On this page, you can tap on Back up to begin the backup process. Here, if you have not selected the Google account before, it will ask you to add/choose Gmail. To complete that, you just need to click on settings and then go with the instructions to add your Google account.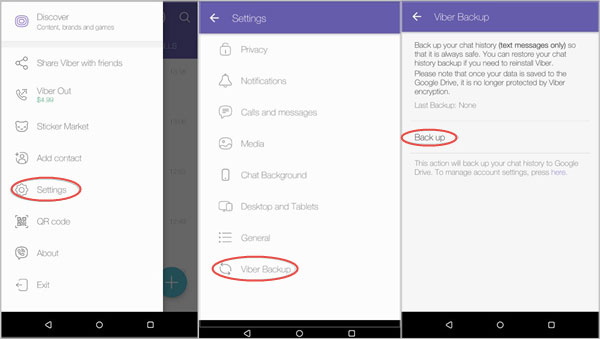 2. Restore chat history from Google account
Step 1. Enter the Viber settings
Open the Viber App on your Android phone and tap on the More option icon. After that, you can simply tap on Settings from the list.
Step 2. Restore Viber messages
In this section, you need to select Account and then enter the Viber Backup page. On this page, you can see two options- Back up and Restore. Here you need to click on Restore and then tap on Restore Now to confirm your option.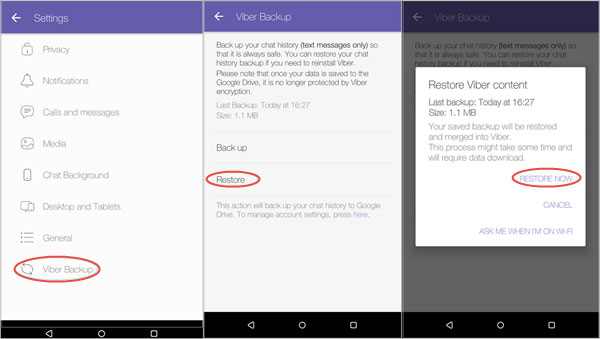 Now your Viber messages will be restored to your Android phone and you can view them freely.
Related Articles:
How to Backup WeChat Media Files on Web WeChat?
How to Recover Deleted and Original Files on OneDrive?
Restore Deleted Files from Google Drive
How to Print out Text Messages from Android Phone? (Best 4 Ways)
How to Print Text Messages from Samsung? - Incredibly Easy