Simple Methods to Transfer Photos Between Sony Xperia and Computer
Due to the development of technology, people can gain more images from a Sony Xperia by downloading pictures from internet or taking photos with the phone camera. But as the storage runs out, people need to release the space to contain more new pictures. In this case, saving the wanted pictures to computer would be good choice. But how to transfer photos between Sony Xperia and computer? You have 3 ways to achieve that goal:
Transfer Pictures between Sony and PC with Sony Photos Assistant
Well, to effortlessly and effectively copy photos from Sony to computer, the best way is to turn to the Sony photos assistant - MobiKin Assistant for Android (Windows & Mac). This tool can help you to sync all or individual images from Sony to computer with simple clicks. And not only photos, other media files like music, videos and more file types like contacts, text messages can be copied between Sony devices and computer as well. You can click the blue icons below to download the free trial version to have a try.
When you complete the software installation, you can start to transfer the Sony photos. Here we will take Windows version as an example.
Step 1. Link Sony Xperia to PC and Open USB Debugging
Launch the software on your computer and connect Sony cell phone to the PC via its USB cable. Then you should enable the USB debugging on the phone if required. After that, the program will automatically detect the connected device and you can see the interface of the tool like below when the recognition succeeds. (If you don't like the USB connection or the connection fails, you can try to connect via Wi-Fi.)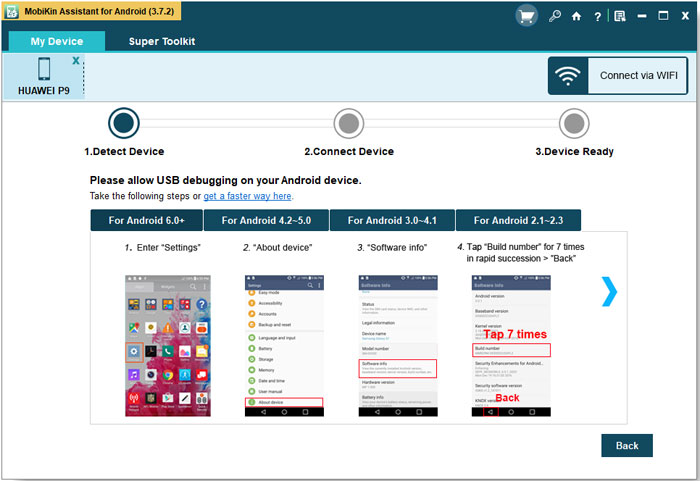 Step 2. Preview the Files
Choose "Photos" tab from the left side menu and the program will scan the connected Sony phone and show all the photos in the right panel. You can carefully preview the photos scanned out.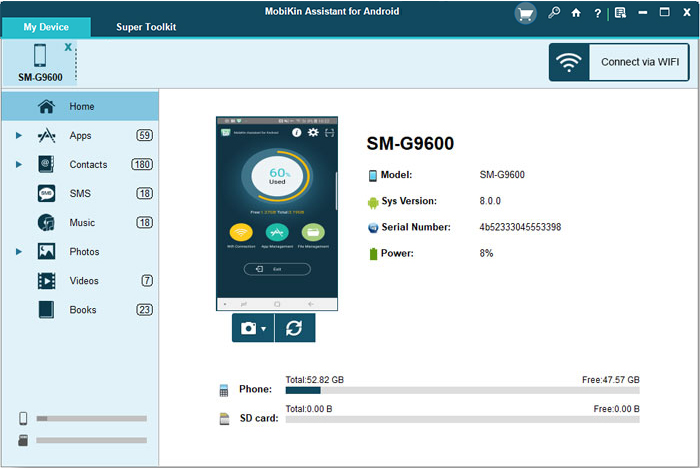 Step 3. Select the Photos and Start Syncing
Choose the photos you want to transfer to computer and click "Export" button.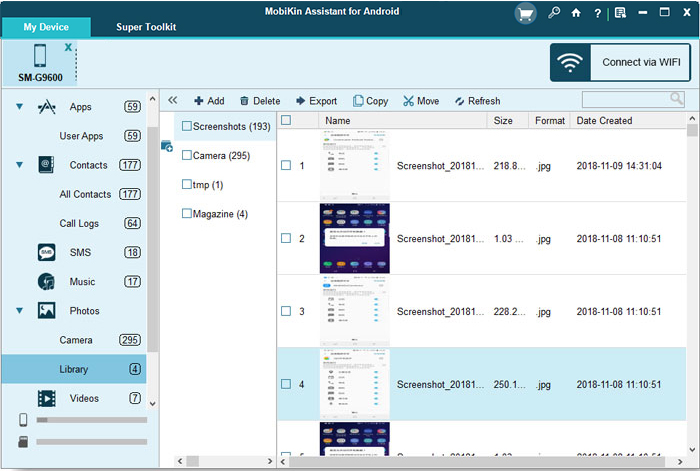 Apart from exporting photos or other files, you can also use this tool to import, delete, or add data to Android phone.
Copy Sony Photos to Computer via Dropbox
Another way is to sync the photos to computer via Dropbox. Dropbox is a free cloud server that allows you to store different files like photos. So you can first sync the images to the server and then download them to your computer. Here's how to backup Android photos with cloud:
Step 1. Download & Install Dropbox
Download Dropbox App from Google Play Store and go with the wizard to properly install it on your device.
Step 2. Upload Photos to Dropbox
Open the application and sign in with your account. Then you can tap on "+" icon and choose "Upload photos or videos". After that, you can elect all the pictures you want to save from your phone and upload them to the Dropbox App.
Step 3. Download the Uploaded Pictures to Computer
Now you can go to dropbox.com on your computer and login to the same account that you used to upload images. Then you can simply download them to your computer.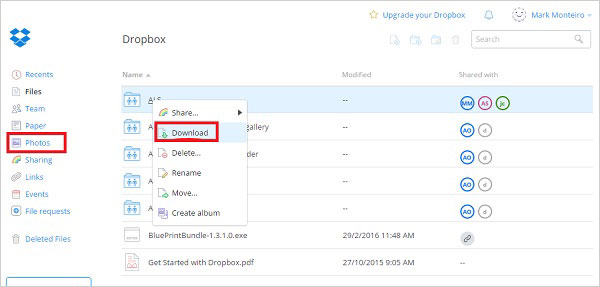 Certainly, other cloud servers like OneDrive, Google Photos, etc. are also available here. You can choose the one you like to transfer and backup your photos. And supposed that you want to transfer photos from computer to Sony, you can also upload the images on computer to the cloud server and then download them to your Sony device.
Move Images Between Sony Xperia and Computer by Copy & Paste
The traditional way to move photos between Sony Xperia and computer is copy & paste. But this way would be a little bit troublesome. If you want to have a try, you can also follow the steps below:
Step 1. Build a Connection Between Sony and Computer with USB Cable
Use an Android USB cable to connect your Sony Xperia phone to the computer and turn on the USB debugging on your device if required. (If you get a prompt about selecting a connection type, just choose the "File Transfer" option.)
Step 2. Open Your Sony on Computer
Enter "This PC" on your computer and then click your Sony device to open it.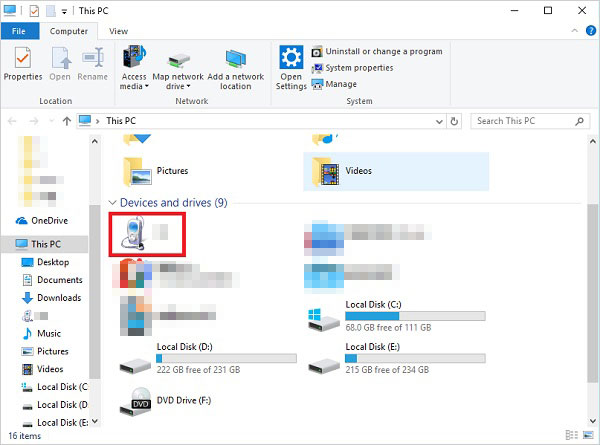 Step 3. Find the Photos
Find out and double-click the folder of "DCIM" to open it and then double-click the "Camera" folder where your photos are stored. You have to open other folder if your photos are not in the selected album.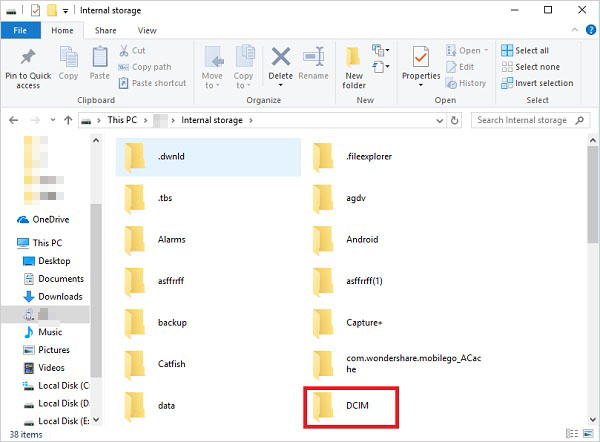 Step 4. Copy the Wanted Pictures
Select the photos you want to move to your computer and right-click to choose the "Copy" option. Or you can directly press "Ctrl + C" to copy these images.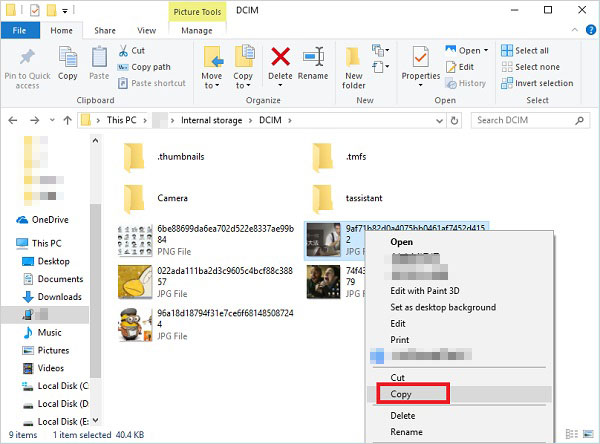 Step 5. Paste the Images
Create a new folder where you want to save the copied Sony photos. Then right-click to choose the "Paste" option, or you can directly press "Ctrl + V" on your keyboard to paste the photos to the folder.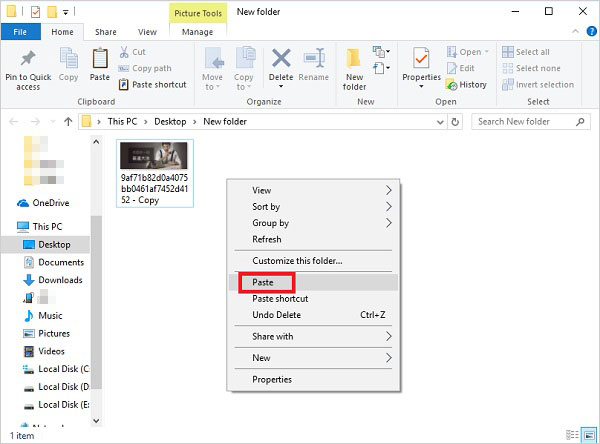 If you want to transfer photos from computer to Sony, you can select the photos on computer and copy and paste to the "Camera" folder on your Sony phone.
Final Thoughts
Above are three common and easy ways to transfer photos between Sony Xperia and computer. You can compare and select the suitable one to move your images. For those who want to perform the transferring process effortlessly and securely, the first means would be the optimal way.
Related Articles
How to Edit Files with LG Desktop Manager on PC or Mac
How to Transfer or Copy Contacts from HTC to Computer
How to Transfer Contacts from Android to Computer
How to Transfer Text Messages from Android Phones to Computer