How Can I Back Up and Restore Android Phone
People usually forget to back up the data on their Android phones or tablets. As a matter of fact, it is very important for all Android users backing up the contents of their devices to computer. A lot of smart phones running Android OS don't have an assistant to help back up and restore data like contacts, apps, call logs, text messages, and media files like music, movies, photos and books. Therefore, we have written this article to help you with some methods to back up data and restore Android phone or tablet. Now you can follow the steps below to transfer data from your Android device to the computer as backup and learn how to restore Android phone as well.
Best Way to Backup & Restore Android Devices
MobiKin Assistant for Android is a reliable Android backup & restore tool on the market, it allows users to backup data like contacts, text messages, photos, videos, apps, music, etc. from Android to desktop computer directly, and you're also allowed to restore the backed up files to your Android devices with one simple click. It is a 2-in-1 program, that can deal with all your problems related to Android backup and restore. What's more, this program have Windows and Mac versions for your reference.
Let's have a brief look on the detailed tutorial of how to perform 1-click Backup & Restore function on your Android devices.
Step 1. Connect Android to computer and launch the program, then this software will detect your device and require you to enable USB debugging on your device. Just follow the prompts on the main screen to make your phone be recognized by the program.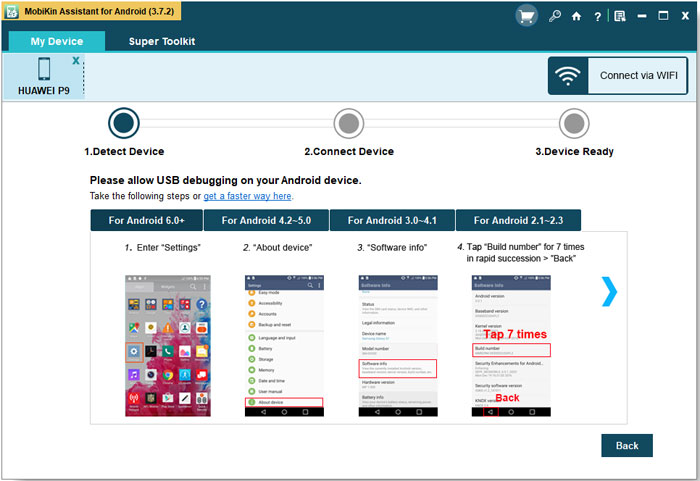 When your phone is successfully recognized, you'll see an interface like below: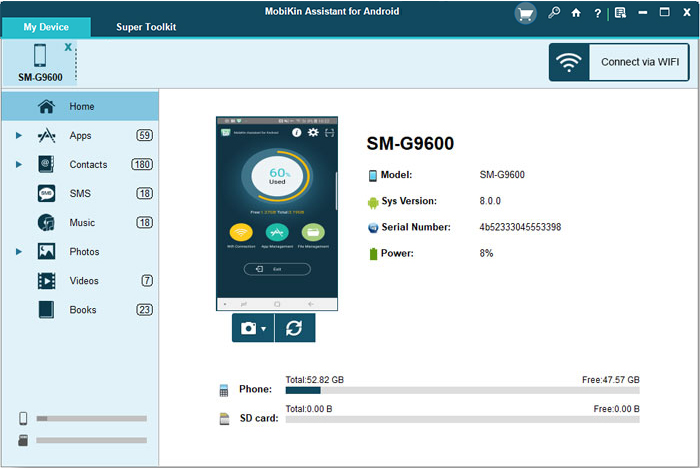 Step 2. Tap on "Super Toolkit" on the top menu, and then click "Backup" or "Restore" function to perform the Android Backup & Restore for you.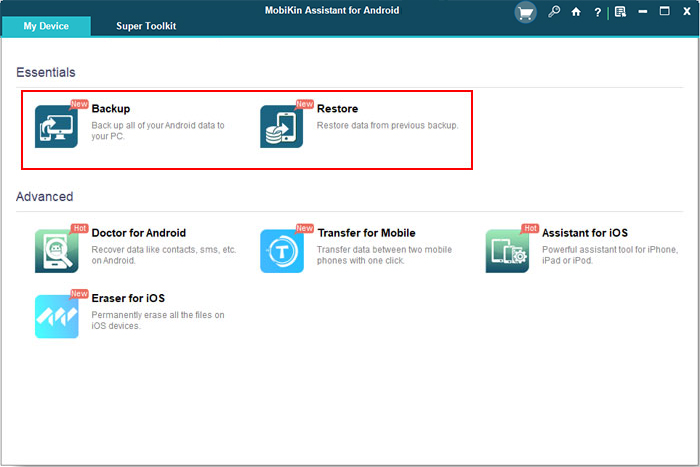 - Backup Your Android Data to Computer
When you select "Backup" option in the main screen, you'll see a pop-up window on the computer. Here, just choose the content you wish to backup, and specify an output folder according to your own needs. Then, click "Back Up" button to begin the process.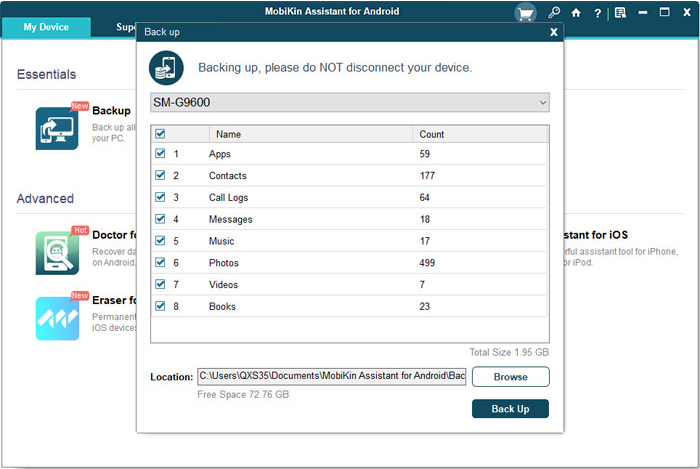 - Restore Data to Android Devices
Tap on "Restore" and tick the files you wish to restore in the pop-up window. Click on the "Restore" button to start transferring data to Android device as you like.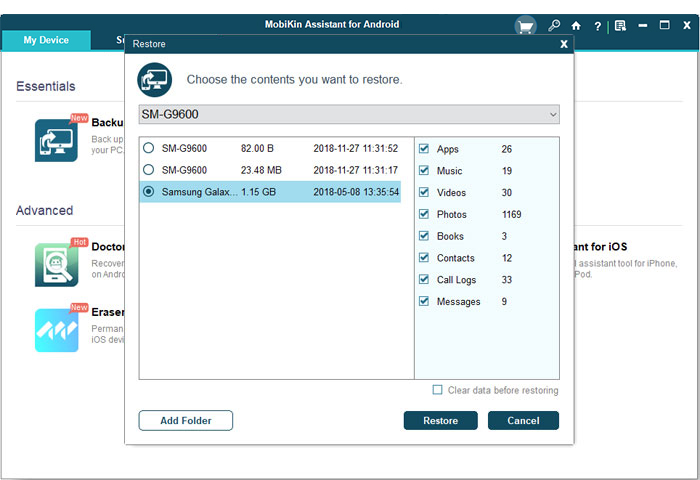 Video Tutorial
Can't Miss:
How to Backup Android Contacts to Computer
How to Backup Text Messages from Android to Computer
How to Create Android Backup?
Solution 1: Back up and sync your Android device to Google
Google doesn't back up everything on your Android device, and it doesn't offer an online page to manage your backups. Make sure your Google user account actually copied the contacts from your phone before you rely on it to restore them to your device. If you don't have a Google account yet, you can set one up on the official website. Depending on which device you own, you might be able to restore your contacts, wallpapers, and Wi-Fi settings to it through Google. Choose these settings on your device to enable syncing and backups: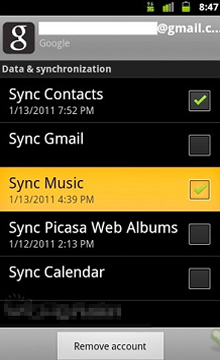 Turn on backups: Choose Settings > Privacy and check the "Back up my data" and "Automatic restore" checkboxes.
Enable syncing: Choose Settings > Accounts and sync and determine which data you want to sync - for example, contacts, email accounts, and social media. Tap the entry for your Gmail account and you'll see additional options for syncing Contacts, Picasa Web Albums, and Calendar. Remember to turn off your carrier sync in Settings > Accounts and sync.
Use apps for specific backups: Some of the data on your Android won't get backed up by Google. For example, if you want to back up your SMS and MMS messages, use an app like "SMS Backup+". If you want to back up your photos to Flickr, there's an app for that, too.
Solution 2: Back up your Android device to Lookout Mobile
Lookout Mobile's free app backs up your contacts to its server, and you can manage your information on a device management page. Lookout Premium also backs up your photos and phone calls, and can transfer your data to a new Android device if you need to replace your original.
After you install and activate the Lookout Mobile app, register your account on the official website. You can schedule regular backups or perform a backup manually through the website.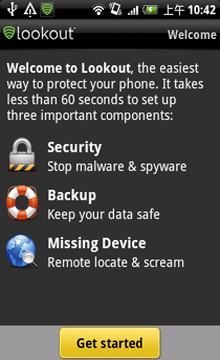 Backing up with Lookout Mobile is a reliable option. You can control your backups through its web portal and keep the contacts on your phone separate from the contacts in your Google+ network and other Google apps. In addition, Lookout Mobile promotes security and does not require you to root your device to use it.
Ways to Restore Android Smart Phones?
Restoring from Google
Make sure that your phone's contacts are actually synced with your Google account before you wipe your device. Google should restore them automatically after a device wipe.
Restoring from Lookout Mobile
1. Go to mylookout.com and log in to your account.
2. Choose Dashboard > Backup > Restore.
3. Select the device you'd like to restore, and the data you want to restore by selecting its date and snapshot.
4. Click the Restore button.
Note: You may have found that MobiKin Android Backup Manager could be the simplest way for you to backup and restore Android data in the daily life. So please don't hesitate to download a free trial version to have a try now.
Related Articles
Tips to Transfer Text Messages from Android to Computer
How to Manage Motorola Cell Phone Data with Motorola PC Suite Alternative
How to Transfer Contacts from Android to Computer