iCloud to Android Transfer: How to Transfer Data from iCloud to Android Fluently?
At present, people switch from one device to another periodically, and it's not uncommon to transfer data from an iPhone to an Android phone. However, copying data from iCloud backup an Android can be a daunting task for many users. Luckily, there are several approaches available to make it much easier. Well, this tutorial details three ways to perform iCloud to Android transfer. Additionally, we will provide useful tips to follow when making the migration, as well as frequently asked questions to help you navigate any potential issues that may arise.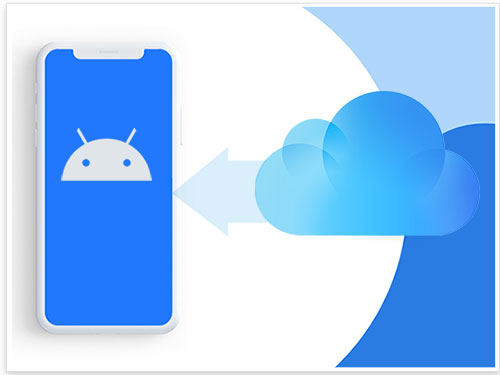 Way 1: How to Transfer Data from iCloud to Android Easily & Quickly
Are you looking for a simple way to transfer various types of data, such as contacts, photos, videos, and messages, from iCloud to an Android device without any restrictions? If so, iCloud to Android Transfer can be an excellent solution for you. Before proceeding, please check that you have enabled the backup option in your phone's iCloud "Settings". Once the backup is made, you can use it to transfer the data to your Android device easily.
What makes iCloud to Android Transfer so impeccable?
Easily transfer data from iCloud to Android without delay.
Back up files from one Android phone and restore them to another Android/iPhone.
Support various data categories such as contacts, calendars, call history, gallery, videos, messages, audio, apps, and more.
Preview and selectively choose the specific items you want to transfer.
Well compatible with virtually all Android phones/tablets, including Samsung, Huawei, Sony, Motorola, Xiaomi, LG, DELL, Google, Vivo, OnePlus, HTC, OPPO, etc.
It won't let out your privacy.
How to restore iCloud backup on Android via iCloud to Android Transfer?
Step 1. Run the software and link Android to a computer
Begin by running the program on your computer and selecting "Phone Backup" from the welcome screen. Connect your Android phone to the machine and wait for it to be recognized. After that, click the "Restore" button to proceed.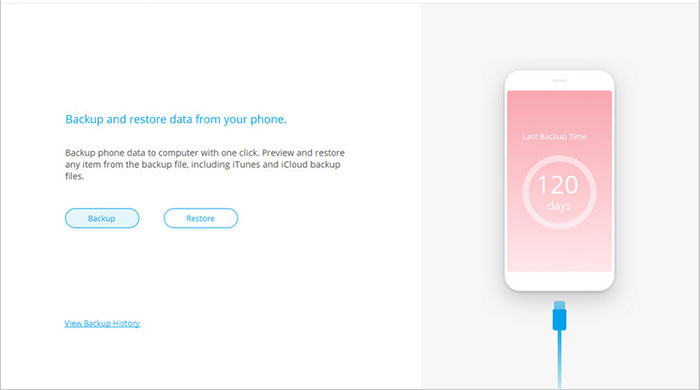 Step 2. Pick "Restore from iCloud backup"
Next, from the left panel, click on "Restore from iCloud backup". Next, you will then be prompted to log in to your iCloud account.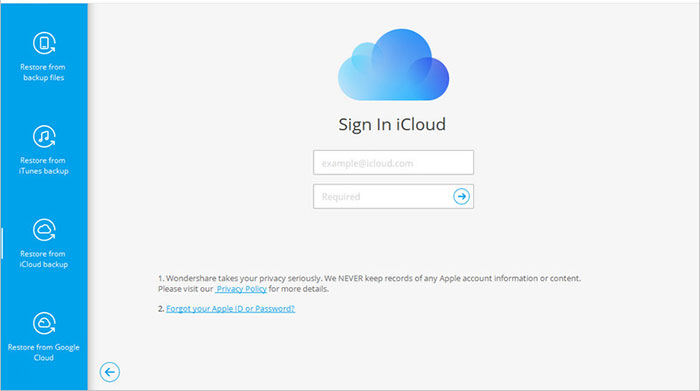 Step 3. Verify your identity
If you have 2-factor authentication enabled, you will need to verify your identity by entering a one-time code.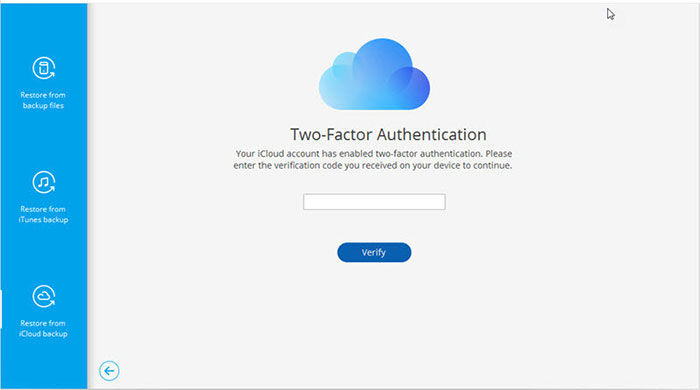 Step 4. Choose the iCloud backup to download
Once done, a list of iCloud backups available will be displayed. Select the one you wish to restore and click on "Download".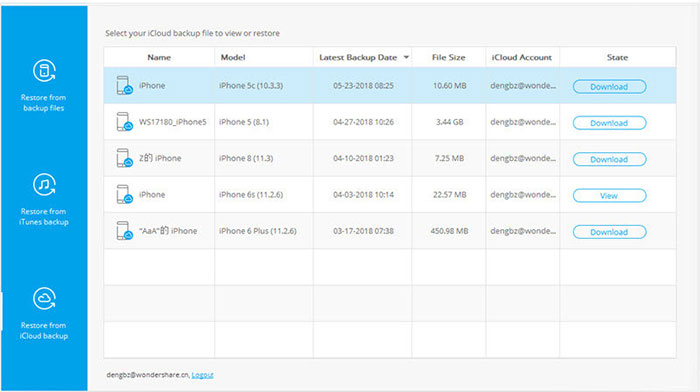 Step 5. Transfer iCloud to Android instantly
When the backup has been downloaded, you will be able to preview and choose which items you want to restore. Finally, click "Restore to Device" to begin the restoration.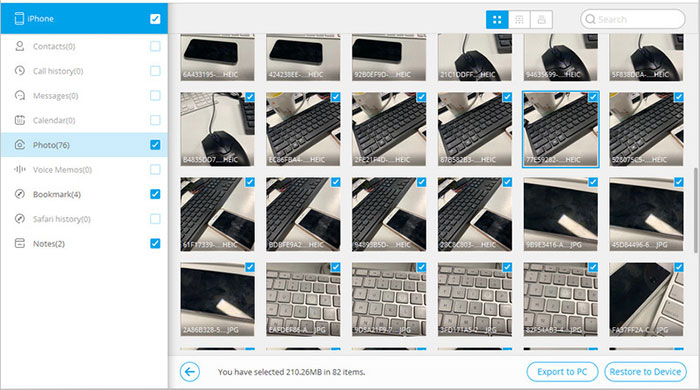 You Might Also Enjoy:
Way 2: How to Transfer iCloud Backup to Android from iCloud.com (Contacts Only)
If you do not want to make the transfer via a 3rd-party program, there is no need to worry, as you can still transfer an iCloud backup to an Android device by utilizing a .vcf file. However, it's important to note that this method only transfers iCloud contacts.
How to access iCloud backup on Android from iCloud.com?
On your computer, go to iCloud.com and sign in to your iCloud account.
Once you've logged in, click on the "Contacts" option to access your contact list.
To select all your contacts, press "Ctrl + A" if you're using a PC or "Command + A" if a Mac is around you.

Find the "Gear"/"Settings" icon at the bottom left of the screen and left-click on it.
Then, select "Export vCard " to create a .vcf file containing all of your iCloud contacts. (How to export contacts from iCloud to Outlook?)

After downloading the .vcf file, transfer it to your Android device using either a USB or Bluetooth connection.
On your Android device, open the file to import your contacts. This will transfer all of your iCloud contacts to Android.
Way 3: How to Restore iCloud Backup on Android Using Smart Switch (Samsung Only)
Requirements and instructions before proceeding:
The Android device to which you are transferring data is a Samsung.
Smart Switch is compatible only with iCloud backups created on iOS devices with iOS 9 or later.
It is important to ensure that Smart Switch is installed on your Samsung device before proceeding. If it is not installed, you can download and install it from the Google Play Store.
Digital Rights Management protection may prevent music purchased before 2009 from being transferred.
Smart Switch may not be compatible with all Samsung devices.
How to transfer iCloud to Android via Smart Switch?
Open this iCloud to Android transfer app on your Android device and select the "Receive data" option.
Choose the "iPhone/iPad" option and select "Get data from iCloud instead" at the bottom.
Log in to your iCloud account when prompted. If you have 2-factor authentication turned on, keep your iOS devices nearby to receive your confirmation code.

Smart Switch will scan your iCloud for the data that it can transfer, and once it's complete, you can choose which data types you want to copy.
Next, hit the "Transfer" button to commence. (Restore from iCloud paused?)
After the transfer is complete, you'll see a page with the "Data transfer results", showing how many items were moved and their size.
If you're transferring text messages, Smart Switch will prompt you to turn off "iMessage" on Apple's website to copy all of your SMS. Finally, hit the "Done" button to complete the transfer and close the Smart Switch app.
Recommended Reading:
FAQs on iCloud to Android Transfer
Q1: How many iCloud backup files are stored?
By default, iCloud stores the three most recent backups for each device that is using your iCloud account. However, it's important to note that the amount of storage available for backups is determined by the iCloud storage plan you have. (Not enough iCloud storage?)
Q2: What happens to iCloud if I transfer the backup to Android?
It doesn't delete your iCloud backup, and you can continue to back up your iPhone or other Apple devices using iCloud. However, if you remove your iCloud backup manually, it will be deleted permanently from iCloud and won't be available for transfer to any other device, including Android.
Q3: How to access iCloud backup on Android?
You can access iCloud backup from Android by transferring the backup to Android, using iCloud.com, or resorting to iCloud for Windows. It's important to note that not all data stored in your iCloud backup can be accessed on Android. For instance, files like iMessage and FaceTime cannot be viewed on Android due to the proprietary nature of Apple's system.
Conclusion - Tips to Follow When Transferring iCloud to Android
By and large, firstly, you can move your contacts from iCloud to Android directly through iCloud.com. Secondly, while Smart Switch is one option, it has limitations on backup situations and device compatibility. Thirdly, iCloud to Android Transfer is undoubtedly your best bet, not just because it is an all-rounder that supports a wide range of file types and imposes no limits on backups and Android phones/tablets.
Finally, here are some other helpful tips to adhere to when copying your iCloud backup to Android:
Verify if you have your desired iCloud backup.
Check the compatibility of the program you chose.
Use a reliable tool to copy your wanted data categories.
Inspect your Internet connection if the method relies on the Wi-Fi connection.
Ensure your Android phone has enough storage space.
Related Articles:
Best 8 Android Backup Software & Apps to Back up Your Android Data
How to Restore WhatsApp Backup from iCloud to Android [3 Easy Methods]
[Top 5 Ways] How to Bluetooth Photos from iPhone to Android?
iCloud Link Not Working/Uploading? Here're 10 Solutions [Updated]
5 Brilliant Ways to Recover iCloud Password? [Must-read]