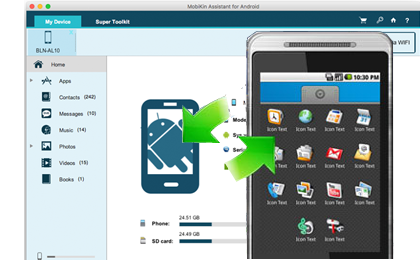 Transfer File & Media from Android to Mac Easily
It can be devastating to discover your Android phone or tablet has crashed and your data was lost, right? So having your Android data backed up is vital to avoid stress and frustration. And it is undeniable that you must have saved unlimited files like movies, music, photos, books, etc. on your Android phone or tablet. So a good Android manager software must have the feature of transferring these files from your Android devices to Mac computer freely.
Transfer data like contacts, messages, apps, photos, music, videos, books, etc. from Android to Mac via a simple USB cable or WiFi easily. (If you wish to connect Android to Mac with WiFi, you need to download and install Android Assistant Apk file on your device.)
Import all types of data from Mac to Android within a few simple click, such as contacts, SMS, apps, media files, etc.
Media files like photos, videos, or music can be imported, exported or deleted in the program as you like. (Click here to learn how to manage your Android device with the program in details.)
Backup or restore data between Android and computer within 1 or 2 simple clicks.
Transfer & Edit Your Contacts Freely
As one of the most important data on the phone, contacts always contain lots of vital information about your life and work. So to avoid losing these data by mistakenly deleting or any other reasons, you'd better back up them to other secure places regularly. That's also the reason why this program is here. With it, you can:
Backup the contacts list from the phone to Mac disk selectively or in a batch in various formats, such as CSV, VCF, HTML and Bak.
Directly add new contact info to your phone from Mac, edit/modify existing Android contacts, or delete unnecessary contact from your phone via Mac without restrictions.
Import or sync contacts backups from Mac to Android as you like, it supports the backups in .vcf or .json, .bak format.
Send & Reply Texts on Mac Seamlessly
Do you want to free more phone's internal storage space but keep the vital messages? Tired of sending & replying messages by using a mobile phone while you're working on the Mac for a long time? Now, the new updated MobiKin Assistant for Android (Mac Version) can help you solve the trouble.
Hit one simple button, then you'll have the ability to export and save the messages on your Android device as HTML, CSV, Text and Bak formats on the Mac.
Restore message backups from Mac to Android easily, .json and .bak are supported now.

(New Feature)

Mass texting a message to multiple people in the program at one time.
Send or reply the messages in the program directly by connecting your Android phone to the Mac via its USB cable.
Organize Your Apps Effortlessly
We like to install lots of apps on the Android phone and tablet for enjoying the convenient digital life. But with the increasing number of apps on your device, you may feel it is hard to manage these apps, right? Thus, you need the help of the recommended MobiKin program.
Install or uninstall any Android app on the program directly.
If you have gotten some APK files on your Mac, you can use this program to load these APK to your device with one simple click.
Backup all apps on the Android device to Mac without any limitation.