How to Recover Lost Contacts/Text Messages from Xiaomi?
For most people, recovering contacts and text messages from Xiaomi device is imperative since the use of this information is not only for personal reasons, but for business reasons too. Specifically, when the list of contacts may include all of a person's clients that they need to reach on a regular basis. And text messages may contain many private and crucial conversations between the phone user and his cooperative partners. Without this information, the person may be in this position of losing important and valuable clients from their company.
With that in mind, today we are going to present an excellent Xiaomi data recovery program - MobiKin Doctor for Android or its Mac version - Doctor for Android Mac that can recover deleted or lost contacts and text messages from your Xiaomi smartphone back to live. Apart from that, this Xiaomi Data Recover can also restore call logs, photos, videos, music and apps that are lost on any Android devices. Additionally, this software comes highly recommended as an effective tool in avoiding a wide variety of different issues. For example, the user does not have to worry about part of the data being restored or out of sync.
Refer to the guides:
Recover Lost Contacts from Micromax Phones
Recover Deleted Photos from Samsung Galaxy
The instructions provided in the below are also so clear and easy to follow that virtually any user can complete the contacts & SMS recovery for Xiaomi phones with ease. So, no tech head is needed to recover lost Xiaomi Android data.
How to Retrieve Deleted Contacts & SMS on Xiaomi Phones?
Step 1: Run the Xiaomi data recovery program
Run the installed Xiaomi data recovery tool and connect your Xiaomi device to the computer with a USB cable. The program detects the connected Xiaomi phone automatically and display it on interface.
Note: Always make sure that you have opened USB debugging mode on your Xiaomi phone so that it can be detected by the recovery program.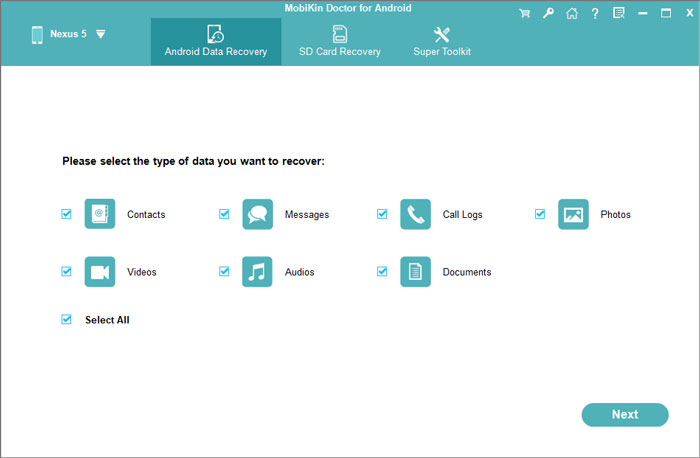 Step 2: Choose file types to scan
Choose the data tabs you want to recover. For example, if you only want to recover contacts and text messages, you can select the "Contacts" and "SMS" only. Then, click on Next button on the bottom right corner and the program will automatically scan your Xiaomi phone to find out all lost contacts and messages.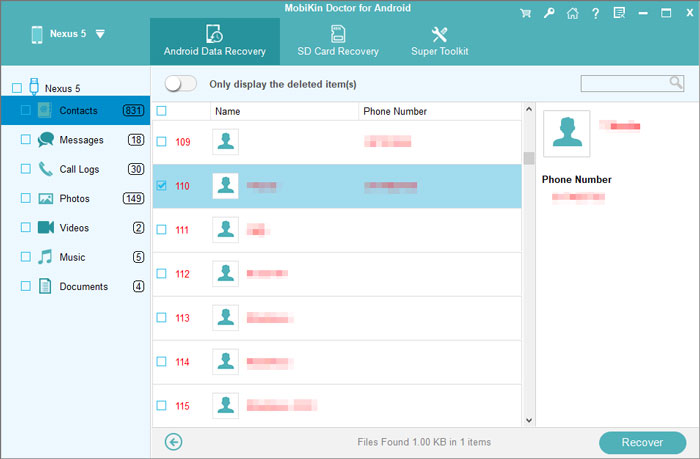 Step 3: Recover contacts & text messages from Xiaomi
All the Lost and deleted Xiaomi contacts and text messages are displayed on the right side window in red color. Just preview them and tick off those you want to recover and hit on the Recover button to save them to your computer.
Round Off
See, you can successfully recover lost or deleted text messages and contacts in just three steps. Now, continue to use MobiKin Doctor for Android to restore more phone content you want to get back, such as precious photos, beloved videos and so on.
Related Articles
How to Recover Lost Videos from HTC Phones?
How to Recover Photos/Videos from Lenovo Phones?
My Pictures Disappeared from My iPhone. Here's the Full Fix
How to Recover Data from Water Damaged Android Phone or Tablet?
Ultimate Guide on How to Recover Deleted Songs/Music from Android