4 Simple Ways to Recover Deleted Photos/Videos from Lenovo Phone
Lenovo is a strong player in mobile phones and computer hardware. This brand gives its users the ability to take sharp and vivid photos. People in the information age cannot afford to lose photographs of great significance. But sometimes, we may miss them for various reasons, such as phone reset, accidental deletion, Micro SD formatting, virus attack, etc. When this occurs, how to recover deleted photos from Lenovo phone may come to our mind.
Well, we will outline four great methods to help get deleted photos/videos back in this informative guide. Read on for details now.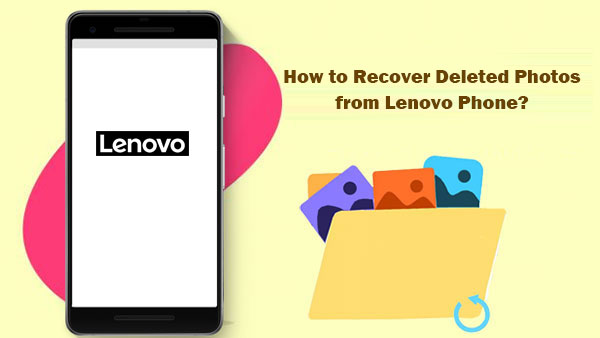 Part 1: How to Recover Deleted Photos from Lenovo Phone via Laptop/Desktop
This could be the easiest way to restore deleted media files from Lenovo phones. You can do this by drag & drop without Lenovo Android data recovery software/apps as long as you have made a backup of photos/videos on your computer.
How to retrieve deleted photos from a Lenovo phone via a computer?
First, connect your Lenovo phone or tablet to a desktop/laptop via a USB cable.
On your PC, click on "My Computer"/"This PC" and find your device under "Removable Storage".
Now select the photos/videos from the PC, copy and paste them on your Lenovo phone's internal storage.

All your files will then be stored on Lenovo, after which you can disconnect your device.
You May Be Interested in:
Part 2: How to Recover Deleted Photos from Lenovo Tablet/Phone via SD Card
Your photos are stored on your phone that can be seen in the internal memory or SD card. If you're not sure where your lost pictures are previously saved, you can try to find them on your SD card, and if you're lucky, maybe you can find them there. (Have a damaged MicroSD card? Learn how to fix corrupted SD cards on Android.)
To restore deleted pictures from Lenovo K800/K900/A2010/A820 via SD card, you can:
Insert your memory card on Lenovo and connect it to a PC. Or you can even connect the SD card to the computer via a card reader.

After the card is recognized, open it and look for the media files you stored previously and are deleted from the phone.
Select the images or videos you want back to the phone.
Copy and paste them into your phone's internal storage.
Part 3: How to Retrieve Deleted Photos from Lenovo Phone via Google Photos
Some Lenovo users may configure the photos or videos on their Lenovo phones. If they are accidentally deleted from your Gallery, it is possible that they can be found in Google Photos, provided that you activated the cloud in advance.
Note: If you delete a photo that's backed up in Google Photos, it'll stay in the trash for 60 days. If you delete an item from Lenovo with Android 11 and up without it being backed up, it'll stay in your trash for 30 days.
How to recover deleted photos from Lenovo tablet/phone via Google Photos?
Open the Photos app from your Lenovo phone.
Go to the menu and push "Trash".
Touch the photos or videos you want to get back.
Tap on "Restore" to fetch your wanted items.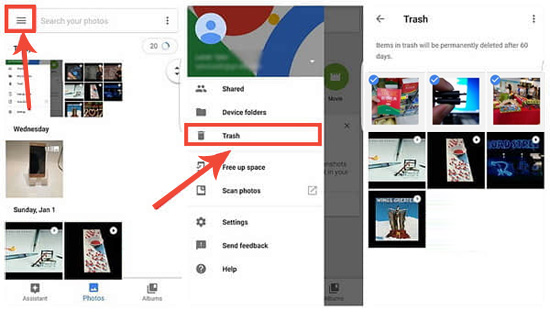 Read Also:
Part 4: How to Recover Deleted Photos/Videos from Lenovo without Backup
There is a lot of Lenovo phone data recovery software out there. And MobiKin Doctor for Android (Win and Mac) could be an ideal one. This product gives you the freedom to deeply scan and preview lost files on the Lenovo internal as well as SD cards. You only need to install it on your PC/Mac and follow the on-screen guide to recover what you desire within a short time.
Core features of MobiKin Doctor for Android:
Recover deleted photos/videos from Lenovo phone's internal memory or SD card without backup.
The supported data types: photos, videos, movies, audio, music, text messages, call logs, contacts, and more.
You're enabled to preview all the pictures before recovery.
Virus-free, easy to use, fast scanning, and high success rate.
Run smoothly on various Android devices, covering Lenovo K800/K900/K12/A2010/A820/A7000/A600/K8 Note/K8 Plus/K6 Power/NZ/Vibe S1/ZUK Z1, Samsung, Huawei, Xiaomi, LG, Motorola, Sony, OPPO, etc.
It won't let out your privacy.
How to recover deleted photos/videos from Lenovo via Doctor for Android?
Step 1. Let the program recognize your Lenovo phone
Download this Lenovo mobile recovery software before installing and running it on your computer. Link Lenovo to the computer via USB. Next, follow the on-screen instructions to let the software identify your device.
Step 2. Scan for the deleted photos/videos
After the recognition, please choose "Photos" from the screen, followed by "Next". The tool will scan your device at once. If it fails to scan out your wanted images, they must be in the phone's internal memory. Just do as the interface implies to root your phone for a deep scan.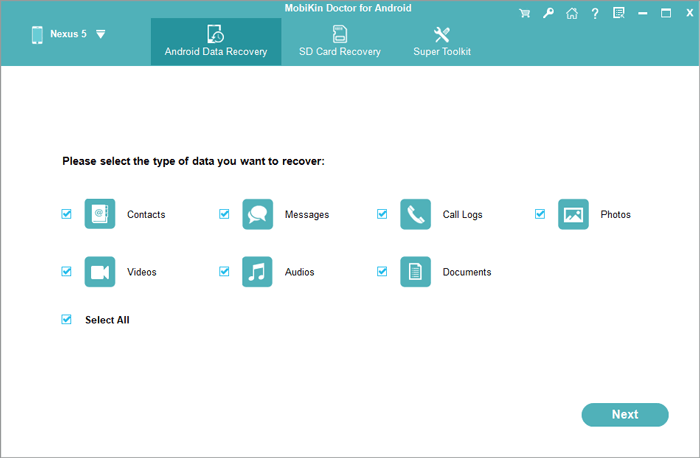 Step 3. Recover deleted photos from Lenovo phone
The utility will list all your Lenovo pictures and videos on its interface. Next, you can preview and select the items you need and click "Recover" to save them onto this computer.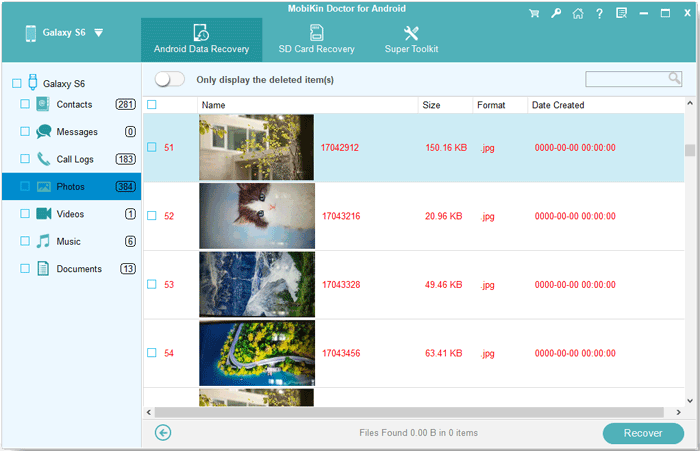 Video guide:
Frequently Asked Questions for Lenovo Mobile Data Recovery
Q1: Can I recover data from a broken Lenovo phone?
Accidentally broke the screen of your Lenovo phone? If you don't know how to retrieve data from a disabled phone, please follow the tutorial to learn how to get pictures off a phone with broken screen.
Q2: Where's the recycle bin in my Lenovo phone?
In fact, there's no recycle bin in an Android-based phone. However, it is possible to use a typical Recycle Bin app like Dumpster Bin. By using it, you have the chance to see your deleted photos in its bin.
Q3: What kind of data can be recovered from Lenovo?
Some Lenovo backup programs can help back up and restore multimedia content and some other personal info. But if you didn't take a backup of your device, you can use the Lenovo mobile data recovery software described in Part 4. It lets you recover such items as contacts, messages, call logs, in addition to your media files.
Q4: Why can't I find my deleted photos/videos in Lenovo?
The photos/videos have been deleted for over 60 days.
You deleted it from Gallery, and your phone does not keep a backup.
You didn't activate Google Photos/Google Drive.
The files are deleted permanently.
The End
Now it's time to conclude this passage:
If you're in the habit of backing up your Lenovo phone to your desktop or laptop, there may be a copy of your deleted photos/videos on your computer.
You can also check your SD card on your Lenovo phone; maybe you store a duplicate there.
Those who have activated Google Photos can try to recover deleted images from the cloud.
We do hope you can retrieve the pictures through the techniques above. But often, you lose them before you realize you have to make the backup, and that's when MobiKin Doctor for Android comes to work.
Related Articles:
How to Recover Snapchat Photos on Android? 3 Easy Ways for You!
4 Optimal Methods to Transfer Data from Samsung to Lenovo
Lenovo File Transfer | How to Transfer Lenovo Phone Data to Computer?
Easy Ways to Transfer Files from Lenovo to iPhone 13
How to Transfer Data from iPhone to Android? It's a Piece of Cake