How to Recover Deleted Text Messages on Android without Root [Best Practices]
Text messages have become integral to our communication, containing significant conversations and information. However, it's not uncommon to accidentally delete these SMS from our Android devices. Thankfully, you have the ability to recover deleted texts without root access. Well, this tutorial covers effective methods to retrieve those lost messages and details them with step-by-step instructions. Now, let's start by recognizing Android root.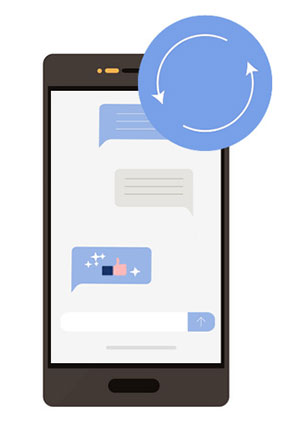 Part 1: What Is Android Root?
Android root, or "rooting", is gaining administrative control over the Android operating system. (Is my phone rooted?) It allows users to access the entire file system, customize settings, remove bloatware, install custom ROMs, and run apps that require root access. Rooting offers greater control and flexibility but may void the warranty and pose security risks if not done correctly.
Recommended for You:
Part 2: How to Recover Deleted Texts without Root Using Google Drive
This avenue relies on having previously enabled the backup and sync feature in Google Drive for your text messages. If you haven't done so, or if the backup does not contain the desired messages, alternative data recovery methods or third-party apps may be necessary. Learn how to recover text messages without rooting via Google Drive:
Open the Google Drive app on your Android device.
Tap the three horizontal lines (menu icon) to access the sidebar.
Go to "Settings" and make sure "Backup and sync" is turned on for your Google account.
Open Google Drive and tap the three horizontal lines to access the sidebar.
Select "Backup" or "Backups & Sync" and check if your text messages are listed there.

If you have accidentally deleted SMS and need to recover them, performing a factory reset on your device is advisable. Note that this will erase all data on your device, so ensure you have a backup of important files and data before proceeding.
After that, during the setup process of your Android device, sign in with the same Google account used for backup and sync. On the "Set up your device" screen, you should see a prompt to restore your apps and data. Tap "Restore" or "Restore from Drive" and select the backup that includes your text messages. (Google Drive not working?)
Part 3: How to Recover Deleted Text Messages without Root via SMS Backup +
SMS Backup+, one of the best SMS recovery apps for Android without root, is a free app for recovering deleted text messages on Android without a computer. To proceed, simply enable IMAP in Gmail and connect the app to create backups. It will then automatically save backups to your Gmail. To know how to recover deleted messages without root using SMS Backup +, follow these steps:
Download and install the SMS Backup + app from the Google Play Store onto your Android device.

Open the SMS Backup + app and tap "Connect" to link it to your Gmail account.
Provide the necessary permissions for the app to access your Gmail account.
In the app, go to "Settings" and adjust the backup options according to your preferences. You can back up SMS, MMS, call logs, and more.
Tap "Backup" or "Back Up Now" to back up Android text messages to Gmail.
Open a web browser on any device, and sign in to the Gmail account that you connected with SMS Backup +.
In your Gmail account, search for the label "SMS" or "SMS Backup" to locate the messages that have been backed up.
Browse through the backed-up messages and find the ones you want to recover.
Note: Likewise, you'll need a backup to recover deleted messages using this app. The initial setup and Gmail connection can be tedious, but it's a one-time process. Once set up, you can create regular backups at no cost. This open-source app provides transparency, keeping your data under your control.
Other Recommendations:
Part 4: How to Recover Deleted Texts on Android without Root by Contacting Your Carrier
Obtaining text messages from mobile phone carriers is another option, as they store messages for legal purposes. However, this approach requires providing extensive identification. Nonetheless, there are drawbacks to contacting carriers, including lengthy and cumbersome procedures. Plus, it often necessitates in-person submission of documents at their location. Here's how to recover deleted texts without root by contacting your service provider:
Reach out to your mobile network carrier's customer support or visit their nearest retail store.
Inform them that you need assistance in recovering deleted text messages.
Check with your carrier if they retain a copy of your text messages. (Some carriers may store text message data for a limited period, typically ranging from a few days to a few weeks.)
Be prepared to provide your account details, such as your phone number, account holder name, and any other info the carrier requires to access your account.
Follow the instructions provided by your carrier's customer support representative to initiate the SMS recovery.
Not all carriers offer text message recovery services, and the success of recovery depends on various factors, including the carrier's policies and the timeframe since the messages were deleted. Besides, it's recommended to contact your carrier as soon as possible after the deletion occurs.
Bonus: How to Recover Deleted Texts on Android without Backup
For recovering deleted text messages from Android phones without a backup, we suggest using the reliable software called MobiKin Doctor for Android (Windows and Mac). This program provides the capability to recover a wide range of Android files. Although it requires a rooted device for retrieving deleted texts, it has a remarkable track record of successful data recovery.
Main characteristics of MobiKin Doctor for Android:
Recover deleted texts on Android without trouble.
Restore deleted files from Android internal memory and SD card.
Retrieve various file types, including contacts, call logs, photos, videos, music, audio, documents, and more.
Preview and selectively choose the desired files before initiating the data recovery process.
Conduct a comprehensive scan, ensure fast processing, and enjoy a free trial.
Work well with virtually all Android phones/tablets, including Samsung, Huawei, Xiaomi, Sony, LG, Google, OPPO, HTC, vivo, Motorola, OnePlus, etc.
It won't disclose your privacy.
How to recover deleted texts without delay via MobiKin Doctor for Android?
After installing the program on your computer, launch the program and connect your Android phone to the computer using a USB cable.
Follow the on-screen instructions to ensure that your phone is successfully detected by the software.
After that, select the "Messages" option and click "Next".
Follow the wizard's instructions to initiate the scanning process on your device.
Please note that your phone needs to be rooted to ensure a thorough and secure scan before recovering texts from the Android internal memory.
Once done, preview all the text messages on the program interface and select the ones you want to restore.
Finally, click the "Recover" button in the lower right corner to save the messages on your computer.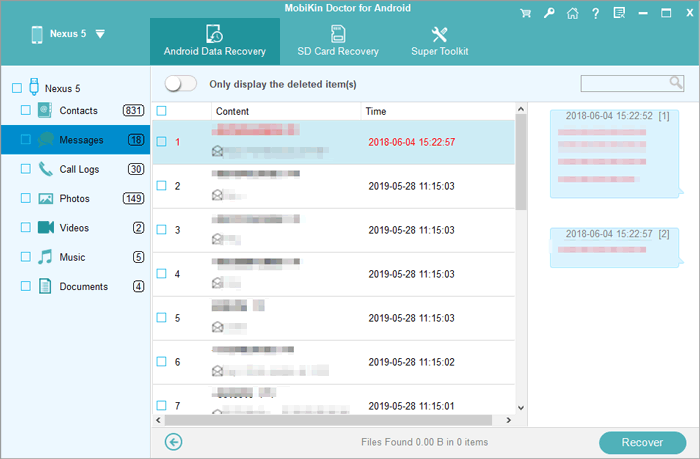 Conclusion & Tips to Keep Android Texts from Data Loss
Bring to a Close:
While these solutions offer potential solutions for recovering deleted texts, it's important to note that no method can guarantee a 100% success rate. Therefore, it becomes vital to back up your Android texts periodically to prevent permanent loss. Utilizing features like Google Drive or third-party backup apps, you can create a secure copy of your SMS, ensuring peace of mind in case of accidental deletion or device issues.
Beneficial Tips to prevent Android text messages from data loss:
Again, regularly back up your messages and those from social apps like WhatsApp. (How to back up WhatsApp messages on Android?)
Sync messages with cloud services.
Avoid unnecessary message deletions.
Keep your device software up to date.
Pay attention to the permissions requested by messaging apps and only grant necessary access.
Stick to well-established and trusted messaging apps from reputable developers.
Be careful while modifying system files, installing custom ROMs, or rooting your device.
Monitor the available storage space on your device and ensure it doesn't become critically low.
Consider professional data recovery tools.
Related Articles:
Top-notch Apps for WiFi Hacking without Root [Tutorial]
Want to Fake GPS with No Root? 6 Programs You'd Better Know
Top 10 Android Rooting Software & Apps [with/without Computer]
How to Flash a ROM to Android Device Safely and Swiftly
Full Guide to Retrieve Deleted Text Messages on iPhone 14/13/12/11/X/8/7
4 Ways to Retrieve Deleted Kik Messages on Android with or without Backup