DiskDigger Alternative: Recover Android Data without DiskDigger
The invention and development of smart phones make our life colorful, because we can listen to music, take photos, shoot videos, watch movies, communicate with friends in different ways, play games and so on with it. As one of most popular mobile phones, Android phones are welcomed by the old and the young. The various kinds of applications enrich our entertainment activities. However, from time to time many Android phone users may encountered the situations that annoyed us, for example, you tapped on the "Delete All" button when you were going to delete one photo; The Android phone was infected by the viruses and you formatted it without a backup of the important files; Or you just can not get the access to some data; Sometimes you erased the vital SMS messages because of some improper or wrong operations.
Here Comes the Best DiskDigger Alternative
What will do if you want to recover the data? Someone may told you that DiskDigger can help you with that. But using DiskDigger requires professional knowledge. And also not everyone has the DiskDigger. Here we will offer you a simple yet effective method to retrieve files from Android with no DiskDigger. You will no longer feel worry or upset when you delete some precious files from Android phone after you get the skill. You need a third party tool if you want to recover the files with no hassle, and MobiKin Android Data Recovery (Windows/Mac) is a software that can meet all your demands and enable you to perform the recovery process with few clicks in seconds. It is highly recommended by its users because of the the superior and outstanding qualities.
First, the program will detect and scan all the files from external memory space to internal memory space thoroughly and deeply, so all your data including deleted and existing ones will be displayed as different options, which make it easy for you to look for the wanted folders and recover them selectively. Next, you can recover different kinds of files including contacts, SMS messages, photos, videos and so on at a batch easily and simply. Furthermore, all the Android phones like HTC, Samsung, LG, Sony, Motorola with different grades of Android OS from Android 2.0 to Android 4.2 + are supported by the tool very well. In addition, the application is risk-free and clean with no adware, spyware or other malware.
By the way, stop using your phone when you found you just deleted the files that should not be erased. Because the new data will be added to the storage space when you continue playing the mobile phone, and the new data will overwrite the space that the deleted ones occupied, hence the deleted files can not be retrieved any more. Now let's get the powerful data recovery program by clicking the icons below.
You May Also Like:
How to Recover or Restore Lost Files/Data on Android Phones?
Before recovery, you need to follow the steps according to the grades of your Android OS to enable USB debugging.
- For Android 2.3 or earlier: Enter "Settings" < Click "Applications" < Click "Development" < Check "USB debugging".
- For Android 3.0 to 4.1: Enter "Settings" < Click "Developer options" < Check "USB debugging".
- For Android 4.2 or newer: Enter "Settings" < Click "About Phone" < Tap "Build number" for several times until getting a note "You are under developer mode" < Back to "Settings" < Click "Developer options" < Check "USB debugging".
If the deleted files that you want to recover were stored in internal memory or SIM card, you should root your Android device. But if you only want to restore media files that stored in the external card, you do not have to root the phone. Then start the program and turn on USB storage on your device and you'll see an interface like below, which means the mobile phone is being detected and scanned by the software.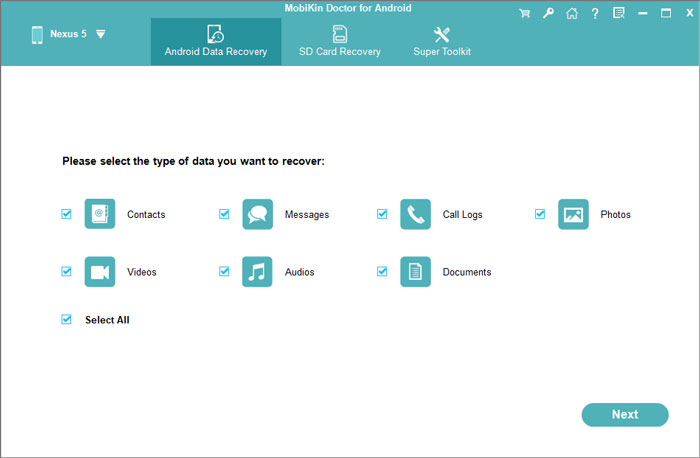 After that, the files on your phone will be categorized and displayed as different folders list in the left panel as the picture shows. You can select the options list in the left panes and check the detailed information including name, size, date, etc in the right panel. Just mark the wanted data and hit "Recover" button.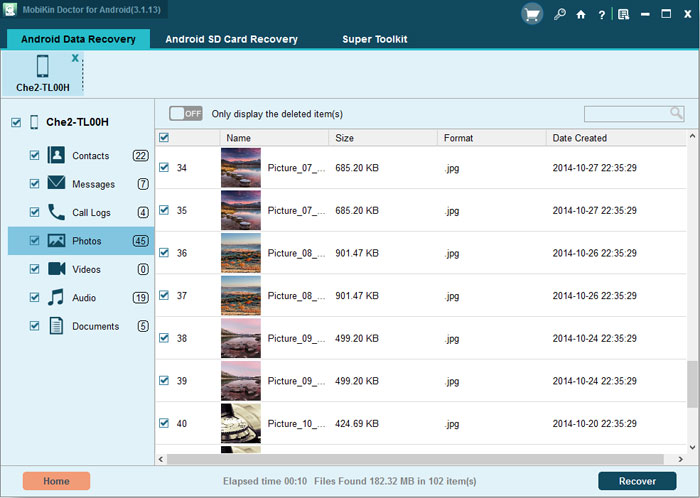 End
This is the whole process of Android data recovery without using DiskDigger, but using the best alternative tool - MobiKin Doctor for Android, you can download the free Version to have a try!
Related Articles:
Recover Deleted Text Messages from Android
How to Recover Data from Water Damaged iPhone
Top 5 Samsung Recovery Tools in 2023
A Tutorial about Recovery Mode on Android
How to Recover Data from Water Damaged Android Phone or Tablet?