How to Recover Deleted Photos on Samsung [Way 1 Is Incredible]
As a leader in the mobile industry, Samsung phone is fantastic for capturing high-quality pictures. With tons of images in it, sometimes, you may make some space for the phone memory, yet the deletion might let you lose some memorable moments by accident. In other cases, formatting, factory reset or OS upgrade, etc. may also put your photos at risk of being deleted. Thus, do you wonder how to retrieve deleted photos on Samsung if they were gone without backup?
OK, you've got into the right page the moment you made the last click. Because it turns out to be a piece of cake for you after going through this guide with 5 easy methods of recovering deleted and lost photos from Samsung Galaxy S20/S10/S9/S8/S7/S6.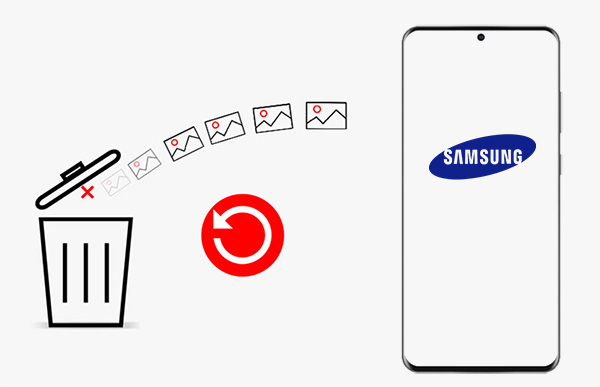 Way 1: How to Retrieve Deleted Photos on Samsung with Doctor for Android
After the Samsung photos are found missing, it is advised not to do any operation on this phone, so as to avoid the deleted files being overwritten, and thus improve the odds of success for data recovery. After that, while googling "Samsung deleted photos" for reliable methods, you may not know how to make an advisable choice. For instance, you might wonder whether there's a risk of privacy disclosure in the recovery procedure, or whether the tools are easy to use.
Fortunately, you come across MobiKin Doctor for Android (with both Win and Mac version) today. It can almost get rid of all your possible worries.
Brief introduction on MobiKin Doctor for Android:
Retrieve deleted Android data from Android internal storage and SD card within simple clicks.
Supported data types: photos, videos, music, audio, text messages, call logs, contacts, and more.
Recover tons of files with high success rate of recovery, retaining their original quality.
Can be used to preview photos before retrieving.
Perform tasks in a standalone environment, offer risk-free processes and results, ensure that user privacy is not leaked.
Run on various Android phones and tablets with almost all Android OSes, including Samsung Galaxy S20/S10/S9/S8/S7/S6/S5, Note 20/Note 10/Note 9/Note 8/Note 7/Note 6, Galaxy Ace, Galaxy Apollo, Galaxy Fit, Galaxy Gio, Galaxy Mini, Galaxy Tab S5/S4/S3/S2/S, etc.
Innumerable users have enjoyed the process of Android data recovery with it. Will you be the next one? Just download a proper version to give it a shot as soon as possible.
Tutorials on how to retrieve deleted photos on Samsung S7/S8/S9/S10/S20, etc. with MobiKin Doctor for Android:
Step 1. After the download on computer, install and launch Doctor for Android program. Plug Samsung device into computer via a USB cord. The automatic detection will be done by this software then. You may need to enable USB debugging on Samsung to have your phone recognized.
Step 2. Once the connection is made, mark "Photos" on the screen, and tap "Next" to choose a scan mode. Then this utility will run a scan for deleted pictures. Soon, you'll get access to all your phone's images on the forthcoming screen.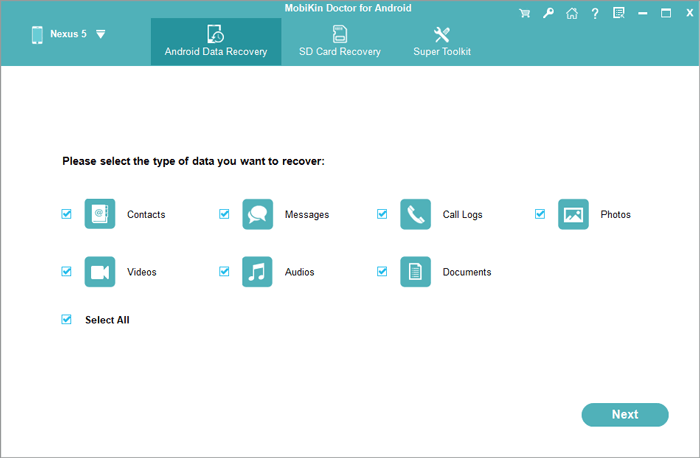 Note: If the photos cannot be scanned out, they must be stored in the phone internal memory. Just root your Samsung device for a deep scan before photo recovery.
Step 3. Click "Photos" from the left menu. Then preview and choose the desired pictures before you tap "Recover" button to get back them in one piece. (We suggest you put the images on computer for a safe backup)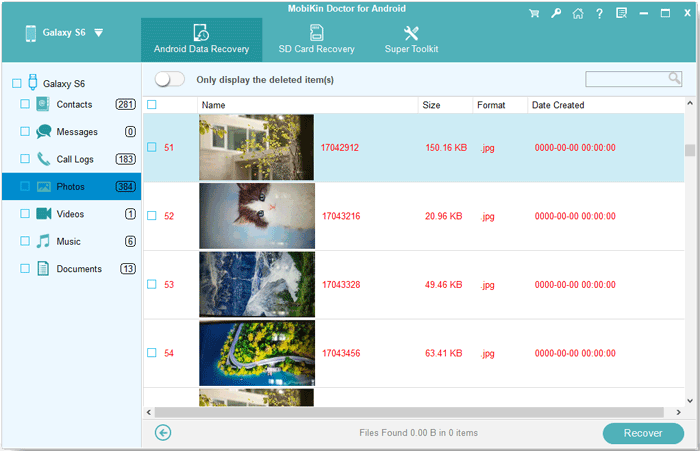 Video guide: how to recover deleted photos from Android phone?
Way 2: How to Recover Deleted Photos on Samsung from Recycle Bin (within 15 Days)
Most Android phones don't come with recycle bins, yet Samsung phone makes an exception to this rule. The recycle bin is actually called Trash on the mobile. The deleted photos can only be found and undone within 15 days. And from day 16, the content will be deleted permanently.
Do you know where the bin is? How do you recover deleted pictures from a Samsung phone's Trash? Well, let's find the answers below:
Step 1. Unlock your Samsung device and open the "Gallery" app.
Step 2. Click on "Settings" (three-dot icon) from the top right corner. Then touch "Recycle bin" from the pull-down list to get into the bin.
Step 3. All the recently deleted pictures will be listed on the recycle bin. You can choose the deleted photos, and tap "Recover" (or perhaps "Restore") to fetch them in your Samsung phone.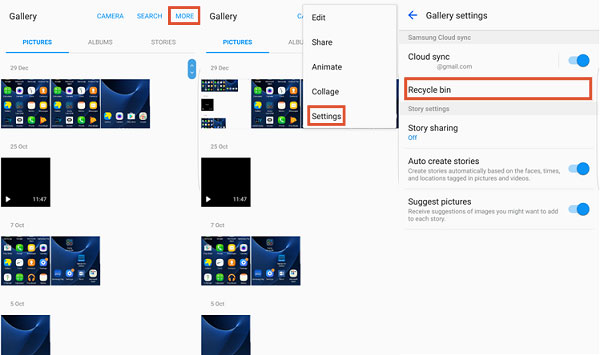 Can't Miss:
Way 3: How to Get Deleted Photos Back on Samsung with Samsung Cloud
Offering 15GB of free storage, Samsung Cloud enables you to back up Samsung photos, videos, etc. to the cloud storage and restore them as needed. You can choose to enter the cloud via Samsung phone or web page. Besides, note that the deleted images won't be recovered after 15 days, and if you haven't switched on Auto Sync feature beforehand, you might as well turn to Way 1 for help.
Let's see how to recover deleted photos on Samsung with Samsung Cloud:
Step 1. On your Samsung phone, head over to "Settings" > "Cloud and account" > "SAMSUNG ClOUD" option. Then opt for "RESTORE" tab.
Step 2. Suppose you only want to recover photos on Samsung phone, ensure that the switch of "Gallery" has been enabled before. (the same is true for other types of data)
Step 3. Scroll down for "Gallery"/"Photos" section and mark it. Then click "RESTORE NOW" to recover deleted photos on Samsung device finally.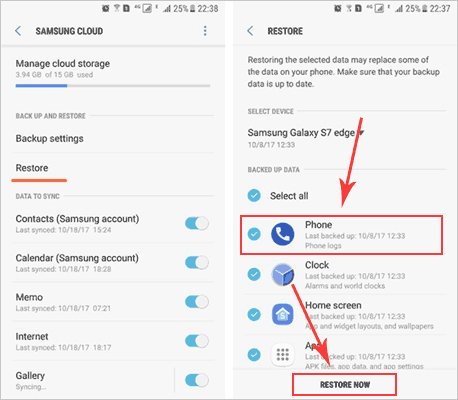 Tips: It is suggested that you use the Chrome browser if you access Samsung Cloud from web page on computer.
Way 4: How Do You Recover Deleted Pictures from a Samsung Phone via Google Photos
Google Photos provides you with unlimited storage space, yet it will compress your photos' resolution to 16 MP. And there are several prerequisites before trying this service. For example, you should ensure that the Trash is not cleaned after the photos was deleted; and make sure to retrieve the pictures in 60 days after the deletion.
Below is how to get deleted photos back on Samsung via Google Photos:
Step 1. Launch the Google Photos app on your Samsung phone or tablet. Then click the "Menu" tab (3 horizontal dots icon) from the top left corner.
Step 2. This click will show you several options on the next page. Here, simply choose "Trash" and see whether there are some deleted photos in it.
Step 3. If you find the deleted pictures there, then select your needed ones and press "Restore" button to get deleted photos back on Samsung device.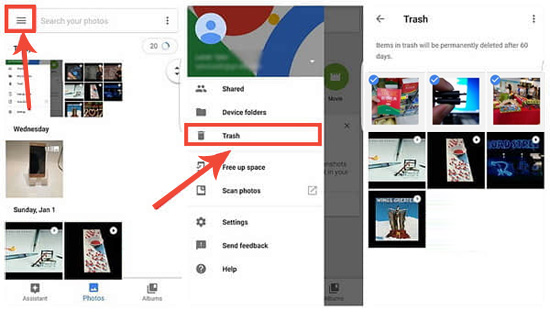 More Related:
Way 5: How to Recover Deleted Pictures from Samsung Using Dropbox
There's also a Trash folder in Dropbox, and photo recovery is available for 30 days from the date of deletion. To retrieve deleted pictures in this way, also, you have to take a backup for the photos in advance.
Let's check out how to recover deleted pictures from Samsung with Dropbox:
Step 1. To start off with, visit https://dropbox.com/ from any browser on computer, and then log in your Dropbox account to access the cloud.
Step 2. Tap on the "File" section from the left menu and go for "Deleted files" option from the incoming menu.
Step 3. All your recently deleted data will be displayed on the list. Just choose the photos you need for retrieving.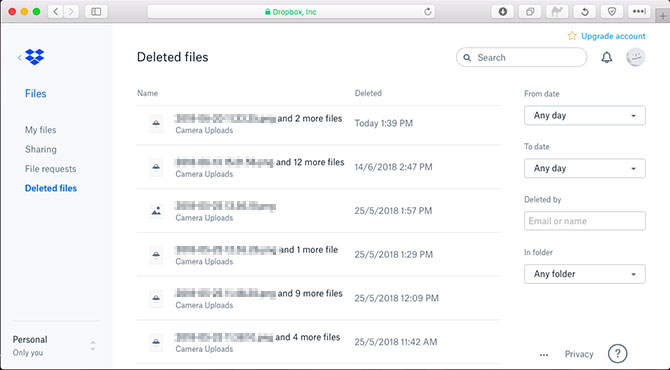 In a Nutshell
Do you realize that most of the solutions to Samsung photo recovery are valid only if there is a backup in advance? And some of them are bundled with the restriction as: photos can only be recovered within a certain period of time. For these reasons, MobiKin Doctor for Android can be your best bet. As it can make you worry-free in any unsavory scenarios.
Finally, to treat your photos and other data on Samsung phone with care, do keep in mind that they are prone to risks unless you take a regular backup for them.
Related Articles:
How to Retrieve Deleted Texts on Samsung
How to Recover Deleted Call Logs on Android Phone?
How to Recover Snapchat Photos on Android? 3 Easy Ways for You!
3 Ways to Recover Deleted Contacts from Android (#1 is Awesome)
How to Recover Data from Android Phone with Broken Screen?