Top 5 Ways to Recover Deleted Videos from Samsung Galaxy
Have you ever had such an experience that your videos on your Samsung Galaxy phone that you purchased from an education website (to prepare for some certification) were accidentally deleted when you cleaned phone files, but when you tried to download these videos again, you found the videos had expired and been no longer available? Now, it's necessary to learn how to retrieve deleted videos on Samsung.
As you may know, Samsung mobile have the recycle bin, but this feature only allows you to restore the video within 15 days from the day of deletion. Also, it can only recover multimedia files, but not SMS, contacts, etc. To cope with these limitations, we will state 5 proven ways to provide you with an overall reference.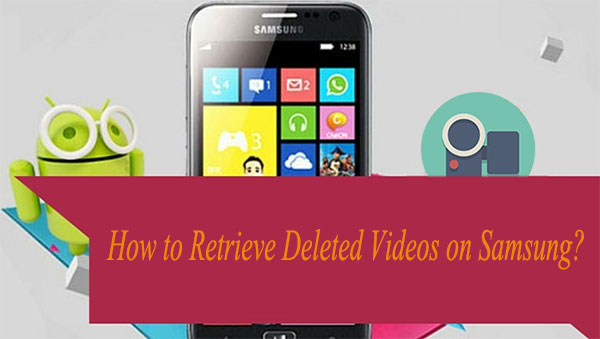 Part 1: Can I Recover Deleted Videos from My Samsung?
Generally, it is OK. So at what point can we not recover them? Before answering this question, let's first get to know the process of data storage on Samsung devices. Samsung phone will allocate memory for mobile data, which are stored in a specific section. When the video lost due to careless deletion, virus attack, physical damage of the phone or other reasons, it does not disappear immediately, its trace is still in a memory area that we cannot see, temporarily marked as "useless info ".
After the video is lost, if you do not use your Samsung device for the time being, the memory unit is not activated, and no new data are written into the memory, that is, the occupied memory area is not covered by new data. In that case, finding a pro recovery tool as soon as possible can greatly improve the odds of success of video recovery. On the contrary, the recovery possibility will be reduced.
Part 2: How to Retrieve Deleted Videos on Samsung - MobiKin Doctor for Android
It's a pity that your videos are lost. Subsequently, you may be struggling to find and compare the cost-effectiveness of recovery software in the first place, but when you see this post, you don't have to worry about which tool to choose. MobiKin Doctor for Android (Mac version is also available), an Android video recovery expert, is a desirably magic tool. Don't use your Samsung device after video loss and take this program in time, it can ensure the success rate of video recovery.
Vital characteristics of MobiKin Doctor for Android:
Recover deleted contacts, text messages, call logs, photos, videos and documents from Android internal memory and external SD card.
Preview deleted data on your computer before retrieving.
Take on "Quick Scan" and "Deep Scan" options on Android data recovery mode to fully scan out your deleted videos.
Be compatible with nearly all Samsung or other Android device, ranging from Samsung Galaxy A71/Galaxy A51/Galaxy M21, Galaxy S20/S10/S9/S8/S7/S6/S5, Galaxy Note 10/Note 9/Note 8/Note 7/Note 6/Note 5/Note 4 to Samsung Galaxy Tab A/Tab E/Tab S7/Tab S6/Tab S5/Tab S4 and so on.
Is it pragmatic? If so, hit one of the two buttons below according to your computer to get its trial version.
Now, here are easy steps on how to recover deleted videos from Samsung Galaxy S10/S9/S8/S7/S6/S5, no matter your deleted videos were stored SD card or internal memory.
Step 1: Connect your Samsung phone to computer
Download, install and launch MobiKin Doctor for Android. Pick up a USB cable to connect your Samsung Galaxy phone to this computer. Just follow the hint on the program interface to do that. By the way, you may need to turn on USB debugging on your Android device.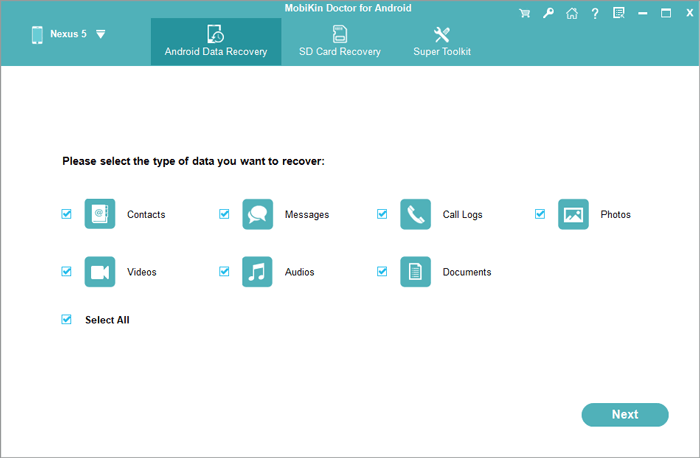 Step 2: Scan out the videos you want
Once connected, all recoverable file types are displayed on the screen. If you only need to recover deleted videos, you can tick off the "Videos" category and click "Next" button on the bottom right corner. Then, you will be asked to select a scanning mode for media files.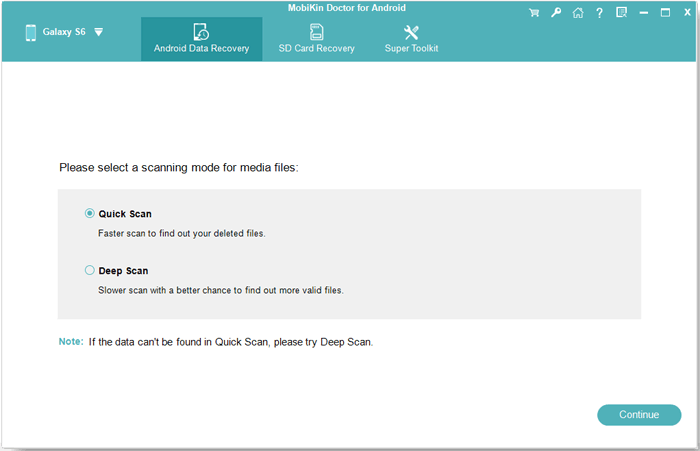 Step 3: Retrieve deleted videos on Samsung phone
Preview and select the videos you want and tap "Recover" button to recover deleted videos from Samsung Galaxy S5/S6/S7/S8/S9/S10/S20.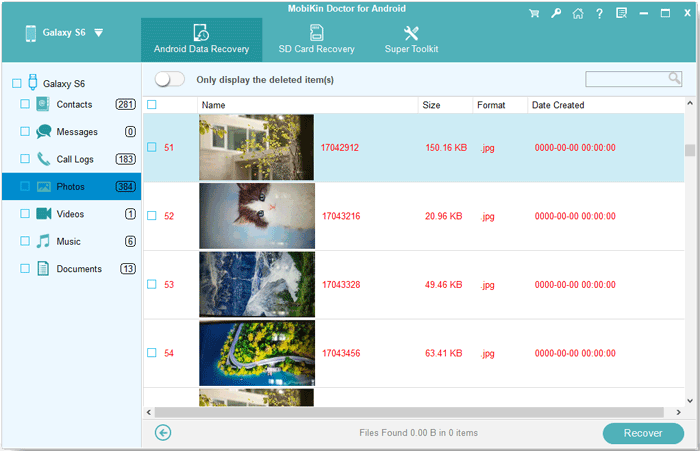 Can't find the videos you want to recover? Don't panic, they may have been stored in your Samsung phone internal memory. You need to root your Samsung phone before our software can help you find and retrieve these videos.
Can't Miss:
Part 3: How to Recover Deleted Videos from Samsung Galaxy - Samsung Recycle Bin (Effective within 15 Days)
Some Android phones have a "Recycle bin". So, is there a recently deleted bin on Samsung? Yes, Samsung smart phones also possess this function. Before you use it, you need to open the Samsung bin to make sure that there are stored videos there, and then you can recover them.
Admittedly, it is obvious in its disadvantages. As we mentioned in the foreword, it only recovers multimedia files such as videos deleted in the last 15 days. In addition, if your device is a Samsung tablet, this feature is invalid.
Here, how do I recover deleted videos from my Samsung phone for free from "Recycle bin"?
Steps 1: Unlock your Samsung phone to open "Gallery" app. Then, click the three-dot icon to go to app "Gallery settings".
Steps 2: Click on "Recycle bin" to check whether your deleted videos are still there.
Steps 3: Choose the videos you'd like to recover and tap "Restore"or "Recover" to regain them.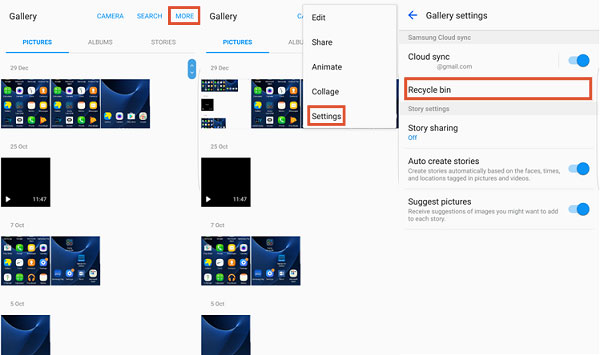 Part 4: How to Recover Deleted Videos from Samsung - Samsung Cloud
Many phones are equipped with a built-in cloud synchronization function, such as Huawei Hisuit, LG PC Suite, etc., which is conducive to providing a recovery choice for mobile data when encountering unexpected circumstances, but it requires you to back up files before data loss, and you can recover them to their originals.
The same is true for Samsung Cloud backup. As long as you backup the files in advance, you can choose to restore the video and other files to the source Samsung or other devices through the same Samsung Cloud account that you used for backup.
Follow me to learn how to restore deleted Samsung videos from Samsung Cloud:
Step 1: Go to "Settings" > "Cloud and Accounts" > "SAMSUNG CLOUD" from your Samsung phone. (here, you can enable Samsung Cloud feature to sync Samsung data to the cloud.)
Step 2: Under "Backup settings", click the "Restore" button. Then you'll see "Gallery" button which is on from the backup list.
Step 3: Touch "RESTORE NOW" to get back all your gallery files including videos you have backed up to your Samsung Galaxy Note 10/Note 9/Note 8/Note 7, etc.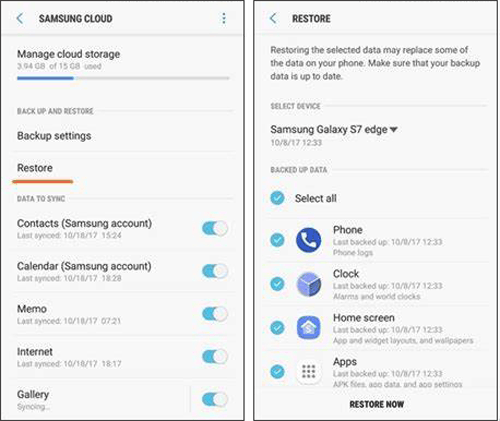 Note: Restoring the selected data may replace some of the files on your Samsung phone. Thus, ensure that your backup data is up to date.
Can't Miss:
Part 5: How to Retrieve Deleted Videos on Samsung Galaxy - Samsung Kies
Samsung Kies is also a customized service for Samsung handsets to create communication between Windows/Mac platforms and Samsung phones or tablets (Kies is the abbreviation of key intuitive and simple system). Hence, it is another choice to restore backed up videos.
In terms of the version numbers, if your Samsung phone runs between Android 2.1-4.2, please take Kies 2. As Kies 3 is suitable for Android 4.3 or above. Besides, if your device is Samsung Captivate, Intuse or Vibrant, please download and try Kies Mini.
How do I conduct Samsung video recovery with Samsung Kies?
Step 1: Download, install and open Samsung Kies (for Windows or Mac) on your computer and connect Samsung phone to the same PC/Mac via a USB cable. Then select "Backup & Restore" and pull the flow bar on the right side of the interface to the bottom to choose "Restore" option.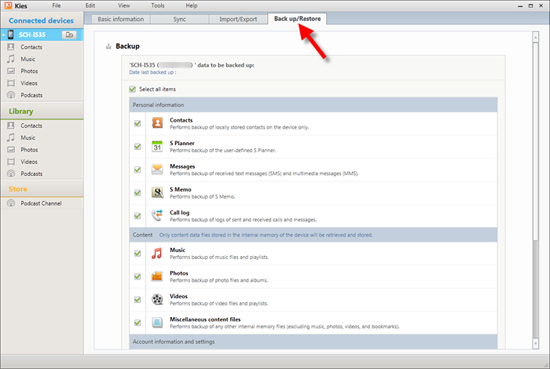 Step 2: After that, this tool will detect the files you have synced on this computer, choose "Videos" option from the listed data types.
Step 3: Tap the "Restore" button to begin to recover deleted videos on Samsung (Note that after you click "Restore" button, all the existing data on your Samsung phone will be replaced with the restored data soon).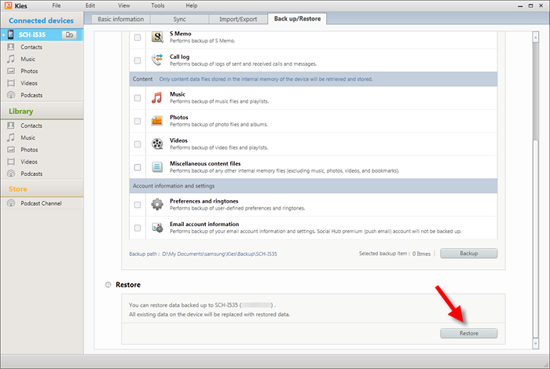 Part 6: How Do I Recover Deleted Videos from My Samsung Phone - Google Drive
Apart from the features similar to Samsung Cloud and Samsung Kies, Google Drive is at the service of more Android phone brands. Therefore, if you delete videos on your Samsung devices, you can log in Google account on other non-Samsung devices, and then restore these videos to the destination device. Likewise, if you perform regular and automatic backup on Samsung devices, the lost videos can be recovered to your phone in this method.
Note: If you want to know more about how to backup Android data to Google Drive, click here.
Next are the tips for how to recover deleted video on Samsung Galaxy with Google Drive:
Step 1: Open "Google Drive" app on your Samsung device and sign in with the Google account that you used for backup. Afterwards, preview the video folder you have created for backup.
Step 2: Click three-dot icon and choose "Download" from the option list to get back the videos. (here, you may not see "Download" option in some new versions. You can choose "Send a copy" instead to copy the backed up videos to your Samsung Galaxy/Galaxy Note/Galaxy Tab).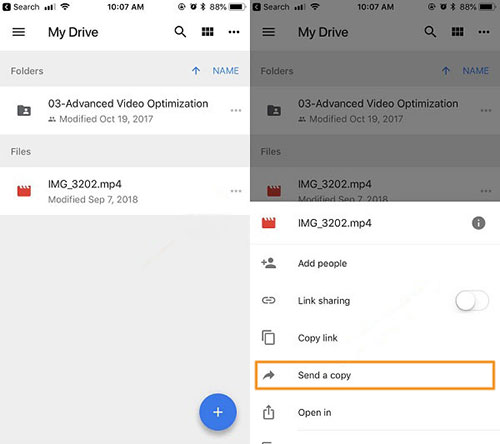 So much for the above, do you find it necessary to back up your Samsung phone data?
Words in the End
To recover deleted videos on Samsung, we have introduced 5 proven methods. Faithfully, MobiKin Doctor for Android is a solution that you have no reason to refuse, because it is able to recover almost all types of data from your Samsung phone with one click. It also has "three no" (no phone brand restriction, no deletion time limit, and no need to backup). Unlike the recycle bin, you can only try it within 15 days after the deletion. And if you haven't had a previous backup on Samsung Cloud, Samsung Kies, or Google Drive, these methods cannot be put into practice.
So, to retrieve Samsung deleted videos unrestrictedly, download MobiKin Doctor for Android and experience its free trial version now.
Related Articles:
3 Methods to Recover Deleted Contacts on Samsung Phones
3 Proven Ways to Transfer Data from LG to Samsung
How to Transfer Photos from Samsung to Computer? 5 Proven Ways
How to Transfer Photos from Samsung Phone to Tablet? [5 Easy Ways]
Tricks to Transfer Contacts from PC/Mac to Samsung
3 Ways to Delete Photos from Samsung Galaxy Permanently in 2020