[Fixed in 2023] How to Recover Deleted Data from Android Internal Memory?
We all know that Android phones and tablets are highly popular among the users for its trendy design, acceptable price and powerful features. However, even though Android provides many features that make mobile phone operating very easy for all the users, but we still find that data on Android devices can easily get deleted and corrupted for various reasons, such as unintentional deletion, wrong operation, failed system upgrading, virus attacks and so on. Then you may ask is there a way to recover deleted files from Android internal storage? Actually, the answer is completely YES.
In this article, we are going to tell you how files are being stored in the Android phone internal memory and discuss the best way to recover deleted files from mobile phone internal memory.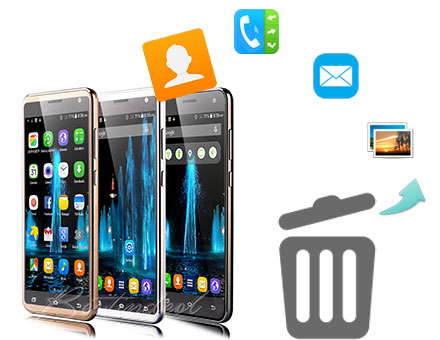 Part 1. Is It Possible to Recover Deleted Files from Mobile Phone Internal Memory
Is it possible to recover deleted files from phone memory? As we known, almost all Android phones come with a built-in internal memory as well as external storage memory (What Are the Differences Among Internal, Phone and External Storage?). And when you've tried to restore data on Android internal memory on your computer, you can find that the internal memory can't be regarded as an external hard drive, and you're forbidden to be accessed to this kinds of memory. So data rescue on Android internal memory will not be as easy as on the phone's external memory. But it is not to say you have no opportunity to achieve your goal.
In our mobile phone, there is a pointer index table, which is used to specify the memory location for storing data. Usually, when data is deleted, it is relocated. As a result, the processor cannot find your data, which prevents you from finding them in your phone. But this does not mean that the data has been completely lost. At this point, if you want to recover deleted files from phone internal memory, make sure to follow these suggestions:
1. Do not restart the device too many times to retrieve data. Many people are lucky and feel that they have restarted their mobile phones and maybe the lost data came back. However, this will increase the difficulty of data recovery. If the lost data does not appear after restarting the phone, be sure to stop restarting the device and immediately use a professional mobile phone memory recovery tool.
2. Once you find that your phone data is lost, please stop using your phone. Because if you continue to use your phone, the newly generated data will overwrite the lost data. In this way, you will permanently lose the content you could have retrieved. Therefore, you must remember to stop using your phone for the first time after losing your phone data. Do not use any applications, browse the Internet or even connect to the Internet.
3. Please take mistakes as soon as possible to increase the success rate of internal memory recovery. The longer you wait, the more difficult it will be to recover data.
4. Be sure to choose reliable and professional data recovery software for Android phone internal memory to perform data recovery from the phone memory.
5. To prevent data loss, you'd better make a good habit of regularly backing up your Android phone or synchronizing it with cloud services.
Can't Miss:
Part 2. How to Increase Cell Phone Internal Memory Recovery Rate
Recovering data from internal memory sounds more difficult, but once we have trusted data recovery software for Android phone internal memory, it is completely possible to recover files from internal memory of Android phone, because the data deleted from internal memory In fact, it has not been permanently deleted. They are still on your phone, but you can't see them. To recover deleted files from mobile phone memory, we have the following measures to help us improve the success rate of recovering Android internal memory data.
1: Do not update any applications on your phone, and do not download any applications. You'd better disconnect your phone's WiFi connection just in case.
2: Don't add any information to your phone, including downloading any content, receiving information, taking pictures or screenshots, etc.
The following actions are very likely to cause data loss on your phone, so to prevent data loss, the following are the lists that should not be performed.
1: Remove the memory card while the device is still running. This is a common wrong behavior that leads to data loss, and we must remove our memory card only after we safely shut down our phone.
2: The speed of operating the mobile phone is very fast. This behavior should be familiar to everyone, right? Many people mistakenly delete some important files because the navigation speed is too fast. Therefore, when you need to delete some unwanted data, you must be as careful as possible.
3: Format the phone or restore factory settings without backup. Formatting or restoring factory settings will delete all files on the phone, so before you must perform two operations, you must remember to back up your Android phone.
Part 3. How to Recover Deleted Files from Android Phone Internal Memory
[5-Min Way]
To be honest, data deleted or lost from your Android internal memory only flags the memory block where the deleted files were stored as available for reuse and it doesn't actually erase or destroy any files if you have stop loading any new data into your device once you've found the data is losing. Nonetheless, they are just invisible to you. So here, you need to find an assistant tool to help you get access to the phone's internal memory and scan the invisible files for restoring.
The tool I want to introduce to you is the MobiKin Android Internal Memory Data Recovery (with its Mac version), which comes here to satisfy all your needs. It allows you to scan and preview lost data from internal memory, as well as deleted files from external SD card. With the help of the program, everything on your Android phone can all be retrieved without any difficulties. And it can works well with almost all popular Android devices.
World's best Android phone memory recovery for Android:
Retrieve deleted and lost Android data by scanning your Android phone and tablet directly.
You are allowed to preview the scanned out data so as to perform the data recovery selectively.
Supports various file types, including photos, videos, music, call logs, contacts, SMS and many more.
Supports 6000+ Android device models, various Android OS, including Samsung, HTC, LG, Sony, Motorola, Huawei, Xiaomi, etc.
Now, just download and install the program and follow us to learn how to find back lost data on Android internal memory with this magic program.
Steps to recover deleted video, photos, contacts, SMS, call logs, etc. from Android phone internal memory:
Step 1. Run the program and detect your device
Connect your Android device with computer through a USB cable. The program will automatically detect the connected device once it is launched. And then you'll see an interface like below.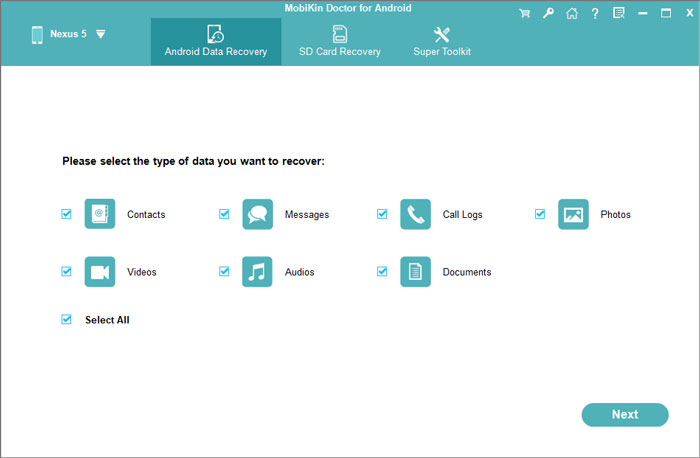 Here, please note the tips on the interface, and ensure whether you have enabled USB debugging and rooted your Android device to make the program can get access to your Android internal memory. If you have done this, then the program can recognize your device successfully. Otherwise, you may need to do these works firstly.
Step 2. Preview and begin to recover files from phone memory
The program will start scanning for files while it recognize your Android phone or tablet. Just wait for a little while, and then you can see an interface that will display Android files in the form of folder. Click the file type you wish to restore and preview the detailed contacts for finding your target files, then mark them one by one. After that, you can click "Recover" button to save the selected files to PC completely.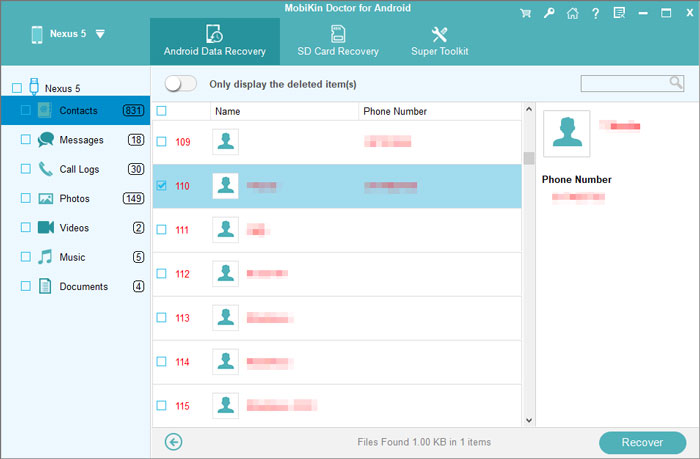 Is it easy to recover deleted data from Android internal memory by using this Doctor for Android tool? If you deleted something important from your Android internal memory accidentally without backup file, you can turn to this program for help.
Can't Miss:
Part 4. Video Guide: How to Recover Deleted Files from Android Internal Storage
Conclusion:
The above is how we introduce you to recover deleted files from phone internal memory. If you do not want to experience the trouble caused by the loss of important data, you just need to try MobiKin Doctor for Android. With its help, we are sure that we can retrieve it for you Your lost data. It comes with a free trial version, so you can try this tool first and feel how it works. If you are satisfied with the results of its work, you can purchase this tool, and then you can perform data recovery on your phone's internal memory without any effort.
Related Articles
Ultimate Solution to Recover Deleted Contacts from Android
How to Transfer, Copy Text Messages from Samsung Galaxy to PC/Mac
How to Recover Lost Contacts from Samsung Galaxy
How to Recover Data from Water Damaged Android Phone or Tablet?
How to Access Phone with Broken Screen with PC Easily & Safely?