5 Effective Methods to Recover Deleted WhatsApp Images on Samsung
Instant communication takes place on WhatsApp for many Samsung users almost every day. Often, it's not surprising that vital photographs are missing from conversations due to accidental deletion, system crash (How to fix Android system crash?), device damage, etc. It might not be easy for most people to restore WhatsApp pictures without resorting to a specialized tutorial. Have no idea how to recover deleted WhatsApp images on Samsung after one mistaken tap?
Well, we are going to share with you the 5 most efficient approaches to help retrieve the deleted photos from WhatsApp on Samsung. Let's get straight to the point now.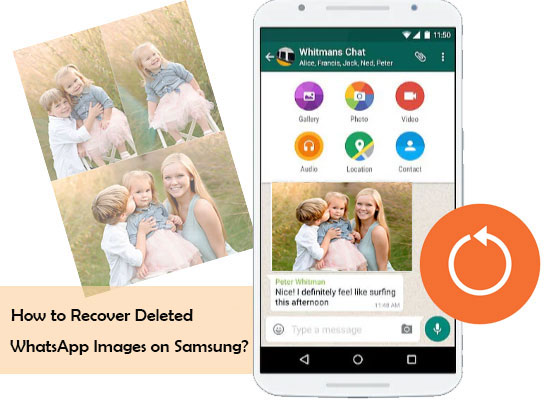 Way 1: How to Recover Deleted Photos from WhatsApp on Samsung via Android Data Recovery
According to the feedback from Samsung Community, some users who pay attention to this topic have not backed up the content and have tried many methods but failed. OK, here comes a query - how to get back deleted photos from WhatsApp without backup? Well, good question. Android Data Recovery is the right program you want. This is a professional WhatsApp deleted images recovery software.
Important: It is suggested that you recover images as soon as possible. The longer you delay, the greater chance the images are overwritten by other data.
Why choose Android Data Recovery?
Completely recover deleted WhatsApp images on Samsung/Android with no backup.
Restore files from Android internal memory, SD card, and SIM card, including WhatsApp, WhatsApp attachments, media files, messages, messages attachments, contacts, call logs, etc.
Let you preview and select specific files for recovery.
Get on well with various Android phones/tablets, covering Samsung Galaxy S21/S20/S10/S10+/S9/S8/S7/S6/S5/S4, Galaxy Note 20/Note 10/Note 9/Note 8/Note 7/Note 6/Note 5, Galaxy Tab series, etc.
It won't divulge your privacy.
How to take/get back deleted photos from WhatsApp on Samsung via Android Data Recovery?
Step 1. Start Android Data Recovery on your computer
Install and launch the program on your computer and link Samsung to it via a USB cable. This software will automatically detect the device. Here, you can directly go to the "Android Data Recovery" mode.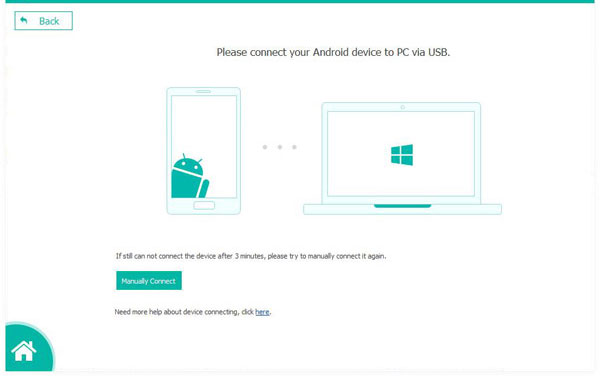 Step 2. Mark WhatsApp Attachments for scanning
Enable USB Debugging on Samsung when a popup appears on your phone. Then, you'll see a window that lets you select the file types you wish to restore. Now, check "WhatsApp Attachments" and tap on "Next".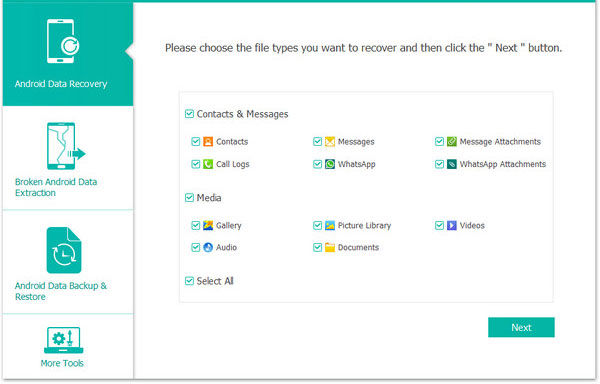 Step 3. Recover deleted Samsung photos from WhatsApp
Soon, all your WhatsApp photos will be scanned out. You can then preview and choose the detailed items for recovery. Finally, click on "Recover" to save them onto this computer.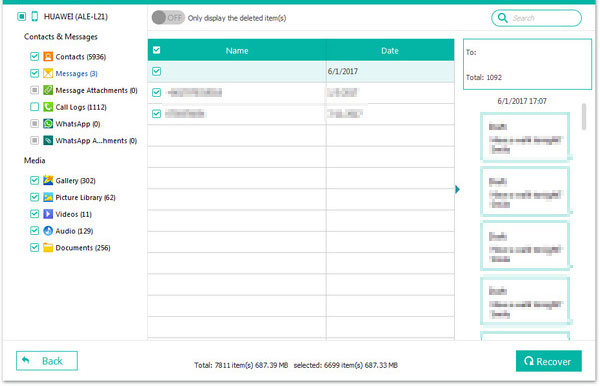 You Might Like:
Way 2: How to Recover Deleted WhatsApp Images on Samsung from Phone's Storage
As you may know, the images you send and receive on Samsung will then be saved to a designated folder by default. You can make WhatsApp image recovery from your phone's storage with the assistance of an Android file explorer like Files by Google.
How to restore/recover WhatsApp sent images on Samsung from the phone's storage?
Install and open Files by Google on Samsung after the download.
Select the "Files" option.
Go to "Internal Memory"/"Phone Storage".
Get into the "WhatsApp" folder.
Find and click the "WhatsApp" file > select "Media".
Choose "WhatsApp Images". Here, you can access all the sent and received media on the platform.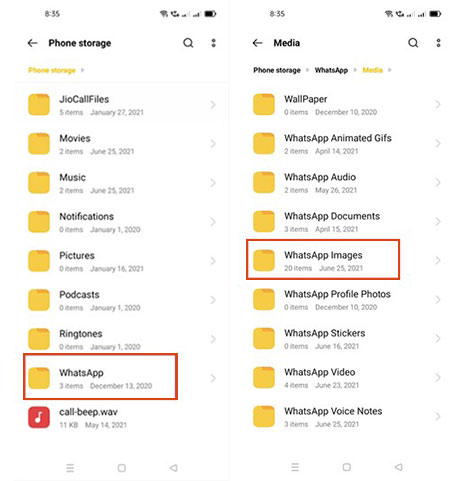 Beyond the above, you'll notice a "Sent" and "Received" folder that contains all the photos you've got or got out. You can check them out to verify if any of them are missing.
Way 3: How to Recover Deleted Samsung Photos in WhatsApp from Auto-Backup
There's no need to get disappointed when accidentally deleting images on WhatsApp, for you can retrieve those lost photos from WhatsApp via its auto-backup feature. If you didn't disable the daily 2 AM auto-backup of WhatsApp messages, you could regain the pictures by uninstalling and reinstalling this app.
Want to restore deleted photos without WhatsApp image recovery software? Here's how to download deleted photos from WhatsApp in Samsung via Auto-Backup:
To start things off, uninstall WhatsApp and then reinstall it.
Here you have to verify your number, after which you'll be asked to restore chats and media from your local backup.
Tap on the "RESTORE" option as prompted.

Taking the steps will restore all media files, including photos, videos, etc. And after that, they are easily accessible on your Samsung device.
Note: It's not easy to find WhatsApp photos from tons of items in Samsung's storage. (Want to free up space on Samsung?) Else, if you've used a third-party app to clean your phone's cache, the image in the memory cache may have been deleted.
Read Also:
Way 4: How to Get Deleted Photos from WhatsApp on Samsung via Google Drive
There are some methods to create a backup of all your important Samsung data, like WhatsApp images. Google Drive is a peachy tool for file backup and restore. If you kept a backup of your device via it, just follow the steps below to learn how to get WhatsApp deleted photos on Samsung S21/S20/S10/S9/S8/S7 via Google Drive:
Uninstall WhatsApp from your Samsung device.
Reinstall the app and open it.
Sign in to the same WhatsApp account on the device.
The front page should then show you two options - "RESTORE" & "SKIP".
Select "RESTORE" to recover the deleted WhatsApp chats, including the photos. (How to fix Google Drive not working?)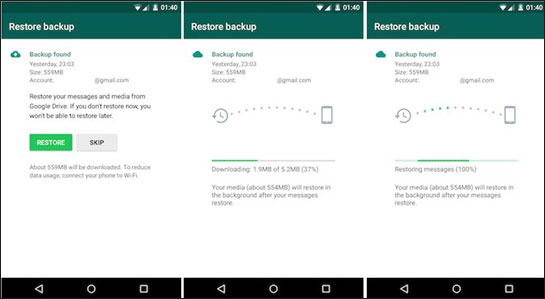 Way 5: How to Recover Deleted WhatsApp Images on Samsung from Interlocutors
To start with, check if anyone retained a copy of the message with your desired photos attached in the conversation. If you uploaded a picture and then removed it for yourself, there's a decent chance that the recipient or some individuals in a group text will still have the image on their phone. Well, How to see/find deleted Samsung photos on WhatsApp from interlocutors?
You can simply ask the interlocutors to send you the images. Or you could ask them to save the items on their phone and share them via tools like Google Drive or Google Photos. As you tap the trash icon and then the "Delete for Me" option, the one who received the files doesn't lose access to it, assuming they downloaded them. If you accidentally picked the "Delete for Everyone" button, just resort to the other four approaches as per your needs.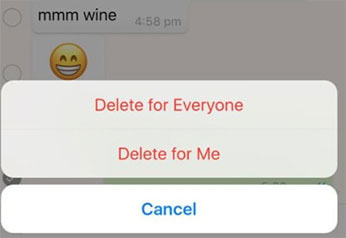 Tips: How to Back Up WhatsApp Images from Samsung to Computer?
If you want to avoid WhatsApp data loss, then you'd better choose an excellent WhatsApp backup software to help you backup important WhatsApp data. MobiKin Recovery for WhatsApp is such a software that can back up your WhatsApp content with one click, including WhatsApp messages, videos, audios, pictures, stickers, files and links, etc. It is safe and secure, and you don't have to worry about any risk of data loss.

To back up WhatsApp images from Samsung to computer using MobiKin Recovery for WhatsApp, you can follow these steps:
Step 1. Download and install MobiKin Recovery for WhatsApp on your computer. Connect your Samsung phone to your computer using a USB cable. Launch Recovery for WhatsApp and wait until it detects your Samsung phone.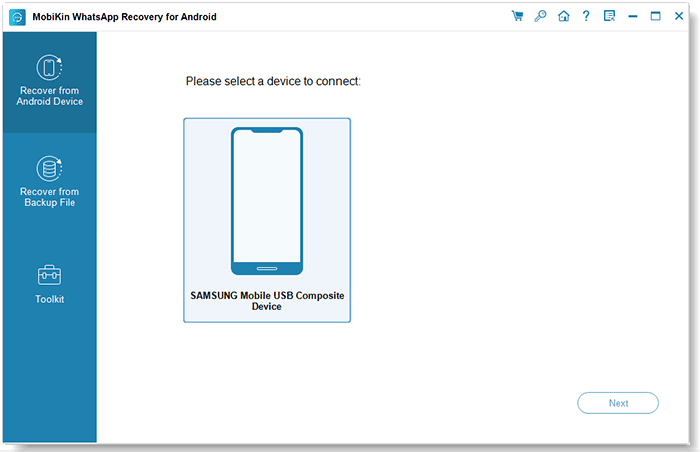 Step 2. Once your device is detected, the backup process will begin automatically. During the backup process, you need to follow the instructions on the screen to turn on end-to-end-encryption for your WhatsApp backup.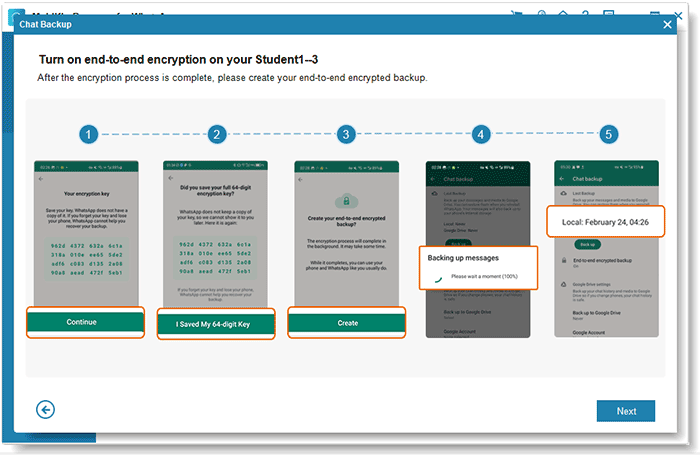 Step 3. Once completing the end-to-end-encryption, a encrypted backup for your WhatsApp data will be created on the computer.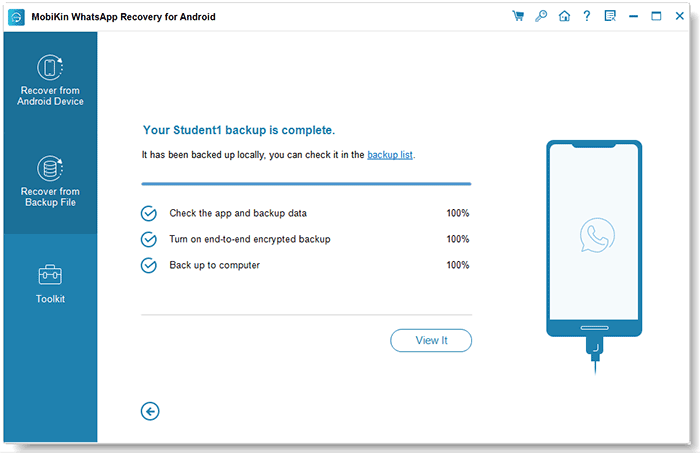 Step 4. Once the backup is complete, select "WhatsApp Attachments" from the list of data types and then select images from the main window for back up.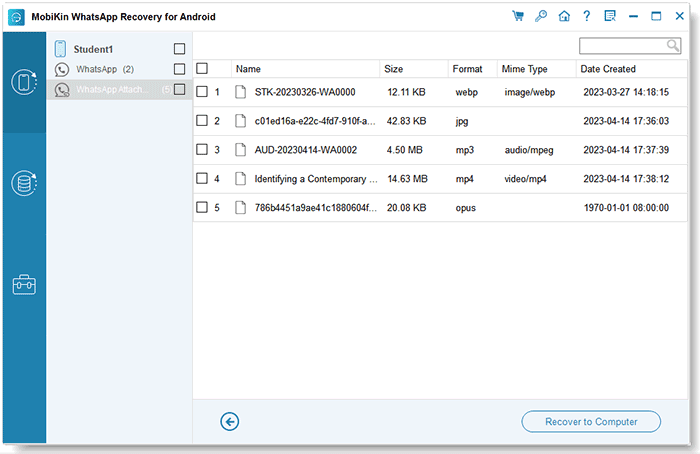 Step 5. After selecting the images, click on the "Recover to Computer" button. Choose a folder on your computer where you want to save the WhatsApp images and click on "OK".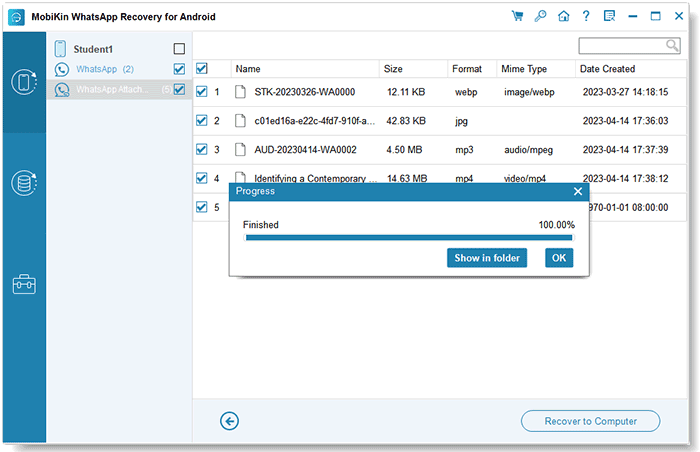 Once the export is complete, you can disconnect your Samsung phone from your computer and access the WhatsApp images on your computer from the folder you selected. That's it! You have successfully backed up your WhatsApp images from Samsung to your computer using MobiKin Recovery for WhatsApp.
Conclusion
Well, have you got the general drift of this post? Overall, this is mainly reflected in the following respects:
As we just described, the Samsung phone's storage makes it easy for us to recover WhatsApp images, but it's tough to glean the items, and you might have deleted them from storage if you cleaned out the mobile cache.
If you make sure that the backup you made includes the images you desire, you can get them from the backup files with ease.
Assuming you ever picked "Delete For Me" while removing the WhatsApp photos from Samsung, it's also a great idea to retrieve the images by turning to the interlocutors.
What if you didn't run a backup of your Samsung phone before the deletion? Android Data Recovery is surely your best bet. Given this, don't hesitate to give this program a download and try it out on your own.
Related Articles:
3 Ways to Save Photos from WhatsApp to Android Gallery
How to Retrieve Deleted Texts on Samsung (98% Success Rate)
How to Recover Media Files from Broken Samsung Phone
How to Transfer WhatsApp Messages from iPhone to Samsung 2023?
Ultimate Guide to Back Up WhatsApp Photos/Videos on Android & iPhone