[Updated in 2023] How to Retrieve Deleted WhatsApp Messages on Android?
WhatsApp, as a messaging application for portable device, have gained a warmly welcome and good reputation from all kinds of people all over the world. So, you must have saved lots of important conversation and messages in the WhatsApp application on your mobile phone, right? However, more and more users are suffering from various WhatsApp issues on Android, such as data loss for this or that reason, then how to recover deleted WhatsApp messages on Android?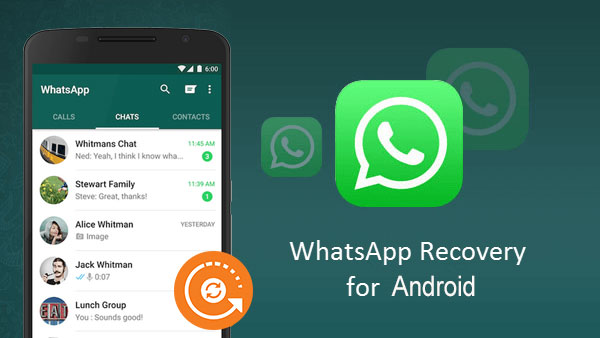 Part 1. Retrieve Deleted WhatsApp Messages on Android from Local Backup
If you enabled the backup option, or you have manually backed up WhatsApp messages, then you can recover deleted WhatsApp chat messages from local backup. If you accidentally delete the chat history without backup, don't worry, WhatsApp will automatically create a backup at 2 o'clock in the morning and store the backup in the phone memory, where you can find messages and attachments that you did not back up.
Steps: how to recover deleted WhatsApp messages on Android from local backup
1. In Android file manager app, go to "Internal Storage/WhatsApp/Databases" and rename the backup file you want to restore from "msgstore-YYYY-MM-DD.1.db.crypt12" to "msgstore.db.crypt12".
2. Uninstall your WhatsApp from your Android phone and reinstall it.
3. Login to your account and you will get a message telling you that you can restore your backup after reinstalling the app on the phone.
4. Just choose the button of "Restore" and all messages on the WhatsApp backup will be restored.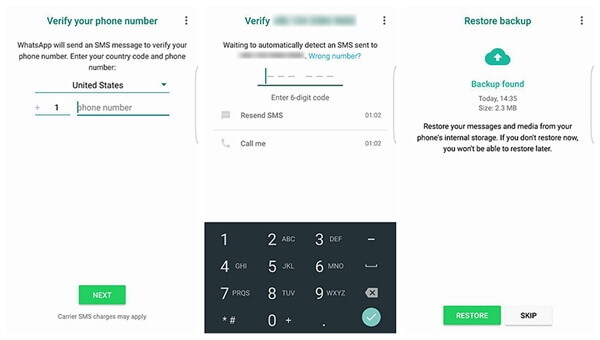 See Also:
Part 2. Recover Deleted WhatsApp Messages on Android from Google Drive Backup
If you have backed up your WhatsApp messages on Google Drive, you can restore the deleted WhatsApp messages on your Android phone by backing up from Google Drive. If you have not backed up to Google Drive, then you need to back up WhatsApp messages to Google Drive firstly.
Steps: how to get deleted WhatsApp messages from Google Drive Backup
1. Make sure you have backed up your WhatsApp chats to Google Drive by heading towards "Settings" > "Chats" > "Chat Backup".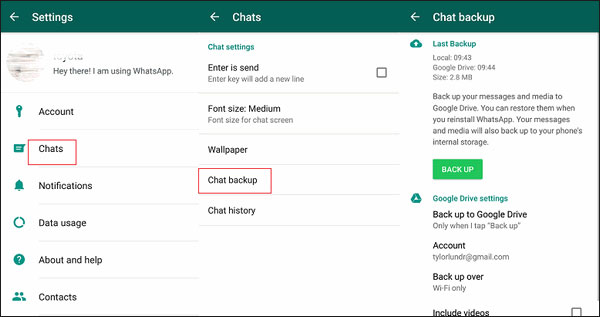 2. Uninstall and reinstall WhatsApp on your Android phone. Make sure that you have added the same Google account used to create the backup to the Android phone.
3. Once you verify the same phone number you used to create the backup, you will find "Backup Found" message pops up on the phone screen.
4. Hit on the "Restore" button and the WhatsApp messages you have backed up on Google Drive will be restored to your Android phone.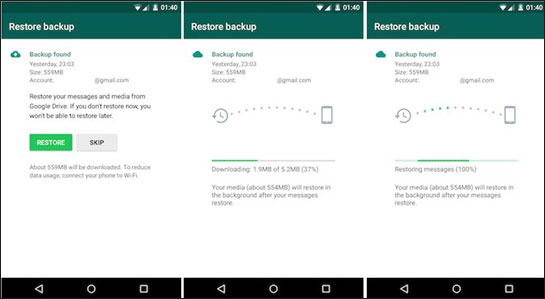 Part 3. Retrieve Deleted WhatsApp Messages with WhatsApp Message Recovery Software
[Without Backup]
It is no doubt that WhatsApp message losing will cause some troubles, especially when the messages are crucial for you and you didn't create any backup. Thus, Android users are looking for the way to restore deleted, lost WhatsApp messages on their Android devices without backup. Since you are here, it is obviously that you haven't found the ideal solution yet. In order to save your time and help you solve the trouble, here we could like to strongly recommend a reliable WhatsApp Message Recovery software for your reference.
Main features of WhatsApp Message Recovery:
Recover deleted, lost or formatted WhatsApp messages on all kinds of Android devices easily.
Not only WhatsApp messages, other attachments like photos, videos, etc. in WhatsApp can also be retrieved.
Restore other types of files according to your needs.
Compatible with almost all popular Android devices on the market.
...

Easy steps on how to retrieve deleted messages on WhatsApp for Android phones by using WhatsApp Message Recovery software:
Step 1. Download and install the WhatsApp Message Recovery software on your computer and link your Android phone to it with a USB cable. Launch the software and it will automatically detect the connected Android device. Here, you can directly enter the mode of "Android Data Recovery".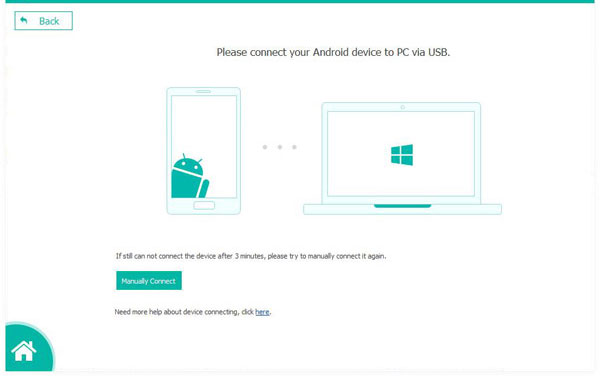 Step 2. You need to enable USB Debugging when you receive pop-up message your phone. Then, you'll get a window that allows you to select the file types you wish to restore. Here, just tick the "WhatsApp" and click "Next" to begin the scanning process.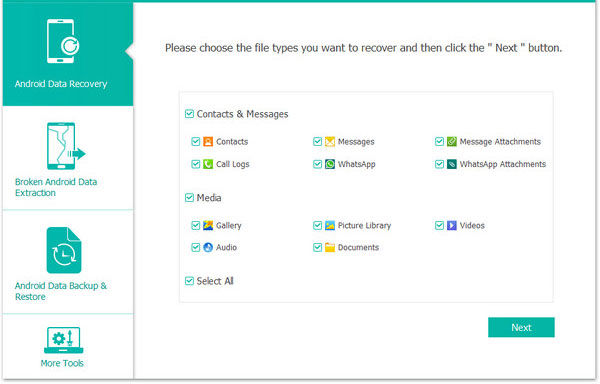 Step 3. The scanning may take a few while. After that, all deleted WhatsApp messages will be scanned out and displayed on the right-side window. Now, you can preview the detailed messages and mark the messages you're looking for. Finally, click "Recover" button to save them on your computer.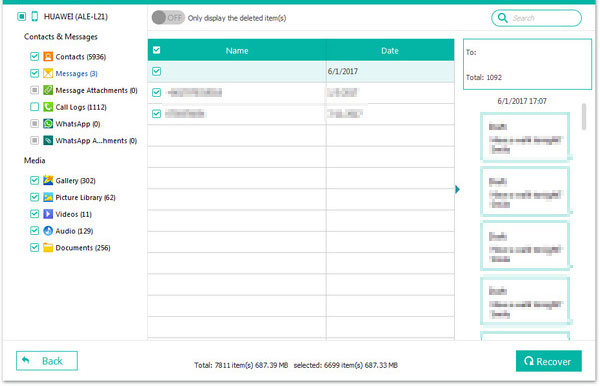 Part 4. Restore Deleted WhatsApp Messages via WhatsApp Message Recovery App
In addition to desktop software, we can also use the Android WhatsApp recovery app to help us recover accidentally deleted WhatsApp messages without a backup. Here, we want to recommend the application Undeleter. I believe many users are not very new to it. It can help you quickly recover deleted WhatsApp messages and attachments, photos, videos and more from your Android device. You can download Undeleter from the Google Play Store. Before using this app, you need to root your Android device.
Steps: how to undelete WhatsApp messages on Android Using Android WhatsApp recovery app
1. Go to Google Play Store and search for Undeleter Restore Files and Data. Download and install it on your Android phone.
2. Run Undeleter app and refresh the list to populate the screen. After that, preview and select the folder that contains the WhatsApp files you need.
3. After choosing the organizer, you should click on the option of "Check Device" and a rundown of latest erased records will be displayed. Now, you can select the messages and recover them back by hitting on the "Save" button.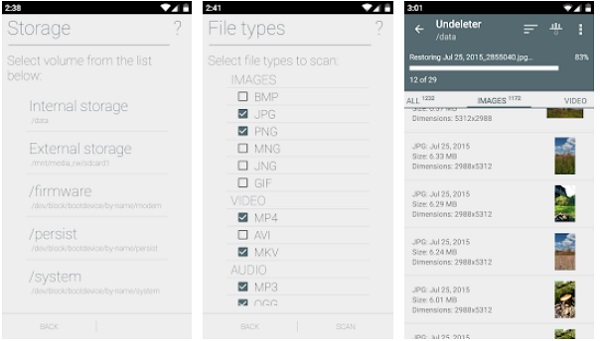 Bonus: How to Back up Android WhatsApp Messages on Computer?
In order to prevent the loss of WhatsApp information, we'd better back up it to a safe place. MobiKin Recovery for WhatsApp is a 100% positive WhatsApp data recovery and backup tool, which can extract WhatsApp messages, including WhatsApp attachments like photos, videos, audios, stickers, documents, links, etc. from Android devices and save them to computers. Not only backup, you can also read WhatsApp data directly on your computer, and even print it out.

How to transfer WhatsApp messages from Android to computer for backup via Recovery for WhatsApp?
Step 1. Run Recovery for WhatsApp on your computer after downloading and installation. Use a USB cable to connect your Android phone this computer. Once connected, the program starts to back up the Android WhatsApp data automatically.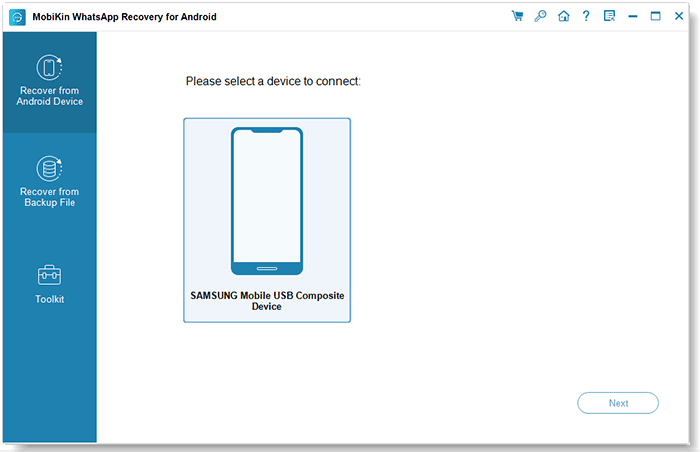 Step 2. During the backup process, you need to follow the instructions on the screen to turn on end-to-end-encryption for your WhatsApp backup.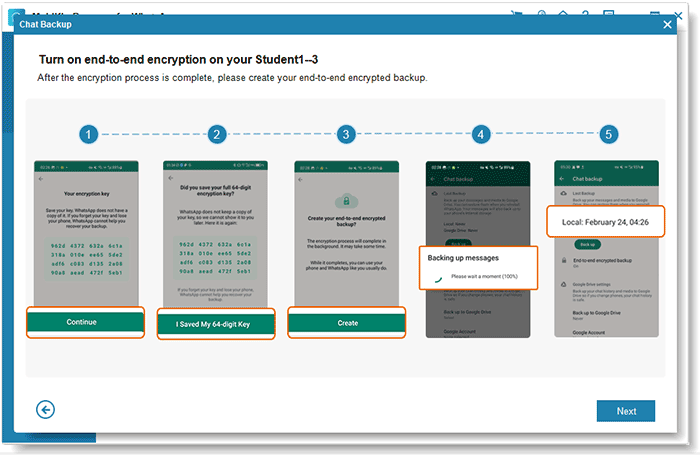 Step 3. Once the end-to-end-encryption is turned on, Recovery for WhatsApp will create a encrypted backup for your WhatsApp data on the computer.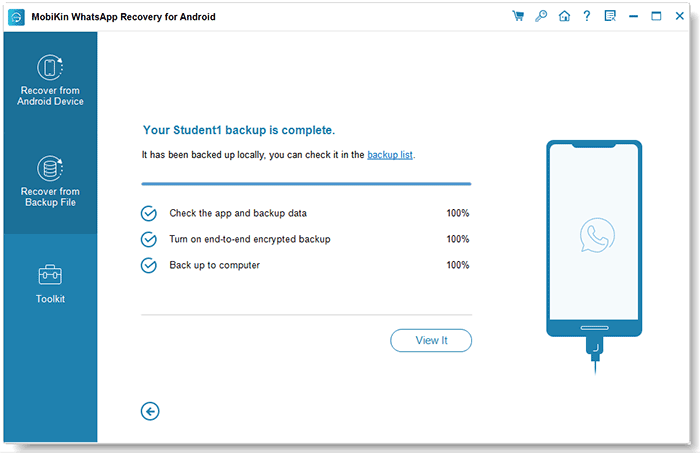 Step 4. Choose "WhatsApp" on the left side screen and all WhatsApp messages on your phone will be scanned out. Preview the WhatsApp data for selection.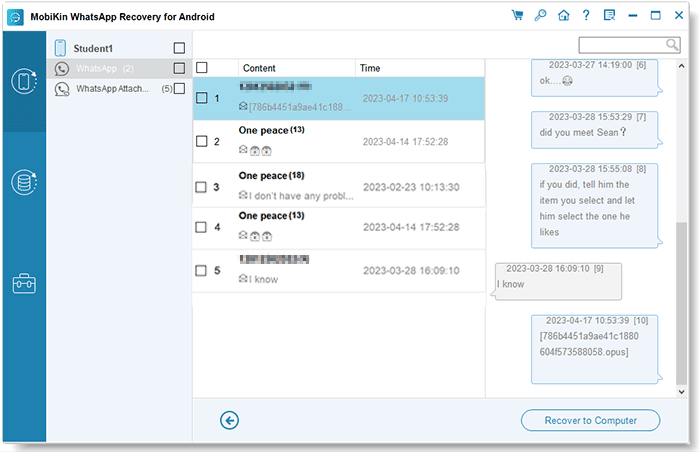 Step 5. Choose the WhatsApp messages you need, and click "Recover to Computer" to back them up on the computer.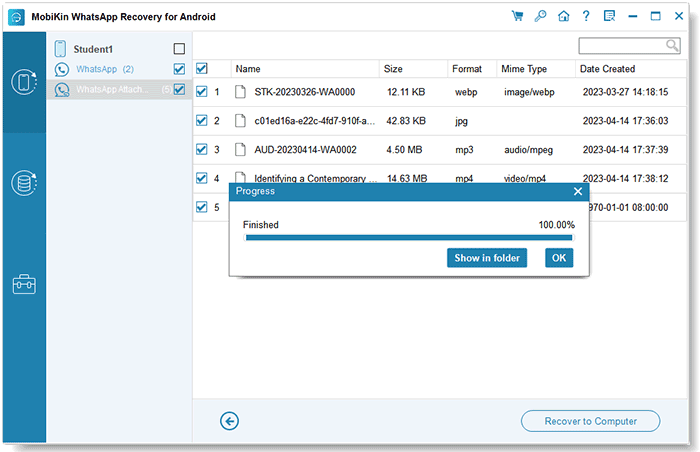 Conclusion
WhatsApp has millions of users worldwide and is one of the most popular social networking platforms. WhatsApp data, including messages, chat history, and attachments, are very important for every user. It is conceivable how severe damage will be caused when these important data are lost. How to get back deleted WhatsApp messages may have worried you before, but now you don't have to worry about it at all. Because in this article, we discussed four different ways to recover deleted WhatsApp messages from an Android phone, whether you made a backup or not.

In addition, if you have any questions or better suggestions, please don't forget to tell us in the comments below, you can also get in touch with us through social networking sites such as Facebook and Twitter.
Related Articles
Ultimate Solution to Recover Deleted Contacts from Android
Tips to Recover Deleted Text Messages from Android Mobile Phone
How to Recover Lost Contacts from Samsung Galaxy
How to Recover Data from Water Damaged Android Phone or Tablet?
How to Access Phone with Broken Screen with PC Easily & Safely?