Facebook Messenger Not Connecting? Let's Fix It Together!
Facebook Messenger is popular around the world due to its multifunction. This messaging App allows users to send messages, exchange photos, videos, stickers, audio and files, make voice or video calling, etc., which can bring joy and convenience to people. However, all these functions are based on one premise- the application is connected well. That is to say, as long as you get a connection failure, you will be able to do nothing on Facebook Messenger. And unfortunately, this is a common problem that many users would encounter while using the Messenger. But don't worry! You can fix the Facebook Messenger not connecting problem with simple means:
Check for Network Connection
The Facebook Messenger not connecting problem is often caused by the network connection issue. So once you meet the connecting problem or other issues on Facebook Messenger, you can first go to check the status of the network connection on your phone. Just see the signal of the Wi-fi or phone data on the screen directly and if you find that the signal is weak, you need to take actions.
1. Reconnect to Wi-fi/phone data
For iPhone, you can swipe up from the bottom edge of the phone screen to open the Control Center. Then you need to click on the icon of Wi-fi or cellular data to disable it and then tap on it again to re-enable the feature.
For Android, you should slide down the menu bar at the top of the screen to turn off Wi-fi or phone data and then turn it back on.
2. Reset network settings
On iPhone, you should go to Settings> General> Reset> Reset Network Settings. Here you will be asked to enter the passcode. Just type in the password correctly and tap on Reset Network Settings to confirm your option.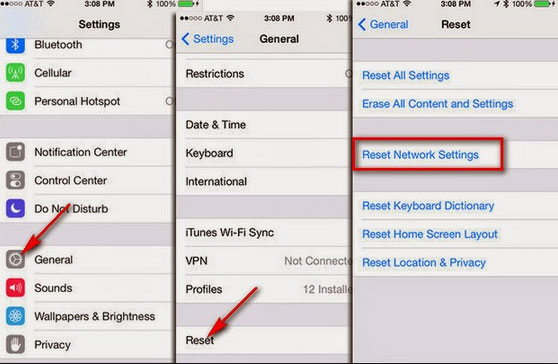 On Android, you need to click on Settings> General Management> Reset> Reset network settings and finally click on Reset Settings to start the wiping process.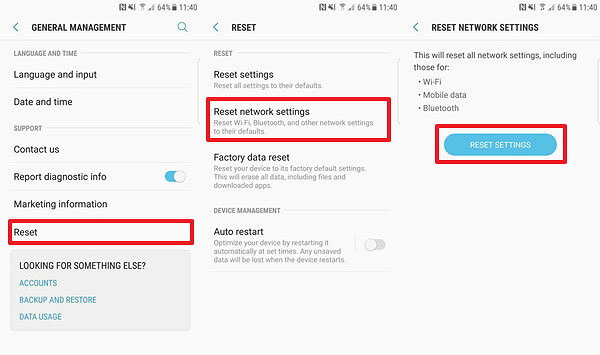 You may also want to know:
Efficient Methods to Download Text Messages from iPhone to Computer

How to Print Text Messages from iPhone for a Long Reservation?

What to Do When Facebook Messenger Video/Voice Fail to Play?
Force Stop and Restart Facebook Messenger
If the problem is not caused by the poor network connection, you can try another way to quickly settle the problem- force stop Facebook Messenger and then restart it. This would be the simplest but most effective way to fix the Facebook Messenger problems so you can attempt it here. Now just see how to force shut down Facebook Messenger on different devices.
On iPhone 8 or earlier, you should double press the Home button to boot up App Switcher. Then you can swipe up the Messenger card to shut down the application.
On iPhone X, you need to scroll up the gesture area at the bottom of the screen and then hold for a few seconds to turn on the App Switcher. After that, you can simply tap on the "-" icon of Messenger card to stop it.
On Android phone, you can navigate to Settings> Applications> Manage Application and select Downloaded in this section. Next, you should scroll down the page to find out and select Messenger and you will enter the App info page of this App. On this page, you can tap on the Force Stop button to turn off the application.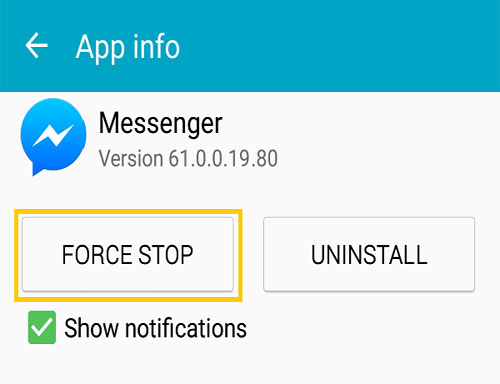 After stopping the Facebook Messenger, you can go to the Home screen and click on its icon to restart the App on your phone.
Reboot Your Phone
It is also possible that there are some small glitches on your phone, which would lead to the Facebook Messenger not connecting issue. Hence, you are suggested to reboot your phone as well. This simple operation can help to fix some small phone errors and refresh the device. So now just hold down the Power button on your phone to switch off your iPhone or Android phone and then turn it back on after one or two minutes. After the restart, you can enter the Facebook Messenger to check whether is connected.
Clear Cache and Data on Your Phone
Have you deleted the caches and useless data on your mobile phone regularly? If not, you can also try to clear caches and data on your phone to fix the issue. That's because the cached data on your phone would not only take up a lot of storage space of your phone but also result in some phone or application problems like Facebook Messenger not connecting issue.
For iPhone users, you do not need to perform the clearing process cause the system will wipe them automatically.
For Android phone users, you need to complete the wiping process in Recovery Mode- turn off your Android phone at first and then press the Power, Volume Up and Home buttons together to boot your phone into Recovery Mode. In the mode, you can use Volume keys to select wipe cache partition and press Power button to confirm your option. When the wiping process ends, you can choose reboot system now to restart your device.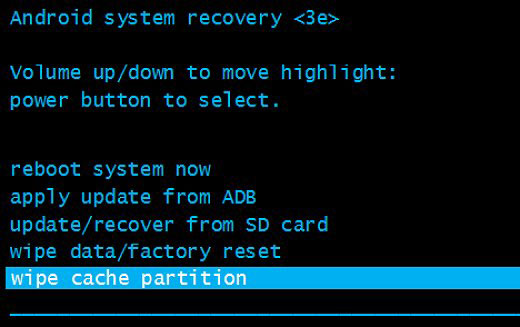 You may need:
Android SMS Transfer - 4 Ways to Transfer Text Messages from Android to Computer
Android Message Recovery - How to Retrieve Deleted Text Messages on Android
Update/Reinstall Messenger
Maybe there are some bugs on your Facebook Messenger and in this case, the easiest way to fix the bugs is to update or reinstall the application on your phone. That's because a new application version can always fix some bugs of the old version and bring some new features meanwhile. Thus, you can go to App Store (iPhone) or Google Play Store (Android) to check for updates.
But if you tend to reinstall the Messenger, you need to remove the current App from your phone first. To accomplish that, you can long press the Facebook Messenger icon on your Home screen until a "X" icon appears. Then you can click on the "X" icon to delete it from your phone. After that, you can go to App Store or Google Play Store to download and install the latest Facebook Messenger.
Upgrade Operating System
Updating the operating system of your iOS or Android is also a feasible way to solve the phone or application problems. If you still fail to connect the Facebook Messenger even when you have tried out all the solutions mentioned above, you can try it as the final bet.
For iPhone, you can enter the Settings App and elect General option in this section. Next, you ought to choose Software Update to check for available update. If there is an update available, you can tap on Download and Install to download the update and then tap on Install Now to properly install it.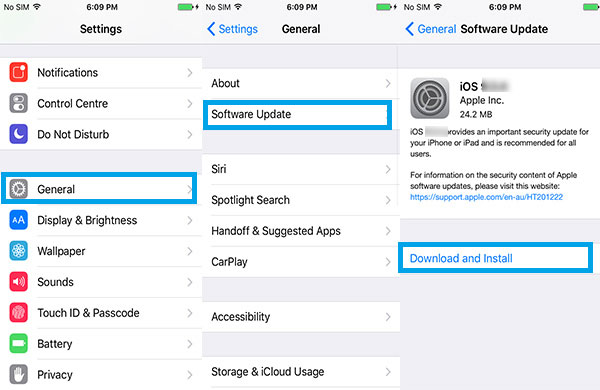 For Android, you need to go to Settings> About device> Download updates manually to check if there is an update available. If there is, you can go with the instructions to update the software.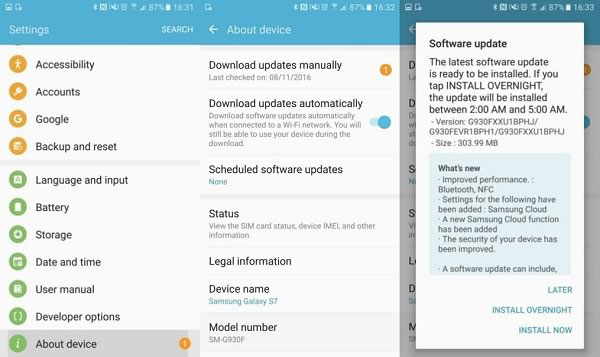 Related Articles:
[Solved] How to See Deleted WhatsApp Messages without Any App [Android/iPhone]
Let's Fix No Sound on YouTube Videos Together!
Proven Ways to Stop YouTube Videos from Buffering
Fix "Android Touch Screen Not Working - Can't Unlock" Issues in 12 Methods
5 Simple Ways to Fix Android Phone Screen is Black
4 Methods to Recover Deleted/Old Kik Messages on iPhone in Minutes