6 Methods to Delete Snapchat Messages on iPhone and Android
Snapchat is one of the most popular messaging apps in the world. It accurately grasps the tastes of millennials and smartphone users around the world, and you can enjoy the fun of sending and sharing posts and messages with friends or making new friends. This is also the reason for the popularity of Snapchat after its release. However, for different reasons, you no longer want to store or save your messages. You are considering how to delete Snapchat messages.
In fact, we have different ways to clear all Snapchat conversations. For those who once clicked the "Send" button and regretted it immediately, this article is for you. We will tell how do u delete messages on Snapchat in different scenarios.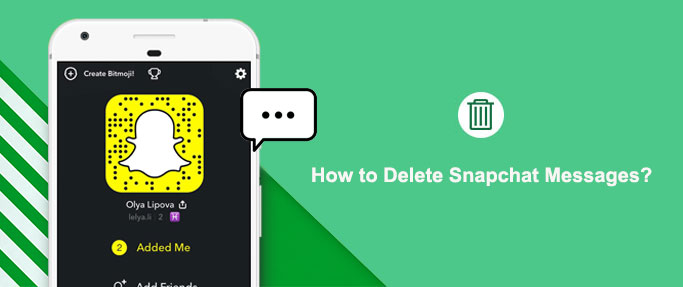 Way 1. How to Delete Snapchat Messages
Snapchat allows you to use multimedia content to communicate with other people, which makes Snapchat messages take up more space. This is why how to permanently delete Snapchat conversations is a topic of great concern to Snapchat users. The most basic way to delete Snapchat messages is very simple. You just need to open the Snapchat app and follow the steps below:
Launch Snapchat on your device.
Click the "Message" icon in the lower left corner to open the chat window.
Select the message you want to delete, press and hold the message and select the "Delete" option.
Finally, click "Delete Chat" again on the confirmation popup to confirm deleting the message.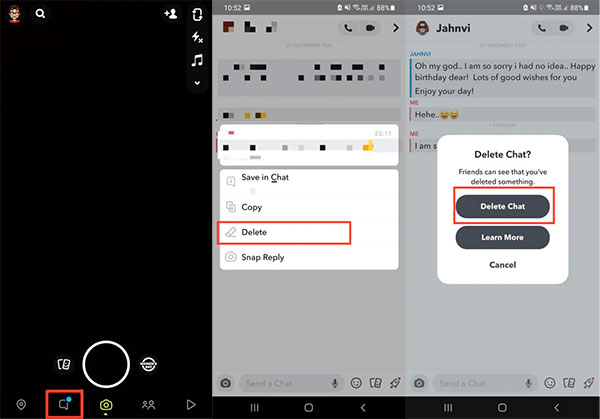 Related Posts:
Way 2. How to Clear All Conversations on Snapchat
Deleting Snapchat conversations one by one is a tedious process. To save time and energy, we have a simple way to delete Snapchat conversations directly. Please follow the steps below for how to clear all Snapchat conversations:
Launch the Snapchat app on your phone and tap the ghost icon in the upper left corner of the screen.
Click the Settings (gear icon) menu.
Scroll down to select the "Clear Conversations" option, and you will see a list of all messages.
Select the conversation you want to delete and click the X icon next to it to delete this conversation.
You can repeat the above operations for other Snapchat conversations you want to delete, or you can click "Clear All" in the upper right corner to clear all messages and conversations at once.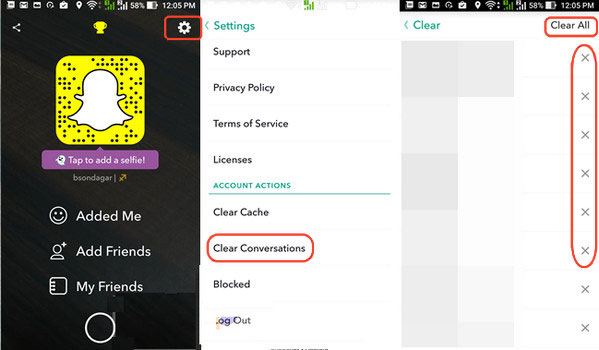 Note: The above method can delete Snapchat conversations from your device, but cannot delete saved messages and photos. You can click on the "ghost" icon and go to "Memories", uncheck the "Auto-save Stories" option to disable the automatic saving of photos in Snapchat.
Way 3. How to Delete Snapchat Conversation history Automatically
Snapchat messages are accumulating more and more, and you are tired of manually deleting them. Then, you can set Snapchat to automatically delete messages and conversations.
Launch the Snapchat app on your phone.
Tap the contact whose conversation you want to set to be automatically deleted.
Select "More" from the pop-up list, and then click the "Delete Chats" option.
The pop-up window will ask you when should chats be set to delete. You can choose "After Viewing" or "24 Hours after Viewing".
After that, Snapchat will automatically erase the read messages from the contact.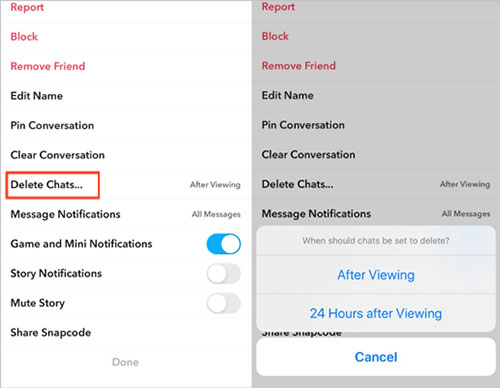 Way 4. How to Clear Conversation on Snapchat that Haven't been Opened Yet
If you send a wrong message or photo to someone and want to delete it without them knowing, then you can follow the detailed steps below to delete the sent message or photo that the other contact has not opened from the conversation.
Select the conversation you want to handle, and then touch and hold the screen in the chat window to pop up a list of options.
Select "More" from the list of options.
Select the "Block" option, and then click the "Block" option again in the pop-up confirmation box.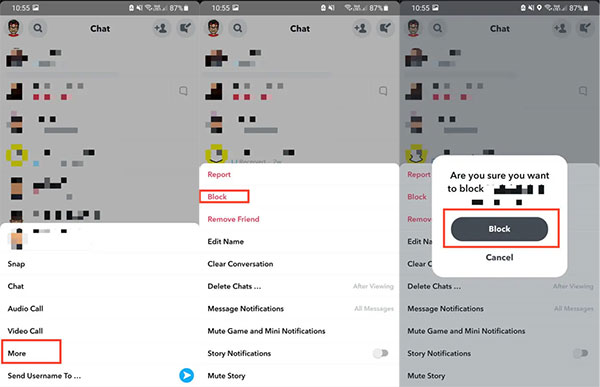 Way 5. How to Delete Saved Messages on Snapchat
Unlike other applications, Snapchat has its own unique method of saving and deleting messages. Please follow the steps below to start Snapchat message eraser.
Open your Snapchat app and go to the conversation where you saved the message.
Select a conversation and click on any saved messages you want to delete.
Tap the grayed-out text to restore it to normal text with a white background.
Close the conversation or exit the application.
Go to the chat again and check if the message has been deleted.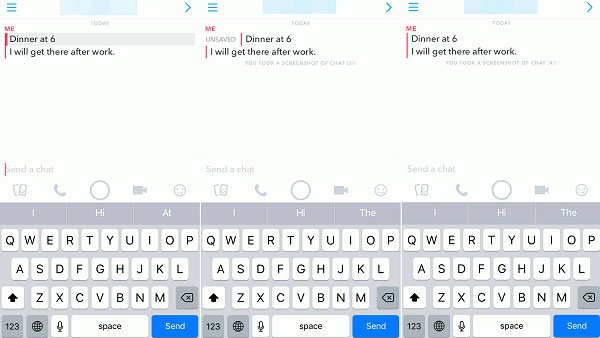 Note: If I delete my Snapchat will it delete sent snaps? Well, you must know that Snapchat conversations are two-way. A message will remain on the sender and recipient at the same time. If you complete the above steps, but find that the Snapchat messages won't delete, which means that the message has been saved by the other contact. You cannot delete this message unless the other contact also delete it.
Related Posts:
Way 6. How to Erase Snapchat Conversations that Will Not Disappear
Many users do not understand why some Snapchat messages will not disappear from their smartphones. There are many factors that cause this phenomenon. First of all, as mentioned earlier, if you or the other contact has saved this message, you cannot delete it from your phone. Here are the possible methods on how to delete Snapchat messages that will not disappear:
Before deleting Snapchat conversations, open each conversation and check if there are any messages saved to your smartphone. If so, long press the message to make it unsaved. Then try to delete the Snapchat conversation again.
If you use Snapchat on other devices, you need to unsave messages or conversations on each device you log in to.
If the other party has saved it, you can ask the other party to cancel the save and delete the message.
If the other party refuses, you can try to use a third-party Snapchat Message Deleter. Please pay attention to the application you download, because it may lock you out of your account (How to fix Snapchat not working issue?). For safety reasons, we do not recommend you to do this. A more thorough solution is to delete the contact directly.
Bonus - FAQs about Deleting Snapchat Messages
Q1: Does deleting a Snapchat message delete it for the other person too?
Yes, if you delete a Snapchat chat history, the chat history will also be deleted from the recipient's chat history. However, the chat history will display like this - *your username* deleted a chat.
Q2. Can the other person see it if I delete Snapchat conversations?
If the other party saves this message or conversation, when you delete the Snapchat message or conversation, they will only message from your device. The other party can still read this message normally.
Q3. If I delete Snapchat conversations on iPhone, can I restore them?
Unfortunately, Snapchat does not allow you to recover deleted Snapchat messages. But you can use third-party iPhone data recovery software to recover deleted Snapchat conversations on iPhone.
Last Take
As you can see, Snapchat provides its users with multiple effective ways to delete messages. In this article, we have listed six different methods for how to delete Snapchat messages for different situations. Please tell us which method you followed and successfully deleted your Snapchat conversations.
Related Articles:
What to Do If I Fail to Erase Android Data?
2 Simple Ways to Wipe Android Data Remotely
[3 Methods] How to Wipe/Erase Samsung Phone Permanently?
[Up to Date] How to Wipe Android Phone Completely before Selling?