Effective Ways to Fix Facebook Blank Pages Error [Secure]
Facebook blank pages error, also called Facebook white screen of death, is a common Facebook issue happens on both mobile phone and computer. When it occurs, users will get an empty page and cannot perform any operation on the application. That is to say, you have to figure out some feasible ways to fix Facebook blank pages error if you still want to use the application. But how to achieve this goal? This tutorial will tell you the answers.
Escape Facebook White Screen of Death on Android/iPhone
Facebook white screen of death could be a very annoying problem on Android phone as well as iPhone. But since it happens frequently, some people have already find out some feasible means to solve the problem. And luckily, these methods are easy to follow and perform. Now just go with the methods below to try to get rid of the issue.
Method 1. Restart your Android/iPhone
The first means you are advised to use is to restart your Android or iPhone. This is also a useful way to fix other phone problems actually. You can simply hold down the Power button on your device to turn it off. And then you need to long press the Power button once again to switch on the device. You can see that this means is very easy but it really works. So when you meet the Facebook blank pages issue on mobile phone, you can try it at first.
Method 2. Manage the network connection
Network connection is one of the important factors to run the Facebook so you can go to check the network connection while encountering a Facebook issue. At first, you can simply swipe down or up the phone screen to inspect the status of the Wi-fi or cellular data you are using. If the signal is very weak or not strong enough, you can try to turn the Wi-fi or phone data off and then re-enable it. Or you can choose to restart the router or modem. When both these two methods fail, you need to use the third way- reset the network settings.
On Android devices, you can click on Settings> Backup & Reset> Network settings reset.
On iPhone, you can navigate to Settings> General> Reset> Rest Network Settings.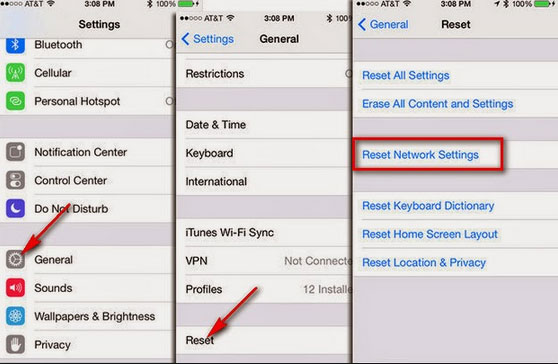 After that, all the network settings on your phone will be erased and then you can add some usable network connections on your phone again.
Please donot mistakenly choose the "Reset All Settings" or "Erase All Content and Settings", otherwise all of your phone data will be wiped out.
Already get your files deleted? Try to recover lost data on iPhone as soon as possible.
Method 3. Update or reinstall Facebook Messenger
When the Facebook Messenger version you are using is outdated, it will be unable to receive data or work normally. So to ensure the smooth running of Facebook, you need to check for the updates regularly. To complete that, you can go to Google Play to see whether there is any new version available for Facebook. If there is, you can download the version and then follow the instructions to properly install it on your phone. Except for that, you can also attempt to reinstall the Facebook Messenger to settle the problem.
Method 4. Delete cached data
For Android users:
If you are using an Android phone, you have one more means to fix the issue- clear the caches. That's because Android phone starts storing data since you have begun using it but less users would clear the caches regularly. So a great amount of caches will be created on your Android phone, which will affect the running of the applications and the device. Hence, you can try to delete the cached data of Facebook to solve the white screen problem.
You can go to Settings> App/Application Management and select Facebook from the listed applications to enter the App Info page. On this page, you can tap on Clear cache and Clear data button to delete the useless data.
For iPhone users:
You can see the detailed tutorial to clear iPhone Facebook caches here.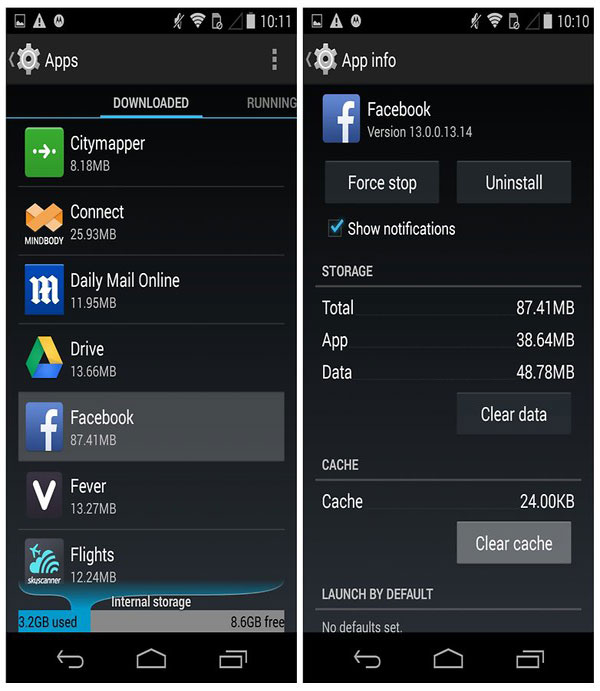 Method 5. Login to Facebook on computer
When you have tried out all the methods above but still cannot use Facebook on your mobile phone, you can only switch to a computer. Just login to your Facebook account on a computer to see whether it works well.
Can't miss:
Tips to Fix Common Facebook Issues on Android
Useful Tips & Tricks for Facebook You Can't Miss
Get Rid of Facebook Blank Pages Error on Computer
Users are suggested to use Facebook on computer when the blank pages error is difficult to be solved on mobile phone. But this does not mean that this problem won't occur on computer. Then what can you do to get rid of Facebook blank pages error on computer? 5 possible methods are listed below and you can take them as a reference.
Method 1. Re-login to your account
Just log out of your account and exit the browser. After a minute, you can enter the browser and login to your Facebook account once again. This will refresh both your account and web page.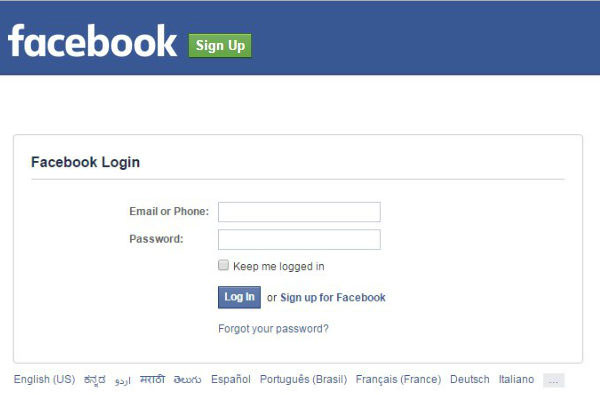 Method 2. Clear browser cache
The browser you are using might be full of caches so it cannot respond to your order timely. In this case, you can clear your web browser cache to delete the useless data from the browser as well as force the browser to load new data for the websites that you visit. This can be completed in the browser settings but the detailed operation would be different in different browsers. So if you want to know the details, you need to ask Google for help.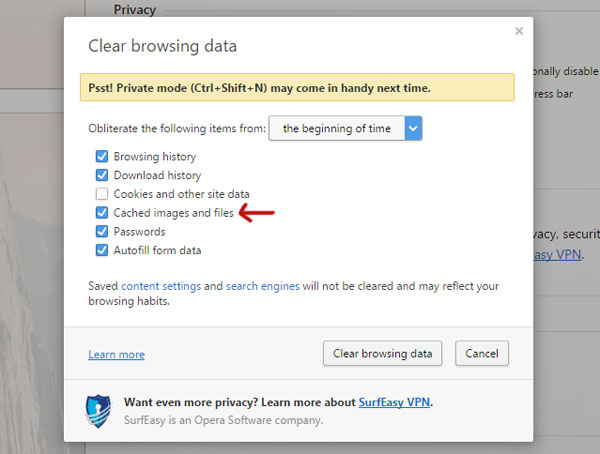 Method 3. Uninstall incompatible plug-ins
It is possible that there are some incompatible plug-ins in the browser you used, which would cause conflicts between the browser and the web pages. Thus, you need to uninstall these incompatible plug-ins to fix the Facebook white screen of death. But also, the methods to find out and uninstall the plug-ins in different browsers are disparate so you need to Google for the details.
Method 4. Use other browsers
Another possible reason for the issue is that the used browser is corrupted or unusable. Hence, you can try to use other browser to see whether Facebook can work well. If it can, that means the browser you used before is broken or damaged.
Method 5. Access Facebook from other pages
The Facebook blank pages problem would be caused by the Facebook's database as well. This would be hard to deal with- you need to find a way to force it to update your page. To achieve this goal, you need to enter Facebook from other pages:
- Go to https://business.facebook.com/ to set up a business account.
- Now you need to log into your business account and click on your email address on the top. After that, tap on the option go to personal profile and then you see your page now.
- Next, you should access your Facebook page from https://www.facebook.com/help/community/.
- When you see the blank page, you need to change the address from "https://www.facebook.com/login.php?login attempt=1" to "https://beta.facebook.com/login.php?login attempt=1" to log in.
Extra tips: How to avoid Facebook blank page?
In case that you may encounter the Facebook white screen of death in the future, you are suggested to download a copy of your Facebook information to your computer so you can enter your page via the profile if the blank page appears again. To download a copy of your Facebook information, you can:
- Go to Settings> General> Download a copy to download a copy of your information.
- Open index.htm in your copy and then click the profile. Then you can access the Facebook.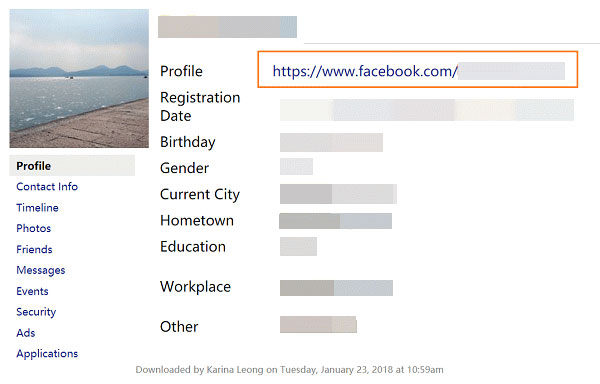 Your iPhone gets stuck in some iOS system issues? Like the white Apple logo, recovery mode, looping on start, black screen, etc. No worry, you can try to fix it with the iOS system recovery tutorial here.
Related Articles:
Things about Facebook Messages Encryption on Android
How to Find Hidden Messages on Facebook?
How to Recover Deleted Facebook Messages from iPhone 7/6S/6?
9 Quick & Safe Ways to Fix Android File Transfer Not Working on Mac
How to Transfer Photos from iPhone to Android? - Top 5 Ways
How to Transfer Photos from iPhone to PC in 7 Ways? [Comprehensive Guide]